US equity markets dropped sharply on Thursday with the S&P and Nasdaq down 2.4% and 2.8% each ahead of Friday's US inflation release. Headline CPI is expected at 8.3% and core CPI is expected at 5.9%. Sectoral losses were led by Communication Services, IT and Financials, down over 2.6% each. US 10Y Treasury yields were unchanged at 3.05%. European markets ended lower too with the DAX, CAC and the FTSE down 1.7%, 1.4% and 1.5% each. Brazil's Bovespa was down 1.2%. In the Middle East, UAE's ADX was down 0.7% and Saudi TASI closed flat. Asian markets have opened broadly lower today – HSI, STI and Nikkei were down 0.1%, 0.9% and 1.4% while while Shanghai was up 0.6%. US IG CDS spreads widened 3.9bp and HY spreads were 18bp wider. EU Main CDS spreads were 3.3bp wider and Crossover spreads were 16bp wider. Asia ex-Japan CDS spreads widened 0.8bp.
The ECB committed to a 25bp hike in July, marking its first rate hike since 2011.  The hike would possibly be followed by a larger hike in September, they said. Reuters indicates that markets were pricing in 144bp of rate hikes this year by the ECB, implying an increase at every meeting from July, with several moves greater than 25bp.
New Bond Issues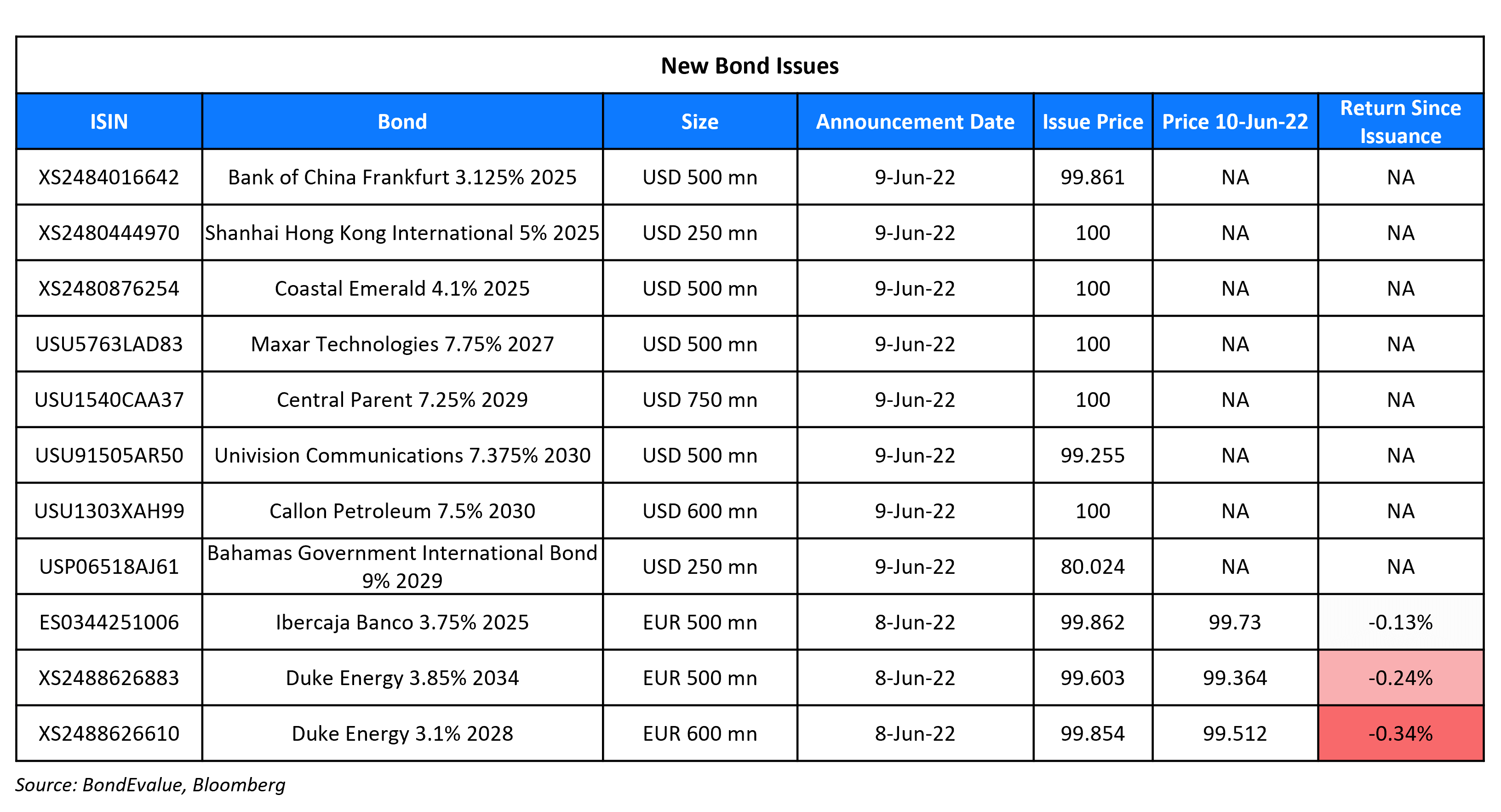 Bahamas Government raised $250mn via a 7Y bond at a yield of 13.5%, unchanged from initial guidance. The senior unsecured, partially guaranteed Class B bonds have expected ratings of Ba3/B+.
Lianyungang Port Group raised $250mn via a 3Y green bond at a yield of 5%, 30bp inside initial guidance of 5.3% area. The senior unsecured bonds are rated BBB. Proceeds will be used to refinance the group's offshore debt. An equivalent amount will also be used to finance and/or refinance green projects.
BOC Frankfurt raised $500mn via a 3Y green bond at a yield of 2.987%, 45bp inside initial guidance of T+65bp area. The bonds are rated A1/A/A and received orders over $3.05bn, 6.1x issue size. Proceeds will be used to finance and/or refinance green projects.
Shandong Hi-Speed raised $500mn via a 3Y green bond at a yield of 4.1%, 50bp inside initial guidance of 4.6% area. The bonds received orders over $3.5bn, 7x issue size.
New Bonds Pipeline
Hanwha Energy mandates for $ green bond
Busan Bank hires for $ Social bond
Continuum Energy Aura hires for $ Green Bond
Rating Changes
Term of the Day
Asset Backed Security
Asset Backed Securities (ABS) are securities that are collateralized or backed by a pool of assets. This pool of assets are made by a process of securitization and could be in the form of loans, credit card debt, mortgages etc. with each security backed by a fraction of the total pool of underlying assets. Thus, an investor gets interest and principal payments while also assuming the risk of the underlying assets. The underlying pool of assets are structured in different tranches with the highest priority of repayment going to the top tranche and then to the second tranche and so on. Goldman Sachs recently said that investors should rotate into securitized debt like ABS from corporate bonds.
Talking Heads
On ECB signals rates lift-off, eyes bigger move in September
ECB President Christine Lagarde
"We will make sure that inflation returns to our 2% target over the medium term. It is not just a step, it is a journey… If you are at 2.1% in 2024 or beyond, then the increment of the adjustment will be higher? The answer is yes"
Pictet strategist Frederik Ducrozet
"Given that our forecasts are pointing to a further increase in euro area core inflation in the next few months, we now expect the ECB to hike rates by 25bp in July, and by 50bp in September"
On Draghi Saying Europe's Record Inflation Doesn't Show Overheating
"In the European Union, rising inflation is not wholly the sign of overheating, but largely the result of a series of supply shocks… Wages must recover their purchasing power, but without creating a price-wage spiral that would result in turn in even higher interest rates."
On El-Erian Warning Inflation Has Yet to Peak as Energy Prices Rise
"What worries me is that the June month-on-month print will be worse than the May month-on-month print. Those who boldly said inflation has peaked and is coming down may have to change their minds…. It wouldn't surprise me if we see a headline print higher than 8.5%… Because the drivers of inflation are broadening. At the headline level, energy prices are going up month-on-month quite dramatically. We see pressure on shelter and food. It's way too early to say inflation has peaked."
Top Gainers & Losers – 10-June-22*