US equity markets crashed again with the S&P and Nasdaq closing 3.2% and 4.3% lower respectively as global markets were marred by risk-off sentiment. Sectoral losses were led by a massive 8% drop in Energy, followed by over 4% drops in Consumer Discretionary and Real Estate. Brent Crude prices dropped precipitously from levels of $112/bbl to $104/bbl currently. Analysts note that the fall in crude prices is on the back of recession fears arising out of China's strict lockdowns and EU softening its sanction proposals. The EU will scrap a proposed ban on EU-owned vessels transporting Russian crude. Crude imports by China in the first four months of 2022 fell 4.8% YoY. US 10Y Treasury yields fell 11bp to 3.03%. European markets closed in the red too – the DAX, CAC and FTSE were down 2.2%, 2.8% and 2.3%. Brazil's Bovespa closed 1.8% lower. In the Middle East, UAE's ADX was down 0.7% while Saudi TASI closed flat. Asian markets have opened lower – HSI, STI and Nikkei were down 2.8% 1.3% and 1.2% while Shanghai was up 0.2%. US IG and HY CDS spreads widened 2.4bp and 17bp respectively. EU Main CDS spreads were 1.7bp wider and Crossover spreads were 6.9bp wider. Asia ex-Japan CDS spreads were 6.7bp wider.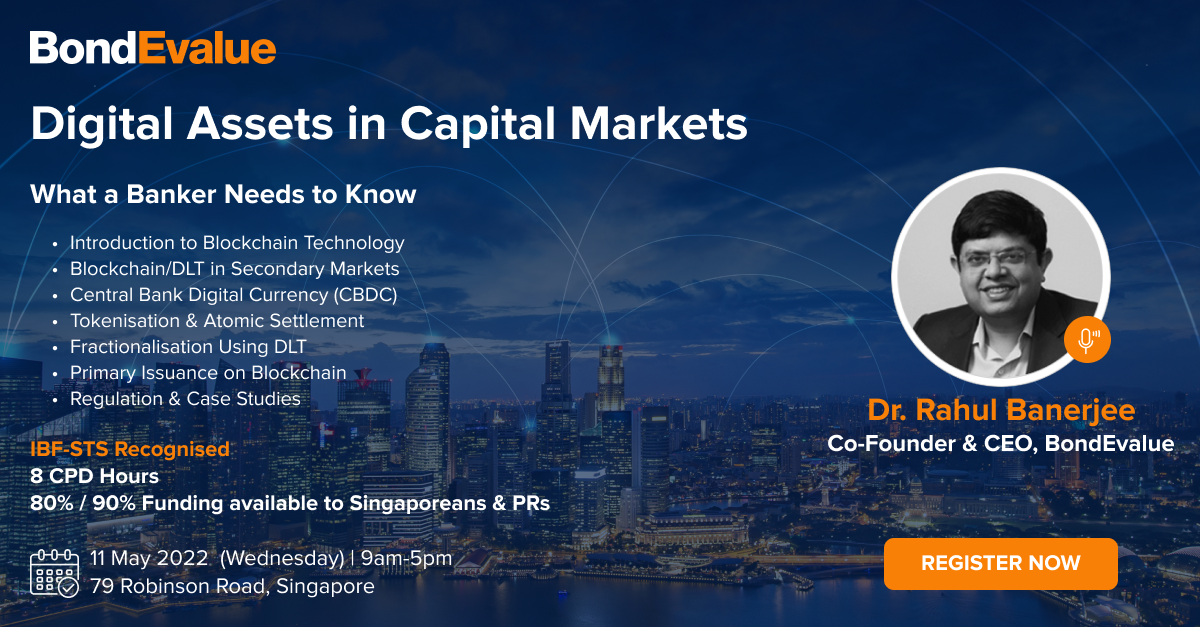 New Bond Issues
CCB London $ 3Y Green at T+90bp area


Frontier Communications raised $1.2bn via an 8NC3 bond at a yield of 8.75%, ~12.5bp inside initial guidance of 8.75-9% area. The bonds are rated B3/B. The bonds are first lien notes (Term of the Day, explained below) and proceeds will be used to fund capital investments and operating costs arising from the company's fiber build and expansion of its fiber customer base, and also for general corporate purposes. The deal size was upsized from $800mn.
New Bonds Pipeline
DFZQ hires for $ bond


ENN Energy hires for $ Green bond
Korea Expressway hires for $ bond
Busan Bank hires for $ Social bond
Kookmin Card hires for $ Sustainability bond
Continuum Energy Aura hires for $ Green Bond
Jubilant Pharma hires for $ bond
Sael Limited hires for $ 7Y Green bond
Rating Changes
Term of the Day
First Lien Bond
A first lien bond is a bond with a lien that is senior to its subordinated bonds. A lien is a legal right where a creditor can claim a security interest or seize control in an asset provided by the asset's owner. It gives a type of a legal guarantee to the lender for obligations like loan or debt repayments. Bonds typically can be either first lien, which consist of senior secured debt, or second lien, which consists of junior or subordinated debt that rank below first lien debt in the capital structure. A bondholder of a 'first lien bond' gets repaid before all other liens and bondholders in the event of a default. Second lien holders get repaid only after the first lien holders get paid back.
---
Talking Heads
On Turkey Bond-Guarantee Plan Leaves Foreign Investors Underwhelmed
Anders Faergemann, PineBridge
"It doesn't alter the underlying macro trends and rationale for investing, or not investing, in Turkey. We are having a hard time investing in Turkish local bonds with inflation running north of 50% "
Paul McNamara, GAM UK
"4% isn't a remotely competitive rate for Turkish risk in U.S. dollars as you get 5.5% on a eurobond with a few months to run. So that makes it a lira play… which is also unattractive."
Phillip Torres, Aegon Asset Management
"If it's a fixed 4%, then it's not interesting. If it's a minimum of 4%, then it is interesting."
Delphine Arrighi, Guardcap Asset Management
"It resembles the CPI-linker Argentina was offering before their last currency crisis. It didn't help though when pressure on the currency intensified."
Paul Greer, Fidelity International
"We're pretty bearish on Turkey, so it's not something we are really looking at or considering."
On Companies Paying Up to Sell Bonds as Financial Conditions Tighten
Marc Baigneres, the head of Western Europe, Japan & Australia investment-grade finance at JPMorgan
"The psychology of issuers has moved away from looking to price deals with a negative new issuance premium, to just getting deals done, while avoiding the risks of execution. Patience has become key… Volatility means that we need to keep our cards much closer to our chest before we execute and be cleverer about how and when we bring clients to the market"
On Yellen Says Ukraine War Brings Uncertainty for Global Economy
"There is the potential for continued volatility and unevenness of global growth as countries continue to grapple with the pandemic… Russia's unprovoked invasion of Ukraine has further increased economic uncertainty."
Top Gainers & Losers – 10-May-22*