US 10Y Treasury yields were 2bp higher at 3.34%. US IG CDS spreads tightened 3.1bp and US HY spreads were tighter by 17.7bp as markets broadly ended on a risk-on tone. US equity markets ended the week stronger on Friday with the S&P and Nasdaq rising by 1.5% and 2.1% respectively. This week, markets will keenly watch out for the US CPI print as a guide to the quantum of the Fed's rate hike later this month. Inflation is estimated around 8.1-8.3% for August. The Bloomberg Global Aggregate Total Return Index (consisting of government and IG bonds) has dropped by over 20% from its 2021 highs. This has seen market participants talk about the beginning of a bear market  for bonds. To put this in perspective, this is the largest drawdown for the index since its inception in 1990.
EU Main CDS spreads were 5.6bp tighter and Crossover spreads tightened by 24.5bp. European markets ended higher with the DAX, CAC and FTSE rising by 1.4%, 1.4% and 1.2% respectively. Eurozone bond yields rose after reports that the ECB could start discussions on reducing its balance sheet as a part of normalization of its policy from early October. German 10Y Bund yields rose 1bp to 1.71% after having fallen by 5bp earlier in the day and Italy's 10Y BTP yields rose 9bp to 4.03%. Brazil's Bovespa was up 2.2%. In the Middle East, UAE's ADX rose 0.1% on Friday and Saudi TASI ended up 0.9% on Sunday. Asia ex-Japan IG CDS spreads tightened 7.8bp as the positive momentum continued with issuances also rising last week. Asian equity markets have opened broadly positive, up ~0.5-1% today.
---
IBF-STS Course on Digital Assets | 29 Sep 2022 (In-person in Singapore)| 70/90% Funding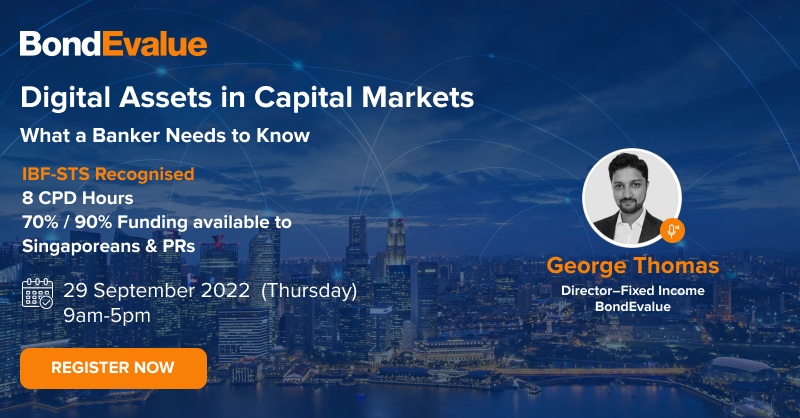 ---
New Bond Issues

Abu Dhabi Commercial Bank (ADCB) raised $500mn via a debut green bond issuance at a yield of 4.5%, 30bp inside initial guidance of T+145bp area. The bonds were rated A/A+ by S&P/Fitch and received orders over $1.9bn, 3.8x issue size. Proceeds will be used to enhance its financing efforts of a low-carbon economy, in-line with criteria set out in the framework aligned with the United Nations Sustainable Development Goals (UNSDG) and based on the ICMA Green Bond Principles.

New Bonds Pipeline
Ganzhou Urban Investment Holding Group hires for $ bond

Aozora Bank hires for $ 3Y Green bond
NH Investment hires for $ 3Y and/or 5Y Green bond
Rating Changes
Term of the Day
Bear Market
A bear market in financial markets refers to a drop in an index by over 20% from its recent highs or a 52-week high. While this may not be a very accurate way of measuring bear markets, this definition has caught on to market participants in order to be able to measure sizeable moves and make decisions on broad portfolio objectives.
Talking Heads
On Buying US High Yield Debt as Inflation Hedge – Nuveen CIO, Saira Malik
Buying high-yield debt today pays an 8% coupon, a spread that will likely narrow over the long term, providing a higher total return… "Even though we do predict a recession, you're getting paid to wait in high yield with that kind of return".
On Backs 'Significant' September Hike, Joining Bullard – Fed's Waller
"Inflation is far too high, and it is too soon to say whether inflation is moving meaningfully and persistently downward. I support a significant increase at our next meeting on September 20 and 21 to get the policy rate to a setting that is clearly restricting demand".
On Case for More Rate Tightening Is 'Clear-Cut' – Fed's George
"The case for continuing to remove policy accommodation remains clear-cut… We will have to determine the course of our policy through observation rather than reference to theoretical models or pre-pandemic trends… Given the likely lags in the pass-through of tighter monetary policy to real economic conditions, this argues for steadiness and purposefulness over speed"
On Bear Market Leaving Bond Investors With Few Places to Hide
Pauline Chrystal, a portfolio manager at Kapstream Capital
"There is still some pain to come. The Fed, in particular, is very committed to prioritizing inflation as opposed to being concerned about recession".
Stephen Miller, investment consultant at GSFM
"I suspect that the secular bull market in bonds that started in the mid-1980s is ending. Yields aren't going to return to the historic lows seen both before and during the pandemic".
Top Gainers & Losers – 12-
September-22*