US equity markets ended lower again on Friday with the S&P and Nasdaq closing 1.3% and 2.2% lower. US 10Y Treasury yields inched up 5bp to 2.04%. European markets dropped after a strong rally on Wednesday – the DAX, CAC and FTSE were down 1.4%, 0.9% and 0.8% respectively. Brazil's Bovespa ended 1.7% lower. In the Middle East, UAE's ADX was up 0.31% and Saudi TASI was down 0.62%. Asian markets have opened broadly lower – Shanghai, HSI and STI were down 1.3%, 3.8% and 0.7% respectively while Nikkei was up 0.8%. US IG CDS spreads widened 1.7bp and HY spreads were 9.5bp wider. EU Main CDS spreads were 0.1bp wider and Crossover CDS spreads were 14.6bp wider. Asia ex-Japan CDS spreads were 4.1bp tighter.
---
Learn About Bonds from Senior Bankers | Starting 28 March
In the current environment marred by geopolitical concerns, impending rate hikes and crisis in China real estate, it is imperative for investors and advisors to be able to analyze bonds effectively. This course will help you do just that via 8 interactive sessions conducted live via Zoom by senior bankers starting 28 March. Click on the banner below to know more and to sign up.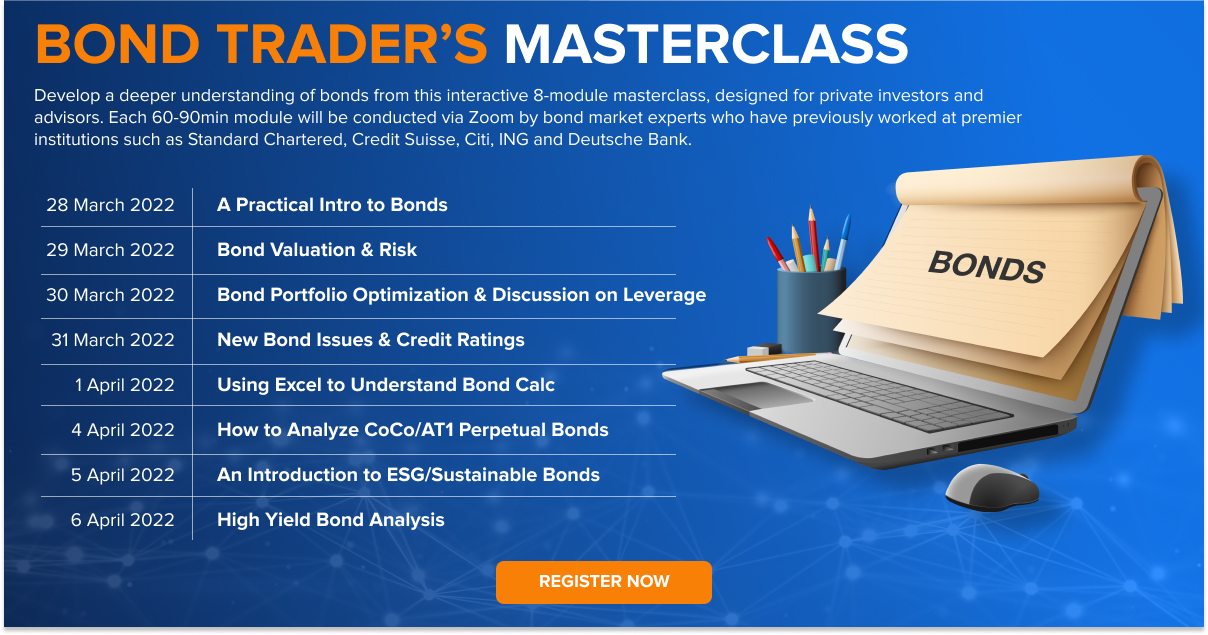 ---
New Bond Issues

Lloyds Bank raised $2bn via a two-trancher. It raised $1bn via a 4NC3 bond at a yield of 3.511%, 20bp inside initial guidance of T+180bp area. It also raised $1bn via a 6NC5 bond at a yield of 3.75%, 15/20bp inside initial guidance of T+195/200bp area. The bonds are rated A2/BBB+. Proceeds will be used for general corporates purposes.
New Bonds Pipeline
Mumbai International Airport hires for $ bond

The Republic of the Philippines hires for $ bond
Aluminium Corporation of China hires for $ bond
Petron hires for $ 7NC4 bond
Electricity Generating (EGCO) hires for $ 7Y or 10Y bond
Rating Changes
Term of the Day
Bond Buyback
A bond buyback is a mechanism where the issuer repurchases its bonds from bondholders in the open market. They work similar to share buybacks wherein the principal gets reduced by the amount bought back and the bonds tendered by bondholders get cancelled. Issuers buy back bonds so that they can reduce their overall debt and thereby interest expenses over time, using it as a liability management strategy. If the bonds are trading cheaper than its issue price, the issuer would find it particularly more attractive to buyback bonds. Tender offers are a form of buyback where bondholders could get either cash or new bonds of equivalent value at a specified price.
---
Explore BondbloX Kristals – a basket of single bonds listed on the BondbloX Exchange following themes such as SGD REIT Perps, USD Bank Perps, and SGD Bank Perps. Avail an introductory discount of $1,000 for every purchase of $100,000 worth of BondbloX Kristals*. Click on the banner above to know more.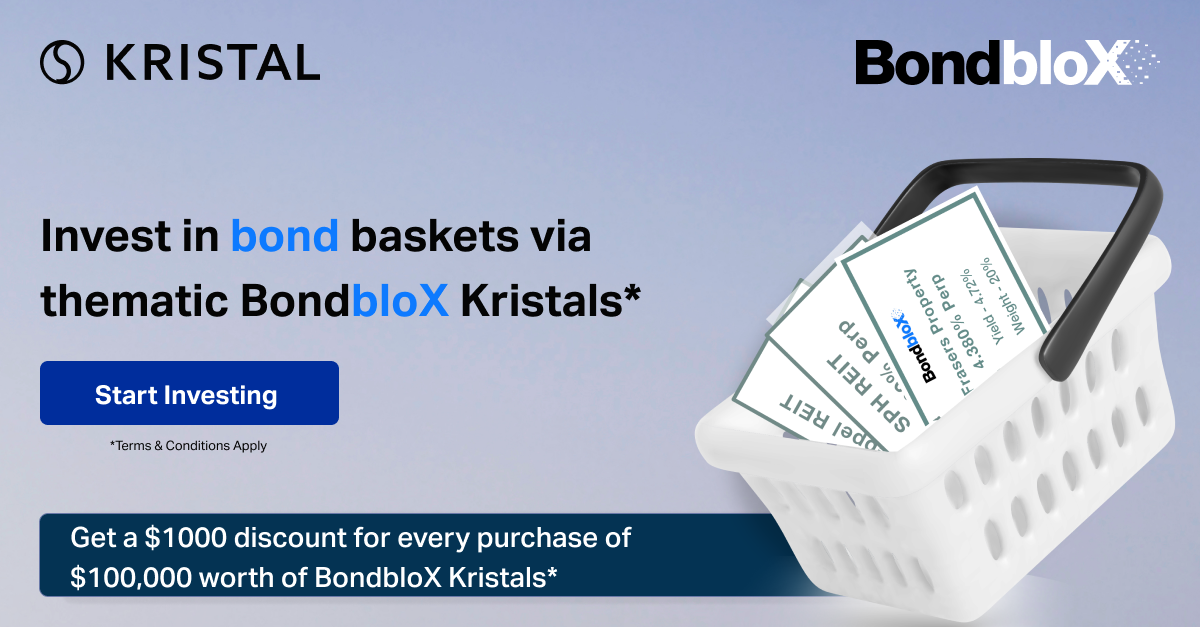 ---
Talking Heads
On 'Uncertainty Reigns' as Credit Market Looks to Fed to Set Tone
Bradley Rogoff and Dominique Toublan, Barclays analysts
"While the uncertainty stemming from the Ukraine conflict seems likely to persist for some time, we think that the focus in the very near term is likely to intensify on the persistently high inflation readings and their effect on monetary policy"
Jim Schaeffer global head of leveraged finance at Aegon Asset Management
"We are going to continue to have volatility in these markets because there is so many different things going on. So for right now, I'm seeing if we can get a continuation of a couple days of just positive market comfort without massive volatility."
On Bolsonaro saying Petrobras profit 'absurd' but won't interfere with pricing
"It is an absurd profit that Petrobras has at an atypical moment in the world. I am not satisfied with the price readjustment, but I will not interfere in the market."
On Colombia's Bonds Being as Risky as Brazil's Ahead of Election
Mario Castro, a fixed income strategist at BBVA
"The market is clearly expressing that Colombia's fiscal risk is now more similar to Brazil's than to those of the other peers… Colombia started the pandemic already with a weak fiscal position compared to peers that turned even worse after the fiscal aid provided."
Cristancho, a strategist at Corredores Davivienda
"It is clear that Colombia has a much greater external vulnerability, which could explain part of this risk increase… However, it's possible that something similar to what happened in Chile or Peru occurs in Colombia, where after the presidential elections a normalization of risk premiums more consistent with the credit rating occurs."
Big investors to shift billions from bonds into stock markets
Nikolaos Panigirtzoglou, strategist at JPMorgan
"Large rebalancing flows should support equity markets into the end of this month"
Inigo Fraser-Jenkins, a senior analyst at AllianceBernstein
"Investors do face sharp choices. The prospect of lower returns ahead will force a rethinking of portfolios.. But equities remain a core portfolio anchor for any investor seeking to beat inflation,whether that is a pension scheme, sovereign wealth fund, endowment or a family office"
Top Gainers & Losers – 14-Mar-22*