US equity markets closed sharply higher, recovering some of its losses as the S&P and Nasdaq ended up 2.1% and 2.9%. Sectoral gains were led by IT and Consumer Discretionary, up over 3% each. US 10Y Treasury yields were down 2bp to 2.14%. European markets were marginally lower – the DAX, CAC and FTSE were down 0.1%, 0.2% and 0.3% respectively. Brazil's Bovespa ended 0.9% lower. In the Middle East, UAE's ADX was down 0.6% and Saudi TASI was down 0.7%. Asian markets have opened with a positive bias – Shanghai, HSI, STI and Nikkei were up 0.1%, 2.5%, 1.3% and 1.2% respectively. US IG CDS spreads tightened 2.5bp and HY spreads were 11.8bp tighter. EU Main CDS spreads were 0.8bp tighter and Crossover CDS spreads were 3.3bp tighter. Asia ex-Japan CDS spreads were 7.4bp wider.
---
Learn About Bonds from Senior Bankers | Starting 28 March
In the current environment marred by geopolitical concerns, impending rate hikes and crisis in China real estate, it is imperative for investors and advisors to be able to analyze bonds effectively. This course will help you do just that via 8 interactive sessions conducted live via Zoom by senior bankers starting 28 March. Click on the banner below to know more and to sign up.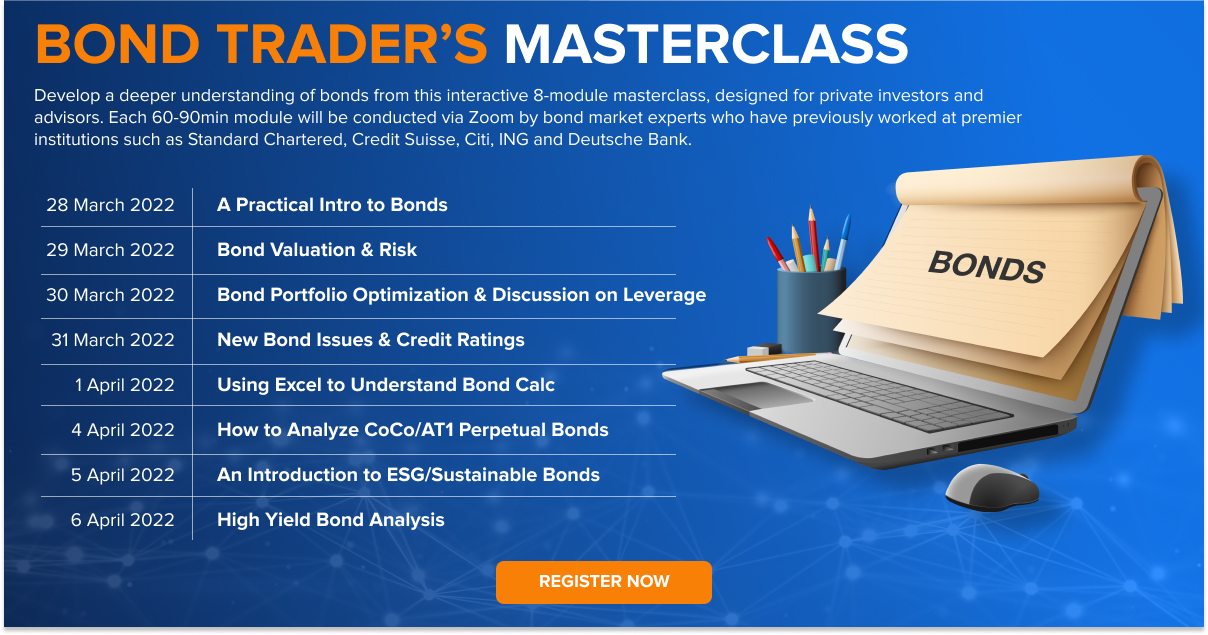 ---
New Bond Issues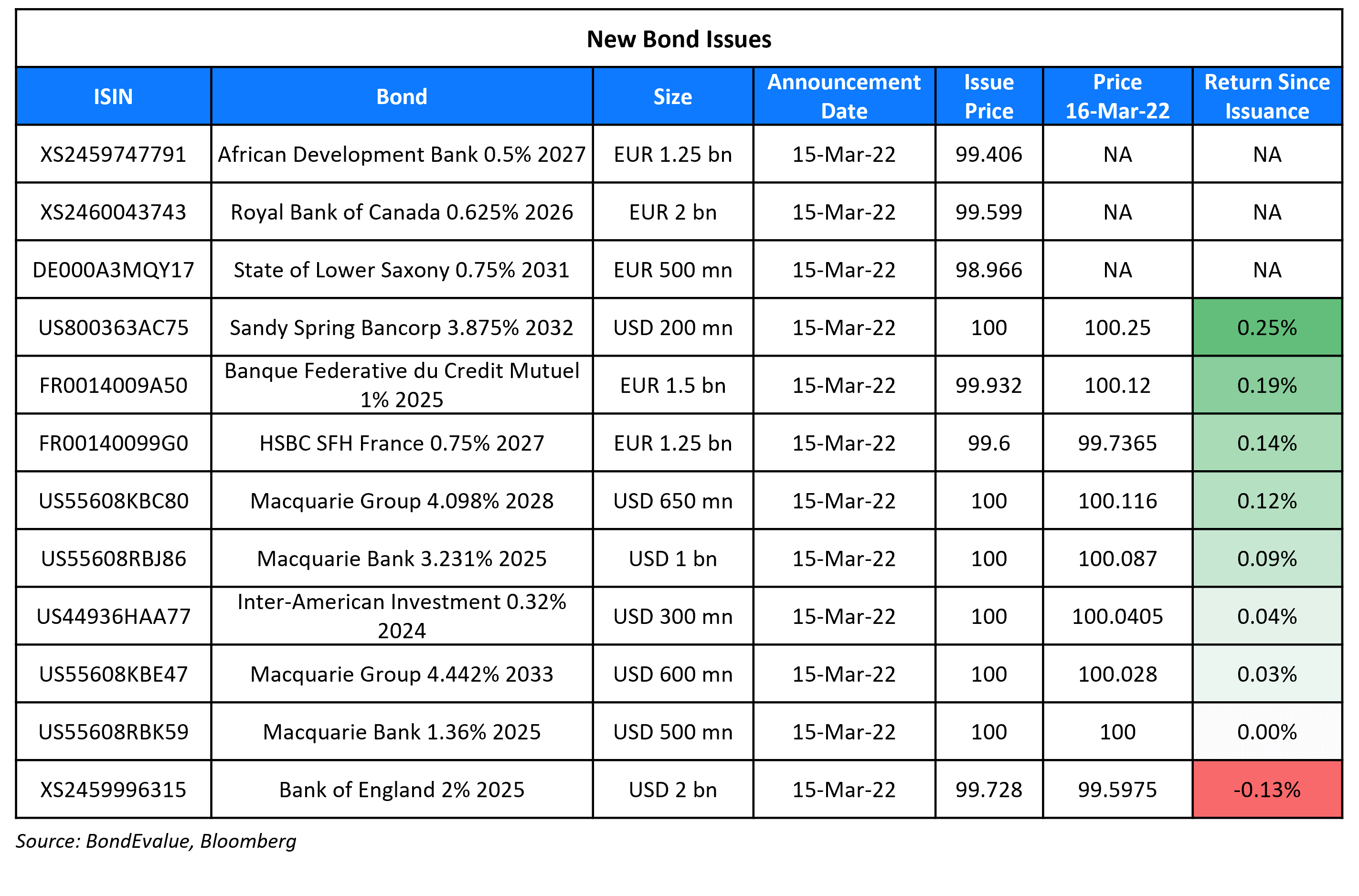 Macquarie raised $2.75bn via a four-part deal:

The bonds are rated A3/BBB+/A-. Proceeds will be used for general corporate purposes.
HSBC SFH France raised €1.25bn via a 5Y bond at a yield of 0.932%, 3bp inside initial guidance of MS+13bp area. The bonds have expected ratings of Aaa/AAA, and received orders over €1.65bn, 1.3x issue size.
New Bonds Pipeline
Hyundai Heavy Industries hires for $ green bond

The Republic of the Philippines hires for $ bond
Aluminium Corporation of China hires for $ bond
Petron hires for $ 7NC4 bond
Electricity Generating (EGCO) hires for $ 7Y or 10Y bond
Rating Changes
Peabody Energy Corp.'s Outlook Revised To Positive From Negative On Improved Cash Flow; Debt Ratings Raised
Term of the Day
Revolving Credit
Revolving credit is a form of borrowing where the credit line has a maximum limit but the borrower can access it in any quantum based on their funding needs. In a normal borrowing, once the loan has been repaid, the borrower must take a new loan to borrow more. In revolving debt, the borrower can re-access any funds that have been paid back too. Revolving debt generally comes with a higher interest rate and does not necessarily have a fixed coupon.
---
Explore BondbloX Kristals – a basket of single bonds listed on the BondbloX Exchange following themes such as SGD REIT Perps, USD Bank Perps, and SGD Bank Perps. Avail an introductory discount of $1,000 for every purchase of $100,000 worth of BondbloX Kristals*. Click on the banner above to know more.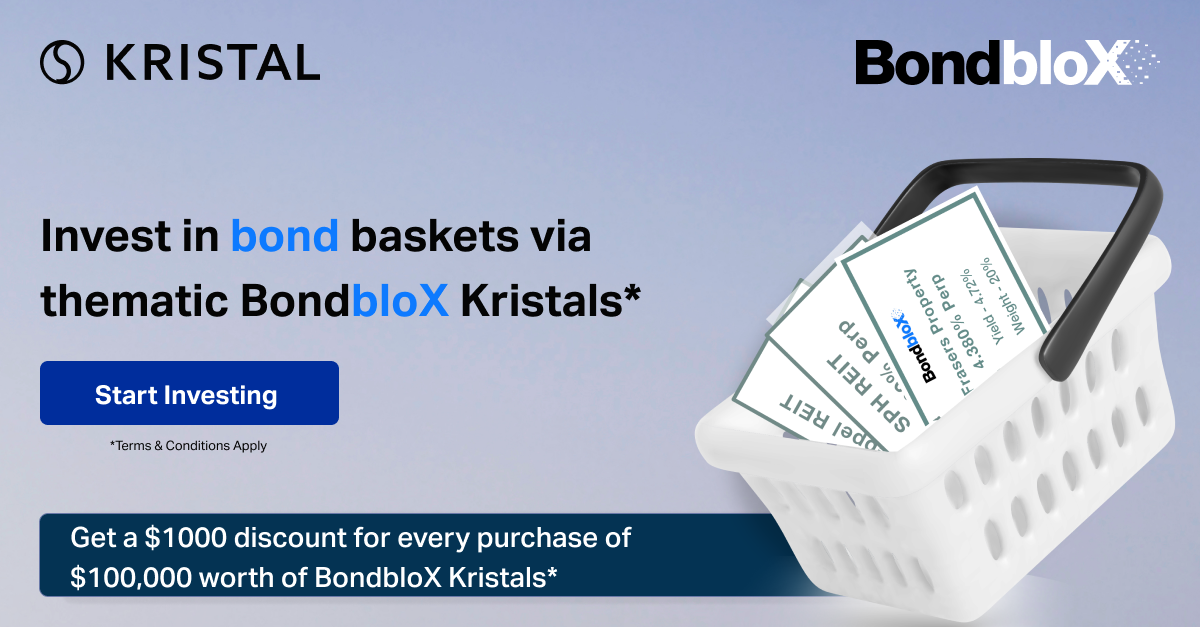 ---
Talking Heads
On DoubleLine Bets on Latin America Bonds After Dodging Russia Risk
Mark Christensen, Fund Manager of DoubleLine Emerging Markets Fixed Income Fund
"We dodged Eastern Europe exposure, but at the same time we're looking at Latin America, in general, which tends to benefit from the high-price cycle in commodities… A full war breaking out in Ukraine was not our base case," Christensen said. "We're benchmark agnostics and so we didn't need to be there."
On ESG Funds Get 'Brutal Wake-Up Call' on $800 Million Russia Bonds
Sasja Beslik, former head of sustainable finance at Bank J Safra Sarasin AG
Though ESG funds represent a small share of the total, they've still helped "finance the build-up of a war chest in Russia since 2014″…It's "a brutal wake-up call"…"Everybody in the West — financial institutions, businesses, politicians — anticipated and assumed that we and Russia have skin in the game together, given the market's economic covenant… Now it turns out that Russia has broken that covenant…and financial institutions as well as businesses have been taken for a costly ride, while people in Ukraine pay with their lives."
On Bond Market Wrestling With Risk Inflation Becomes Unmoored
BlackRock Investment Institute strategists including Alex Brazier and Wei Li
"We see a risk of inflation expectations becoming unanchored in the medium-term, causing central banks to raise rates sharply… We prefer developed equities in this inflationary environment."
Priya Misra, global head of rates strategy at TD Securities
"There is definitely a risk… Will the Fed be willing to tolerate a recession to get inflation to target? That's the tough question the market is grappling with."
Top Gainers & Losers – 16-Mar-22*