US equity markets jumped higher on Tuesday, with the S&P up 2% and Nasdaq up 2.8%. Sectoral gains were led by IT, Materials, Financials and Consumer Discretionary, up over 2.5% each. US 10Y Treasury yields were 5bp higher to 2.98%, with the 2s10s yield curve flattening 2bp on Powell's hawkish comments. European markets were higher too with the DAX, CAC and FTSE were up 1.6%, 1.3% and 0.7%. Brazil's Bovespa closed 0.5% higher. In the Middle East, UAE's ADX was up 2.9% while Saudi TASI fell 1.7%. Asian markets have opened mixed – Shanghai and HSI were down 0.4% and 0.7%, while STI and Nikkei were up 0.9% and 0.7%. US IG CDS spreads tightened 2.1bp while HY spreads tightened 9.3bp. EU Main CDS spreads were 1.9bp tighter and Crossover spreads were 9.1bp tighter. Asia ex-Japan CDS spreads were 3.9bp tighter.
US retail sales rose 0.9% MoM in April and the March print was revised higher to 1.4% vs. 0.5% previously reported. Reuters notes that the numbers reflect both, a strong demand and higher prices. Federal Reserve Chairman Jerome Powell said that the Fed will "keep pushing" until they see inflation coming down in a "clear and convincing way".
---
Trade BondbloX via Singapore-based member CapBridge and Receive Cash Credits.
New Bond Issues
Astrea VII S$ 10NC5/$ 10NC5/$ 10NC6 at 4.375%/5.625%/6.375% areas

Wing Tai Holdings S$ 5Y at 4.45% area
Shandong Gold $ Perp at 5.5% area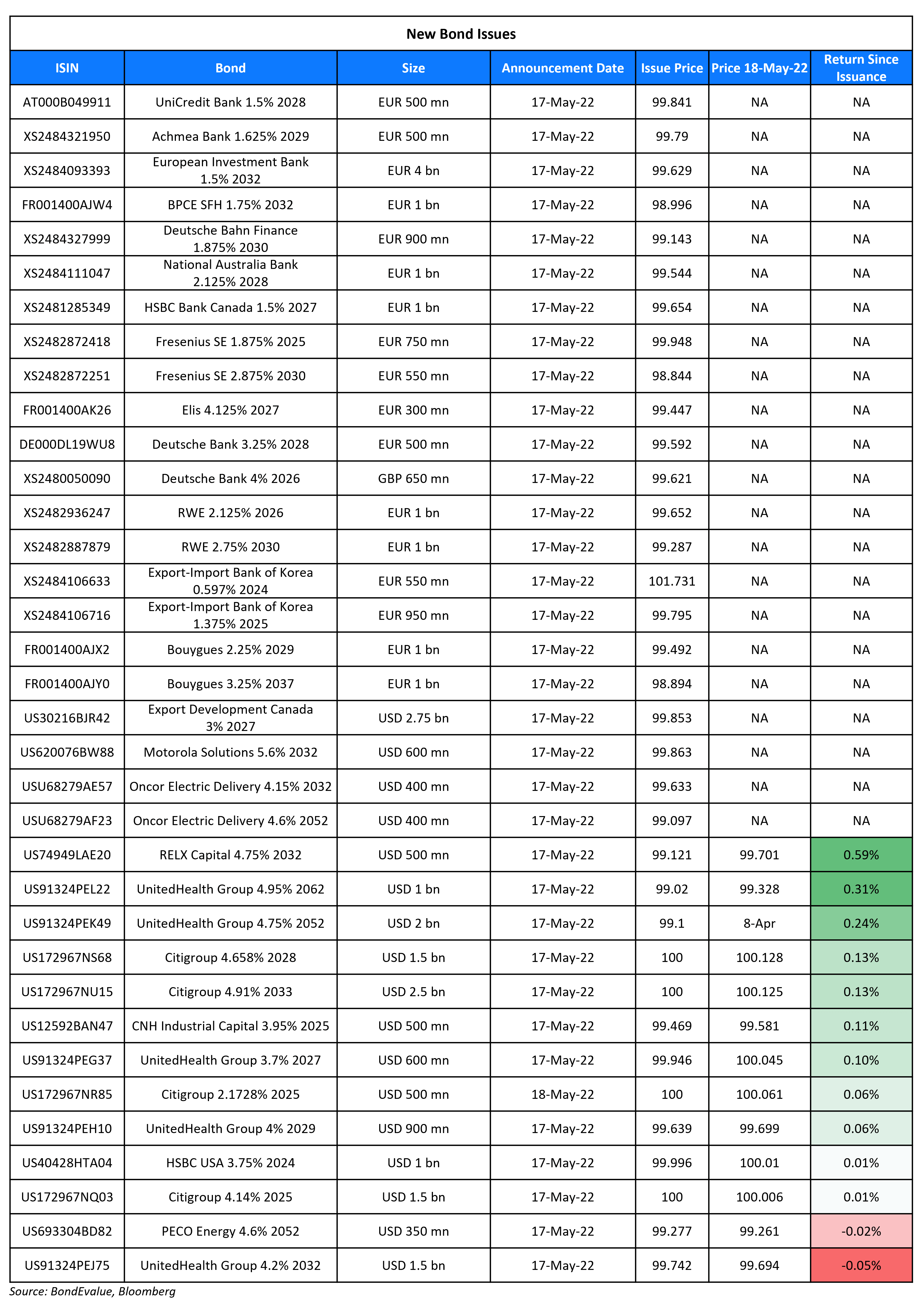 HSBC raised $1bn via a 2Y bond at a yield of 3.752%, 20bp inside initial guidance of T+125bp area.  The bonds are rated A1/A. Proceeds will be used for general corporate purposes. HSBC USA Inc is the issuer. The bank dropped a planned FRN issuance while launching the bond.
Deutsche Bank issued a multi-currency two-tranche deal. It raised €500mn via a 6NC5 green bond at a yield of 3.34%, 22bp inside initial guidance of MS+215bp area. The bonds received orders over €3bn, 6x issue size. The proceeds will be used for refinancing of green assets according to its Green Financing Framework, dated September 24, 2020. It also raised £650mn via a 4NC3 bond at a yield of 4.131%, 15bp inside initial guidance of UKT+280bp area. The bonds received orders over £1.1bn, 1.7x issue size. Both bonds are rated Baa2/BBB-/BBB+. Proceeds will be used for general corporate purposes. 
Citigroup raised $6bn via a four-tranche deal. It raised:

The bonds have expected ratings of A3/BBB+ and the proceeds will be used for general corporate purposes.
NTUC Fairprice raised S$300mn via a 7Y bond at a yield of 3.46%, 29bp inside initial guidance of 3.75% area. The bonds received orders over S$750mn, 2.5x issue size. Fund managers and insurance companies bought 36%, banks/public sector agencies/corporates took 37% and private banks took 27%. Singapore accounted for 99% and others 1%. Proceeds will be used for general corporate needs, including debt refinancing, as well as investments, general working capital needs and capital expenditure. The bonds will be redeemed at par if the combined stakes of the National Trades Union Congress, NTUC Foundation and NTUC Enterprise Co-operative in NTUC Fairprice drop to below 50.1%.
New Bonds Pipeline
Avic International hires for $ bond

Busan Bank hires for $ Social bond
Kookmin Card hires for $ Sustainability bond
Continuum Energy Aura hires for $ Green Bond
Jubilant Pharma hires for $ bond
Sael Limited hires for $ 7Y Green bond
Rating Changes
Exclusive Insights 

: Bond Duration – Understanding Interest Rate Risk

Bond duration is used as a key measure of interest rate risk. With the US Fed, Bank of England and other global central banks raising interest rates, understanding the concept of duration is critical for bond investors and advisors. Duration is a key metric used by professional investors to help manage risk and forms the building block for any bond investor.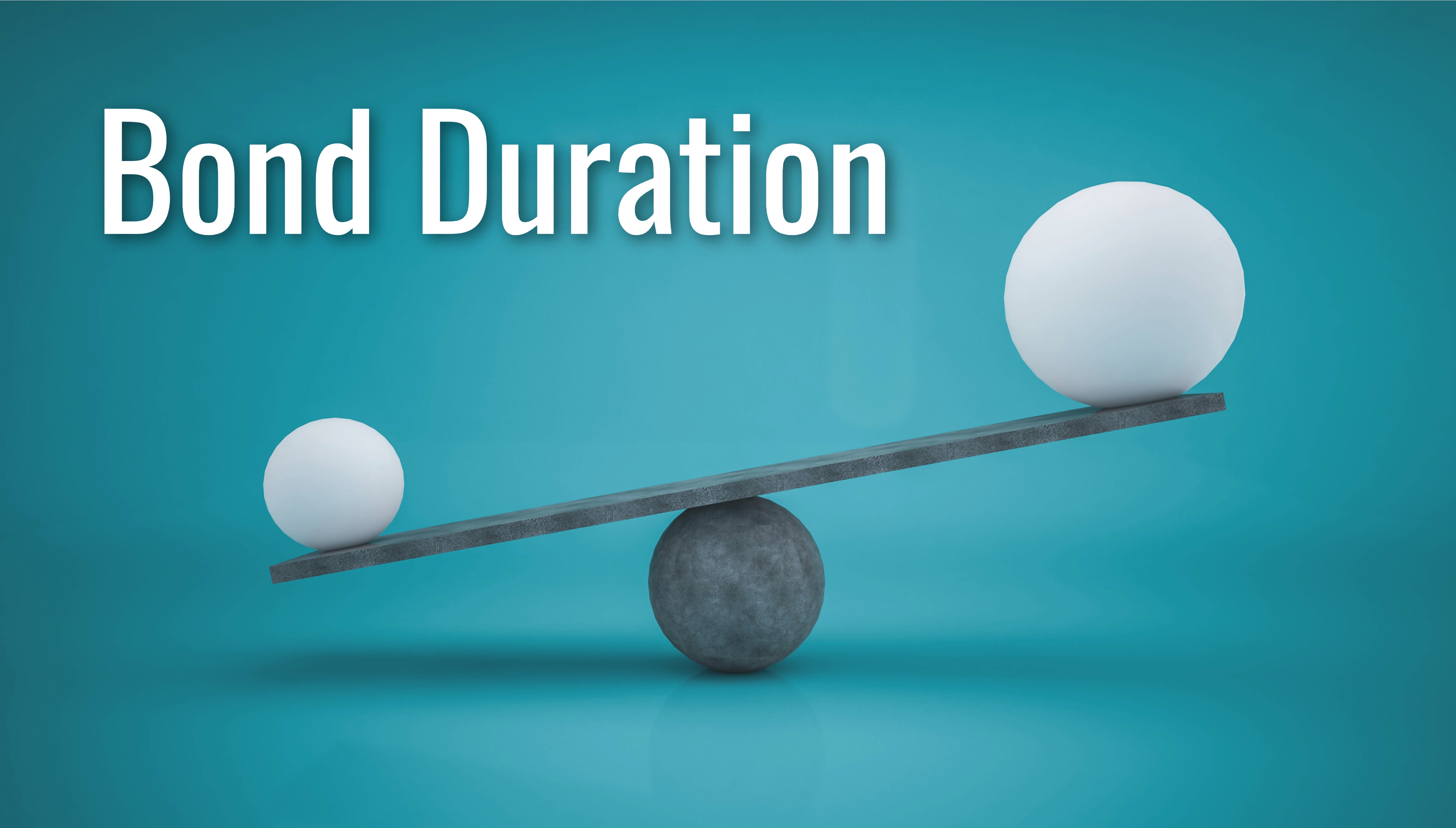 In this piece, we cover all essential concepts regarding duration with examples from the BondEvalue App and how investors can use duration as a tool to manage their fixed income investments. The topics covered in this article include:
What is Duration and How do you Define It?

A Detailed Understanding of Duration

Rules of Duration

Types of Duration
How Can Investors Use and Interpret Duration?
Limitation of Duration as a Metric
Term of the Day
Samurai Bond
Samurai bonds are yen-denominated bonds issued by foreign entities in Japan. These bonds, which are subject to bond market regulations in Japan, are issued by foreign countries and corporations to attract Japanese investors. Another reason to issue Samurai bonds is to capitalize on lower interest rates in Japan compared to the issuer's local market. Maybank returned to the Samurai market for the first time in two years to raise ¥30bn ($262mn) from the sale of three-tranche samurai bond offering.
Lloyds Bank has set a final guidance of MS+110bp on a 6NC5 Samurai bond.
Talking Heads
On Powell Saying Fed Will 'Keep Pushing' Until Inflation Comes Down
Jerome Powell, Fed Chairman
"What we need to see is inflation coming down in a clear and convincing way, and we're going to keep pushing until we see that. If that involves moving past broadly understood levels of 'neutral,' we won't hesitate at all to do that."
Derek Tang, an economist at LH Meyer
"I think it was more hawkish… He is suggesting that this phase of '50s' will last for longer. There was a suggestion that it could be more than two 50 basis-point hikes."
On Fed Has 'Good Plan' With Its Half-Point Rate Hikes – St. Louis President James Bullard
"The chair has said it looks like we are on course for 50 basis points at the next, the coming meetings… but I think we have a good plan for now."… "It looks like above-trend growth for the U.S. economy is the best base case to have. US labor markets are super strong."
On Knot Is First at ECB to Raise Prospect of Half-Point Rate Hike
"The first interest-rate hike is now being priced in for the monetary-policy meeting of July 21, and that seems realistic to me… Based on current knowledge, my preference would be to raise our policy rate by a quarter of a percentage point. Unless new incoming data in the next few months suggests that inflation is broadening further or accumulating. If that's the case, a bigger increase must not be excluded either."
On US Retail Sales Show Consumer Standing Firm in Face of Inflation
Andrew Grantham, an economist at Canadian Imperial Bank of Commerce
"While the increase will look less impressive after taking price movements into account, today's data still suggests that the squeeze on household incomes from inflationary pressures isn't yet having a material impact on discretionary spending"
Paul Ashworth, chief US economist at Capital Economics in New York
"Given this show of strength from consumers, speculation that the U.S. economy is in danger of an imminent plunge into recession looks badly misplaced"
Top Gainers & Losers – 18-May-22*