US markets slid marginally but still carved out a seventh straight month of gains – both Nasdaq and S&P ended 0.1% lower. Real Estate added 0.6% while IT and Energy traded 0.6% and 0.7% lower. For the month of August, S&P gained 3% while the tech heavy Nasdaq climbed 4%. European markets also ended lower – FTSE, DAX and CAC lost 0.4%, 0.3% and 0.1% respectively. Saudi's TASI added 0.6%. Brazil's Bovespa extended its losses by 1.2%. Asian markets were mixed – Nikkei, HSI, KOSPI and Shanghai were up 1.1%, 1.3%, 1.7% and 0.5%, while Singapore's STI fell 1.5%. US 10Y Treasury yields rose 6bp to 1.33%. US IG tightened by 0.1bp while HY spread widened by 0.6bp. EU Main CDS and Crossover CDS spreads tightened by 0.5bp and 0.8bp respectively. Asia ex-Japan CDS spreads tightened 1.3bp.
Chinese composite PMI for August posted 47.5 vs. 52.4 in July. The manufacturing PMI came in at 50.1, down 0.3 MoM and slightly below expectations of 50.2. The Caixin manufacturing PMI for China came in at 49.2 vs. 50.3 in July and below expectations of 50.2. The US consumer confidence also dropped 11.3 points to 113.8 in August, and was lower than expectations of 124. 
---

With CapBridge's fully digital investment platform, it's fast and easy to get started.
Hassle-free onboarding in 3 simple steps:  SingPass MyInfo onboarding available for Singapore residents
Curated list of fractional bonds
Yields of up to 7-9%
Fully transparent fee structure
Instant settlement
For a limited time, investors get to enjoy up to 50% rebate off annual fees. Now, enjoy an even lower cost of bond ownership.
---
New Bond Issues
Axis Bank $ perpNC5 AT1 sustainable bond at 4.4% area
Adani Green Energy $ 3Y bond at 4.7% area
China's State Grid $ 5Y bond at T+90bp area
AC Energy $ fixed-for-life green perp at 4.45% area
Lai Sun Development $ tap of $250mn 5% 2026 bond, FPG at 5%
Chiba Bank $ 5Y bond at T+100bp area
Changchun Urban Development & Investment Holdings $ 3Y bond at 4.6% area
Zhejiang Deqing Jinkai $50mn SBLC-backed 3Y bond at 2.2% area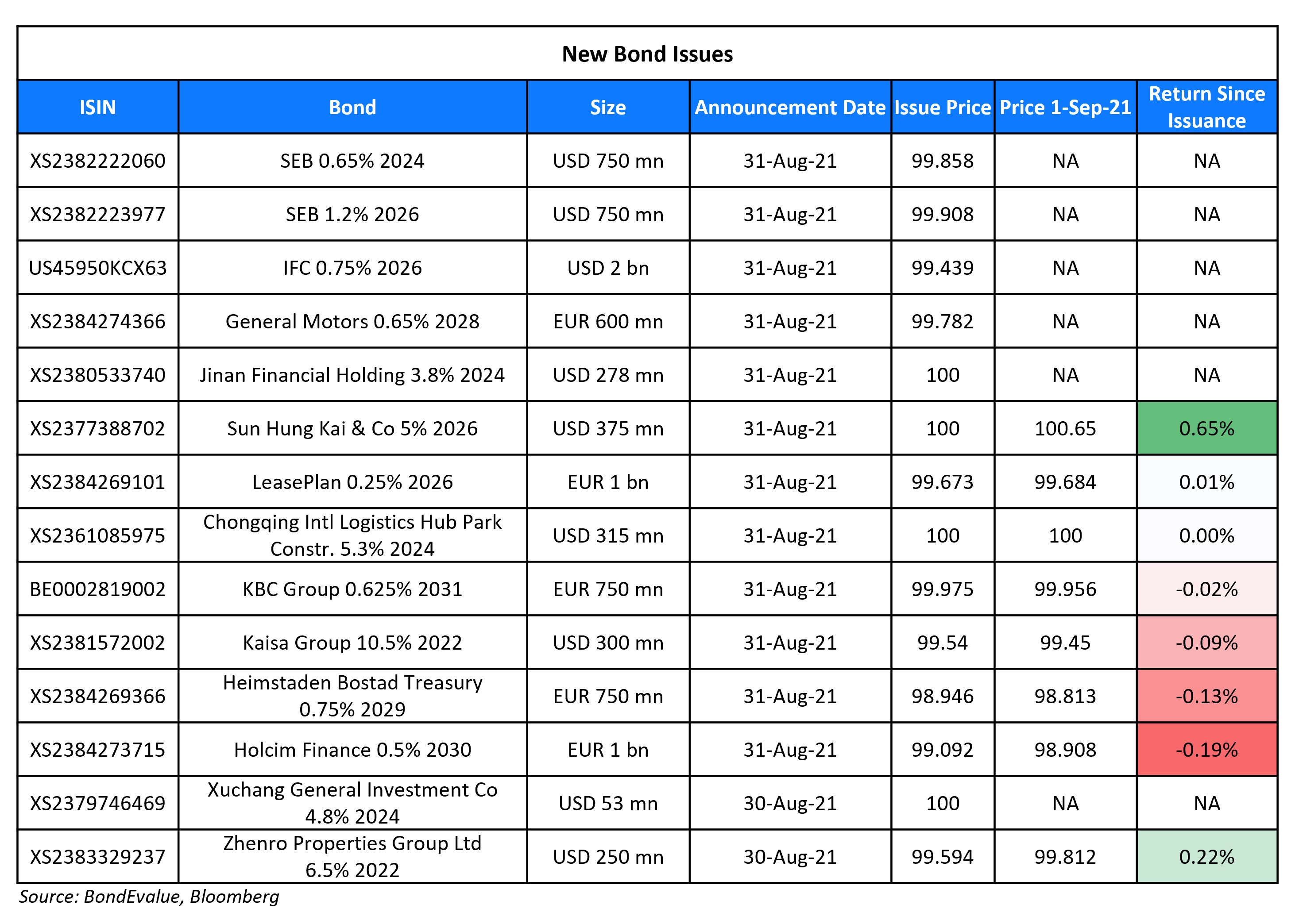 Kaisa Group raised $300mn via a 364-day sustainable bond at a yield of 11%, unchanged from initial guidance. The unrated bonds received strong orders of over $2.4bn, 8x issue size. Proceeds will be used for debt refinancing and general corporate purposes. Asian and European investors took 90% and 10% respectively. Asset/Fund managers took 74%, private banks 18%, banks and financial institutions 5% and corporates 3%. The new sustainable bonds priced ~30bp inside of its older 11.95% bonds due in October 2022, which are currently yielding 11.3%.
Sun Hung Kai raised $375mn via a 5Y bond at a yield of 5%, 35bp inside the initial guidance of 5.35% area. The unrated bonds received orders over $2.3bn, 6.1x issue size. Proceeds will be used for general corporate purposes and debt refinancing. Sung Hung Kai & Co BVI will be the issuer and Sun Hung Kai & Co will be the guarantor.
Jinan Financial Holding raised $278mn via a 3Y bond at a yield of 3.8%, 40bp inside the initial guidance of 4.2% area. The unrated bonds received orders of over $530mn, 1.9x issue size. Proceeds will be used for general corporate purposes and debt refinancing. The bonds will be issued by indirect wholly owned subsidiary Quan Cheng Financial Holdings (BVI) and guaranteed by Jinan Financial Holding.
Chongqing International Logistics Hub Park Construction raised $155mn via a tap of its $160mn 5.3% 2024s at a yield of 5.3%. The bonds are rated BBB– by Fitch. Proceeds will be used for debt refinancing. The original notes were priced on August 13 at par to yield 5.3%, inside initial price guidance of 5.75% area.
New Bonds Pipeline
Japan Tobacco hires for $  10Y, $ 30Y Formosa to fund tender offer

Aozora Bank $ Reg S 3Y bond; investor calls starting today

CATL hires for $ 5Y Reg S bonds; calls today
Rating Changes
Term of the Day:
Re-Designation
Re-designation occurs when an issuer changes the pool of voters after votes have been cast and counted. Re-designation is sometimes used to finalise restructurings when a deal is hindered by a few small series of bonds. Re-designation was a strategy used by Buenos Aires to leave portions of two bonds out of the restructuring for almost all its $7.1bn of defaulted debt so that it could garner sufficient votes from bondholders.
Talking Heads
"I would expect a decision that should not be incompatible" with terminating the pandemic bond buying program (PEPP) next March. "That would imply a reduction in the purchase pace." "Both programs have been conceived under completely different conditions, and therefore the proportionality assessment that has been made at the start of these two programs has also been completely different," Knot said. "Some of the flexibility that characterized PEPP would go against some of the safeguards that have been built into the APP." "PEPP has a clearly delineated objective — repairing the damage that the coronavirus has inflicted on the inflation outlook." "The stars are much better aligned than they have been for a long time for the return of inflation back to 2%." "I can understand that next week we may want to maintain some optionality, also to see how the delta variant will play out," he said.
"The 10-year yield continues to build upside momentum, and Powell's dovish tone on Friday won't derail that momentum. However, the 10-year yield needs to break through resistance at 1.36% and then at 1.41% before it can mount a test of the April downtrend."
According to a statement by Chile's central bank
"An accumulation of macroeconomic imbalances that, among other consequences, could lead to a more persistent increase in inflation." "The board decided to intensify the withdrawal of monetary stimulus."
Luis Felipe Alarcon, chief economist at Euroamerica
"If the factors that drove this rate hike persist, the central bank will very probably maintain this pace of interest rate increases." "If a fourth round of early pension withdrawals happens, we could even see a hike of 100 basis points."
Carolina Grunwald, chief economist at Banchile Inversiones
"This hike was drastic in order to avoid the unanchoring of inflation expectations, which are starting to get out of hand, and due to the effect of excessive liquidity." "I don't think it's likely that this pace is maintained."
Nathan Pincheira, chief economist at Finanzas Y Negocios SA
"The 75 basis points would only be the start of a much more aggressive withdrawal of monetary stimulus than we were expecting," he said.
Top Gainers & Losers – 01-Sep-21*