US 2Y benchmark yields rose 8bp to 3.95%, its highest since 2007. The rise in yields was seen further down the curve too, albeit to a lesser extent, with the 10Y up 3bp to 3.49%, its highest level since 2011. The curve thus witnessed a bear flattening move ahead of Wednesday's FOMC meeting.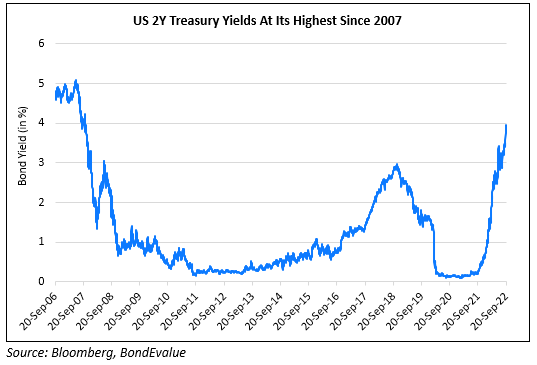 The peak Fed Funds Rate currently stands at 4.47% for the FOMC's March 2023 meeting, 4bp higher over the course of the day. US credit markets saw IG CDS spreads tighten by 2.2bp and US HY spreads tightening 14.6bp. US equity markets started the week in the green with the S&P and Nasdaq up 0.7% and 0.8% respectively.
European equity markets were mixed, and the credit markets saw EU Main CDS spreads flat while Crossover spreads moved 14.7bp higher. The ECB said that it will skew its regular corporate bond purchases towards companies that emit less carbon. Moving east, Asia ex-Japan CDS spreads widened 1.8bp as Asian equity markets have opened broadly positive today, up ~0.5%. Core CPI in Japan rose 2.8% in August vs. forecasts of 2.7% due to higher raw material costs and a weaker Yen. For the fifth straight month, inflation has trended above the BoJ's 2% target with headline inflation surging 3%, the highest in three decades.  
---
IBF-STS Course on Digital Assets | 29 Sep 2022 (In-person in Singapore)| 70/90% Funding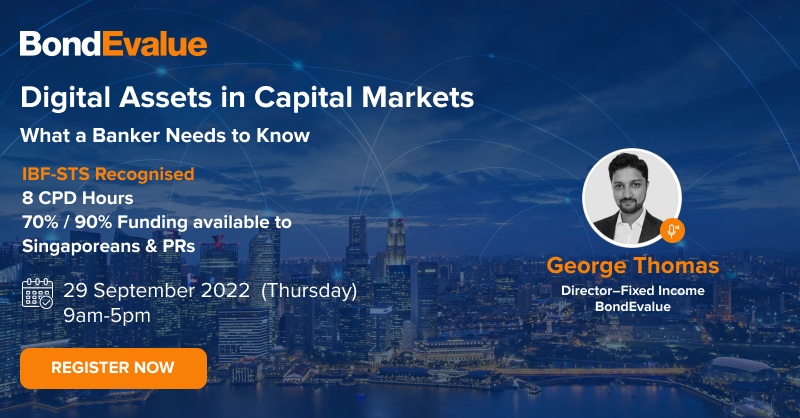 ---
New Bond Issues
Jiangsu Zhongguancun $ 3Y at 6.4% area

New Bonds Pipeline
Aozora Bank hires for $ 3Y Green bond
Tianjin Binhai New Area Construction & Investment hires for $ bond
NH Investment hires for $ 3Y and/or 5Y Green bond
Rating Changes
Term of the Day:

SOFR
Secured Overnight Financing Rate (SOFR) is a broad measure of the cost of borrowing cash overnight collateralized by Treasury securities. SOFR is calculated as a volume-weighted median of three rates – tri-party repo data collected from BNY Mellon, General Collateral Financing (GCF) Repo transaction data and data on bilateral Treasury repo transactions cleared through FICC's DVP service, which are obtained from DTCC Solutions LLC. SOFR was selected as the representative rate for use in USD derivatives, and was suggested as an alternative to LIBOR.
Talking Heads
On JPMorgan and Barclays Seeing Corporate Bonds Facing Pressure
Barclays strategist Brad Rogoff
"Altogether, we believe that tighter financing conditions alongside mediocre economic growth and weakening credit fundamentals should lead to materially wider spreads"
JPMorgan Chase strategists led by Eric Beinstein
Fed is likely to hike this week, and probably won't hint at slowing its tightening, which is one of the reasons there's a "more cautious backdrop" for investment-grade notes this week.
On A Top-Performing China Junk Bond Investor Doubling Property Bets
Li Kai, founding partner and chief investment officer of Beijing Shengao Fund Management Co.
Betting China will come up with even more concrete measures to shore up the embattled real estate industry… the turning point is a new scheme that emerged last month for select developers to sell yuan bonds guaranteed by China Bond Insurance Co… "Only developers that are still alive — meaning haven't extended any debt — will get such support"
On Global race to hike interest rates tilting economies towards recession
BofA chief economist Ethan Harris
"A competition to see who can hike faster… It takes time to cool off inflation… If you start talking about only focusing on current inflation as your main indicator, you're going to be late in stopping"
On German economy to shrink all winter as gas taps are turned off –  Bundesbank
"Economic activity may pull back somewhat this quarter and shrink markedly in the autumn and winter months
Top Gainers & Losers – 20-
September-22*