US equity markets closed higher again with the S&P and Nasdaq up 1.2% and 2.1%. Sectoral gains were led by IT and Consumer Discretionary, up over 2% each. US 10Y Treasury yields eased 2bp to 2.15%. European markets were marginally higher – the DAX, CAC and FTSE were up 0.2%, 0.1% and 0.3%. Brazil's Bovespa ended 1.8% higher. In the Middle East, UAE's ADX was flat on Friday and Saudi TASI was up 0.8% on Sunday. Asian markets have opened with a mild positive bias – Shanghai and STI were up ~0.1%, Nikkei was up 0.6% while HSI was down 0.1%. US IG CDS spreads tightened 1bp and HY spreads were 3bp tighter. EU Main CDS spreads were 0.7bp wider tighter and Crossover CDS spreads were 5.2bp wider. Asia ex-Japan CDS spreads were 0.6bp tighter.
---
With the growing interest among investors and professionals in ESG bonds – green bonds, social bonds, sustainable bonds and sustainability-linked bonds – BondEvalue has now enriched its data to include key ESG metrics for ESG bonds on the BondEvalue App. For the product release update, click here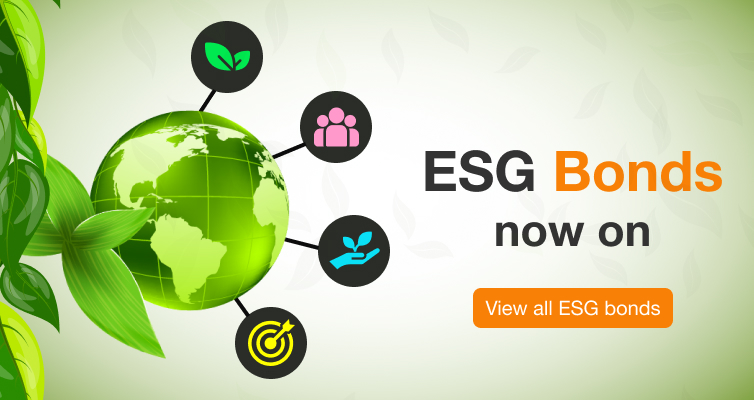 ---
New Bond Issues
Hyundai Heavy Industries $ 5Y green at T+115bp area
The Republic of the Philippines $ 5Y/10.5Y/25Y sustainability at T+125bp/T+165bp/4.7% area

New Bonds Pipeline
Aluminium Corporation of China hires for $ bond
Petron hires for $ 7NC4 bond
Electricity Generating (EGCO) hires for $ 7Y or 10Y bond
Rating Changes
Term of the Day
Gearing Ratio
Gearing refers to the financial leverage a company takes in the form of debt. While gearing ratio is typically calculated as a company's debt divided by its equity, it could also be measured as a company's debt divided by its total assets, since it ultimately shows leverage. In the case of Saudi Aramco, gearing is a measure of the degree to which Aramco's operations are financed by debt. Aramco defines gearing as the ratio of net debt to net debt plus equity – total borrowings less cash and cash equivalents to total borrowings less cash and cash equivalents plus total equity.
---
Explore BondbloX Kristals – a basket of single bonds listed on the BondbloX Exchange following themes such as SGD REIT Perps, USD Bank Perps, and SGD Bank Perps. Avail an introductory discount of $1,000 for every purchase of $100,000 worth of BondbloX Kristals*. Click on the banner above to know more.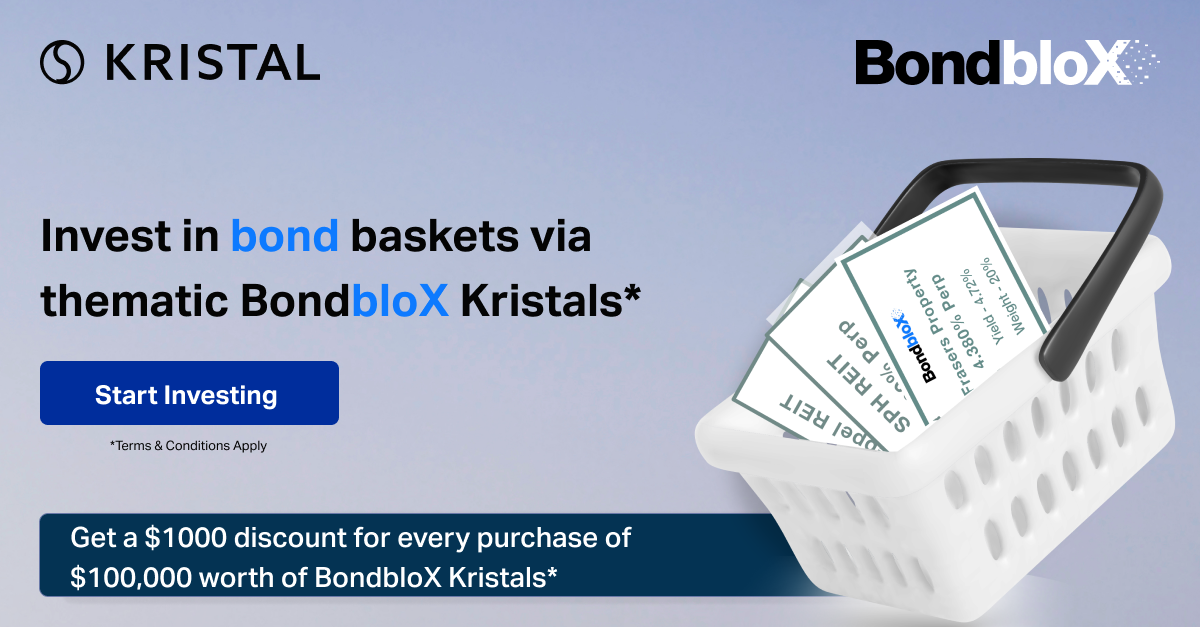 ---
Talking Heads
On Treasuries Stumble Near 2% at Short End Even With a Hawkish Fed
Steven Englander, global head of G-10 FX research at Standard Chartered
"We are less convinced on the underlying strength in both demand and labor markets, so remain skeptical that they follow through with their full hiking program. The Fed may use the next few meetings to front-load hikes while such moves are popular politically and with the public"
Kevin Flanagan, head of fixed income strategy at Wisdom Tree Investments
The Fed "can't be too zealous and tighten the screws too tight for the economy"
Alan Ruskin, chief international strategist at Deutsche Bank AG
"At some point in this cycle things are going be very uncomfortable when we see the Fed still tightening while the economy is already slowing"
On ECB's Knot Says 2022 Rate Hike Is 'Realistic' Outlook
ECB's Governing Council member Klaas Knot
"There's no longer a reason to maintain such a high level of monetary stimulus via the asset purchase program and negative policy rates"
Robert Holzmann, ECB GC Member
For the population, the system of bond purchases is difficult to comprehend — an interest rate hike would have been a signal that everyone would have understood"
On China's Sovereign Bonds Woo Buyers as PBOC Splits With World
Wilfred Wee, a Singapore-based portfolio manager at Ninety One Singapore Ltd.
"We expect China government bonds to outperform global bonds. It is striking how differently yuan government bonds have been behaving relative to global bonds, reflecting their portfolio diversification ability."
Citi strategists including Dirk Willer
"The attraction of a dovish central bank at a time when almost all other central banks are hawkish will keep interest in China government bonds high"
On Next stop IMF board after Argentina Congress OKs $45 billion debt deal
Economy Minister Martin Guzman
"Now, the next step is the approval of the IMF board. We look forward to multilateral support. It will bring more stability to Argentina, Latin America and the world… In this context of geopolitical conflict that raises international inflation in food and energy, it is of particular importance to provide certainty rather than more uncertainty."
Top Gainers & Losers – 18-Mar-22*