The US Federal Reserve hiked its benchmark interest rate by 75bp, with the Fed Funds target range now at 3.00-3.25%. While the rate hike was in-line with market expectations, the new dot plot indicate a more hawkish stance compared to the previous dot plot as of 15 June (see animated image below). Scroll down for detailed commentary on the FOMC meeting.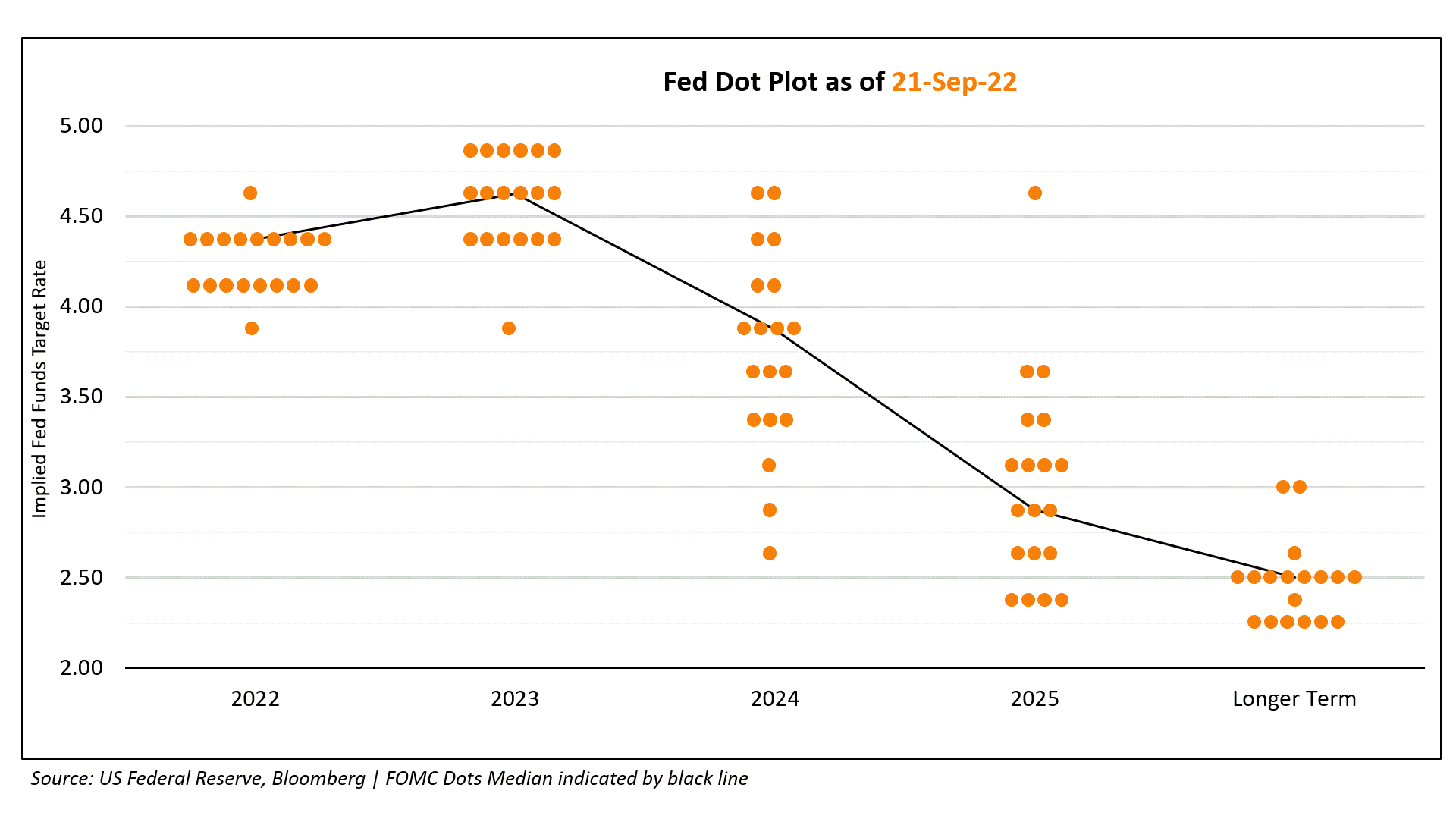 The 2Y yield jumped 16bp immediately after the rate hike to 4.12%, breaching the 4%-mark for the first time since October 2007. While it retraced afterwards towards 4%, the sell-off in the short-end gathered momentum overnight to again touch 4.12%. The 2s10s curve thus saw a 16bp bear flattening. Given the hawkish dots, the peak Fed Funds Rate currently stands at 4.66% for the FOMC's May 2023 meeting, up 18bp. 
US credit markets saw IG CDS spreads widen by 2.1bp and HY spreads widen 14bp. US equity markets ended lower on Thursday with the S&P and Nasdaq falling 1.7% and 1.8% respectively, reversing its gains earlier in the day. European equity markets ended in the green, up ~0.5%, and credit markets saw EU Main CDS spreads rise by 1.3bp and Crossover spreads move 4.6bp higher, having closed prior to the FOMC meeting. European markets did not show any negative reaction to Putin's announcement of further troop mobilization.
Asia ex-Japan CDS spreads widened 6.4bp in the aftermath of the Fed's rate hike. Asian equity markets have opened broadly negative today, down ~0.5%. Following the Fed, the HKMA lifted its policy rate by 75bp to 3.5%, given the currency's peg to the dollar. Meanwhile in Sri Lanka, inflation fastened to 70.2% in August vs. 66.7% in July, adding to its woes. This was due to food prices surging 84.6% and non-food items rising 57.1%. In the Middle East, Saudi raised its repo rate by 75bp to 3.75%, UAE raised base rates by 75bp to 3.15%, Kuwait raised key rates by 25bp to 3%, Qatar hiked its lending rate by 75bp to 4.5% and Bahrain hiked its 1W deposit facility by 75bp to 4%.  
---
IBF-STS Course on Digital Assets | 29 Sep 2022 (In-person in Singapore)| 70/90% Funding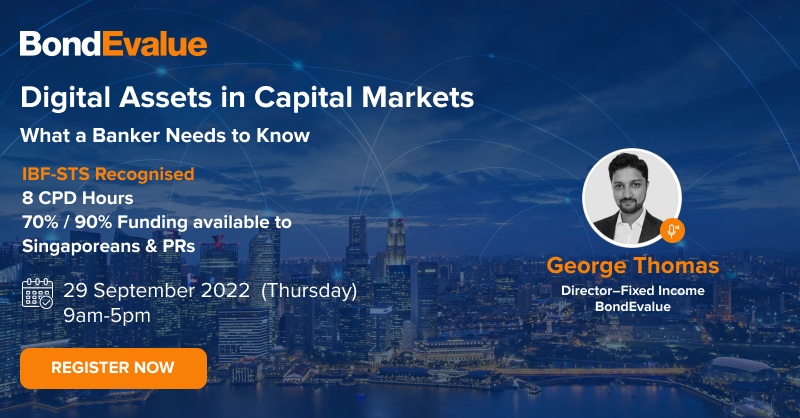 ---
New Bond Issues

New Bonds Pipeline
Aozora Bank hires for $ 3Y Green bond
Tianjin Binhai New Area Construction & Investment hires for $ bond
NH Investment hires for $ 3Y and/or 5Y Green bond
Rating Changes
---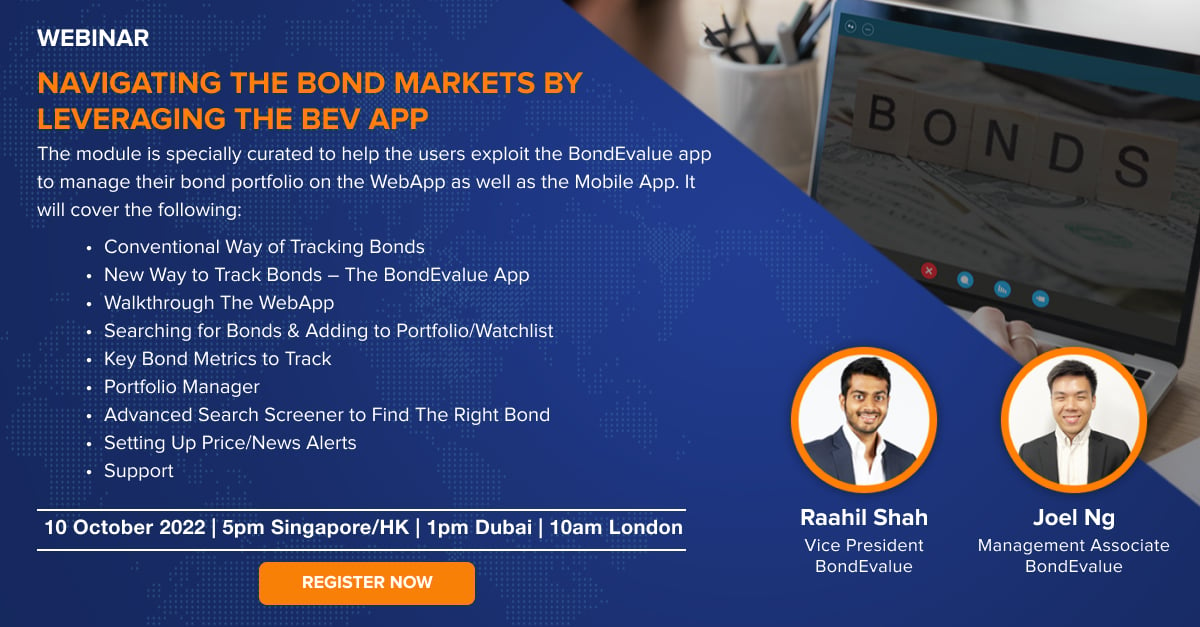 ---
Term of the Day
Fed

Dot Plot
The Fed dot plot is a visual representation of interest rate projections of members of the Federal Open Market Committee (FOMC), which is the rate-setting body within the Fed. Each dot represents the Fed funds rate for each year that an anonymous Fed official forecasts. The dot plot was introduced in January 2012 in a bid to improve transparency about the range of views within the FOMC. There are usually 19 dots for each year, but 1 position is currently vacant, which is why the latest dot plot has 18 dots.
Talking Heads
On Federal Reserve Rate Hike – Federal Reserve Chairman, Jerome Powell
"Anticipates that ongoing increases… will be appropriate"… "We're committed to getting inflation back down to 2%"… see the need to lift the policy rate to a "restrictive level" and "keep it there for some time."
On Treasury Curve Flattening after Fed Boosts Hike Expectations
Priya Misra of TD Securities
"The Fed is on a mission, and if inflation stays high, they are not afraid to keep going… Makes owning the front end not look attractive"
On Seeing  '99.9%' Odds of Fed-Induced Recession – Earl Davis, BMO Fixed Income Head
"The likelihood of a recession is 99.9%. Why do I say that? The central bankers actually want a recession… It may end up being a policy mistake. But the playbook says you have to get a recession. That is the key thing that the market has to get through.
On Chinese developers' bonds indirectly backed by Beijing unlikely to resolve property sector's liquidity crisis
Raymond Cheng, managing director of CGS-CIMB Securities
"The scale of the onshore medium-term notes is around 1 to 1.5 billion yuan [each], which can only offer marginal help to some developers. They are not big enough to solve all their funding problems"
Judy Zhang, an analyst with Citi Investment Research
"Private developers' debt defaults may have peaked in the first half, while the default risk is spilling onto [state-owned] developers"
Bruce Pang, head of research, at JLL
"Yuan bond issuances are a good way considering that they cannot raise more in offshore markets."
Top Gainers & Losers – 22-
September-22*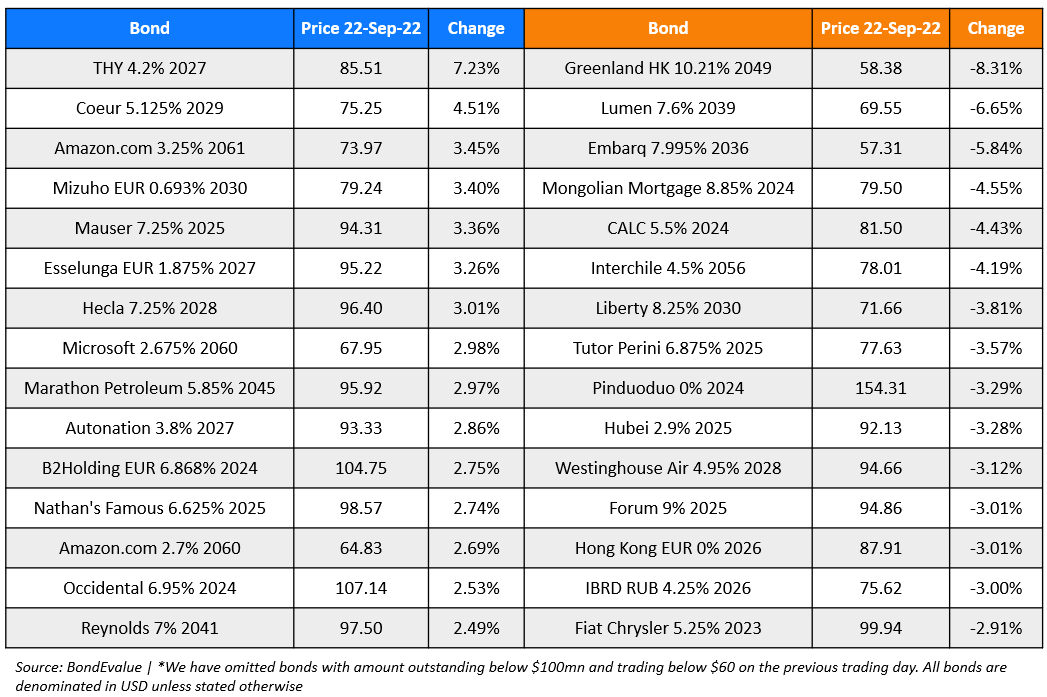 Other Stories
El Salvador Buys Back Bonds, Plans to Launch New Offering in 8 Weeks