US equity markets dropped on Tuesday after being closed on Monday due to President's Day holidays. S&P and Nasdaq were down 1% and 1.2% with sectoral losses led by Consumer Discretionary, down over 3%, followed by Energy and Materials, down 1.4-1.5%. The US 10Y Treasury yield rose 8bp to 1.94%. European markets were relatively steady – DAX was down 0.3%, CAC was flat and FTSE was up 0.1%. Brazil's Bovespa closed 1% higher. In the Middle East, UAE's ADX was up 0.6% while Saudi TASI was shut due to National Day holiday. Asian markets have opened mixed – Shanghai and HSI were up 0.6% and 0.7% while STI and Nikkei were down 0.6% and 1.7% each. US IG CDS spreads widened 0.5bp and HY spreads were 4.5bp wider. EU Main CDS spreads were 0.8bp tighter and Crossover CDS spreads were 2.3bp tighter. Asia ex-Japan CDS spreads were 3bp wider.
---
New to the BEV App? Join us later today for an interactive session on how to leverage the BEV App to better track your bond investments. The webinar is free for all App users and is scheduled for 5pm SG / 1pm UAE / 9am UK. Click on the banner below to sign up.
---
New Bond Issues
Quzhou State-owned Capital Operation $ 3Y sustainable at 3.35% area
CMB Sydney $ 3Y green at T+80bp area
CDB Leasing $ 3/5Y at T+140/160bp area
Huai'an Investment Holdings Group $  at 3.7% area
Fugao Wantai Group $ 3Y at 4.5% area

China Tourism Group raised $700mn via a 5Y bond at a yield of 2.999%, 40bp inside initial guidance of T+155bp area. The bonds were rated A3, and received orders over $3.1bn, 4.4x issue size. Asia took 97% with EMEA taking 3%. Banks and financial institutions bought 65% of the deal, asset and fund managers 18%, corporates 14% and central banks, insurers and private banks 3%. Sunny Express Enterprises Corp 5 is the issuer with China Tourism Group is the guarantor. Proceeds will be used to replace and repay offshore debt and for working capital.
Agricultural Bank of China (Hong Kong Branch) raised $900mn via a two-trancher. It raised $600mn via a 3Y green bond at a yield of 2.088%, 40bp inside initial guidance of T+75bp area. It also raised $300mn via a 5Y bond at a yield of 2.361%, 40bp inside initial guidance of T+90bp area. The bonds were rated A1, and received orders over $2.3bn, 2.6x issue size.
New Bonds Pipeline
Hubei United Development Investment Group hires for $ green bond
Huatai Securities hires for $ bond
CNGR Advanced Material hires for $ credit-enhanced green bond
Yunnan Provincial Investment Holdings hires for $ bond
Mumbai International Airport hires for $ bond
The Republic of the Philippines hires for $ bond
Aluminium Corporation of China hires for $ bond
Petron hires for $ 7NC4 bond
Electricity Generating (EGCO) hires for $ 7Y or 10Y bond
Rating Changes

 
Term of the Day
Will Not Grow (WNG) Bonds
Bonds whose size is fixed and cannot be increased are called 'Will Not Grow (WNG)' or 'No Grow' bonds. Sometimes, issuers increase the final size of a deal to accommodate investor appetite. WNG bonds however have a fixed size and will not be increased. For example, green bonds often fall into this category as per the Climate Bonds Initiative (CBI). The CBI says that issuers need to show that there are enough green projects to match the amount that they intend to raise and for some, the number of suitable projects is limited. This according to them shows why green bonds tend to be smaller than vanilla bonds from the same issuer whereas for others there is more flexibility and the final size of the deal can be increased to accommodate investor appetite. BPCE yesterday priced a €500mn via a WNG 10Y Tier 2 bond.
---
Explore BondbloX Kristals – a basket of single bonds listed on the BondbloX Exchange following themes such as SGD REIT Perps, USD Bank Perps, and SGD Bank Perps. Avail an introductory discount of $1,000 for every purchase of $100,000 worth of BondbloX Kristals*. Click on the banner above to know more.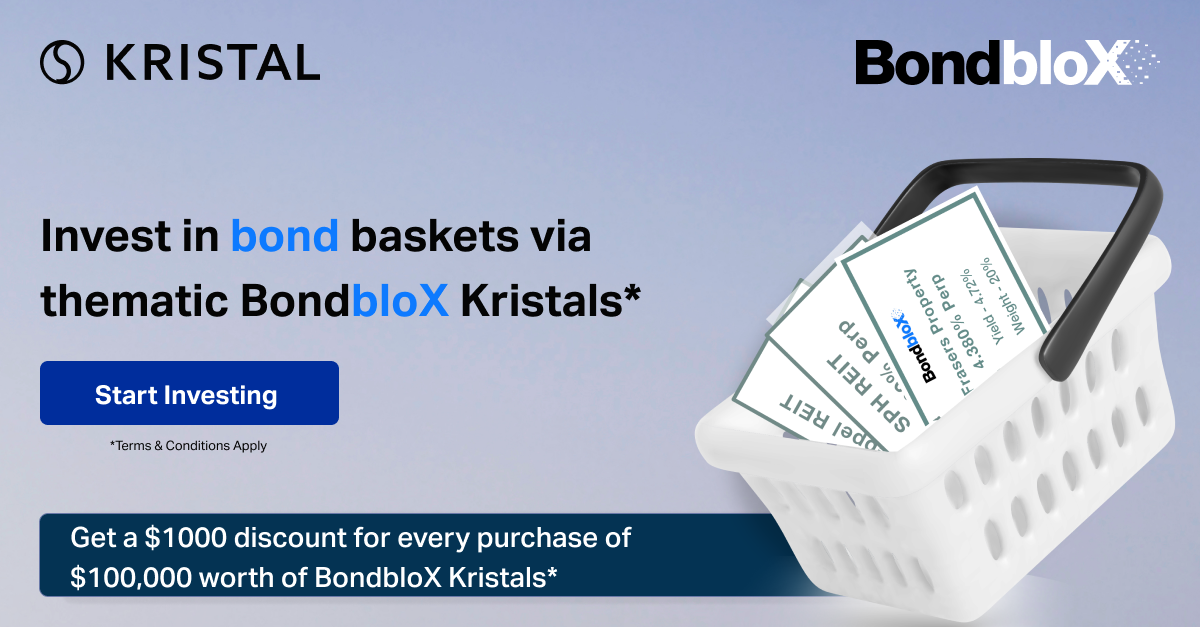 ---
Talking Heads
On the Russia-Ukraine Sanctions
US President Joe Biden
"He's setting up a rationale to take more territory by force. This is the beginning of a Russian invasion of Ukraine…. That means we've cut off Russia's government from Western financing. t can no longer raise money from the West and cannot trade in its new debt on our markets or European markets either."
Daleep Singh, the deputy U.S. national security advisor for international economics
"This was the beginning of an invasion, and this is the beginning of our response. The actions we took today were only the first tranche. We are ready to press a button to take action on the two largest Russian financial institutions, which collectively hold almost $750 billion in assets, or more than half of the total in the Russian banking system."
On Biden's Russian Bond Ban Giving a Jolt to Global Debt Traders
Clay Lowery, executive vice president of the Institute of International Finance
"In the short term, this is unlikely to have a major impact on Russia's economy. But in the longer-term, this action, combined with other actions from European countries, is likely to hinder Russia's economic growth"
Jack McIntyre, a portfolio manager at Brandywine Global Investment Management
"As long as it doesn't include existing Russian debt, we and markets will be OK. Because we can sell our position if warranted or add to it. These were not tough sanctions — by design."
Cathy Hepworth, head of emerging markets debt at PGIM Fixed Income
"It makes it much harder from Russia to issue external debt, but they really don't need it… if sanctions are intensified down the road (i.e. on more Russian banks), it may make it a bit more complicated for local banks to have as much capacity for local debt."
Jens Nystedt, a senior money manager at Emso Asset Management
"I think this was only a first round of sanctions where they are keeping the most punitive ones in reserve depending on how things develop on the ground"
On AllianceBernstein Joining Pimco in Turning Cool on China's Bonds
Brad Gibson, co-head of APAC fixed income
"It's time to take a breather… so lower yields from here will be hard to see… That additional supply would be bad for bonds in the near-term… The reduction in policy bank bond holdings is a sign that investors are less confident that bond yields will fall further in China"
Top Gainers & Losers – 23-Feb-22*