US equity markets ended slightly lower on Wednesday with the S&P and Nasdaq down 0.1% each. Sectoral losses were led by Energy down 4.2% and Materials down 1.3%. US 10Y Treasury yields dropped by 10bp to 3.16% with analysts noting that recession worries have affected sentiment with Fed Chairman Powell also stating that it is a possibility. European markets were down too, with the DAX, CAC and FTSE falling 1.1%, 0.8%, and 0.9% respectively. Brazil's Bovespa was down 0.2%. In the Middle East, UAE's ADX and Saudi TASI closed 1.8% and 2.9% lower respectively as crude oil prices continue to trend lower. Asian markets have opened broadly higher – HSI was up 1%, STI and Shanghai were higher by 0.6% each while Nikkei was flat. US IG CDS spreads widened 1.7bp and HY spreads were 2.9bp wider . EU Main CDS spreads were 3.5bp wider and Crossover spreads were 15.4bp wider. Asia ex-Japan IG CDS spreads widened 4.9bp.
---
Do you own

Sri Lanka

,

Pakistan

and/or

Chinese real estate bonds

? If yes, do sign up for the upcoming masterclass focused on debt restructuring to learn more about what to expect as bondholders.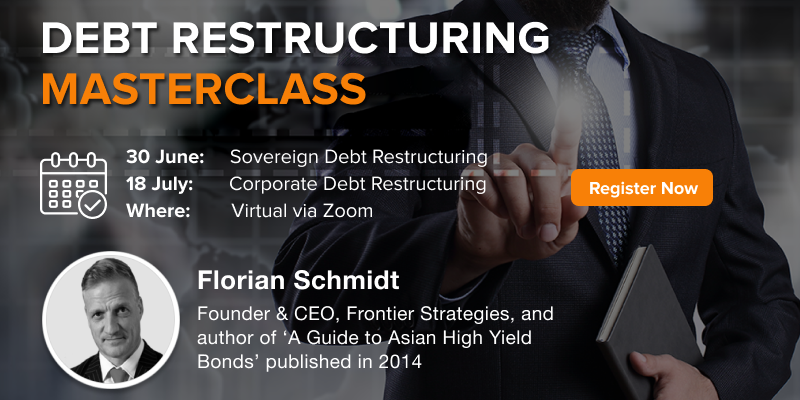 The masterclass will be conducted virtually by Asian high yield and liability management expert Florian Schmidt on
30 June
and
18 July
and will cover, among other things, case studies on
Sri Lanka
and recent consent solicitation and schemes transacted by 
Chinese property developers
including 
Guangzhou R&F Properties.
New Bond Issues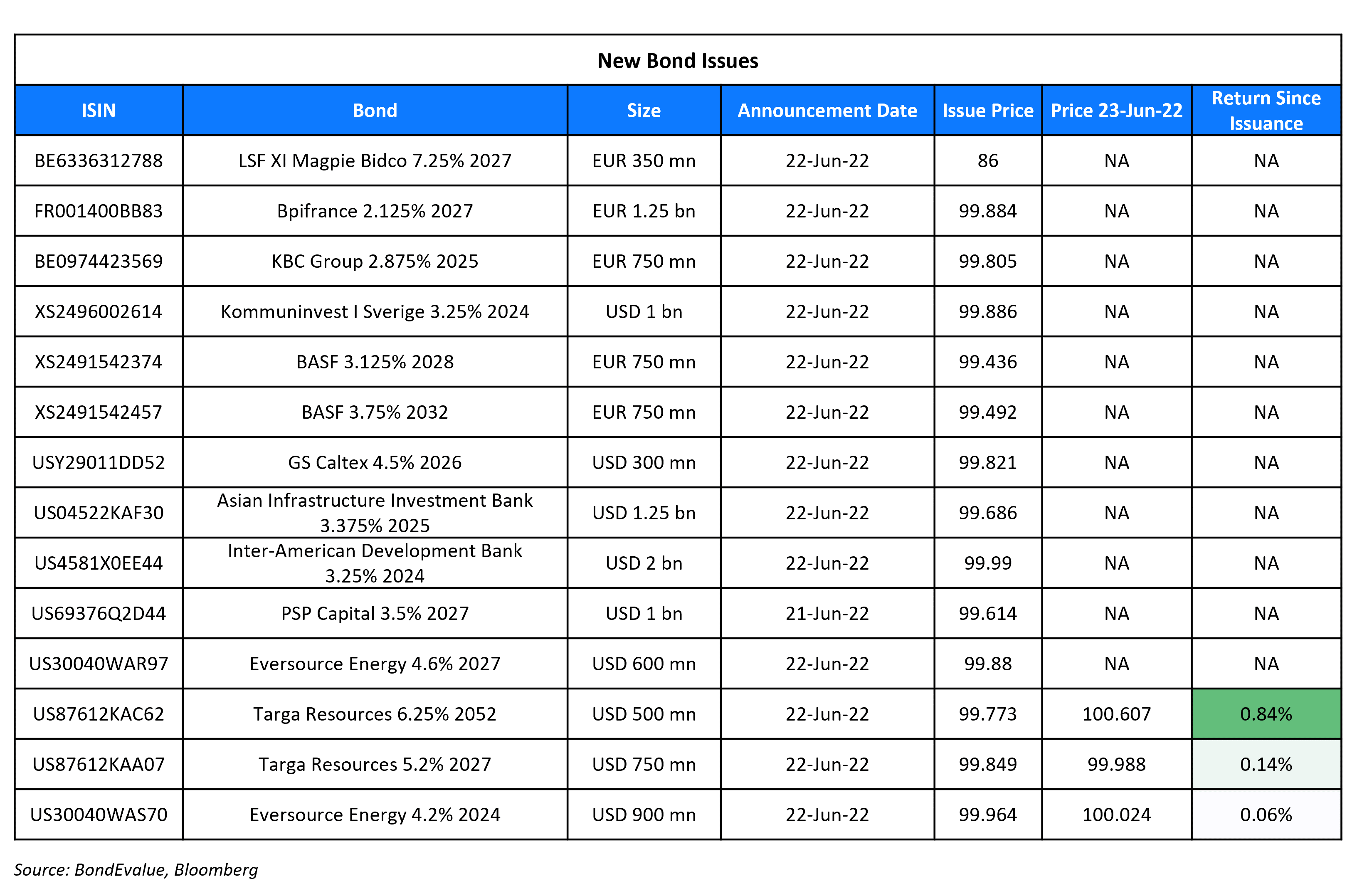 GS Caltex raised $300mn via a 3.5Y bond at a yield of 4.556%, 35bp inside initial guidance of T+170bp area. The bonds have expected ratings of Baa1/BBB (Moody's/S&P), and received orders over $1.9bn, 6.3x issue size. Proceeds will be used for general corporate purposes.
New Bonds Pipeline
Bank of East Asia hires for $ 6NC5 bond
Busan Bank hires for $ Social bond
Continuum Energy Aura hires for $ Green Bond\
Rating Changes
Term of the Day
Distressed Debt Exchange
Distressed Debt Exchange (DDE) is an offer made by a company to its bondholders to avoid bankruptcy, improve liquidity, reduce debt, manage its maturity dates (by exchanging debt securities that are coming due for debt securities with an extended maturity) and to reduce or eliminate onerous covenants. In genera, Fitch classifies a debt exchange as distressed if there is a material reduction in terms compared to the original terms and the exchange is initiated to evade bankruptcy or default. Fitch has several criteria for an offer to be called as a DDE which can be seen by clicking here.
Talking Heads
ECB Says Europe's Economy Seen 'Far' From Stagflation Scenario
European Central Bank analysts
"While growth forecasts were cut and price expectations raised following Russia's invasion of Ukraine, economic activity is still seen increasing next year and inflation is expected to slow below 2% in the second half of 2023…Current expert forecasts remain far from a stagflation scenario…However, uncertainty has increased"
Fed's Harker says interest rates should reach above 3%, then reassess
Philadelphia Fed President Patrick Harker
"We don't have to overreact in terms of the fed funds rate," Harker said during a conference held by the regional Federal Reserve bank. "We need to get above neutral, again I'd like to get above three, but I don't think you have to accelerate rapidly beyond that at this point until we get a better understanding of what exactly the quantitative tightening is doing.
China's Property Slump Is a Bigger Threat Than Its Lockdowns
Lu Ting, chief China economist at Nomura Holdings Inc.
"This is the worst property downturn on record…This time it's different, as Beijing has attached national strategic importance to reining in property bubbles."
Inflation and recession dominate outlook, increase risk of accidents – PIMCO
US Investment firm PIMCO
"Central banks' focus on fighting persistently high inflation could lead to a recession over the next two years and raise the risk of 'financial accidents…Because of inflationary concerns, monetary and fiscal responses to a recession, if and when it arrives, could be more muted and slower than in previous cycles…Thus, while for many reasons our view is that the next recession is unlikely to be as deep as the Great Recession of 2008 or the COVID sudden stop of 2020, it may well be more prolonged,"
Powell Says Soft Landing 'Very Challenging;' Recession Possible
Federal Reserve Chair Jerome Powell
"The other risk, though, is that we would not manage to restore price stability and that we would allow this high inflation to get entrenched in the economy…We can't fail on that task. We have to get back to 2% inflation…The American economy is very strong and well positioned to handle tighter monetary policy…A soft landing is our goal. It is going to be very challenging. It has been made significantly more challenging by the events of the last few months — thinking there of the war and of commodities prices and further problems with supply chains."
Top Gainers & Losers – 23-
June-22*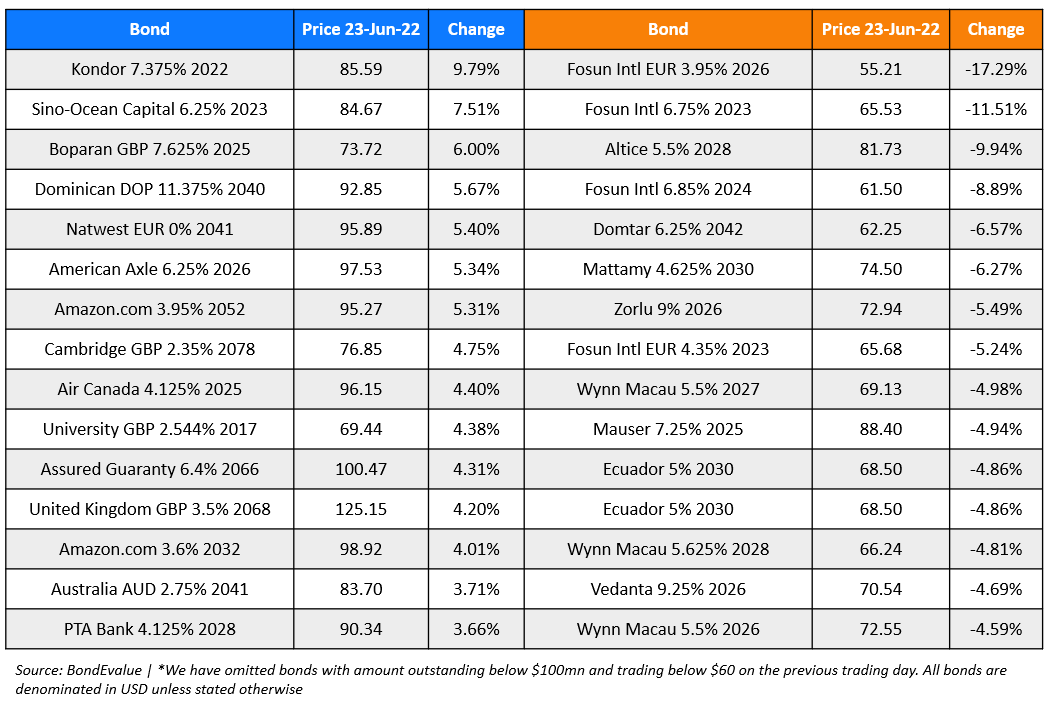 Other Stories:
Thyssenkrupp, Tata lose fight against EU veto of joint venture