US equity markets jumped higher with the S&P and Nasdaq up 1.1% and 2%. Sectoral gains were led by Consumer Discretionary and Communication Services, up over 2% each. US 10Y treasury yields went up 2bp to 2.41%. European markets were also higher – the DAX, CAC and FTSE were up 1%, 1.2% and 0.5% each. Brazil's Bovespa ended 1% higher. In the Middle East, UAE's ADX was up 0.7% and Saudi TASI was up 0.4%. Asian markets have opened with a positive bias – HSI, STI and Nikkei were up 1.7%, 0.6% and 2.6% each while Shanghai was down 0.1%. US IG CDS spreads tightened 2.6bp and HY spreads were 11.2bp tighter. EU Main CDS spreads were 1.9bp tighter and Crossover CDS spreads were 11.1bp tighter. Asia ex-Japan CDS spreads were 1.1bp wider.
Egypt's central bank raised its deposit and lending rates by 100bp each to 9.25% and 10.25% for the first time since 2017, citing inflationary pressures.
---
Advanced Course on Bonds for Investors & Advisors | Starts Next Monday
Keen to learn about bonds in order to make more informed investing decisions? Sign up for the Bond Trader's Masterclass that starts next week. The course will be conducted by senior debt capital market bankers live via Zoom and will cover key topics such as Bond Valuation & Risk, Bond Portfolio Optimization & Leverage, New Bond Issues, AT1/Perps, ESG bonds and Asian High Yield Bond Analysis.
The course consists of 8 modules – each module will be 60-90 minutes long and will begin at 5pm Singapore/HK | 1pm Dubai | 9am London. You can sign up for all 8 modules (25% discount), 4 modules (10% discount) or individual modules by clicking on the banner below.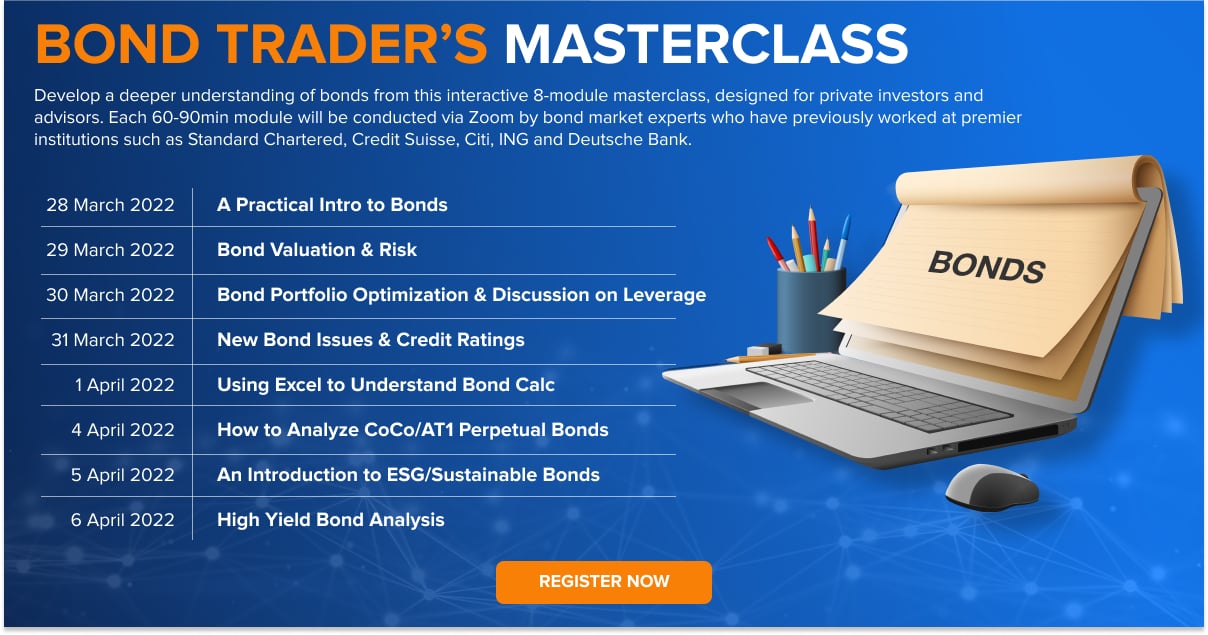 ---
New Bond Issues
PTT Global Chemical $ 10/30Y at T+260/310bp area
Singapore Post S$ 5Y at 3.45% area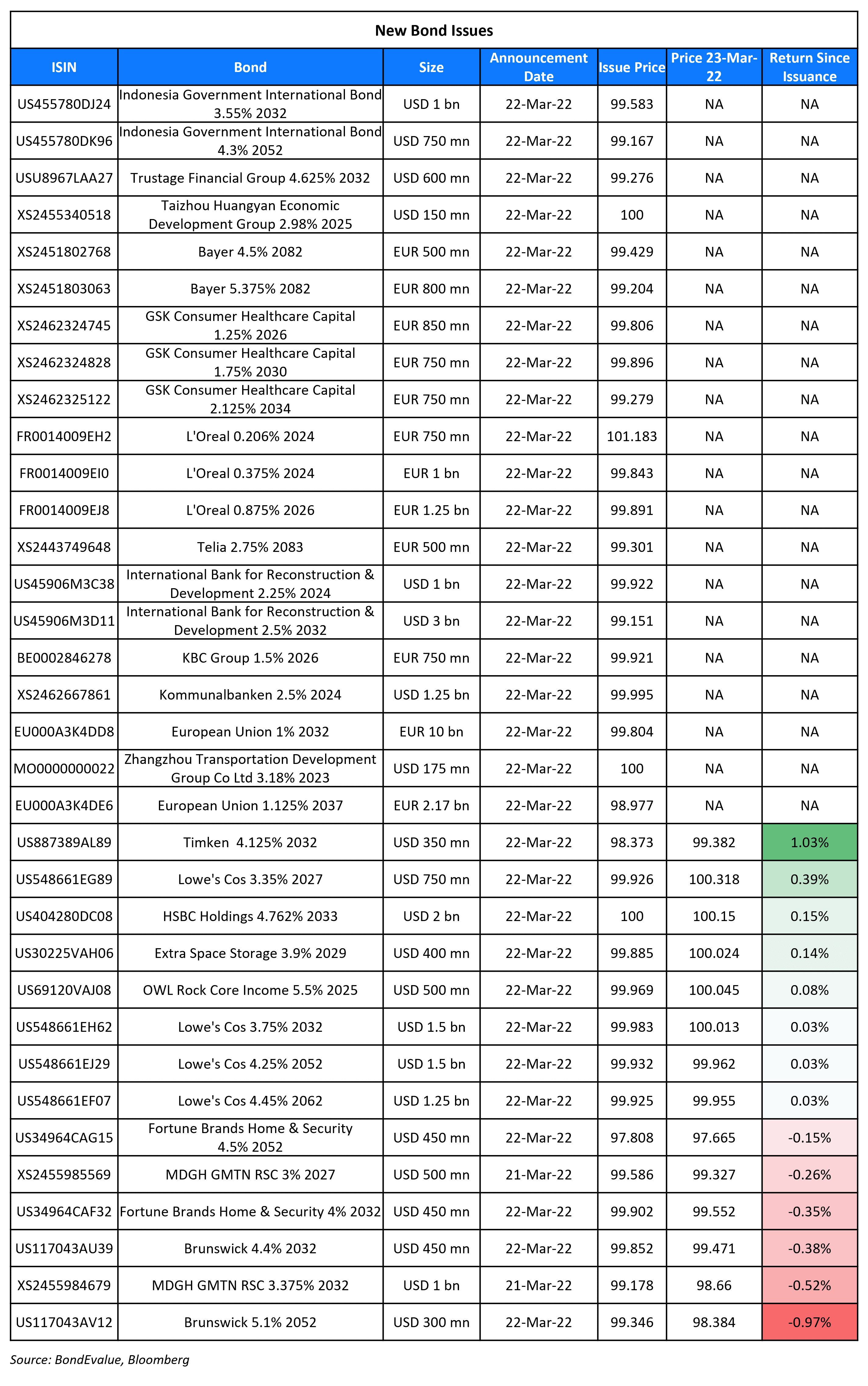 HSBC raised $2bn via a 11NC10 tier 2 bond at a yield of 4.762%, 35bp inside initial guidance of T+275bp area. The bonds are rated Baa1/BBB/A- as compared to the issuer's rating of A3/A-/A+. Coupons are fixed until March 29, 2032 and if not called, gets reset to SOFR+253bp. Proceeds will be used for general corporate purposes and strengthening its capital base. The bonds were priced ~11bp wider to its 7.625% non-callable tier 2 bond due May 2032.

Indonesia raised $1.75bn via a dual-trancher. It raised $1bn via a 10Y bond at a yield of 3.6%, 35bp inside initial guidance of 3.95% area. It also raised $750mn via a 30Y bond at a yield of 4.35%, 25bp inside initial guidance of 4.6% area. The bonds are rated Baa2/BBB/BBB. Proceeds will be used to repurchase some of the its outstanding global bonds pursuant to its tender offer including related costs and expenses thereof. Any remaining net proceeds will be used for general purposes. Details of the tender offer will be out on March 23. The new 10Y bonds were priced 31bp wider to its existing 2.15% bonds due July 2031 that yield 3.29%. The new 30Y was priced 23bp wider than its older 3.55% green bonds due June 2051 that yield 4.12%.
New Bonds Pipeline
Zhuzhou City Construction Development hires for $ green bond
Gansu Provincial Highway hires for $ sustainable bond
Hangzhou Water Group hires for $ green bond

Aluminium Corporation of China hires for $ bond

Petron hires for $ 7NC4 bond
Electricity Generating (EGCO) hires for $ 7Y or 10Y bond
Rating Changes
Term of the Day:

On-the-Run Bonds
On-the-run bonds refer to the most recently issued Treasury bonds while off-the-run bonds refer to older Treasury bonds of the same issuer. On-the-run bonds are generally more liquid and therefore trade at a slight premium in price to off-the-run bonds, known as the 'liquidity premium'. Hence, in volatile markets where liquidity becomes key, on-the-run bonds are preferred. Citigroup strategists said, "The off-the-run vs on-the-run spreads continued to generally widen- especially in the 2y and 5y sectors… No great surprise there that liquidity premium is rising in certain sectors."
---
Explore BondbloX Kristals – a basket of single bonds listed on the BondbloX Exchange following themes such as SGD REIT Perps, USD Bank Perps, and SGD Bank Perps. Avail an introductory discount of $1,000 for every purchase of $100,000 worth of BondbloX Kristals*. Click on the banner above to know more.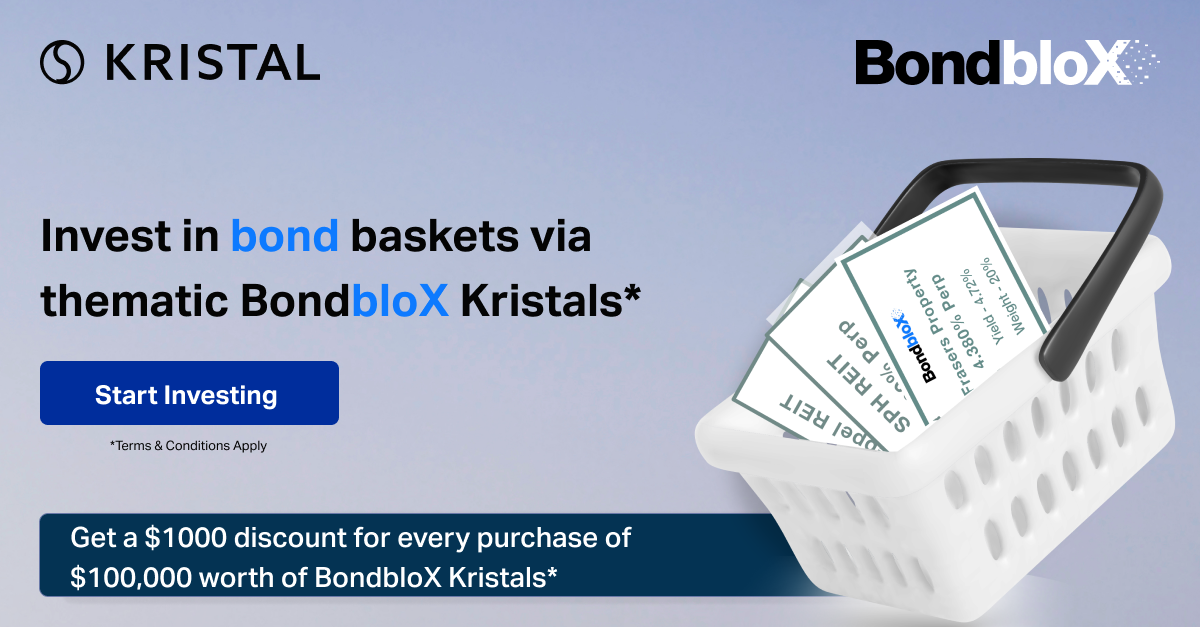 ---
Talking Heads
On Fed's Mester calls for frontloading rate hikes, sees rise to 2.5% in 2022
"I find it appealing to front-load some of the needed increases earlier rather than later in the process because it puts policy in a better position to adjust if the economy evolves differently than expected. If by the middle of the year, inflation is not beginning to moderate, we could speed up our rate increases. But if inflation is moving down faster than expected, we could slow the pace of rate increases in the second half of the year compared to the first half."
On El-Erian Callling to Cut Stock Holdings as Stagflation Concern Grows
"If I'm investing over the next 12-month horizon, I would reduce equities at this point. I would take some money off the table. The market is giving you a wonderful opportunity to come out. I don't think the market has factored in yet what's going to happen to the economy. The Fed is increasingly being forced to consider what is the least bad policy mistake it wishes to be remembered for…My baseline, for what it's worth, is we're going to see a global stagflation, lower growth, higher inflation."
On The Worst Drawdown on Record for Global Fixed Income
Norman Villamin, CIO wealth management at Union Bancaire Privee
"A high volatility regime should remain in place in the months ahead as the situation remains fluid on the geopolitical and economic front"
Top Gainers & Losers – 23-Mar-22*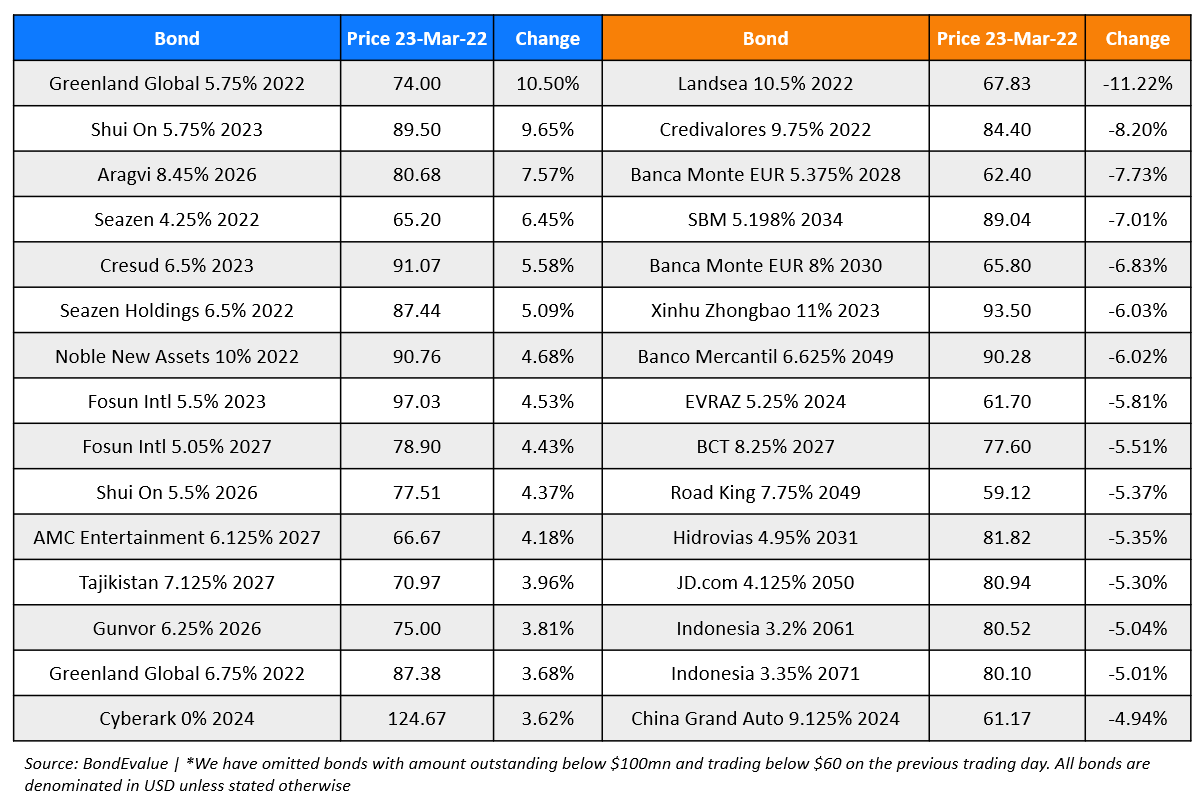 Other Stories
Brazil's JBS says U.S. domestic and international businesses to remain strong
---