US equity markets ended mixed on Tuesday with the S&P down 0.2% and Nasdaq closing flat. Sectoral losses were led by Real Estate declining 1.5%, followed by Healthcare down 1.4%, while Energy rose 3.6%. US 10Y Treasury yields were 2bp higher at 3.04%. Markets are eagerly anticipating Jerome Powell's talk at Jackson Hole  on Friday with a guidance on the quantum of September's rate hike. European markets were lower – DAX, CAC and FTSE ended 0.3%, 0.3% and 0.6% in the red respectively. Brazil's Bovespa was up 2.1%. In the Middle East, UAE's ADX and Saudi TASI ended lower by 0.2% and 1.1% respectively. Asian markets have opened lower today – Shanghai, HSI, Nikkei and STI were down 1.4%, 1.4%, 0.3% and 0.2% respectively. US IG CDS spreads widened 0.3bp and US HY spreads were tighter by 1.1bp. EU Main CDS spreads were 0.4bp wider and Crossover spreads tightened by 1.8bp. Asia ex-Japan IG CDS spreads tightened 2.3bp.
Singapore's headline inflation hit 7% in July, a 14-year high, albeit inline with estimates. This was higher than the 6.7% print in June, driven by increased transport prices and higher food and fuel inflation. Meanwhile, Indonesia's central bank surprised markets by raising its benchmark 7-day reverse repo rate by 25bp to 3.75% for the first time since 2018 as it cited increased inflationary pressures. The central bank now sees core inflation hitting 4.15%, exceeding the target range of 2-4%.
New Bond Issues
ANZ S$ 10.25NC5.25 Tier 2 at 4.8% area

Development Bank of Japan € 4Y Sustainability at MS+23bp area

National Australia Bank (NAB) raised €750mn via a 7Y covered bond at a yield of 2.347%, 2bp inside initial guidance of MS+30bp area. The bonds have expected ratings of Aaa/AAA, and received orders over €900mn, 1.2x issue size. The bonds are guaranteed by Perpetual Corporate Trust Limited in its capacity as trustee of the NAB Covered Bond Trust.
New Bonds Pipeline
Aozora Bank hires for $ 3Y Green bond
Tianjin Binhai New Area Construction & Investment hires for $ bond
NH Investment hires for $ 3Y and/or 5Y Green bond
Rating Changes
Term of the Day
Jackson Hole
Jackson Hole, Wyoming is the location of The Federal Reserve Bank of Kansas City's annual monetary policy symposium, one of the most important events attended by central bankers and economists across the globe. The conference will be held in-person after having been run virtually for two years due to the pandemic. The symposium has an interesting history with the venue being shifted to Jackson Hole in 1982 to entice then Fed Chair Paul Volcker to attend. Volcker was an avid fly fisherman and Jackson Hole has world class trout fishing. In particular, the Jackson Hole meet is generally looked at as a key event that offers more depth into the insight of central bankers, especially the Federal Reserve Chairman's policy stance and outlook. This year, the most keenly watched focus area would be the quantum of the Fed rate hike in September with the market caught between a 50bp or 75bp hike.
Talking Heads
On Era of Cheap Money, Labor and Energy Over – Singapore's central bank chief Ravi Menon
"The era of cheap money, cheap labor and cheap energy is over. Interest rates are not going back to the zero lower bound that we have seen in the last two decades." Costs of borrowing will be higher and "more reflective of time horizons and risk premiums."
On ECB's Panetta Saying Euro-Area Recession Would Ease Inflation
"If we will have a significant slowdown or even a recession, this would mitigate inflationary pressures. This implies first of all to be fully aware that the probability of a recession is increasing in the euro area because of the consequences of the pandemic, of the shock to commodity prices of recent months, because of the war and its consequences for trade and uncertainty."
On Powell Is Not About to Go All Volcker on Rates at Jackson Hole – Goldman's Jan Hatzius
"I think he will lay out a case, as he did in his last press conference, for slowing the pace of increases. We had two 75-basis-point moves. Our expectation would be, barring significant data surprises, that the September move is 50. I don't think he will be specific about the number… We have continued to be in the soft-landing camp"
On his biggest fear that inflation will be more persistent – Minneapolis Federal Reserve Bank President Neel Kashkari
"The big fear that I have in the back of my mind is, if we are wrong and markets are wrong and that this inflation is much more embedded at a much higher level than we appreciate or markets appreciate, then we are going to have to be more aggressive than I anticipate, probably for longer, to bring inflation back down
Top Gainers & Losers – 24-
August-22*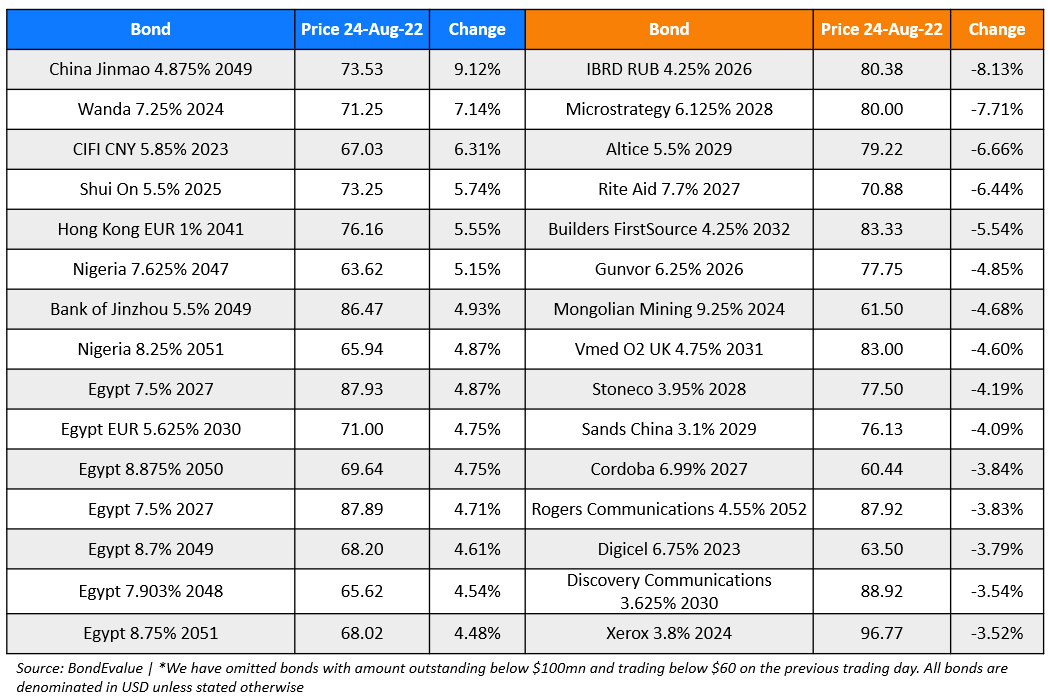 Other Stories