US equity markets declined yesterday after a strong start to the week. S&P and Nasdaq were down 1.2% and 1.3%. Sectoral losses were led by Financials, Healthcare and IT, down over 1.5%. US 10Y treasury yields eased 8bp to 2.33%. European markets were also lower – the DAX, CAC and FTSE were down 1.2-1.3%. Brazil's Bovespa ended 0.2% higher. In the Middle East, UAE's ADX was up 1% and Saudi TASI was up 0.5%. Asian markets have opened with a negative bias – Shanghai, HSI and Nikkei were down 0.5%, 0.1% and 1.1% each while STI was up 0.9%. US IG CDS spreads widened 2.1bp and HY spreads were 10bp wider. EU Main CDS spreads were 1.2bp wider and Crossover CDS spreads were 9.7bp wider. Asia ex-Japan CDS spreads tightened 3.4bp.
---
Advanced Course on Bonds for Investors & Advisors | Starts Next Monday
Keen to learn about bonds in order to make more informed investing decisions? Sign up for the Bond Trader's Masterclass that starts next week. The course will be conducted by senior debt capital market bankers live via Zoom and will cover key topics such as Bond Valuation & Risk, Bond Portfolio Optimization & Leverage, New Bond Issues, AT1/Perps, ESG bonds and Asian High Yield Bond Analysis.
The course consists of 8 modules – each module will be 60-90 minutes long and will begin at 5pm Singapore/HK | 1pm Dubai | 9am London. You can sign up for all 8 modules (25% discount), 4 modules (10% discount) or individual modules by clicking on the banner below.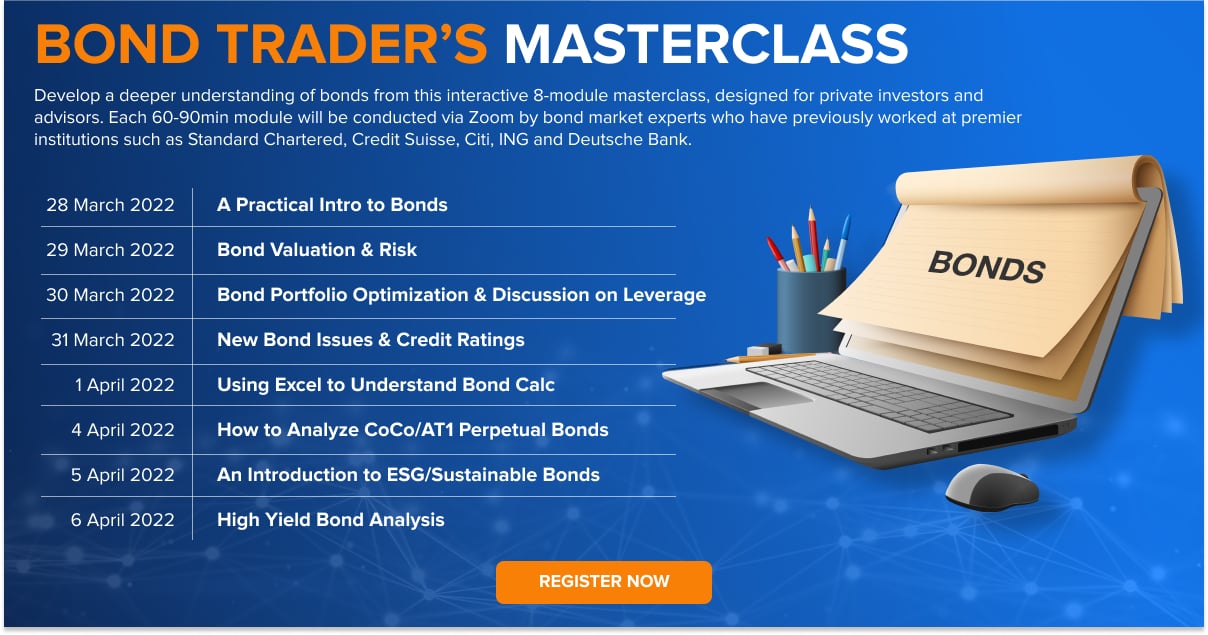 ---
New Bond Issues
Zhuzhou City Construction Development $ 3Y green at 4.8% area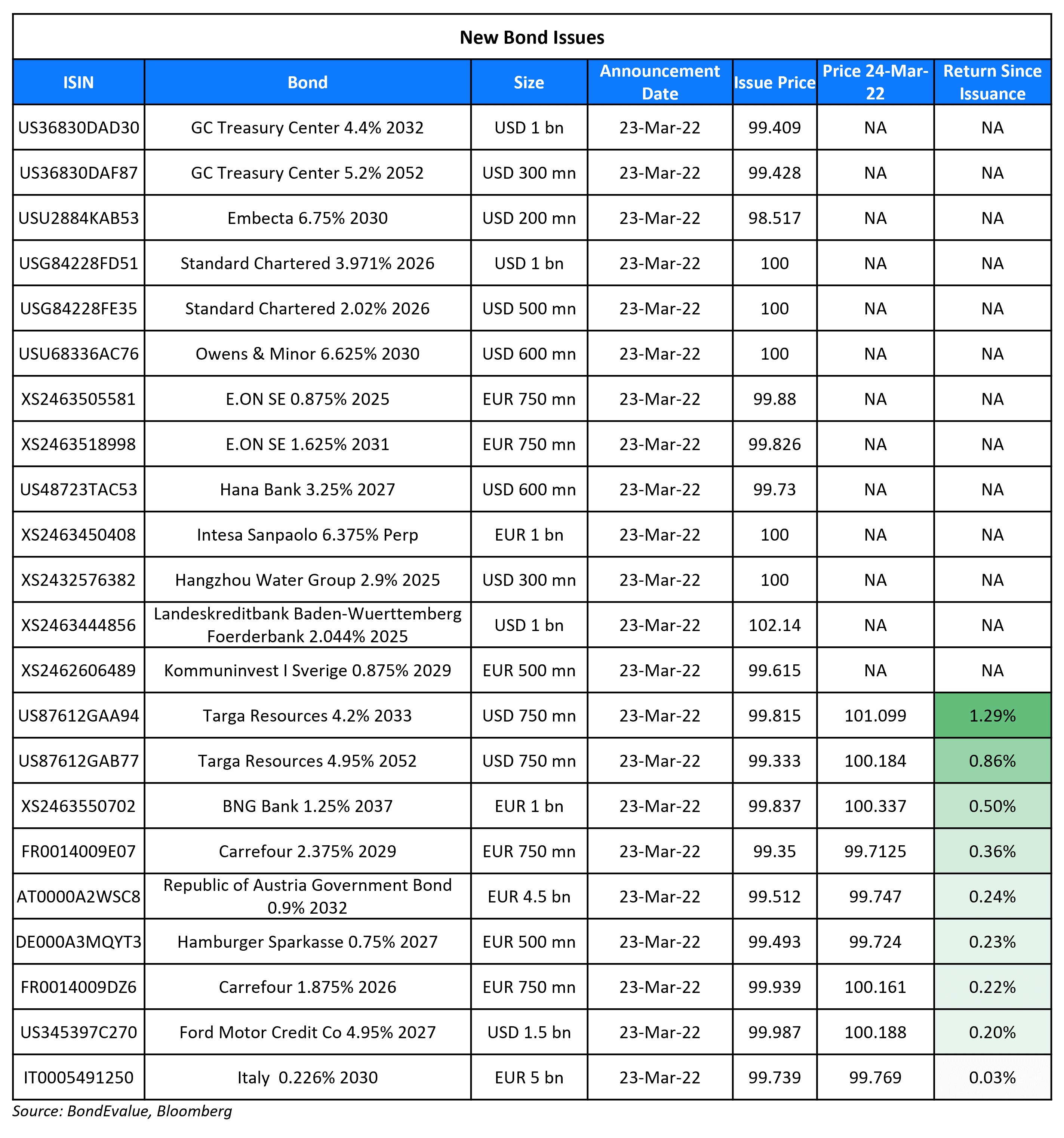 Standard Chartered (StanChart) raised $1.5bn via a two-part offering. It raised $1bn via a 4NC3 bond at a yield of 3.971%, 20bp inside initial guidance of T+185bp area. It also raised $500mn via a 4NC3 FRN at a yield of 2.02%, or SOFR+174bp vs. initial guidance of SOFR equivalent area. The bonds are rated A3/BBB+/A. Proceeds will be used for general corporate purposes.
Ford Motor Credit raised $1bn via a 4NC3 bond at a yield of 4.95%, 26bp inside initial guidance of T+287.5bp area. The bonds are rated Ba2/BB+. Proceeds will be used for general corporate purposes.
Singapore Post raised S$100mn via a 5Y bond at a yield of 3.23%, 22bp inside initial guidance of 3.45% area. The bonds are unrated. Proceeds will be used for general corporate purposes and for debt refinancing
PTT Global Chemical raised $1.3bn via a dual-trancher. It raised $mn via a 10Y bond at a yield of 3.6%, 35bp inside initial guidance of T+260bp area. It also raised $mn via a 30Y bond at a yield of 4.35%, 25bp inside initial guidance of T+310bp area. The bonds are rated Baa2/BBB. GC Treasury Center is the issuer of the notes, which will be guaranteed by the parent.
New Bonds Pipeline
Knowledge City (Guangzhou) Investment Group hires for $ green bond

Gansu Provincial Highway hires for $ sustainable bond

Hangzhou Water Group hires for $ green bond

Aluminium Corporation of China hires for $ bond

Petron hires for $ 7NC4 bond
Electricity Generating (EGCO) hires for $ 7Y or 10Y bond
Rating Changes
Term of the Day
Rhino Bonds
Rhino bonds are bonds designed to raise funds for growing the population of endangered black rhinos in South Africa. The World Bank is raising $150mn via Rhino bonds on March 31. The bonds will no pay coupons. Proceeds will go to the staff in the parks to invest in the battle against poachers, and to improve conditions for the animals.
Talking Heads
On Seeing Possible Need for Half-Point Fed Rate Hike in May
San Francisco Fed President Mary Daly
"If we need to do 50, that is what we'll do. We're prepared to do whatever it takes to ensure that we get price stability, which clearly no one thinks we have right now. Relative to previous periods of tightening, this is quite a bit of front-loading just as the SEP has indicated… We could get a lot of tightening in financial conditions globally and that is something we have to think about," she said. "Some increase in the policy rate above neutral is likely to be required. That's down the road in 2023″
Cleveland Fed President Loretta Mester
Fed will "need to do some 50 basis-point moves" to get there… "I don't want to presuppose every meeting from here to July, but I do think we need to be more aggressive earlier rather than later."
St. Louis Fed chief James Bullard
"We have to think bigger maybe than we have in the past… The committee will have to make sure we maintain credibility on our inflation target."
On ECB's Visco Doesn't See 'Excessive' Wage Increases in Europe
"We aren't seeing excessive wage increases in Europe. Negotiated wages are still on average at 2%, while in the U.S. they're 6%. There might be pressure. We know that we have to be very careful on that.
On Russia Central Banker Wanted Out Over Ukraine, Putin Said No
Oleg Vyugin, a former top Bank of Russia official
"So long as there's an escalation, the central bank can only adapt to shocks"
Natalia Orlova, economist at Alfa-Bank
"When Nabiullina came in, no one thought she'd be able to stabilize inflation. She brought the central bank up to absolutely international standards."
Sergei Guriev, professor of economics at Sciences Po Paris
"There's no hope for the central bank to return to its old policies. She didn't sign up to work in wartime. She's not the kind of person who can work with financial markets shut off and catastrophic sanctions."
Top Gainers & Losers – 24-Mar-22*