US equity markets rallied on Monday with the S&P and Nasdaq up 1.9% and 1.6% respectively. All sectors were in the green, led by Financials, up over 3%. US 10Y Treasury yields inched 4bp higher to 2.84%, as the risk-off sentiment eased, having dropped over 17bp in the three days prior. European markets ended higher on Monday as well with the DAX, CAC and FTSE up 1.4%, 1.2% and 1.7% respectively. Brazil's Bovespa closed 1.7% higher. In the Middle East, UAE's ADX was down 2.2% and Saudi TASI fell 0.8%. Asian markets have opened weaker today – Shanghai, HSI and Nikkei were down 0.9%, 1.5%, 0.5% respectively while STI was up 0.2%. US IG CDS spreads tightened 2.4bp and HY spreads tightened 16.5bp. EU Main CDS spreads were 3.6bp tighter and Crossover spreads were 16bp tighter. Asia ex-Japan CDS spreads were 0.4bp tighter.
Pakistan's central bank raised its policy rate by 150bp to 13.75% on Monday, much higher than the 100bp forecasted by analysts. The central bank said that the committee's outlook assumes engagement with the IMF, as well as reversal of fuel and electricity subsidies in the year beginning from July 1. 
---
Advanced Two-Day Course on Bonds (In-Person) | 7-8 June | Singapore
Keen to develop a deeper understanding of bonds? Sign up for our upcoming IBF-recognized course on bonds, scheduled for 7-8 June in-person at 79 Robinson Road, Singapore. This course is ideal for finance professionals in Singapore, with 80/90% IBF funding available to eligible company-sponsored candidates. Click on the banner below for details about the course modules, instructor profiles, fees and funding.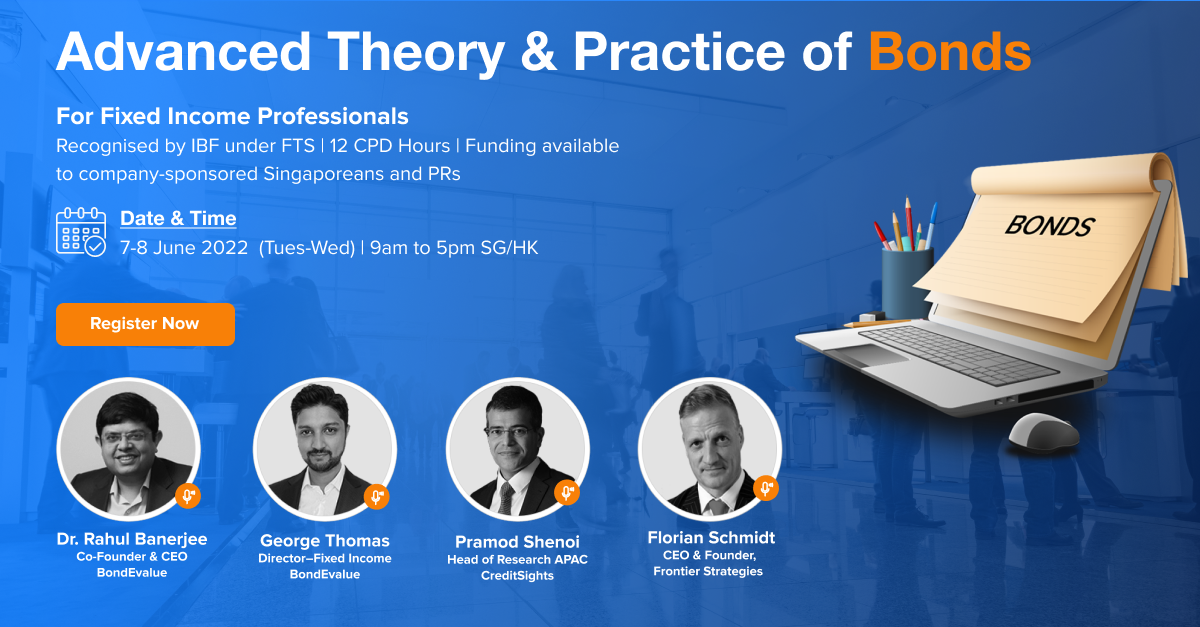 ---
New Bond Issues
Republic of Indonesia $ Sukuk 5Y/10Y at 4.75/5.1% area
ICBC $ 3Y Green/€ 3Y Green at T+85bp area/MS+70bp area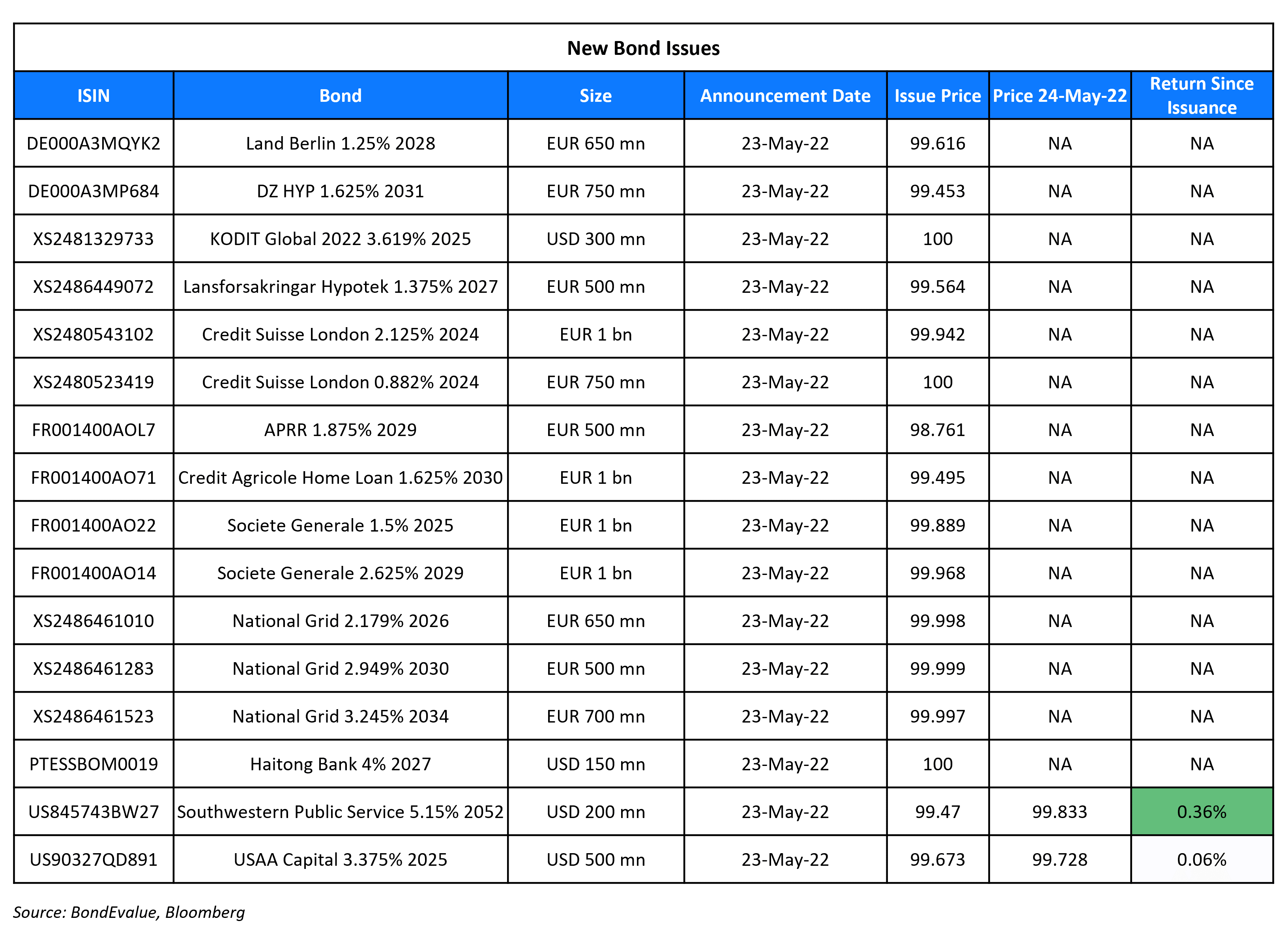 Credit Suisse London raised €1.75bn via a two-tranche deal. It raised €1bn via a 2Y bond at a yield of 2.155%, 15bp inside initial guidance of MS+135bp area. It also raised €750mn via a 2Y FRN at a yield of 0.882%, 15bp inside initial guidance of 3m Euribor +138bp area. The bonds have expected ratings of A1/A/A-. The 2Y fixed-rate bonds received orders over €1.6bn, 1.6x issue size while the 2Y FRN received orders over €1bn, 1.3x issue size.
SocGen raised €2bn via a two-tranche deal. It raised €1bn via a 3NC2 bond at a yield of 1.557%, 20bp inside initial guidance of MS+80bp area. It also raised €1bn via a 7Y bond at a yield of 2.63%, 15bp inside initial guidance of MS+125bp area. The 3NC2 bonds received orders over €1.5bn, 1.5x issue size while the 7Y bonds  received orders over €1.6bn, 1.6x issue size. The bonds have expected ratings of A1/A/A.
Haitong Bank raised $150mn via a 5Y bond at a yield of 4%, 3.4bp inside initial guidance of T+120bp area. The bank's China-based parent Haitong Securities is providing a guarantee. The bonds are rated BBB. Proceeds will be used for refinancing purposes.
OUE Commercial Trust raised S$50mn via a tap of its 4.2% 2027s at a yield of 4.2%. The bond was originally priced for S$100mn and thus the new total amount outstanding will rise to S$150mn. OUE CT Treasury is the issuer of the notes which are guaranteed by the REIT's trustee, DBS Trustee. The coupon will step down by 25bp if OUE C-REIT and its notes obtain an investment grade rating within 18 months of the existing bond's issue date.
Busan Bank hires for $ Social bond
Kookmin Card hires for $ Sustainability bond
Continuum Energy Aura hires for $ Green Bond
Jubilant Pharma hires for $ bond
Sael Limited hires for $ 7Y Green bond
Rating Changes
Term of the Day
Real Estate Investment Trust (REIT)
REIT or Real Estate Investment Trusts are companies that own or finance real estate assets that generate an income. These real estate companies have to meet several requirements to be eligible to be a REIT like paying 90% of their income to its holders. REITs often trade on stock exchanges, and they offer a number of benefits to investors. It allows investors to invest in a range of real estate portfolios without the hassles of managing actual real estate. Another benefit is that REITs allow smaller investors exposure to real estate without the requirement of a large investment sum, which is required for direct real estate investments.
There are different types of REITs ranging from residential, commercial and mortgage to retail (mall REITs etc.), industrial and others. The companies managing the REIT essentially lease out space and collect rental payments thereby generating income. This income is then passed on to the shareholders of the REIT. Most REITs are required to payout 90% of its income to holders to qualify as a REIT.
Talking Heads
On Inflation Will Guide Moves After Rates Hit 2% – Kansas City Fed President Esther George
"Fed policymakers have emphasized a commitment to act expeditiously to restore price stability, and I expect that further rate increases could put the federal funds rate in the neighborhood of 2% by August. Evidence that inflation is clearly decelerating will inform judgments about further tightening."
On Fed Rate Hikes Killing Economy Won't Fix Inflation – Nobel laureate economist Joe Stiglitz
"Raising interest rates is not going to solve the problem of inflation. It's not going to create more food. It's going to make it more difficult because you aren't going be able to make the investments… What you do is you have supply-side interventions. One of the things that President Biden tried to do is to have more care for children and that would mean more women into the labor force, that releases one of the constraints — labor supply…. We used to have surpluses in food in the United States — we can get those back"
On Fed Rate-Hike Pause in September May 'Make Sense' – Federal Reserve Bank of Atlanta President Raphael Bostic
"I have got a baseline view where for me I think a pause in September might make sense. After we get through the summer and we think about where we are in terms of policy, I think a lot of it will depend on the on-the-ground dynamics that we are starting to see. My motto is observe and adapt."
On not expecting recession but it isn't 'out of the question' – IMF Managing Director Kristalina Georgieva
"No, not at this point. It doesn't mean it is out of the question… In a short period of time…the horizon has darkened."
Top Gainers & Losers – 24-May-22*