US equity markets ended strong after opening with sharp losses on Thursday. S&P ended 1.5% higher and Nasdaq reversed its 3.5% intraday losses to end 3.3% higher. The US 10Y Treasury yields moved higher to 1.96% after the risk-off sentiment initially saw it fall down 10bp yesterday morning on the back of Russia's "military operation" in Ukraine (scroll below for details). European markets were relatively steady yesterday – DAX was down 4%, CAC was down 3.8 % and FTSE was down 3.9%. Brazil's Bovespa closed 0.4% lower. In the Middle East, UAE's ADX was flat and Saudi TASI was down 1.8%. Asian markets have opened with a positive bias – Shanghai, STI and Nikkei are up 0.5%, 0.9%, 1.3% and HSI was down 0.1%. US IG CDS spreads tightened 0.8bp and HY spreads were 11.1bp wider. EU Main CDS spreads were 3.2bp wider and Crossover CDS spreads were 17.8bp wider. Asia ex-Japan CDS spreads were 4.9bp wider.
---
Learn About Bonds from Senior Bankers | Starting 28 March
In the current environment marred by geopolitical concerns, impending rate hikes and crisis in China real estate, it is imperative for investors and advisors to be able to analyze bonds effectively. This course will help you do just that via 8 interactive sessions conducted live via Zoom by senior bankers starting 28 March. Click on the banner below to know more and to sign up.

---
New Bond Issues
Qingdao Jiaozhou Bay Development Group $ 3Y at 3.5% area
Hubei United Development Investment Group $ 3Y green at 3.35% area
Yunnan Provincial Investment Holdings $ 3Y at 6.75% area

Huatai Securities raised $1bn via a 3Y bond at a yield of 2.46%, 40bp inside initial guidance of T+120bp area. The bonds are rated BBB+ by S&P, and received orders over $3.6bn, 3.6x issue size. It dropped its 5Y Regulation S (Term of the Day, explained below) tranche after final price guidance was announced at T+105bp. A banker on the transaction said, "Investors are cautious towards five-year or longer tenors due to the volatile Treasuries yield, they don't want to take the risk". Wholly-owned offshore subsidiary Pioneer Reward is the issuer and Huatai Securities is the guarantor. Proceeds will be used to repay overseas debts and support the development of the overseas businesses of Huatai International.
CNGR Advanced Material raised $100mn 5Y credit-enhanced green bond at a yield of 4.55% unchanged from final guidance of 4.55% final. Zoomwe Hong Kong New Energy Technology is the issuer and CNGR is the guarantor. Proceeds will be used to finance and/or refinance the eligible assets in accordance with the green financing framework of the guarantor.
New Bonds Pipeline
Xinjiang Financial Investment hires for $ bond

Mumbai International Airport hires for $ bond
The Republic of the Philippines hires for $ bond
Aluminium Corporation of China hires for $ bond
Petron hires for $ 7NC4 bond
Electricity Generating (EGCO) hires for $ 7Y or 10Y bond
Rating Changes
Term of the Day
Regulation S
A Regulation S or Reg S bond is one that is issued in the international bond market and is usually cleared through Euroclear and Clearstream. These bonds cannot be sold in the US, except to qualified institutional buyers (QIBs) under the SEC 144A Rule. The 144A Rule, issued in 1990, modified a two-year holding period rule on privately placed securities by permitting (Qualified Institutional Buyer) QIBs to trade in these securities among themselves. Thus, a 144A bond, with a unique identifier, is privately placed to US based QIBs and usually clears through DTCC.
---
Explore BondbloX Kristals – a basket of single bonds listed on the BondbloX Exchange following themes such as SGD REIT Perps, USD Bank Perps, and SGD Bank Perps. Avail an introductory discount of $1,000 for every purchase of $100,000 worth of BondbloX Kristals*. Click on the banner above to know more.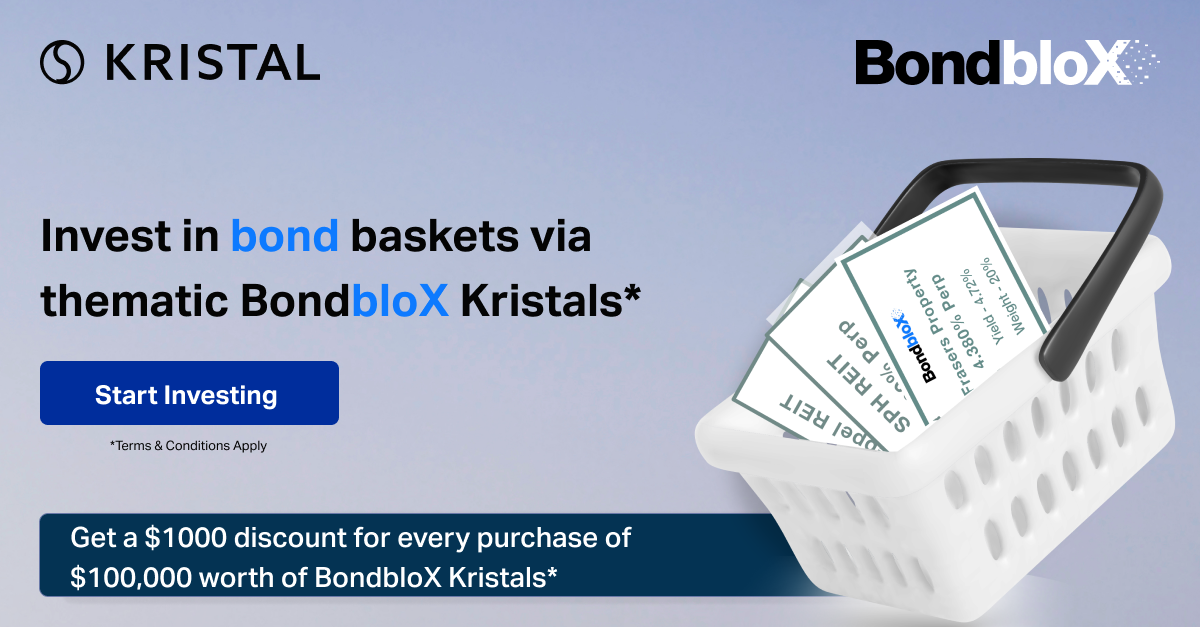 ---
Talking Heads
On Wall Street Flees Russian Assets Ahead of Sanctions Risk
Charles-Henry Monchau, chief investment officer at Geneva-based Bank Syz
"We don't know if we can be banned for owning Russian assets, no one knows. You don't know what will be the extent of the sanctions. When you don't know, you just dump."
Marc Ostwald, global strategist at ADM Investor Services
"OFZ bid-offer spreads are so wide and CDS have gone parabolic. There is in effect no market."
On Corporate Bond Sales Freeze, Prices Drop After Russia's Attack
Matt Toms, CIO of fixed-income at Voya Investment Management
"The escalated uncertainty in Ukraine, and the spike in commodity prices, moderates the outlook for global growth and therefore increases the risk for corporate credit"
Ksenia Mishankina, a London-based research analyst at Loomis Sayles
"Bids are in very small sizes. Prices are all over the place. Expect more Western sanctions to come out ASAP that are likely to hit major banks to start with. Everything is in the cards at the moment."
Ken Monaghan, co-head of high-yield at Amundi
"There are few high-yield deals that have to price in the near term, so in the short run we expect that the new issue calendar will be very quiet until there is greater clarity with regards to the Ukraine"
On China Crackdown Leaves Bond Investors With Few Places to Hide
Wu Qiong, executive director at BOC International
"In light of the intensifying Russia-Ukraine conflict, there are sellers for off-the-run names, new issues, and high-beta names"
Standard Chartered Plc's credit desk
The market "felt pretty stable until Russian-Ukraine headlines hit the wires… We never looked back thereafter."
On ECB must keep buying bonds to cushion Ukraine fallout – ECB policymaker Yannis Stournaras
"Judging the situation from today's point of view, I would rather favour a continuation of the APP at least until the end of the year, beyond September, rather than bringing the end closer. I wouldn't be in favour of announcing the end of APP in March."
On Argentina saying IMF deal 'imminent'; could go to Congress within days
"We hope it will happen in the next few days, so we have to wait just a few more days or a few more hours. Let's say it's imminent, I couldn't tell you exactly when."
Top Gainers & Losers – 25-Feb-22*
Other Stories