US equity markets rebounded after Wednesday's decline with S&P and Nasdaq closing 1.4% and 1.9% higher. Sectoral losses were led by IT an Materials, up over 2% each. US 10Y treasury yields roe 3bp to 2.36%. European markets were mixed – the DAX and CAC were down 0.1% and 0.4%, while FTSE was up 0.1%. Brazil's Bovespa ended 1.4% higher. In the Middle East, UAE's ADX was up 0.2% and Saudi TASI was flat. Asian markets have opened with a negative bias – Shanghai, HSI and Nikkei were down 0.5%, 1.6% and 0.5% while STI was up 0.5%. US IG CDS spreads tightened 1.3bp and HY spreads were 3.7bp tighter. EU Main CDS spreads were 1.1bp wider and Crossover CDS spreads were 0.5bp tighter. Asia ex-Japan CDS spreads widened 1.6bp.
UK inflation accelerated to a 30Y high of 6.2%.
---
Advanced Course on Bonds for Investors & Advisors | Starts on Monday, 28 March
Keen to learn about bonds in order to make more informed investing decisions? Sign up for the Bond Trader's Masterclass that starts next week. The course will be conducted by senior debt capital market bankers live via Zoom and will cover key topics such as Bond Valuation & Risk, Bond Portfolio Optimization & Leverage, New Bond Issues, AT1/Perps, ESG bonds and Asian High Yield Bond Analysis.
The course consists of 8 modules – each module will be 60-90 minutes long and will begin at 5pm Singapore/HK | 1pm Dubai | 9am London. You can sign up for all 8 modules (25% discount), 4 modules (10% discount) or individual modules by clicking on the banner below.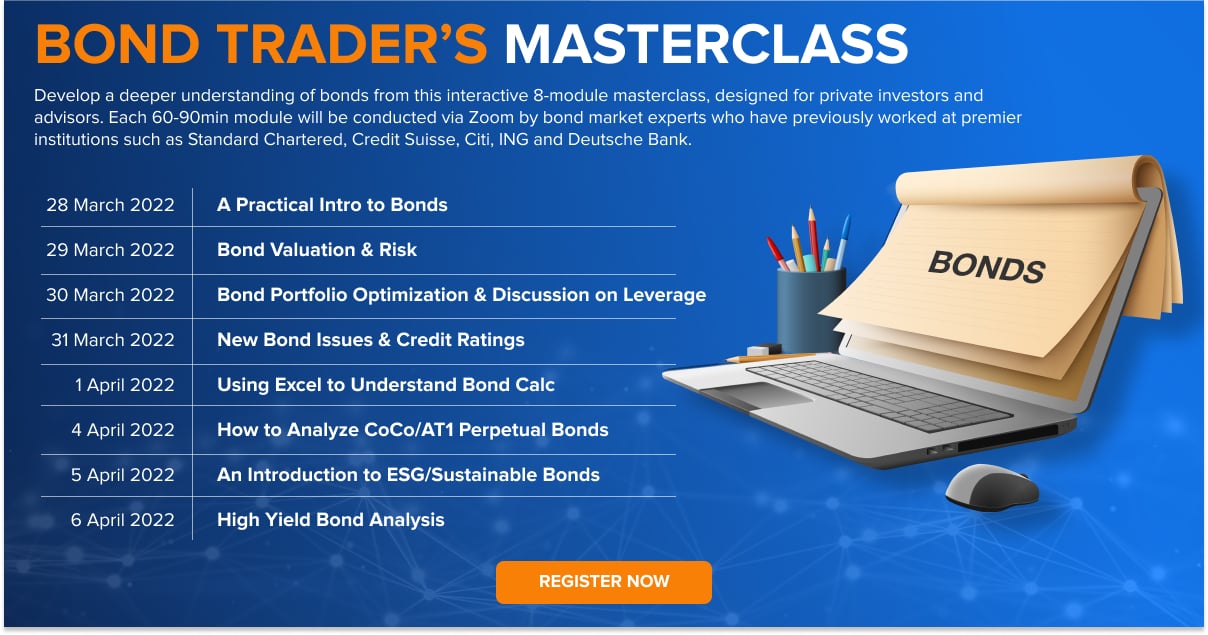 ---
New Bond Issues
Knowledge City (Guangzhou) Investment Group $ 3Y green at 3.7% area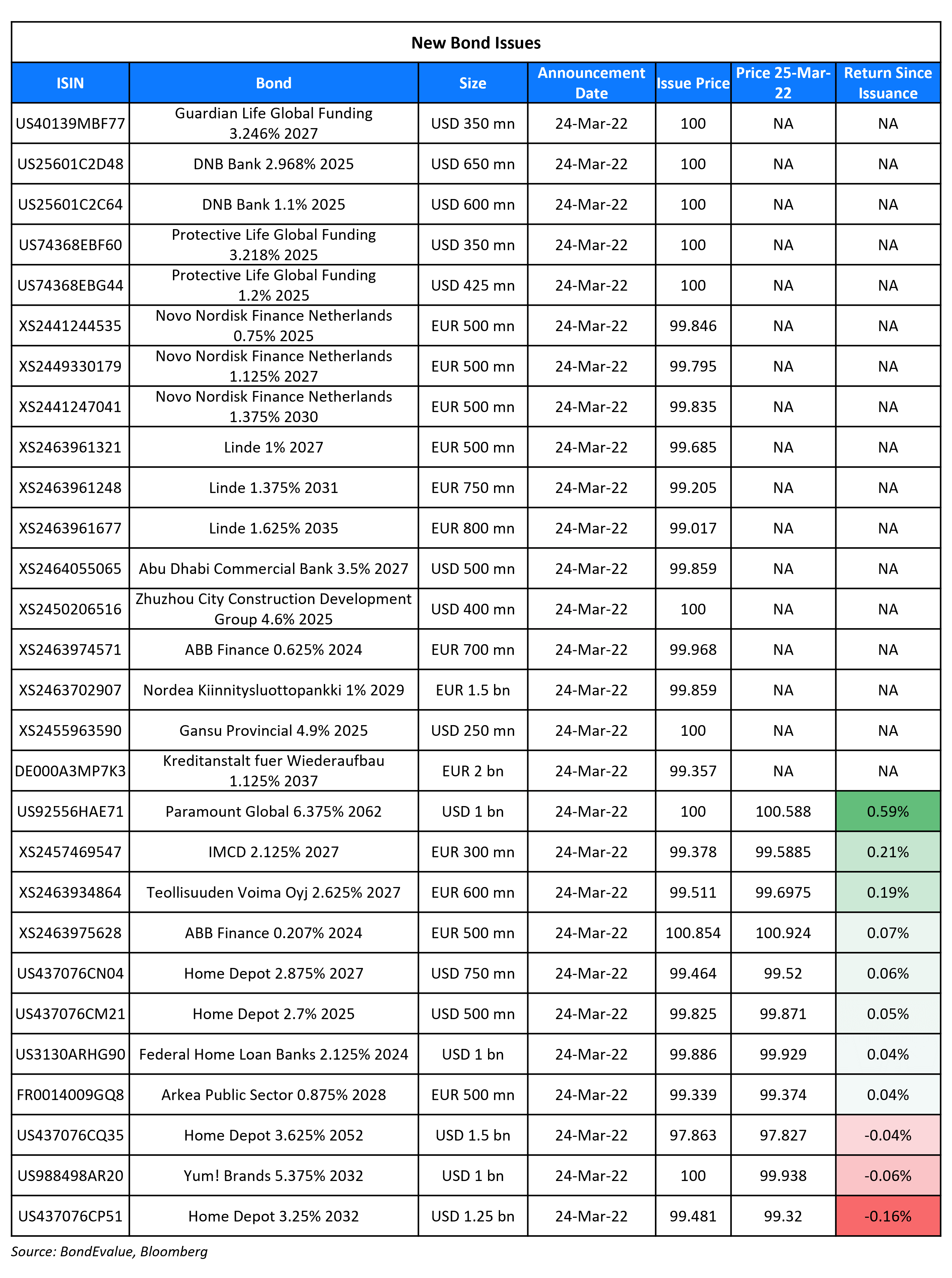 Zhuzhou City Construction Development raised $250mn via a 3Y green bond at a yield of 4.6%, 20bp inside initial guidance of 4.8% area. The bonds are rated BBB+. The proceeds will be used to refinance and invest in green and social projects.
Gansu Provincial Highway raised $400mn via a 3Y sustainable bond at a yield of 4.9%, 10bp inside initial guidance of 5% area. The bonds are rated Baa3/BBB- (Moody's/Fitch) . Proceeds will be used be used to refinance green projects and debt.
New Bonds Pipeline
Aluminium Corporation of China hires for $ bond

Petron hires for $ 7NC4 bond
Electricity Generating (EGCO) hires for $ 7Y or 10Y bond
Rating Changes
Term of the Day
Sukuk
A Sukuk is a sharia-compliant fixed income instrument that essentially works similar to bonds. In a Sukuk, key differentiators vs. conventional bonds are:
Investors share partial ownership of an asset rather than it being a debt obligation by the issuer
The pricing is based on the underlying value of assets rather than credit worthiness
The holder receives a share of underlying profits rather than interest payments (considered 'riba')
Sharia compliance broadly implies that any profits derived from these funding arrangements must be derived from commercial risk-taking and trading only; that interest income is prohibited on lending activities and; that the assets must be halal.
Talking Heads
On Fed's Evans Says 'Open' to Half-Point Interest-Rate Hike
"We want to be careful, we want to be humble and nimble, and get to neutral before too long — maybe 50 helps, I'm open to that. I would be comfortable with each meeting increasing by a quarter point… Monetary policy is not on a preset course… If monetary policy did not respond to these broader pressures (wages etc.), we would see higher inflation become embedded in inflation expectations, and we would have even harder work to do to rein it in.
On Fed's Waller Says Inflation Measures Risk Understating Housing Costs
"With housing costs gaining an ever-larger weight in the inflation Americans experience, I will be looking even more closely at real estate to judge the appropriate stance of monetary policy… Based on various measures of asking rents, some recent research suggests that the rate of rent inflation in the CPI will double in 2022. If so, rent as a component of inflation will accelerate, which has implications for monetary policy"
On Russia's Credit Risk Surges as Putin's Demands Renew Default Fears
Persella Ioannides, a portfolio manager for money manager MeritKapital
"The CDS is spiking to indicate that there's uncertainty on whether the new law on ruble payments for gas may be accepted"
Alberto Gallo, a fixed income portfolio manager at Algebris
"If the U.S. and Europe cut off Russia's gas, a default is a very clear scenario"
On Larry Summers Saying Fed's Record of Soft Landings Is Not Relevant to Today
"I don't see how anybody can regard those as very relevant precedents… the whole point by the Fed was preemptive action to restrain. And that's what this Fed ruled out in its 2020 operating framework… hope that a soft landing is possible, but I don't think it's something we can count on… It's likely to require significantly greater interest-rate hikes than the Fed or markets are now expecting"
On Fed's Kashkari wants rate hikes, but warns of overdoing it
"We need to adjust. The data just keeps coming in in that direction, and we just have to respond… There's a danger to overdoing it
Top Gainers & Losers – 25-Mar-22*