US equity markets ended lower on Tuesday with the S&P and Nasdaq down 1.2% and 1.9% respectively. Sectoral losses were led by Consumer Discretionary, down 3.3% followed by Communication Services lower by 2%.  US 10Y Treasury yields inched 1bp higher to 2.81%. European markets were mixed – DAX and CAC were down 0.9% and 0.4% respectively, while FTSE was flat. Brazil's Bovespa trended 0.5% lower. In the Middle East, UAE's ADX fell 0.4% while Saudi TASI gained 0.8%. Asian markets have opened mixed – STI, and HSI were down 0.2%, and 1.2% respectively while Nikkei was up 0.1% and Shanghai was flat. US IG CDS spreads widened 1.9bp. EU Main CDS spreads were 9.3bp wider and Crossover spreads were wider by 46.1bp. Asia ex-Japan IG CDS spreads widened 3.5bp.
Inflation in Brazil came in at 11.39% for mid-July slightly lower than expectations of 11.41%, and lower vs. 12.04% in mid-June. Transportation and housing costs fell MoM while food prices rose. In the last 15-month, Brazil has aggressively hiked the Selic rate by a collective 11.25% to 13.25% currently.
---
IBF-STS Course on Digital Assets | 11 Aug 2022 (In-person in Singapore) | 70/90% Funding
---
New Bond Issues

New Bonds Pipeline
Mianyang Investment hires for $ bond
Posco hires for $ 3Y and/or 5Y bond
Busan Bank hires for $ Social bond
Rating Changes
Term of the Day
Leveraged Loan
A leveraged loan is a loan extended to a company that has short-term or long-term debt on its books and that has a poor credit rating. S&P classifies a loan as leveraged if the issuer's credit rating is junk (BB+ or lower) or if the rating is investment grade (BBB- or higher) but has a spread >= Libor+125bp and is secured by a first or second lien.
JP Morgan is planning to compete with direct lenders with its leveraged loans unit, having committed a chunk of capital towards this purpose.
Talking Heads
On Egypt Needing Deeper Reforms for IMF Loan – IMF
"Egypt needs decisive progress on deeper fiscal and structural reforms to boost the economy's competitiveness and make it more resilient to shocks…greater exchange rate variability during the SBA could have been entrenched to avoid a buildup of external imbalances and facilitate adjustment to shocks."
On Central banks need to resist urge to back off inflation fight
Pierre-Olivier Gourinchas, the IMF's chief economist
"And so central banks might be a little bit antsy about this. And this is why when we look at the next year or so this is really going to be an environment that will test the mettle for central banks around the world…Will they be really ready to stay the course and keep their eyes on inflation and bringing it down?"
On Pakistan's Ability to Secure $1.2 Billion From IMF
Krisjanis Krustins, a Hong Kong-based director at Fitch
"We assume IMF board approval of Pakistan's new staff-level agreement with the lender"…This will unlock significant additional financing from the IMF and other multilateral and bilateral sources and may well provide a significant confidence boost to the markets."
Grace Lim, a sovereign analyst with Moody's in Singapore
"[We expect the] IMF to disburse the funds in the third quarter…Pakistan's ability to complete the current program and maintain a credible policy path that supports further financing remains highly uncertain, while elevated inflation and a higher cost of living are adding to social and political risks."
On Inflation Keeping Fed Hawkish for Longer
Goldman Sachs' Strategists
"Markets might be underestimating the risks of continued inflationary pressures, which might keep the central bank put far out of the money for longer…At this stage, we would be wary in calling for a sustained pro-cyclical shift across assets."
Top Gainers & Losers – 27-July-22*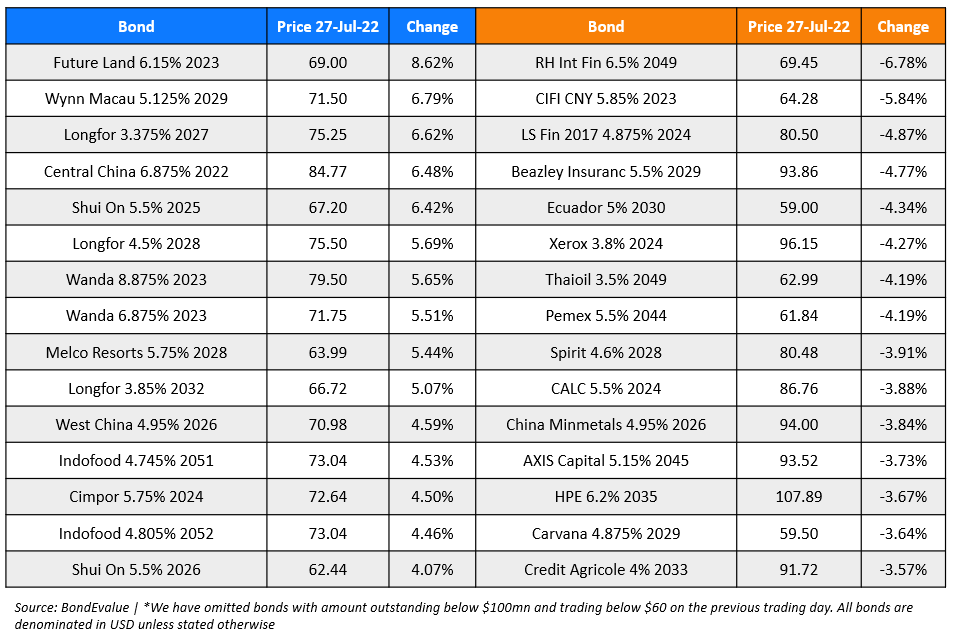 Other News
Google Reassures Wall Street With Ad Business Showing Resilience
Microsoft misses on Q4 earnings, cloud business falls short