US equity markets saw a minor respite, with the S&P up 0.2% while Nasdaq was flat after a massive sell-off on Tuesday. Sectoral gains were led by Energy, Materials and IT, up over 1% while Communication Services were down 2.6%, leading the losses. US 10Y Treasury yields moved 7bp higher to 2.83% as the risk-off sentiment eased slightly. European markets were broadly higher – DAX, CAC and FTSE were up 0.3%, 0.5% and 0.5% respectively. Brazil's Bovespa closed 1.1% higher. In the Middle East, UAE's ADX was down 0.2% while Saudi TASI was up 1%. Asian markets have opened higher – Shanghai, HSI, STI and Nikkei were up 0.3%, 1.2%, 0.2% and 0.9% respectively. US IG and HY CDS spreads widened 0.3bp and 3.4bp respectively. EU Main CDS spreads were 0.4bp wider and Crossover spreads were 4bp wider. Asia ex-Japan CDS spreads were 4.5bp tighter.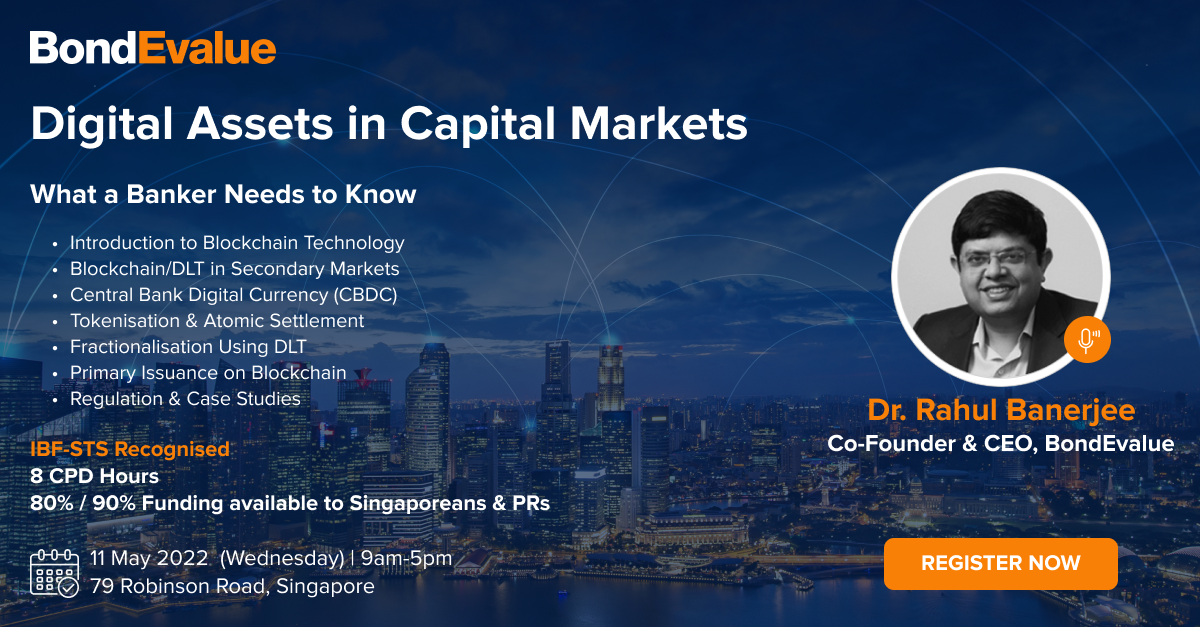 New Bond Issues
Korea East-West Power $ 3Y at T+130bp area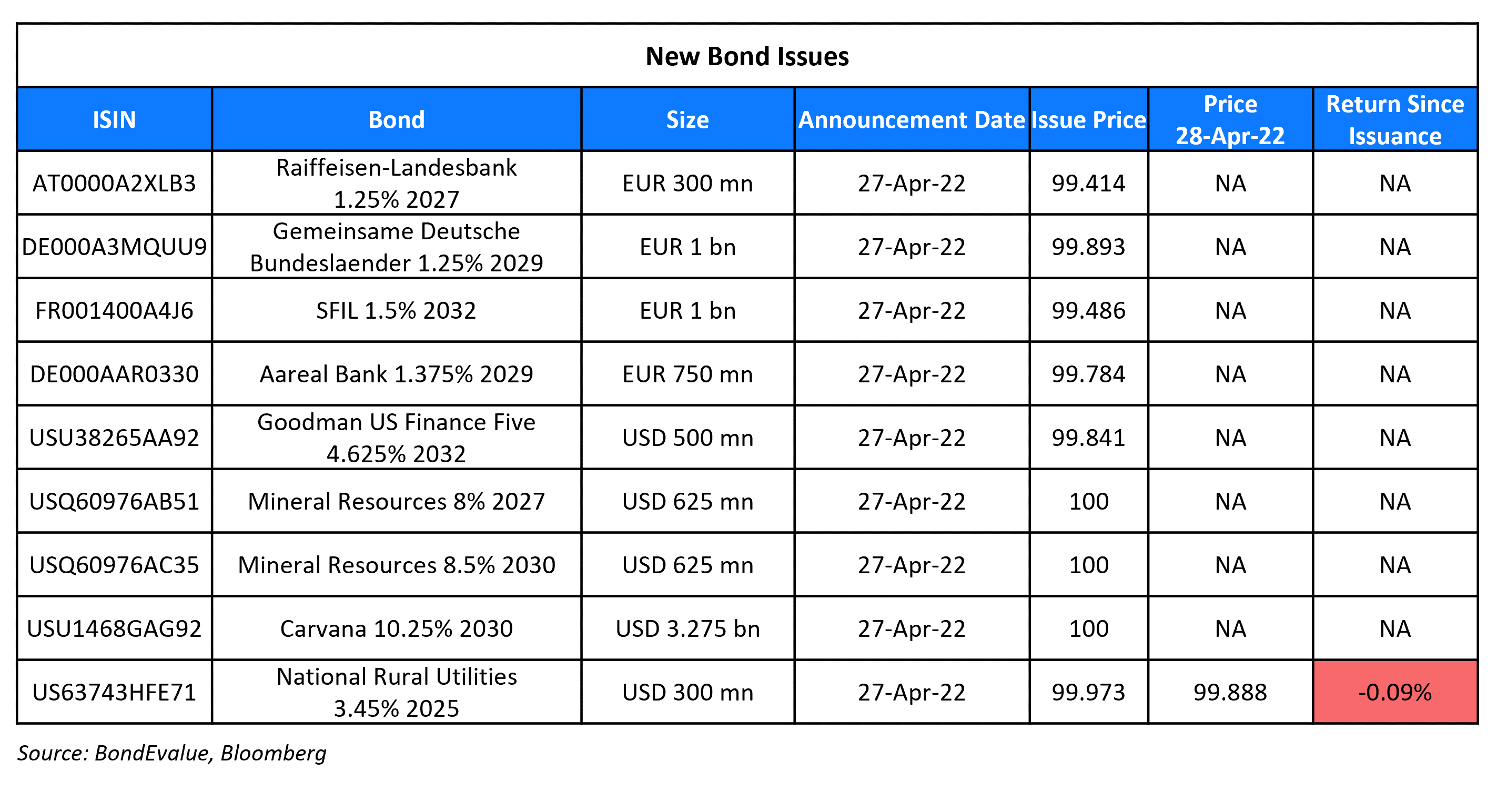 New Bonds Pipeline
Busan Bank hires for $ Social bond
Kookmin Card hires for $ Sustainability bond
Continuum Energy Aura hires for $ Green Bond
Jubilant Pharma hires for $ bond
Sael Limited hires for $ 7Y Green bond
Rating Changes
Term of the Day:

Yulan Bonds
Yulan bonds named after Shanghai's city flower, a 'magnolia' are bonds that are denominated mainly in US Dollars and Euros which are issued through Shanghai Clearing House, a Chinese interbank bond market clearinghouse. Whilst similar to traditional dollar and euro denominated bonds, Yulan bonds will help international investors be able to benefit from real time multi-currency DVP (delivery-vs-payment) settlement with any counterparty within Euroclear Bank's network where Chinese issuers are expected to access a deeper liquidity pool in a cost efficient way. For mid-sized Chinese companies with little experience in global markets, Yulan bonds offer "much wider access to an international investor base, and… a lower cost of borrowing", said Ms Urbain, CEO of Euroclear Bank.
Orient Securities, yesterday issued a €100mn 3Y Yulan bond at a yield of 1.76%
---
Talking Heads
On Deutsche Bank Seeing 5-6% Fed Target Rate and Deep U.S. Recession
David Folkerts-Landau, group chief economist and head of research
"We assume conservatively that a Fed funds rate moving well into the 5% to 6% range will be sufficient to do the job this time… This is partly because the monetary-tightening process will be bolstered by Fed balance-sheet reduction, which our U.S. economics team estimates will be equivalent to a couple additional 25 basis-point rate hikes… will push the economy into a significant recession by late next year
On Canada's economy 'overheating,' higher rates needed – Governor Tiff Macklem
"If you boil it down, the economy is overheating. That's creating domestic inflationary pressures. We need to cool growth, to cool inflation…. It's going to be delicate… But we do need to raise interest rates to moderate that spending growth and get inflation back to target."
On Bridgewater's Top Strategist Says Fed Has to Ramp Up Rate Hikes
Rebecca Patterson, Chief investment strategist at Bridgewater Associates
"Markets are discounting that you are going to have inflation not back down to 2%, but to around 3%, over the next three years — and that's with a lot of Fed tightening… The question to us is if it's enough to get inflation to where markets are discounting it. We think the risk is that it is not… Ten-year Treasury yields have decent room to run. 3% is really easy to see, and I wouldn't rule out that we could see 4%."
On Brexit Explaining 80% of U.K. Inflation, Former BOE Official Says
Adam Posen, a former Bank of England policy maker
"We see a very large gap between the inflation rate in the U.S. and the inflation rate in Europe — the U.K. ends up in between. You've seen a huge drop in migrant labor. When you look at the macro factors, it's very difficult to see anything other than the labor market issues. It really seems like Brexit has to bear a disproportionate role in explaining the inflation"
Top Gainers & Losers – 28-Apr-22*