US equity markets ended mixed on Friday with the S&P up 0.5% and Nasdaq down 0.2%. Sectoral gains were led by Energy, up 2.3% and losses by IT and Consumer Discretionary, down 0.1%. US 10Y Treasury yields continued to shoot 13bp higher to 2.49%. European markets were marginally higher – the DAX and FTSE were up 0.2% and CAC was flat. Brazil's Bovespa ended flat. In the Middle East, UAE's ADX was up 0.3% and Saudi TASI was up 0.4% on Sunday. Asian markets have opened mixed – Shanghai and Nikkei were lower by 0.1% and 0.4% while HSI and STI were up 1.3%, 0.4%. US IG CDS spreads widened 1.4bp and HY spreads were 6.8bp wider. EU Main CDS spreads were 0.5bp tighter and Crossover CDS spreads were 3.8bp tighter. Asia ex-Japan CDS spreads tightened 1bp.
---
Starting Today | Advanced 8-Module Course on Bonds
Keen to learn about bonds in order to make more informed investing decisions? Sign up for the Bond Trader's Masterclass that starts today! The course will be conducted by senior debt capital market bankers live via Zoom and will cover key topics such as Bond Valuation & Risk, Bond Portfolio Optimization & Leverage, New Bond Issues, AT1/Perps, ESG bonds and Asian High Yield Bond Analysis.
The course consists of 8 modules – each module will be 60-90 minutes long and will begin at 5pm Singapore/HK | 1pm Dubai | 9am London. You can sign up for all 8 modules (25% discount), 4 modules (10% discount) or individual modules by clicking on the banner below.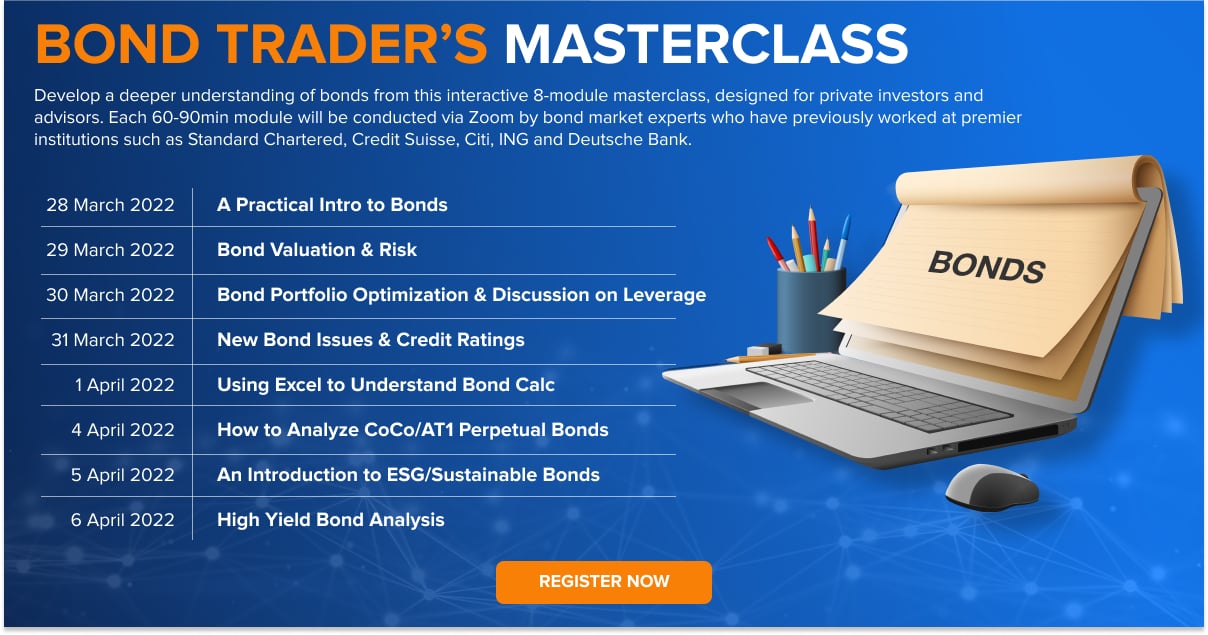 ---
New Bond Issues
Zhengzhou Airport Economy Zone Xinggang Investment Group $ 3Y at 4.9% area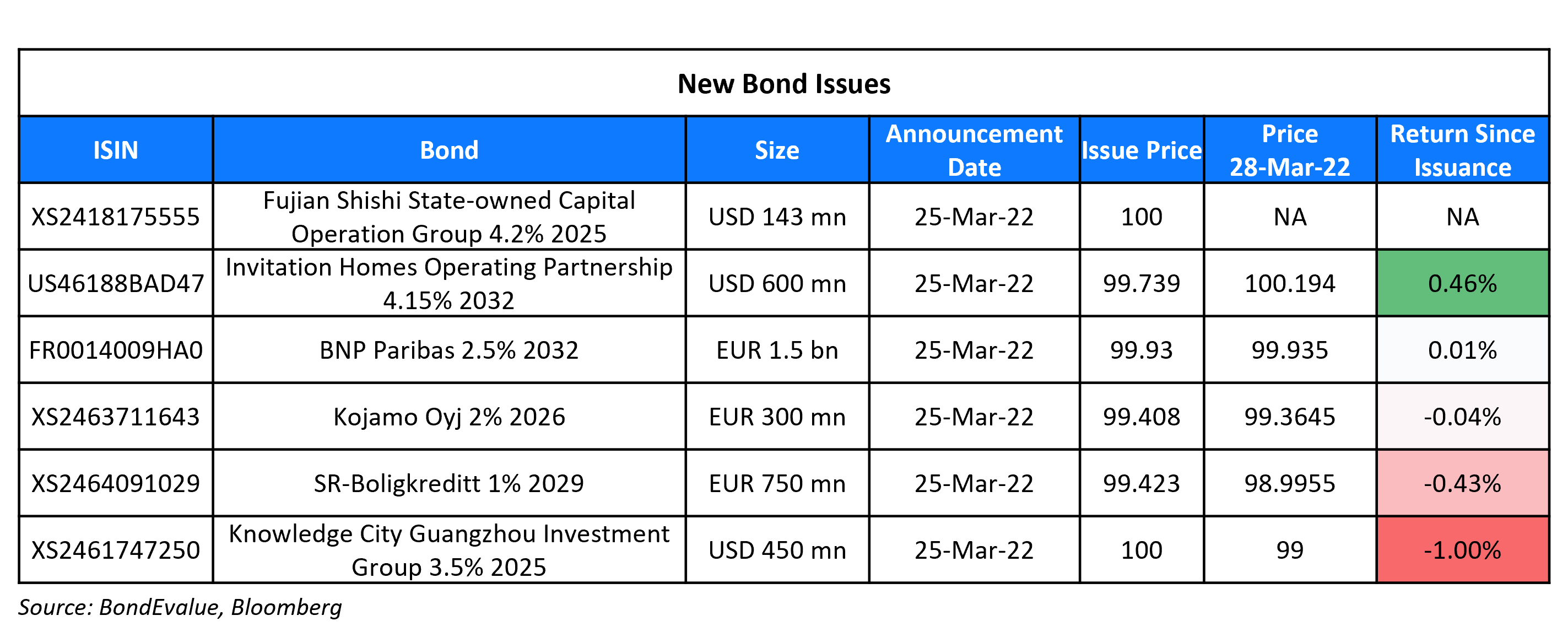 BNP Paribas raised €1.5bn via a 10NC5 bond at a yield of 2.515%, 27.5bp inside initial guidance of MS+185/190bp area. The bonds are rated Baa2/BBB+/A- and received orders over €5bn, 3.3x issue size. The coupon is fixed at 2.50% until the optional redemption date of March 31, 2027, and if not called, resets at 5Y MS+160bp.
New Bonds Pipeline
Chiyu Banking Corp Ltd hires for $ 10NC5 bond
First REIT Management hires for S$ Social bond

Aluminium Corporation of China hires for $ bond

Petron hires for $ 7NC4 bond
Electricity Generating (EGCO) hires for $ 7Y or 10Y bond
Rating Changes
Term of the Day
Unitranche Debt
Unitranche debt refers to hybrid financing structure that combines senior debt and subordinated debt into one instrument. The borrower pays a blended interest rate that generally falls in between the rate of the senior debt and subordinated debt. Unitranche financing is generally used to make debt-financing terms flexible and increase access to capital for companies. Lenders of unitranche loans are generally debt funds, as compared to regular loans that are issued by banks and regular lenders. SoftBank received $1.1bn in additional loans from Apollo Global Asset Management via a unitranche loan that carries an interest rate of ~5%.
---
Explore BondbloX Kristals – a basket of single bonds listed on the BondbloX Exchange following themes such as SGD REIT Perps, USD Bank Perps, and SGD Bank Perps. Avail an introductory discount of $1,000 for every purchase of $100,000 worth of BondbloX Kristals*. Click on the banner above to know more.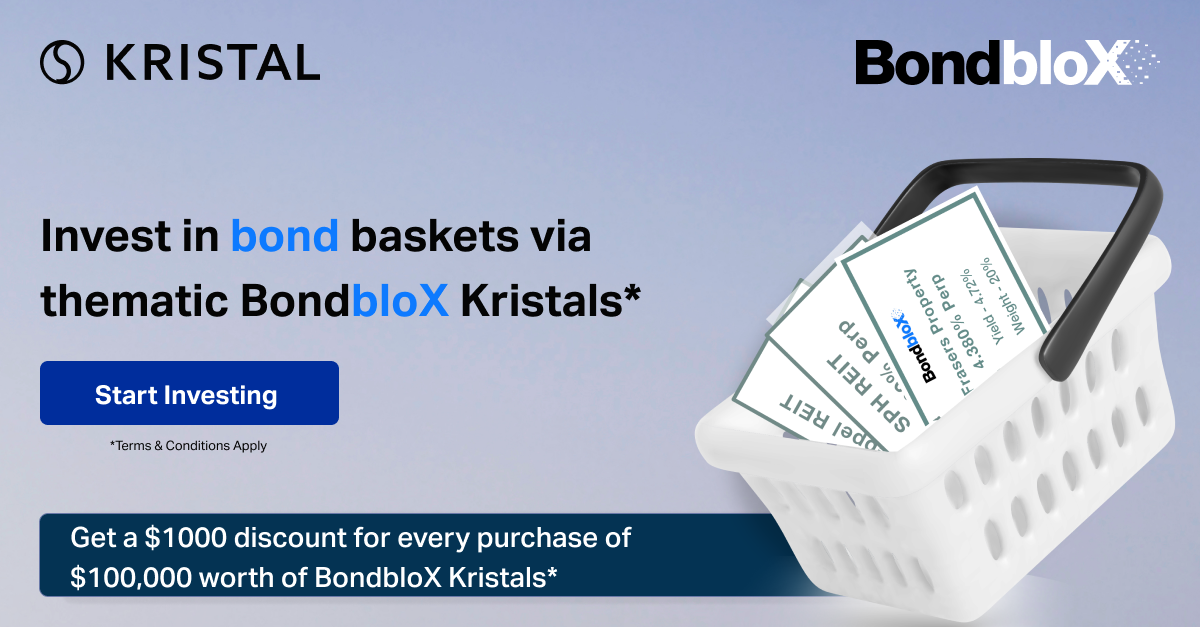 ---
Talking Heads
On Fed's Best Hope Increasingly Looks Like a 'Semi-Hard' Landing
Peter Hooper, a former central bank official 
"If they're lucky, maybe they'll get by with a growth recession next year
Grant Thornton chief economist Diane Swonk
"I call it a semi-hard landing… the economy "has always ended up in a full-blown recession… When you're skating on thin ice, it's hard not to fall through"
On Treasury Selloff Sends Yields Racing Past Limits of Bullish Era
George Goncalves, head of U.S. macro strategy MUFG
"There is a scenario that the trend breaks for good. The real risk at the moment is that the market gaps out to 2.60%, and perhaps even 2.8%, because there is so much uncertainty about inflation and the Fed's reaction function."
Gargi Chaudhuri, head of BlackRock Inc.'s iShares investment strategy
"The combination of QT, higher inflation, a strong labor market and solid economic growth allows for higher long-end yields. The market can overshoot, but 3% on the 10-year is not the next step
On High-Grade Bond Sales to Surpass $200 Billion Mark in March
JPMorgan credit strategists led by Eric Beinstein and Nathaniel Rosenbaum
"There is now once again more risk involved in new issues which in turn may moderate demand unless new issue concession increase once again"
On Hot U.K. Inflation Spurs Biggest Bets on Rate Cuts in 15 Years
Antoine Bouvet, a strategist at ING Bank NV
"Ironically, higher CPI now reinforces the medium-term disinflationary narrative. CPI readings are not as impactful in part due to the string of positive surprises."
Charles Diebel, head of fixed income at Mediolanum International Fund
"I wouldn't say this is disinflation but more a typical rate cycle which is central banks raising rates that eventually chokes off growth and hence a reversal in policy in due course"
Top Gainers & Losers – 28-Mar-22*