Long-term US Treasury bond yields continued to rise on Tuesday with the 10Y up 10bp to 3.98% and the 30Y up 15bp to 3.86%. The peak Fed Funds Rate currently stands at 4.56% for the FOMC's May 2023 meeting, having eased 10bp yesterday. US credit markets saw a widening of CDS spreads, with IG widening by 1.2bp and HY moving sharply higher by 38.5bp. US equity markets were mixed with the S&P down 0.2% while Nasdaq closed 0.3% higher. European equity markets were broadly weaker by ~0.5% and credit markets saw EU Main CDS spreads rise by 4.4bp and Crossover spreads move 15.2bp higher. Moody's has warned that the UK government's plans for unfunded tax cuts could lead to a higher budget deficit and higher interest rates, thereby impacting UK's credibility with investors and termed it as 'credit negative'. The UK 30Y gilt yield touched 5% for the first time in two decades. Subsequently, GBP-denominated corporate bonds have also taken a hit; for example, Prudential's 2051s fell 3.1 points and British Telecom's 2039s slipped by 4.9 points on Tuesday. Asia ex-Japan CDS spreads narrowed by 5bp and Asian equity markets have opened in the red, down ~1-2%.
---
IBF-STS Course on Digital Assets | 29 Sep 2022 (In-person in Singapore)| 70/90% Funding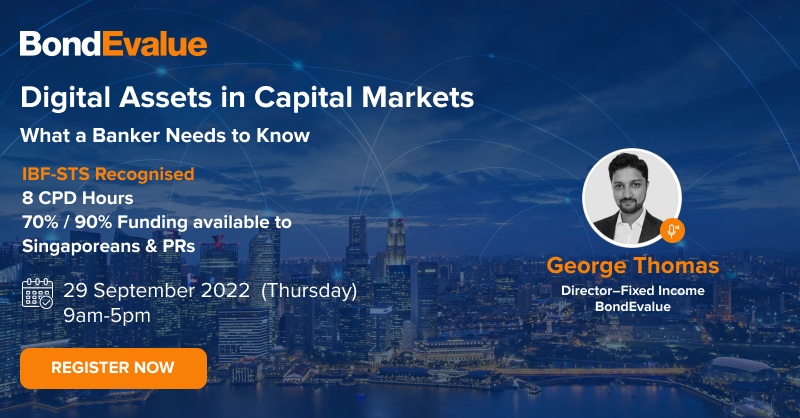 ---

New Bond Issues

New Bonds Pipeline
Public Investment Fund hires for $ Green bond

JBIC hires for $ 5Y Green bond

Aozora Bank hires for $ 3Y Green bond
Rating Changes
---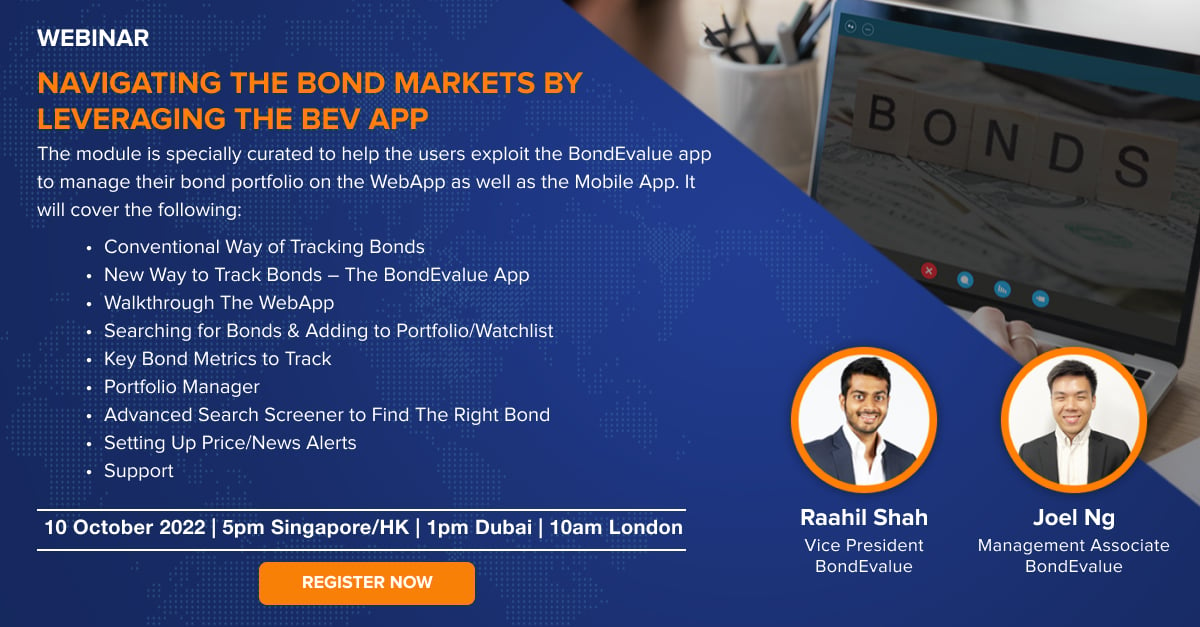 ---
Term of the Day
Special Purpose Bonds
Special purpose bonds are bonds issued by local Chinese governments where cash is raised for a certain policy purposes or to help solve a particular problem. These bonds are not part of China's official budget and thus not included in deficit calculations, Bloomberg notes. The State Council, China's cabinet, can propose the sale of such bonds, which then requires approval only by a standing committee of the National People's Congress (NPC). The funds from these bonds tend to be invested in projects that have long investment terms – often more than 10 years. SCMP notes that they offer annual returns similar to other normal bonds sold by provincial governments.
Since local governments' revenues are declining and the property market is under trouble, these special-purpose bonds are being used to support these local economies. As per SCMP, around $492bn worth of these bonds has been allocated to local governments so far this year.
Talking Heads
On BOE's Chief Economist Saying UK Fiscal News Needs Significant Policy Response
"It's hard not to draw the conclusion that all this will require a significant monetary policy response… It is crucial that the underlying macro policy institutional framework remain credible… In that respect the announcement from the Treasury yesterday was positive."
On China High-Grade Dollar Bonds Are a Relative Haven Amid Rout
Gordon Tsui, head of fixed income at Ping An of China Asset Management (Hong Kong) Co
"China is still considerably better off than some other Asia economies, and that gives us confidence in the safer credit there… there is almost no safe haven in this selloff… We've already entered a 'crisis mode' after the gilt selloff, with many Asia credits increasingly under selling pressure."
On India's Adani Group to invest over $100 billion in next decade – Gautam Adani, Chairman Adani Group
"As a group, we will invest over $100 billion of capital in the next decade. We have earmarked 70% of this investment for the energy transition space. We are already the world's largest solar player, and we intend to do far more… It is an absolute game changer for India and opens up the unprecedented possibility that India could one day become a net energy exporter".
On Fed's Harker says housing shortage a key inflation driver
"Since the Great Recession, the United States has not built enough housing to keep price growth relatively modest… a major driver of the far-too-high inflation plaguing our country… Inflation is far too high across most goods and services in our economy".
Top Gainers & Losers – 28-
September-22*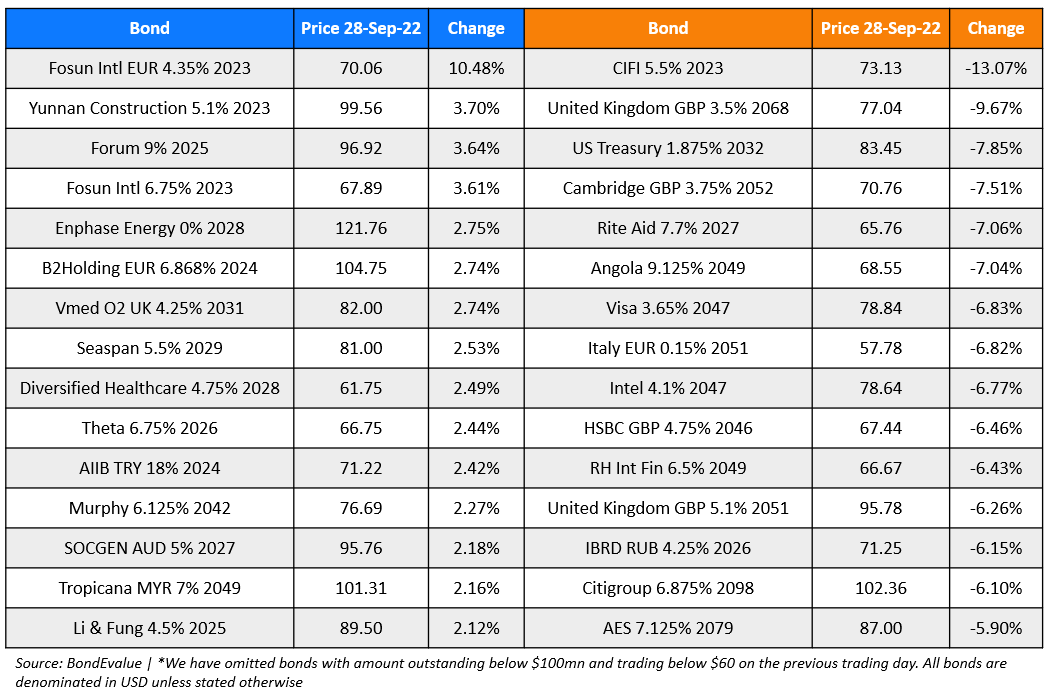 Other Stories
Goldman Sachs closes $9.7bn private-equity fund, largest since 2007