US equity markets fell sharply on Friday with the S&P and Nasdaq closing 3.4% and 3.9% lower respectively on Jerome Powell's hawkish speech at the Jackson Hole conference. Sectoral losses were led by IT, down 4.3% followed by Consumer Discretionary falling 3.9%. US 10Y Treasury yields jumped 5bp higher to 3.1%. European markets ended also lower – DAX, CAC and FTSE were down 2.3%, 1.7% and 0.7% respectively. Brazil's Bovespa declined 1.1%. In the Middle East, UAE's ADX rose 0.6% on Friday and Saudi TASI ended 0.5% lower on Sunday. Asian markets have followed western bourses, by opening lower today – Shanghai, HSI, Nikkei and STI were down 0.1%, 0.7%, 2.8% and 1.1% respectively. US IG CDS spreads widened 5.1bp and US HY spreads were wider by 29.2bp. EU Main CDS spreads were 5.7bp wider and Crossover spreads widened by 29.6bp. Asia ex-Japan IG CDS spreads tightened 1.8bp.
At the Jackson Hole conference, US Fed Chair Jerome Powell in a hawkish speech indicated that the FOMC's focus is to bring inflation back down to 2% target. In particular, he said, "Restoring price stability will likely require maintaining a restrictive policy stance for some time. The historical record cautions strongly against prematurely loosening policy". He further added that rate hike decision at the September meeting will depend on the totality of the incoming data and the evolving outlook.
New Bond Issues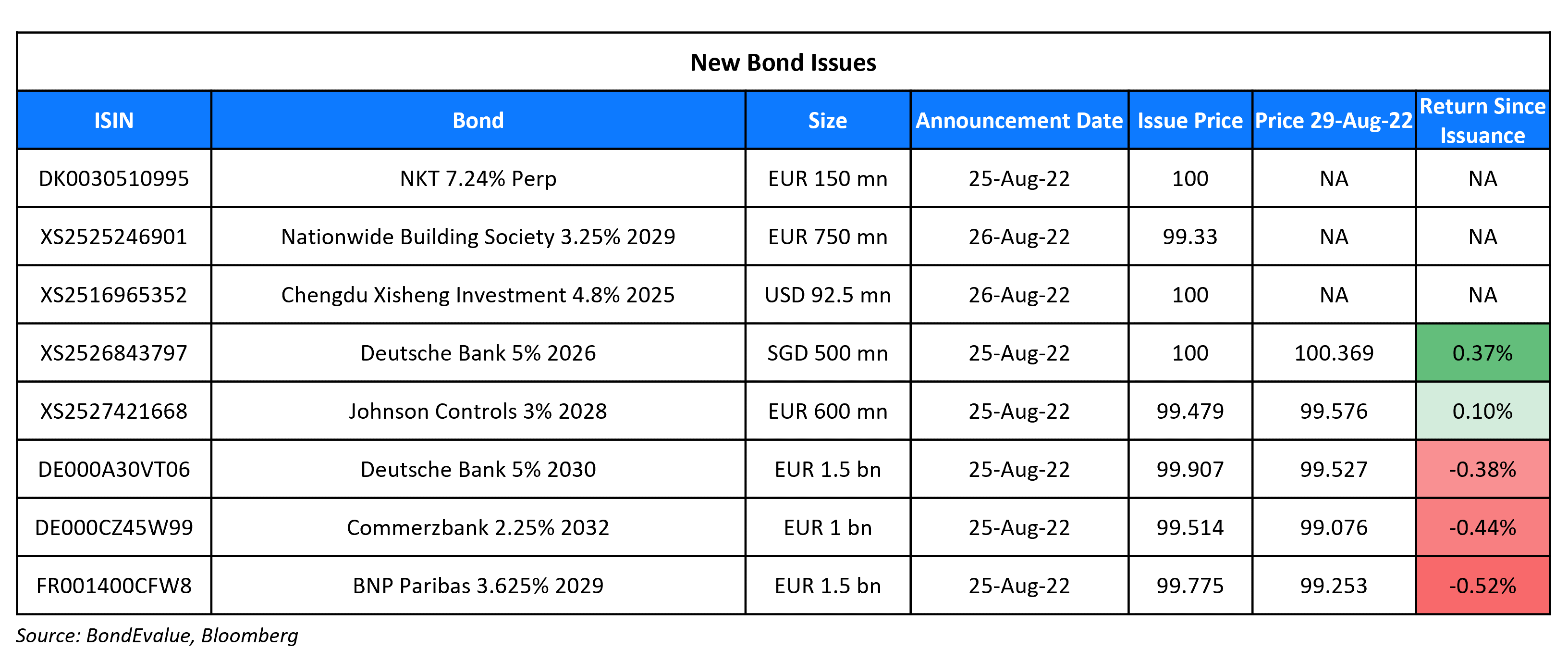 Macquarie Bank hires for € 5Y bond

Aozora Bank hires for $ 3Y Green bond
Tianjin Binhai New Area Construction & Investment hires for $ bond
NH Investment hires for $ 3Y and/or 5Y Green bond
Rating Changes
Term of the Day
Payment-In-Kind or PIK bonds

 
Payment-In-Kind or PIK bonds refer to bonds that pay interest in the form of securities (kind) instead of cash. Typically, PIK bonds pay interest in the form of additional issuance of the underlying bond. Thus, the amount outstanding for PIK bonds increases through the lifetime of the bond and are paid out at maturity. This structure allows issuers to preserve cash thereby reducing its financial burden.
Talking Heads
On Powell's Comments on the 'Totality of Data'
Alan Ruskin, chief international strategist at Deutsche Bank
"A hugely important employment report will validate the case for 50 or 75 basis points. If we see strength in jobs, it means the Fed can go 75 and raise rates quickly without risking growth."
Christian Hoffman, portfolio manager at Thornburg Investment Management
"People have faith in the Fed, and that anchors long-term rates with limited downside in the short term… The uncertainty is more in the front end, and people are worried about the Fed going too hard, which helps the long end."
George Goncalves, head of US macro strategy at MUFG
"There has been a huge push-back by the Fed on the market pricing in a policy pivot, and Powell sealed that stance"
On ECB Must Be Determined But Avoid 'Brutal' Moves – ECB's Villeroy
"We can be gradual, but we should not be slow and delay normalization until higher inflation expectations force us into aggressive interest-rate hikes. What remains essential, however, is to be orderly, in order to avoid undue market volatility and ultimately economic volatility… We should aim to build a 'new predictability,' a different one suited for uncertain times"
On IMF Warning that Faster Debt Relief is Needed as More Nations Seek Help
"We will likely see more countries needing debt relief. Depreciation of emerging-market currencies relative to the dollar has inflationary consequences. That's making monetary policy for them much more challenging at this time and there are countries that have borrowed in dollars, this makes it difficult for them to repay."
Top Gainers & Losers – 29-
August-22*