US equity markets began the week on a positive footing with the S&P and Nasdaq up 0.7% and 1.3%. Sectoral gains were led by Consumer Discretionary, up over 2.5%. US 10Y Treasury yields eased by 4bp higher to 2.46%. The US 5s30s yield curve inverted for the first time since 2006. The DAX and CAC were up 0.8% and 0.5% while FTSE was down 0.1%. Brazil's Bovespa ended 0.3% lower. In the Middle East, UAE's ADX was up 0.6% and Saudi TASI was up 0.5% on Sunday. Asian markets have opened with a positive bias – HSI, STI and Nikkei were up 0.8%, ).1% and 0.6% while Shanghai was down 0.1%. US IG CDS spreads tightened 1.7bp and HY spreads were 17.3bp wider. EU Main CDS spreads were 1.2bp tighter and Crossover CDS spreads were 7.7bp tighter. Asia ex-Japan CDS spreads widened 0.3bp.
---
Starting Today | Advanced 8-Module Course on Bonds
Keen to learn about bonds in order to make more informed investing decisions? Sign up for the Bond Trader's Masterclass that starts today! The course will be conducted by senior debt capital market bankers live via Zoom and will cover key topics such as Bond Valuation & Risk, Bond Portfolio Optimization & Leverage, New Bond Issues, AT1/Perps, ESG bonds and Asian High Yield Bond Analysis.
The course consists of 8 modules – each module will be 60-90 minutes long and will begin at 5pm Singapore/HK | 1pm Dubai | 9am London. You can sign up for all 8 modules (25% discount), 4 modules (10% discount) or individual modules by clicking on the banner below.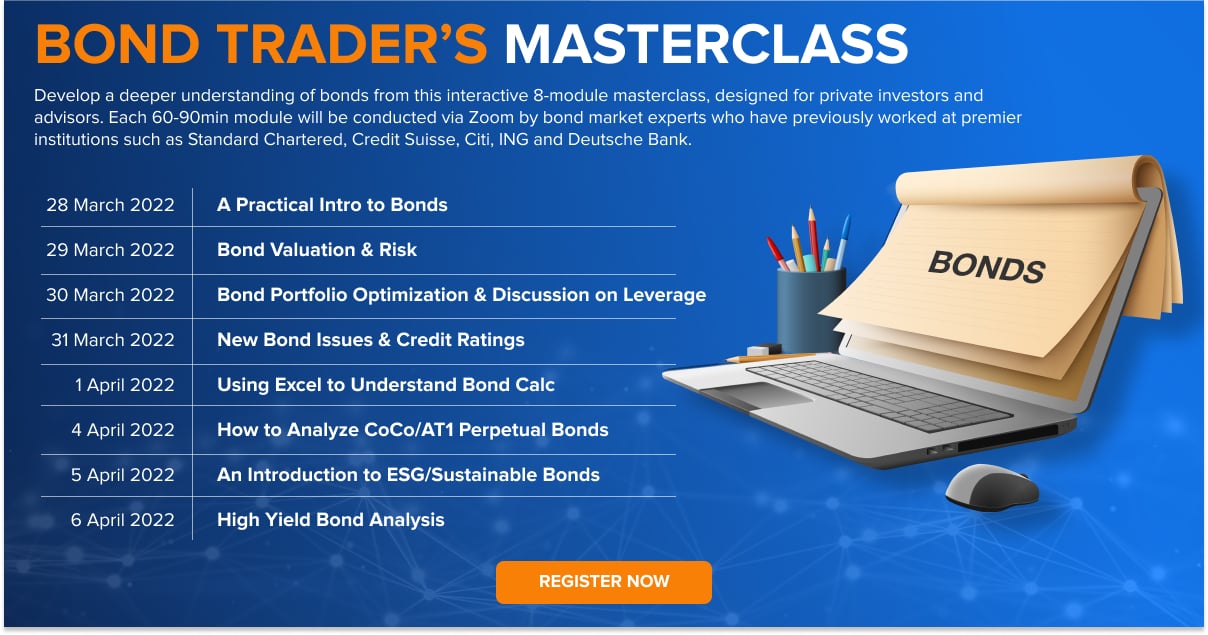 ---
New Bond Issues
Chiyu Banking Corp Ltd $ 10NC5 at 5.95% area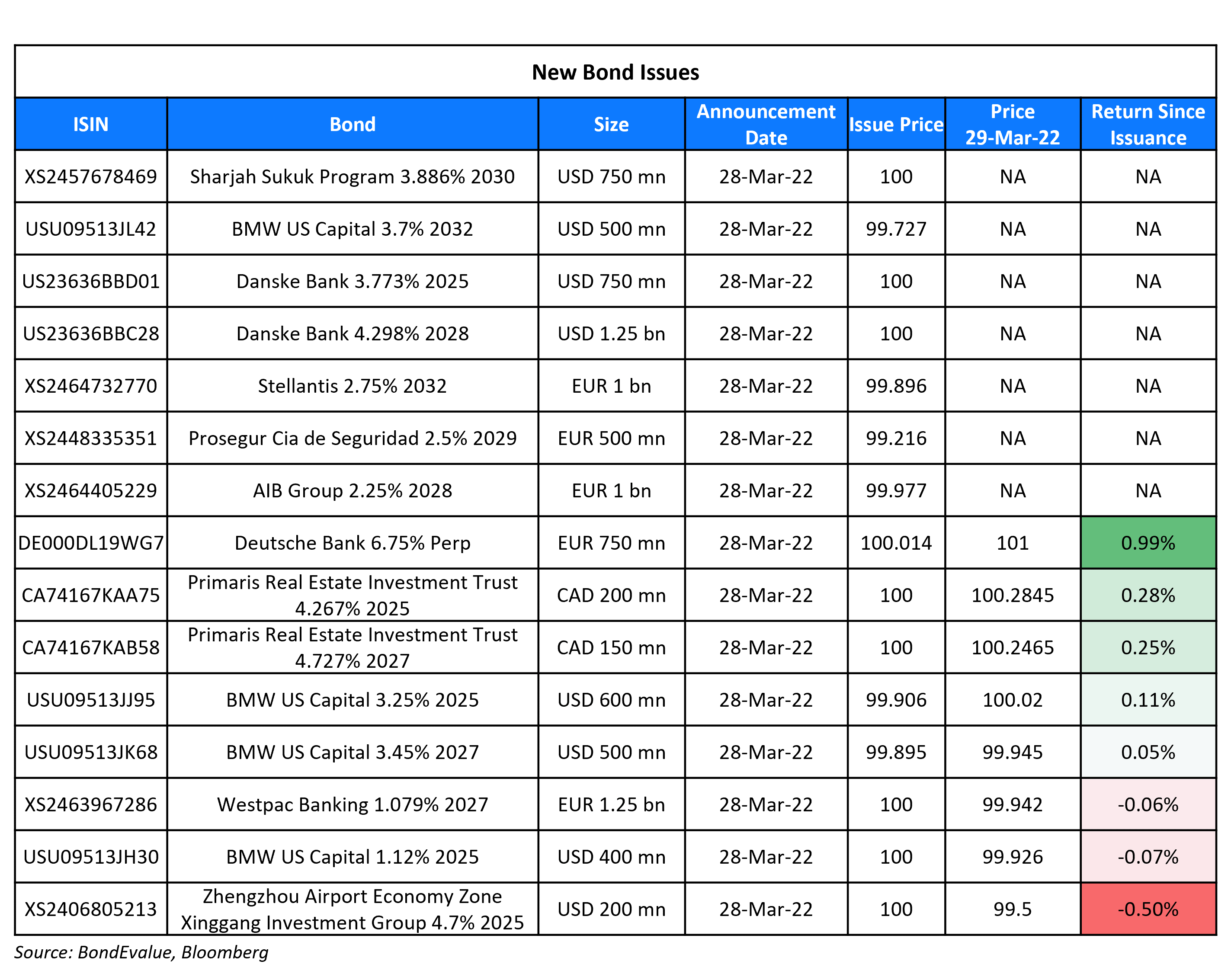 Deutsche Bank raised €750mn via a PerpNC7 bond at a yield of 6.71%, 41.5bp inside the initial guidance of 7.125%. The bonds have expected ratings of Ba3/BB-/BB and received orders over €5.7bn, 7.6x issue size.. The coupon is fixed at 6.75%, until the first reset date on April 30, 2029 and if not called, refixes every five years thereafter at 5Y MS+569.2bp. The bonds can be called on every business day during the 6 month period ahead of the first reset date. The  trigger event occurs if, at any time, the consolidated group's CET1 ratio falls below 5.125%.
Sharjah raised $750mn via an 8Y Sukuk at a yield of 3.886%, ~22.5bp inside initial guidance of T+155/160bp area. The sukuk is rated Baa3/BBB-. Sharjah Sukuk Program Ltd is the issuer of the sukuk. The sukuk was priced 3bp over its existing 3.234% sukuk due October 2029 that yield 3.85%.
Danske Bank raised $2bn via a dual-trancher. It raised $750mn via a 3NC2 bond at a yield of 3.773%, 25bp inside the initial guidance of T+170bp area. It also raised $1.25bn via a 6NC5 bond at a yield of 4.298%, 25bp inside the initial guidance of T+200bp area. The bonds are rated Baa2/BBB+. Proceeds will be used for general corporate purposes.
Zhengzhou Airport Economy Zone Xinggang Investment Group raised $200mn via a 3Y bond at a yield of 4.7%, 20bp inside initial guidance of 4.9% area. The bonds are rated BBB. The proceeds from the senior Hong Kong-listed trade will be used for onshore project development and working capital.
New Bonds Pipeline
Greenko Wind hires for $ Green bond
State Grid International hires for $ Green bond

First REIT Management hires for S$ Social bond

Aluminium Corporation of China hires for $ bond

Petron hires for $ 7NC4 bond
Electricity Generating (EGCO) hires for $ 7Y or 10Y bond
Rating Changes
Term of the Day
Shelf Registration
A shelf registration is an agreement with regulators to allow banking and financial institutions to issue securities without applying for approval each time. Thus, it allows for a series of issuances without requiring further prospectuses to be filed.
---
Explore BondbloX Kristals – a basket of single bonds listed on the BondbloX Exchange following themes such as SGD REIT Perps, USD Bank Perps, and SGD Bank Perps. Avail an introductory discount of $1,000 for every purchase of $100,000 worth of BondbloX Kristals*. Click on the banner above to know more.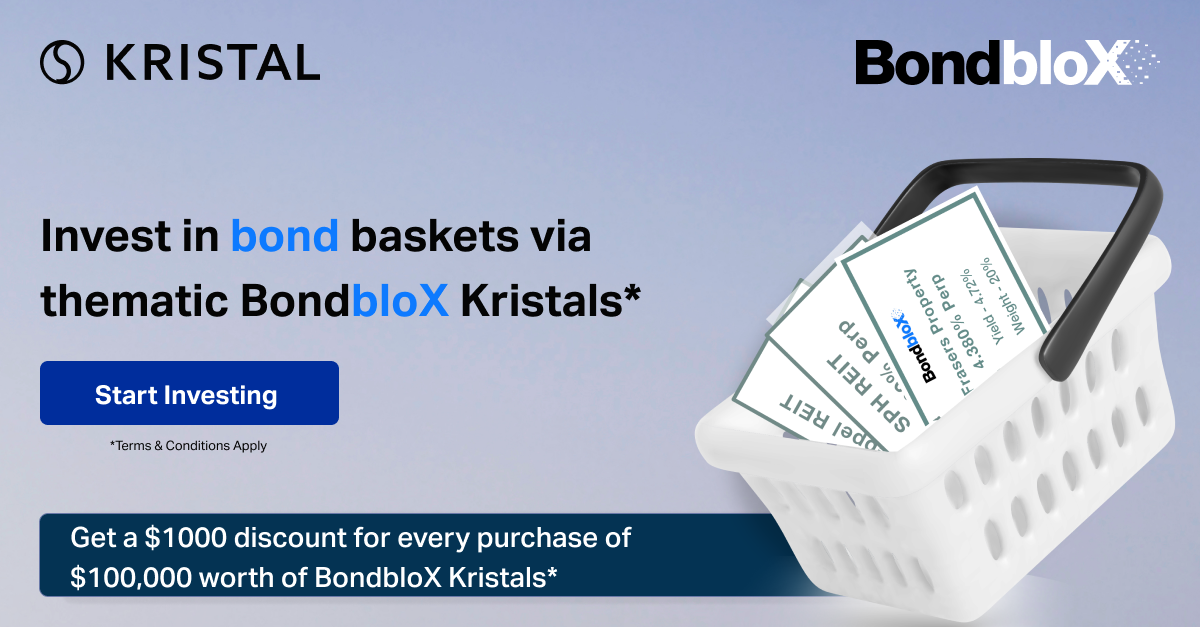 ---
Talking Heads
On Fed's Powell Is Trusting the Wrong Yield Curve – Citi
"In our view Powell is putting too much faith in the wrong yield curve," and "isn't getting the all-clear he that he thinks". He "is ignoring that forward curves are deeply inverted". The 1994 cycle "is an interesting comparison as it ended with 'insurance cuts' as there was no recession, however inflation was also significantly lower than today and the Fed was less behind the curve,"
On Traders Betting for ECB to Hike Four Times Within a Year
Mizuho International Plc strategists
"We think that the magnitude of these prints may well cause disarray among the ECB Governing Council. Euro front-end rates are likely to be under pressure."
On Qatar Says Timing of First Green Bonds Depends on Market
Finance Minister Ali Al-Kuwari
"You have to be opportunistic, interest rates are moving against us with the Fed… For us, it's really not about the bond itself and the size, it's more about making a statement that Qatar is very much committed for climate change on the finance side."
On Bolsonaro tapping market-friendly consultant to head Petrobras after ousting second straight CEO
Ilan Arbetman, research analyst at Ativa Investimentos
"Pires is recognized by the market as an appointment that wouldn't break with the operational and financial transformations that have happened at the company since the middle of the previous decade"
Top Gainers & Losers – 28-Mar-22*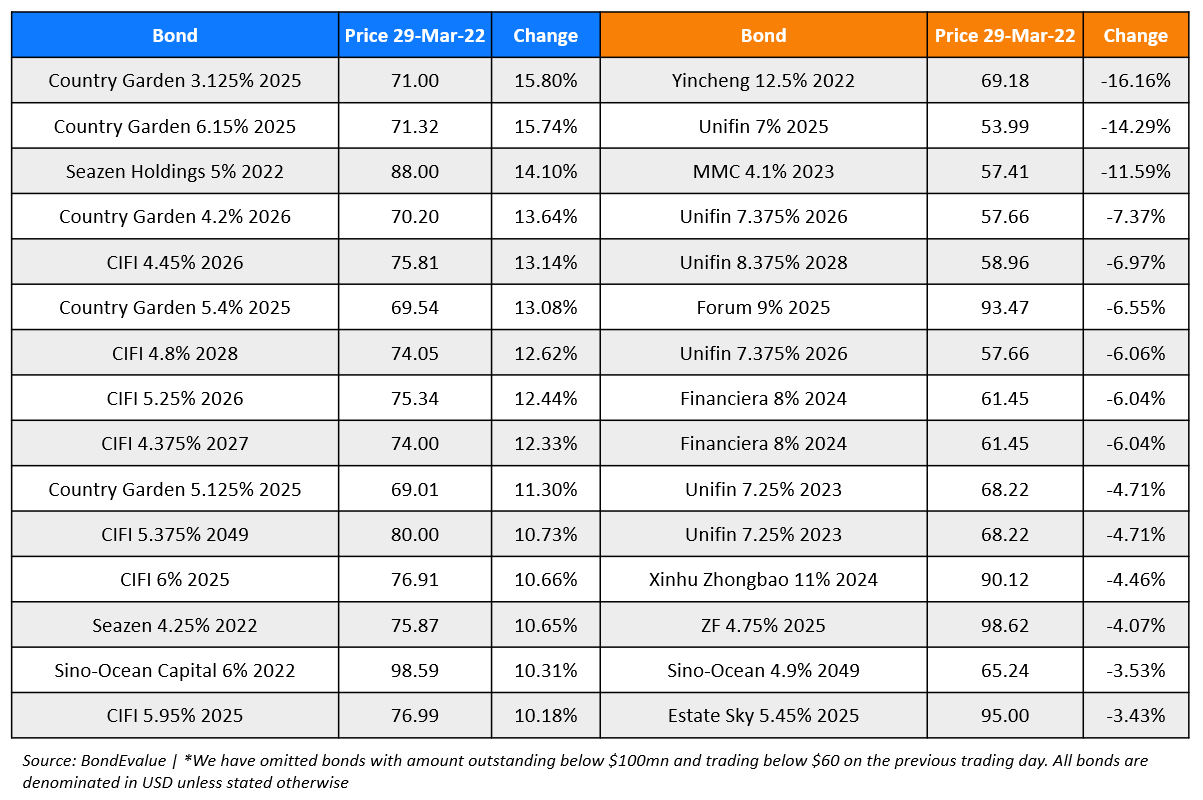 Other Stories: