US equity markets rallied sharply for a second straight day on Friday, with the S&P and Nasdaq up 2.5% and 3.3% respectively. Sectoral gains were led by Consumer Discretionary and IT up over 3.4% each. US 10Y Treasury yields were flat at 2.74%. European markets ended higher as well with the DAX and CAC up 1.6% each and the FTSE up 0.3%. Brazil's Bovespa closed flat. In the Middle East, UAE's ADX was up 1.5% on Friday and Saudi TASI was up 1.3% on Sunday. Asian markets have opened stronger today – Shanghai, HSI, STI and Nikkei were up 0.6%, 1.9%, 0.2% and 2% respectively. US IG CDS spreads tightened 2.4bp and HY spreads tightened 8.2bp. EU Main CDS spreads were 2.1bp tighter and Crossover spreads were 8.2bp tighter. Asia ex-Japan CDS spreads were 1.9bp tighter.
---
Advanced Two-Day Course on Bonds | 7-8 June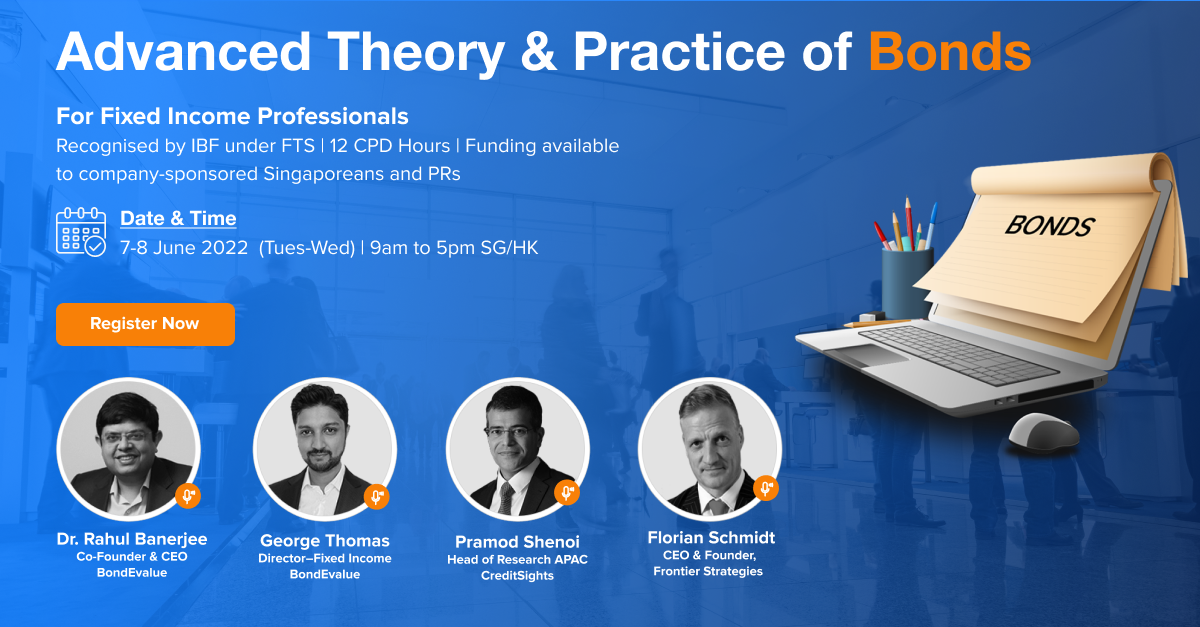 This course, designed for private bankers, wealth managers and advisors, will cover topics such as:
Bond Valuation & Risk
Bond Portfolio Optimization & Use of Leverage
New Bond Issues
Secondary Trading of Bonds with a Live Simulation
Using Excel to Understand Bond Calculations
ESG Bonds
Perpetual/AT1 Bonds
Asian High Yield Bond Analysis
When: 7-8 June 2022, 9am – 5pm Singapore/Hong Kong time
Where: 79 Robinson Road, Singapore (in-person) and Virtual via Zoom for those outside Singapore
Fees: SGD 2,140 per candidate. 80/90% IBF funding is available to eligible company-sponsored candidates from Singapore.
---
New Bond Issues
Taiyuan State-owned Investment Group $ 3Y at 5.05% area

New Bonds Pipeline
Seazen Group $ green bond
Busan Bank hires for $ Social bond
Kookmin Card hires for $ Sustainability bond
Continuum Energy Aura hires for $ Green Bond
Jubilant Pharma plans $ bond
Sael Limited hires for $ 7Y Green bond
Rating Changes
Term of the Day:
TLTRO
TLTRO stands for Targeted Long Term Refinancing Operations, a monetary policy tool set by the ECB to extend loans to European banks at attractive rates to increase lending and provide monetary support throughout the financial system. TLTROs were introduced in 2014 as part of ECB's accommodative monetary policy stance to counter slow inflation. The loan term can vary from 3-4 years with banks having the ability to borrow money from the ECB several basis points below its benchmark deposit rate. The ECB has launched three TLTRO programs –  TLTRO I in 2014, TLTRO II in 2016 and TLTRO III in 2019.
Bloomberg notes that ECB's TLTRO will expire in June. Bloomberg Economics expects the interest rate on TLTROs to be increased by 50bp in June, contributing to some tightening in financial conditions.
Talking Heads
On Fed Won't Flinch as Labor Market Starts Tailing Off
Michael Pearce, senior US economist at Capital Economics
"The tentative signs that payroll growth is slowing and wage growth is falling are not going to be enough to convince the Fed to back away from their planned series of 50bp rate hikes at the next couple of meetings… a continued slowdown in payrolls and wage growth will eventually convince officials to slow the pace of tightening by the fall"
Anna Wong, Yelena Shulyatyeva, Andrew Husby and Eliza Winger, Bloomberg economists
"The risk of a recession in the second half of 2023 is high and rising. Of course, the one entity that can turn sentiment around is the Fed"
On Germany's Debt Brake to Be 'Wake-Up Moment' – German Finance Minister Christian Lindner
"We have to prioritize the plans of the coalition. Not everything can be implemented straight away."
On ECB Liftoff With Yet More Record Inflation – ECB President Christine Lagarde
Giorgio di Giorgio, a professor at Luiss University in Rome
"These new numbers are extremely important to determine the speed at which rate hikes will need to happen"
On China in Danger of Exporting Fresh Inflation Turmoil
Ben Powell, Asia-Pacific chief investment strategist at BlackRock Investment Institute
"We are in a period of maximum uncertainty vis-a-vis China with the ongoing lockdowns. It has important spillover impact for the global economy, potentially exacerbating the already troublesome supply-side situation."
David Loevinger, managing director at TCW Group
"The end game has to come from a shift away from zero-Covid. All the stimulus is not getting traction because credit demand, consumer and business sentiment remain weak."
Top Gainers & Losers – 30-May-22*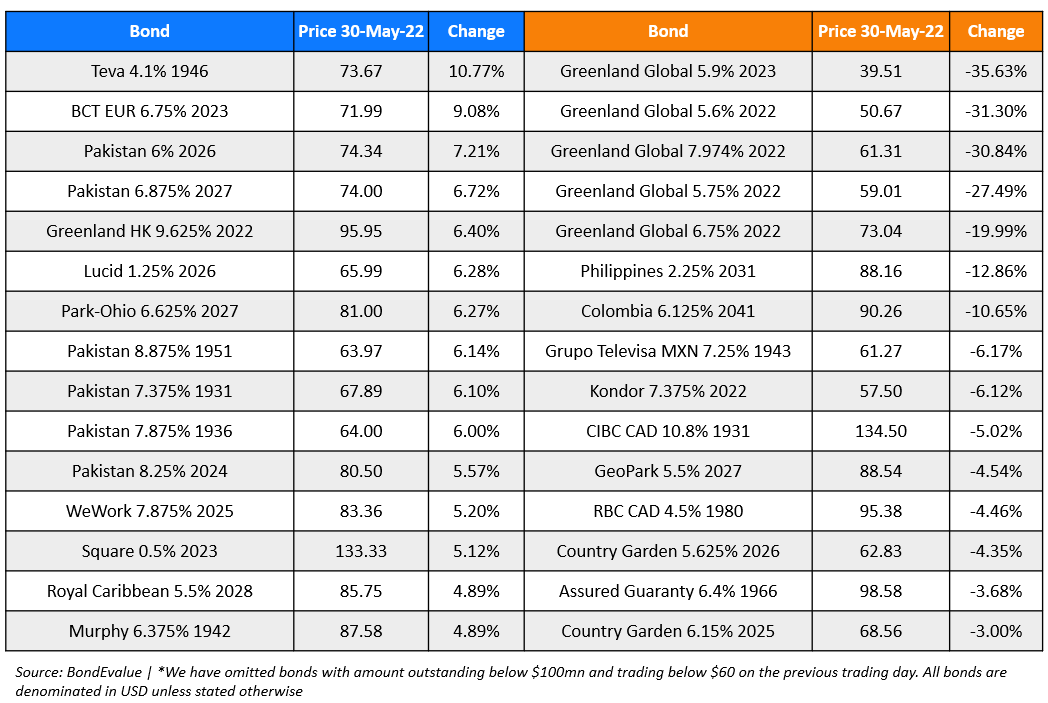 Other Stories