US equity markets were closed on Monday due to the Independence Day holiday. US 10Y Treasury yields were 7bp higher at 2.96%. European markets were mixed with the DAX falling 0.3% while CAC and FTSE were up 0.4% and 0.9% respectively. Brazil's Bovespa was down 0.4%. In the Middle East, UAE's ADX and Saudi TASI closed 0.4% and 0.9% lower respectively. Asian markets have opened mixed too – Shanghai and STI were down 0.2% and 0.4% respectively, while Nikkei, and HSI were trending up 0.8% and 0.4% respectively. EU Main CDS spreads were flat and Crossover spreads were 2.3bp narrower. Asia ex-Japan IG CDS spreads widened 3.2bp.
Inflation in Turkey came in at 78.6% for June, higher than the 73.5% print in May. This is its highest inflation level in 24 years. Transportation prices jumped 123.37% YoY, and food and non-alcoholic beverage prices surged by 93.93%. Separately, the Reserve Bank of Australia hiked its policy rate for the third time this year, by 50bp to 0.85%, higher than analysts' forecasts that were for a 25bp or 40bp hike.
New Bond Issues
Guangxi Communications $ 3Y at 4.6% area
HDB S$ 5Y green bond at 2.94%
Korea Gas $ 5Y at T+145bp area

BNP Paribas raised S$300mn via a 10NC5 bond at a yield of 5.25%, 25bp inside initial guidance of 5.5% area. The Tier 2 bonds have expected ratings of Baa2/BBB+/A-. If the bonds are not called on its call date of July 12, 2027, there will be a coupon reset then to the prevailing SORA plus the initial spread of 268.3bp  The new bonds are priced at a new issue premium of 11bp to its existing 3.125% 10NC5s that yield 5.14%. The pricing is also in-line with the recently priced Tier 2 issue of HSBC's 10NC5s yielding 5.25%.
New Bonds Pipeline
LG Chem hires for $ 3Y Green bond

Busan Bank hires for $ Social bond
Continuum Energy Aura hires for $ Green Bond
Rating Changes
Term of the Day
Sukuk
A Sukuk is a sharia-compliant fixed income instrument that essentially works similar to bonds. In a Sukuk, key differentiators vs. conventional bonds are: – Investors share partial ownership of an asset rather than it being a debt obligation by the issuer – The pricing is based on the underlying value of assets rather than credit worthiness – The holder receives a share of underlying profits rather than interest payments (considered 'riba') Sharia compliance broadly implies that any profits derived from these funding arrangements must be derived from commercial risk-taking and trading only; that interest income is prohibited on lending activities and; that the assets must be halal. To learn more about sukuk, click here
Talking Heads
On Germany Needing to Act to Tackle Historic Inflation
"The current crisis won't be over in the next few weeks. We must be prepared that this situation won't change for the foreseeable future. To put it differently, we are facing a historic challenge."
On cautioning ECB against aid to indebted states – Joachim Nagel, Bundesbank chief
"I would thus caution against using monetary policy instruments to limit risk premia, as it is virtually impossible to establish for sure whether or not a widened spread is fundamentally justified… Even that could potentially be insufficient to bring the medium-term price outlook in line with the 2% target… A restrictive monetary policy stance may be necessary to achieve this, at least temporarily."
On ECB to revamp corporate debt holdings to favor greener firms
"The eurosystem will gradually decarbonise its corporate bond holdings and this will be done by tilting the sizeable redemptions, which are expected to average over 30 billion euros annually in the coming years… Those companies that are the least green today will have to do the bulk of the transition, therefore we said that excluding them altogether is not the right approach"
On ECB Should Start With Quarter-Point Rate Hike – Estonian central bank chief, Madis Muller
"Given the inflation outlook, it's appropriate to start raising interest rates in July. We should continue with a further hike of 50 basis points in September."
Top Gainers & Losers – 05-

July-22*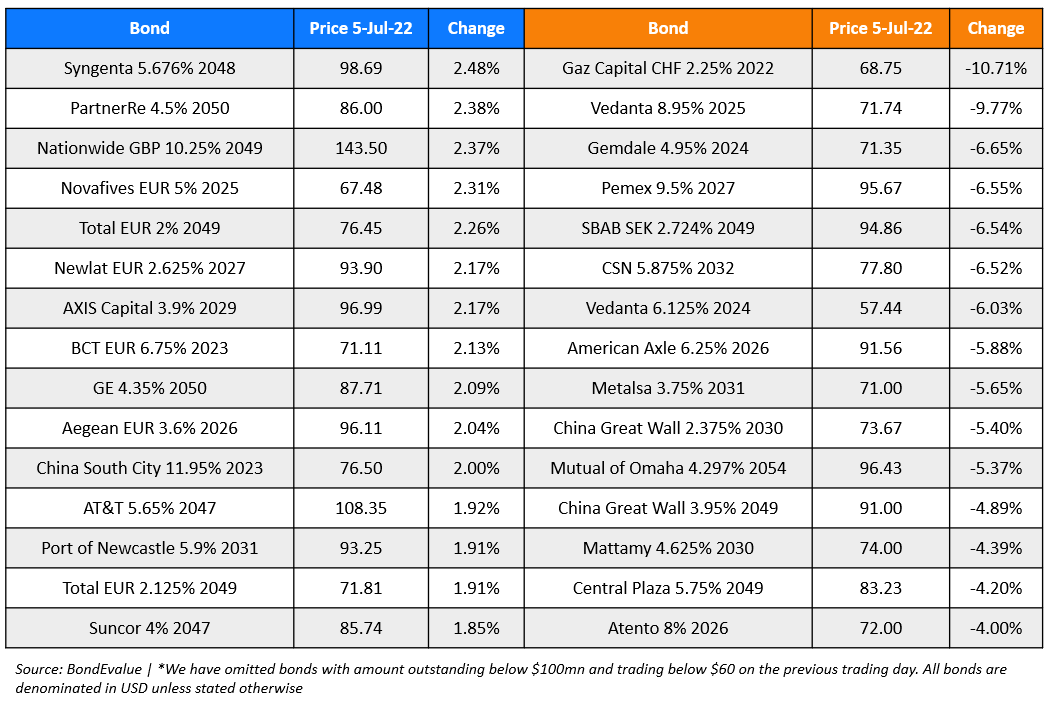 Other Stories: