On Monday, US equity and bond markets were shut on account of Labor Day. US 10Y Treasury yields have opened 2bp higher today at 3.22% and 2Y yields are up 5bp to 3.44%. EU Main CDS spreads 5.5bp wider and Crossover spreads widened by 30.5bp. Russia's Gazprom had announced that its Nord Stream 1 pipeline to Europe would remain closed indefinitely. This adds to worries about surging energy prices and winter shortages in Europe. European equity markets were mixed – DAX and CAC were down 2.2% and 1.2% respectively while FTSE was flat. The EURUSD currency fell below the $0.99 mark, its lowest levels since the last 20 years.
Brazil's Bovespa ended up 1.2%. In the Middle East, UAE's ADX and Saudi TASI fell 0.7% and 0.8% respectively. Asia ex-Japan IG CDS spreads widened 1.3bp. Asian equity markets have opened mixed today – Shanghai and STI were up 1% and 0.2% respectively, while HSI was down 0.3% and Nikkei was flat.
In Turkey, inflation hit a 24-year high of 80.2% for August vs. estimates of 81.2% and July's 79.6% print. Pakistan's government cut its economic growth estimates to 2.3% from its initial 5% growth target in June. This was primarily driven by the extreme floods in August affecting the region.
New Bond Issues
Kexim $ 2Y Fixed/2Y FRN/5Y/10Y at T+80bp area/SOFR equivalent/115bp area/150bp area
Orix $ 5Y/10Y at T+185/215bp area

Zhengzhou Real Estate raised $350mn via a 3Y bond at a yield of 5.1%, 50bp inside initial guidance of 5.6% area. The senior bonds have expected ratings of BBB+, and received orders over $900mn, 2.6x issue size. Proceeds will be used to repay offshore bonds.
Tianjin Binhai New Area Construction & Investment hires for $ bond

Ganzhou Urban Investment Holding Group hires for $ bond

Macquarie Bank hires for € 5Y bond

Aozora Bank hires for $ 3Y Green bond
Tianjin Binhai New Area Construction & Investment hires for $ bond
NH Investment hires for $ 3Y and/or 5Y Green bond
Rating Changes
Nexteer Automotive Group Ltd. Downgraded To 'BB+' On Weak Margin Prospects; Outlook Stable
Term of the Day
Silver Bonds
These are special bonds issued by Hong Kong's government particularly for senior citizens aged 65 and above. Interest on the bonds will be paid once every six months at a rate linked to inflation in Hong Kong, subject to a minimum rate of 3.5%. The purpose of offering the bonds is to offer retail investors facing low global interest rates, a safe place to park their investments, which is a problem for Hong Kong's 1.3mn elderly population according to SCMP. Hong Kong saw HK$62.6bn ($5.7bn) of bids from record number of subscribers for its 2022 series of silver bonds that were issued last week. The bonds will will pay a guaranteed interest rate of at least 4% annually, pegged to the city's inflation rate. It is an increase from the 3.5% rate in its 2021 series.
Talking Heads
On Fitch Warning of a High Risk that Sri Lanka May Default on Local Bonds
"There is a big question mark over whether sustainable levels of debt can be reached by just restructuring US dollar market and concessional debt. Arguably, local currency debt needs to be restructured too in order to reach what the IMF would see as sustainable levels… a default on local-currency debt could have adverse effects on Sri Lanka's banking sector"
Sanath Manatunge, CEO at Commercial Bank of Ceylon PLC
"If there is a haircut on these bonds also, there will be a huge impact on the banking sector"
On Bank of England's Mann Calls for 'Forceful' Action on Rates – Catherine Mann
"Acting more forcefully now, to ensure that the drift does not become the norm, is designed to avoid depending on a deeper and longer contraction to return inflation to target… It's an important question. What we need to be doing is to make sure the medium term inflation expectations don't drift… Fast and forceful monetary tightening superior to gradualist approach".
Top Gainers & Losers – 06-
September-22*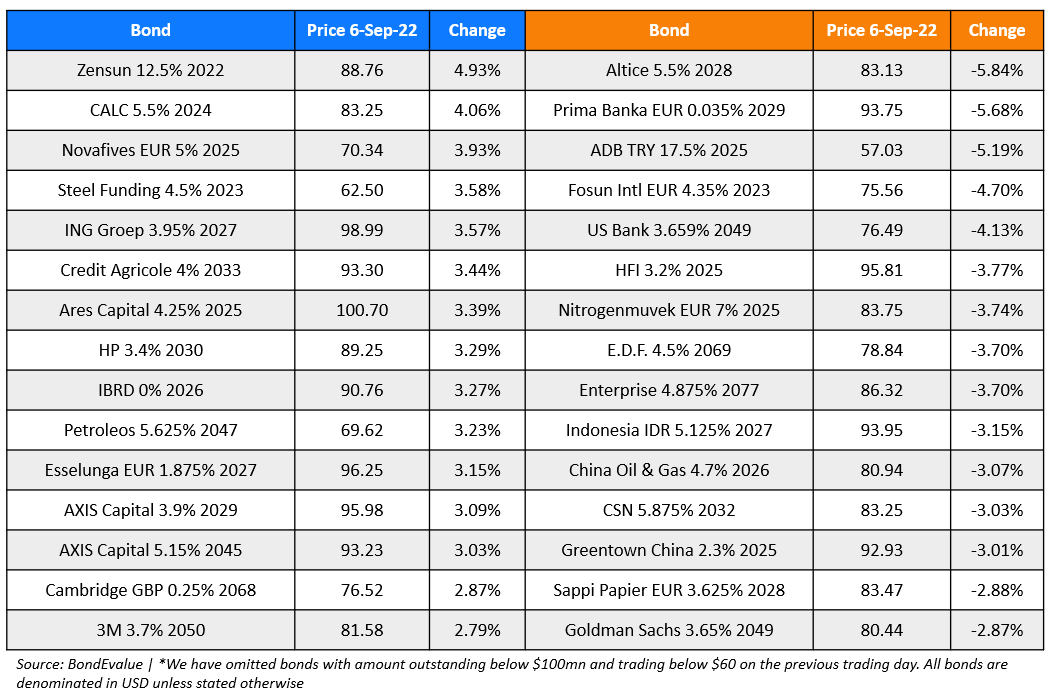 Other Stories