US equity markets ended the week lower on Friday with the S&P and Nasdaq down 0.2% and 0.5% respectively. Sectoral losses were led by Consumer Discretionary down by 1.7% and Communication Services down 0.9%; Energy was up 2%. US 10Y Treasury yields rose 14bp to 2.83% on stronger jobs data. European markets also ended down – the DAX, CAC and FTSE fell 0.7%, 0.6% and 0.1% respectively. Brazil's Bovespa was up 1.6%. In the Middle East, UAE's ADX rose 1% on Friday and Saudi TASI was down 0.7% on Sunday. Asian markets have opened mixed – STI and HSI were down 0.6% and 0.7% respectively while Shanghai and Nikkei were up 0.2% each. US IG CDS spreads tightened 0.1bp and US HY spreads were tighter by 4.7bp. EU Main CDS spreads were 0.5bp wider and Crossover spreads were tighter by 0.3bp. Asia ex-Japan IG CDS spreads also tightened 0.6bp.
US Non-farm payrolls (NFP) for July came in at 528k, higher than estimates of 250k and last month's 372k. Unemployment rate was at 3.5%, a tad better vs. expectations of 3.6%. Meanwhile. China's trade surplus in July rose to $101.2bn vs. $97.9bn in June, the highest in 35 years as its economy continues to rebound from pandemic-related restrictions. Exports rose 18% against expectations of 14.1% and imports rose 2.3%, lower than estimates of 4%.
---
IBF-STS Course on Digital Assets | 11 Aug 2022 (In-person in Singapore) | 70/90% Funding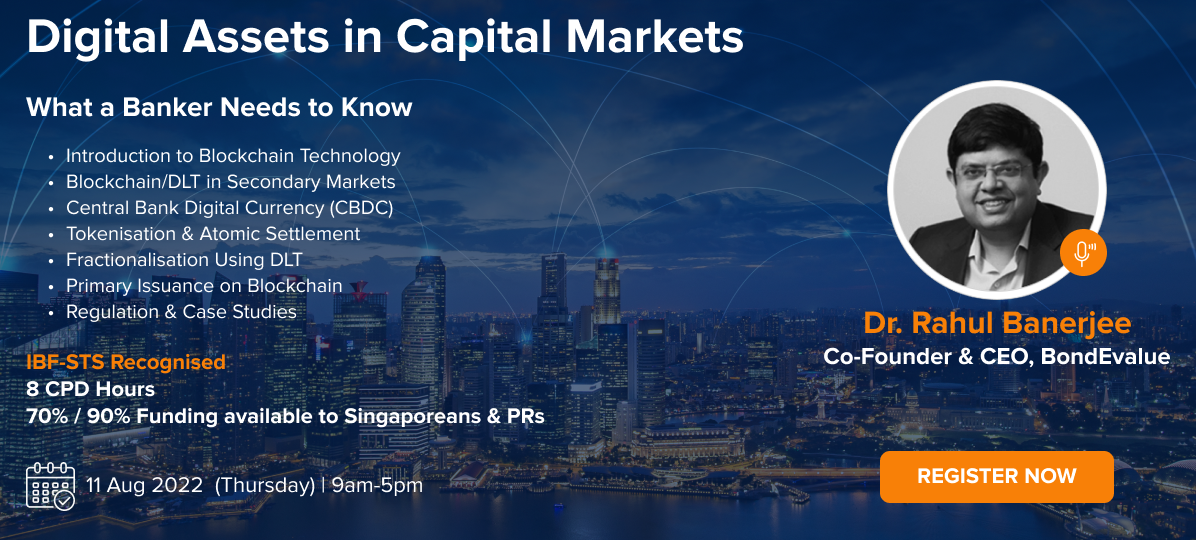 ---

New Bond Issues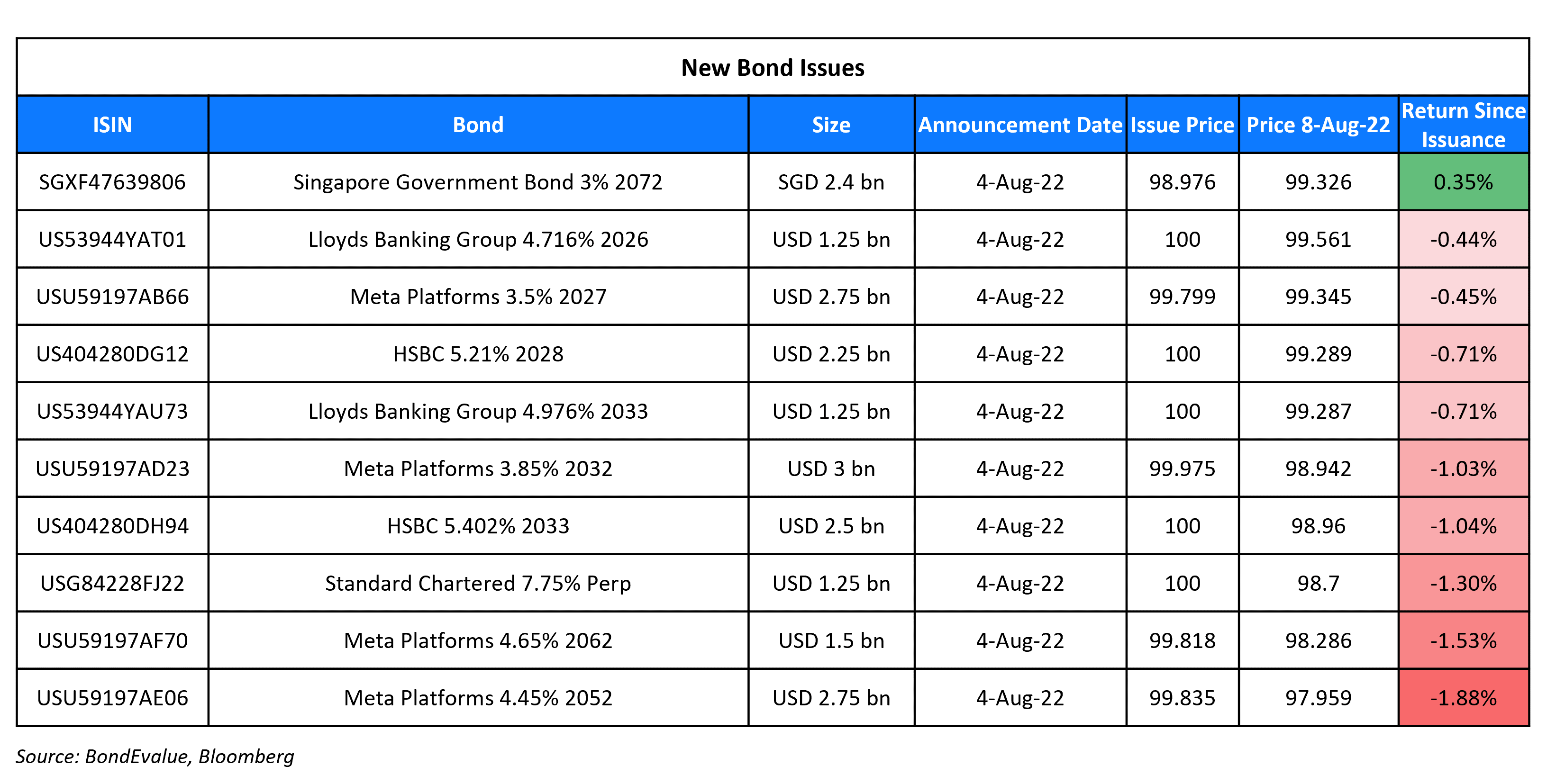 New Bonds Pipeline
Energy Development Oman hires for $ sukuk
Tianjin Binhai New Area Construction & Investment hires for $ bond
NH Investment hires for $ 3Y and/or 5Y Green bond
Rating Changes
Term of the Day
Change of Control Put
A change of control put is a common covenant in bond offerings, mentioned in the bond's prospectus. Bonds that carry a change of control put offer bondholders the option to sell the bonds back to the issuer at a pre-defined price upon the occurrence of a change of control event, which is typically a change in ownership of the issuer. The option to redeem the bonds in this case lies with the bondholder, as against a call option, which lies with the issuer, not the bondholder. In Moody's recent $500mn bond offering, the bonds have a change of control put at 101.
Talking Heads
On Bond Traders Being on A Collision Course With Fed Over Longer-Term View
Kathy Jones, chief fixed income strategist at Charles Schwab & Co.
"The markets think the Fed being aggressive this year means inflation will come down enough to allow the Fed to shift…The Fed is pushing against this idea because when they are still tightening, they don't want to talk about easing. They've got a big communication problem on hand."
Tim Duy, chief US economist at SGH Macro Advisors
"It has simply been a challenge for the Fed to communicate its hawkish intentions when market participants have been looking for a dovish pivot…At some point, the Fed and markets will be realigned, and the data will decide whether the Fed needs to move to the markets or vice-versa. The Fed thinks the market will be the one that needs to move."
On More Large Rate Hikes Until Inflation Eases
Fed Governor Michelle Bowman
"My view is that similarly-sized increases should be on the table until we see inflation declining in a consistent, meaningful, and lasting way…While I expect that ongoing rate increases will be appropriate, given the uncertainty in how those data and conditions will evolve, I will allow that information to guide my judgment on how big the increases will need to be"
On 'Sizzling' US Jobs Data Making a Case for Bigger Fed Rate Increases
San Francisco Fed President Mary Daly
"The good news is people can get jobs, the bad news is that inflation remains too high and our No. 1 priority is to get that down…We don't need to be too aggressive because we do already see signs of slowing. Interest rates rise but it takes a while for them to move fully through the economy."
Mark Spindel, chief investment officer at MBB Capital Partners LLC in Chicago
"This number is so comprehensively strong with a pretty significant uptick in wages…Companies are paying up for labor. Income matters most. When you look at the breadth of the employment report, and the earnings, this is an enormous tailwind for income."
On Patience that Inflation in England Will Fall to Target
Bank of England Chief Economist Huw Pill
"We will get back there, but it's going to be a process, which is going to take time reflecting the magnitude of the shocks we've seen…The changes in energy prices we've seen in markets over past few months, the doubling of price…that wasn't something that was anticipated. If we had implemented monetary policy it would not have been able to impact that change…There is an inevitable volatility in inflation, that volatility is going to be very very large when the shocks hitting the economy are very very large."
On New Latin American Government Bonds Being the Rarest Find for EM Buyers
Teresa Alves, an emerging markets strategist at Goldman Sachs Group Inc.
"Issuance is lower across the board, but the drop may look larger in Latin America because issuance is declining from a quite high level in 2020 and 2021…This increase was driven by high Covid-related spending in the region, which is now likely reverting."
Giulia Pellegrini, a fund manager at Allianz Global Investors in London.
"There's been general death of issuance…The market is effectively being closed to virtually all emerging markets. There's been a few cases of issuance, but they have been few and far between."
Top Gainers & Losers – 8-
August-22*