November was the third consecutive month where over 70% of dollar bonds in our universe ended the month lower. 72% of dollar bonds delivered a negative price return ex-coupon in November, continuing the woes from October and September where 81% and 86% of the bonds were in the red respectively. This comes after June, July and August that saw 54%, 52% and 47% of dollar bonds trading up in the months, respectively. Both investment grade (IG) and high yield (HY) bonds performed poorly, with 65% and 83% of the bonds in the red respectively. However, unlike the previous two months, in November, HY bonds fared worse than IG bonds – in September and October 78% and 75% of HY bonds saw negative returns as compared to 92% and 86% of IG bonds that saw negative returns.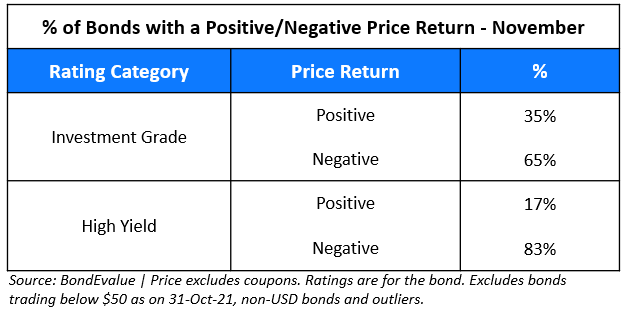 In the IG space, the gainers were led by Bank of America's 6.45% preferreds due 2066, which ended the month at 27.2 up ~15% in November. That was followed by Huarong's dollar bonds, which continue to trade higher months after being bailed out by a consortium of state-led firms including CITIC Group. Other prominent gainers include France's EDF and the China sovereign dollar bond in the AAA to A- rating category, and General Electric and Panama in the BBB+ to BBB- category. The losers were led by Ecopetrol and Colombia, while Country Garden's bonds fell due to the continued negative sentiment over China's real estate sector. Another Chinese developer, Shimao became a fallen angel during the month after it got downgraded to BB+ from BBB- by S&P. Its dollar bonds fell over 20% as the company reported that it is likely to miss its 2021 sales target.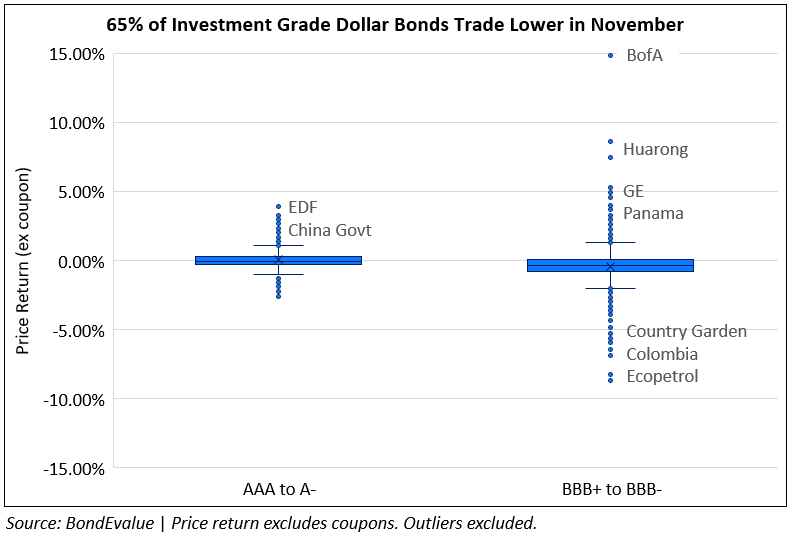 Yet again, Chinese property developers dominated the HY losers list led by Yango (Cayman) Investment's dollar bonds dropping as much as 75% as the company did not get bondholders' approval to extend principal payment and was downgraded by S&P to CCC- at the start of November. Other property developers whose bonds traded weaker included China Aoyuan, Times China, Golden Wheel, Fantasia, Redsun, Jiayuan, Redco, Yuzhou, RiseSun and Agile. Malaysia's Serba Dinamik also saw its bonds crash after it missed its sukuk coupon payment on November 9 and is currently under a 30-day grace period that ends on December 9. Scroll down to the Top Gainers & Losers section for more details.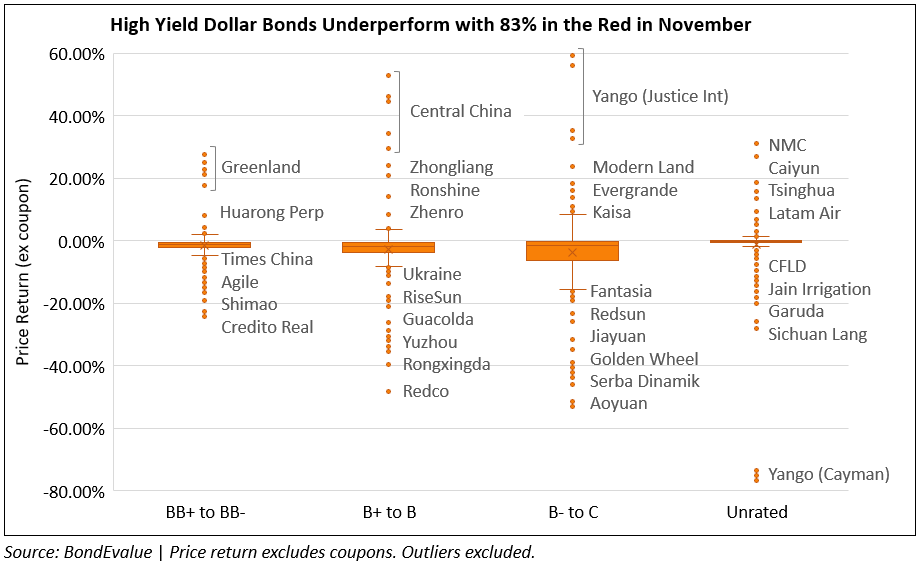 Issuance Volume & Largest Deals
Global corporate dollar bond issuance volume stood at $216.4bn, down 12% MoM and lower by 7% YoY. With increased volatility and the Thanksgiving holidays in the last week of November, US issuance volumes dropped ten-fold WoW to just $3.7bn in the week ending November 29.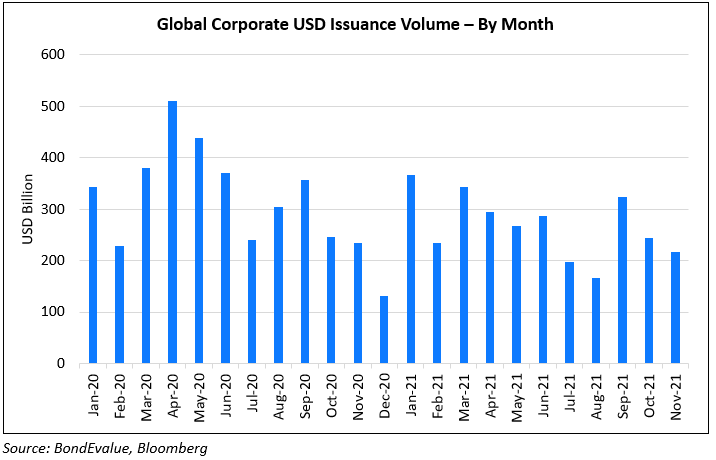 APAC ex-Japan & Middle East G3 issuance stood at $35.1bn, up just 4% vs. last November's issuance of $33.9bn, but 7% lower than October's issuance of $37.8bn. While IG issuances dropped 23% MoM to $24.3bn, HY issuers came back to the primary market after a lull in October. November HY issuances rose 3.5x MoM to $8.6bn, a 5-month high, dominated by deals from Teva and Bahrain (details below).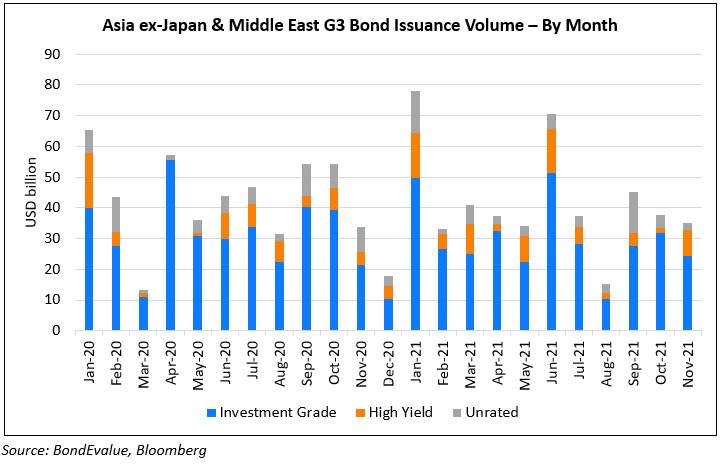 The largest deals last month were led by Baxter International's $7.8bn jumbo seven-tranche offering followed by US International Development Finance raising $7.2bn. Besides these, banks dominated the tables with HSBC's $6bn four-trancher, Barclays raising $4bn three-trancher, JPMorgan's $3bn deal and Deutsche Bank's $2.5bn two-trancher.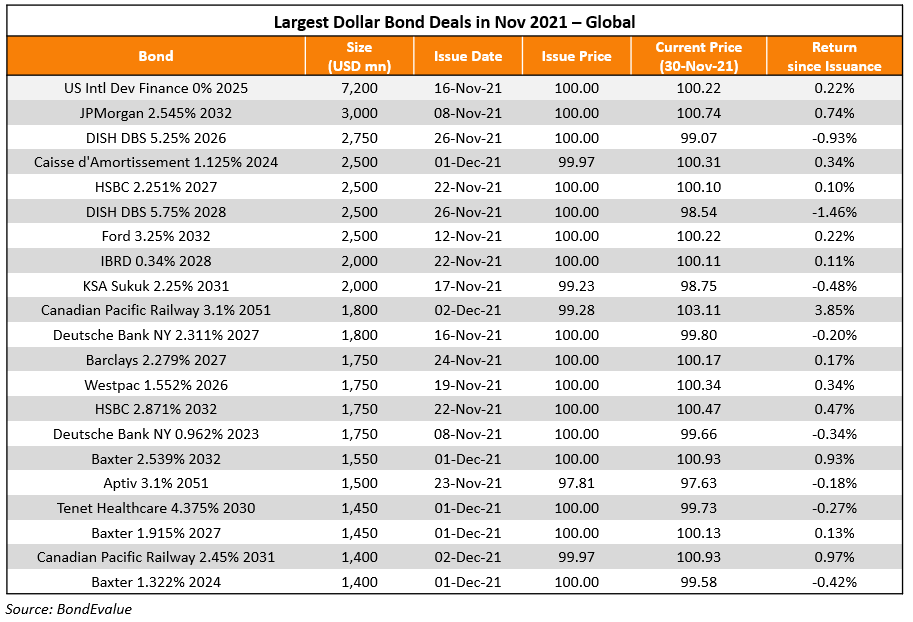 In the APAC & Middle East region, the largest deals were led by Teva Pharmaceuticals' issuing the largest ever sustainability-linked bond deal raising $5bn via a four-trancher, followed by Saudi Arabia's $3.25bn two-trancher that included a $2bn 9.5Y sukuk, Hong Kong SAR's $3bn dual-currency green three-trancher and Bahrain's $2bn dual-trancher.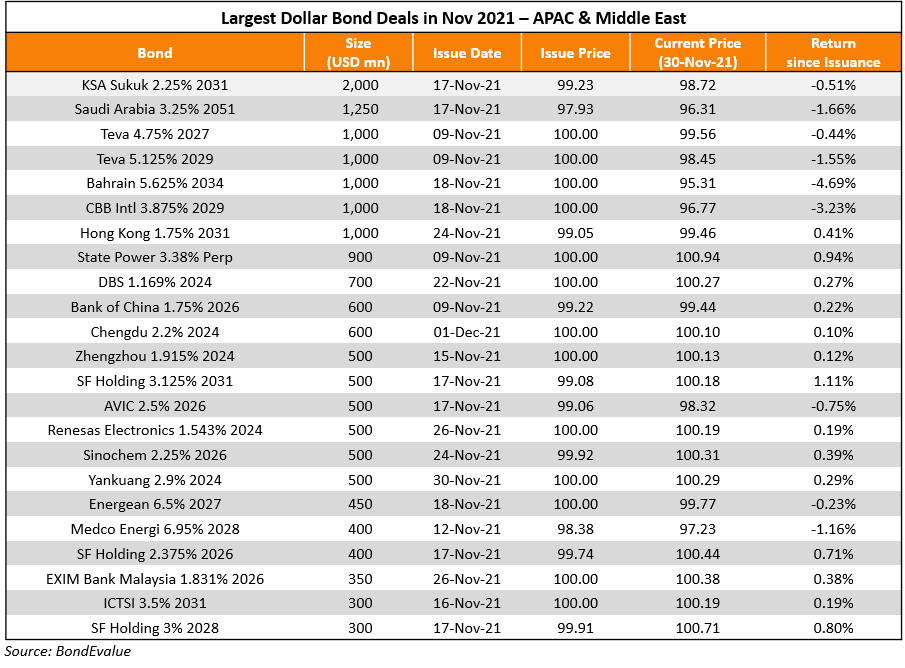 Top Gainers & Losers
Select Chinese property developers stood out on the gainers list in November. Central China Real Estate's dollar bonds jumped after the company's parent Jianye Group said it signed an RMB 10bn ($1.6bn) strategic cooperation agreement with Zhongyuan Bank. Greenland Global's dollar bonds saw a solid recovery after it reported Q3 results where its revenues rose 30% to RMB 144.1bn ($22.6bn) and the company said it will soon meet the 'net debt-to-equity' metric among the 'Three Red-Lines' outlined by the government. Adding to the cheer, in mid-November, the company's sector got reclassified as 'construction' rather than 'real estate' based on a CSRC rule, which also helped push its dollar bonds higher. Among the distressed names that rallied, Yango Justice International's bonds guaranteed by Yango Group Co rallied as it sought a consent solicitation and exchange offer for three of its bonds in an attempt to avoid default. Yango managed to get its bondholders' consent and acceptance for the exchange offer, saying it will swap the three notes for new bonds worth $669.9mn.
Incidentally, the losers were led by a Yango-related company – Yango (Cayman) Investment's whose dollar bonds saw a massive drop of over 75% as its parent Fujian Yango Group (in turn the parent of Yango Group Co), did not get bondholders' approval to extend principal payment for its RMB 400mn bond due December 7 whilst remaining in a liquidity crunch. The company was also downgraded by S&P to CCC- from B at the start of the month on heightened nonpayment risk; S&P withdrew its ratings on the company later on the company's request. China Aoyuan was downgraded by all three major rating agencies multiple times during the month – Aoyuan was rated B1/B/BB at the start of November and is currently rated Caa2/CCC/CCC-. Besides these names, other property developers whose bonds traded weaker included Redco Properties, Golden Wheel Toandi, Zhongliang, Yuzhou, RiseSun, Kaisa etc. Other losers included Eros STX Global that plunged after it hired Lazard to advise on talks for selling its STX Entertainment unit after merging with the US filmmaker in July 2020.