US Treasury yields eased slightly on Tuesday with the the 10Y yield down 1bp to 3.63%. The peak Fed Funds Rate currently stands at 4.46% for the FOMC's March 2023 meeting, 4bp higher than yesterday. US credit markets saw a general tightening of CDS spreads, with IG tightening by 6.2bp and HY tightening by 37bp. US equity markets saw a marked rally with the S&P and Nasdaq rallying 2.8% and 3.1% respectively. Broadly, with bond prices taking a hit globally in Q3 and a broad-based sell-off over the course of the year, asset managers like PIMCO and Fidelity have now come out with calls in favor of buying bonds (scroll below to the Talking Heads for more details).
European equity markets rallied sharply too and credit markets saw EU Main CDS spreads tighten by 8.7bp and Crossover spreads tighten by 37bp. Turkish annual inflation soared to a 24-year high of 83.45% in September, driven by transport prices, which surged nearly 118% YoY. However, markets are already aware of Erdogan's intentions from last week where he intended to see Turkish interest rates move lower. Asia ex-Japan CDS spreads tightened 5.6bp and Asian equity markets have opened broadly higher today with the Hang Seng in particular up over 5%.
---
Complimentary Webinar | How to Use the BondEvalue App to Better Track Your Bonds | 10 Oct 2022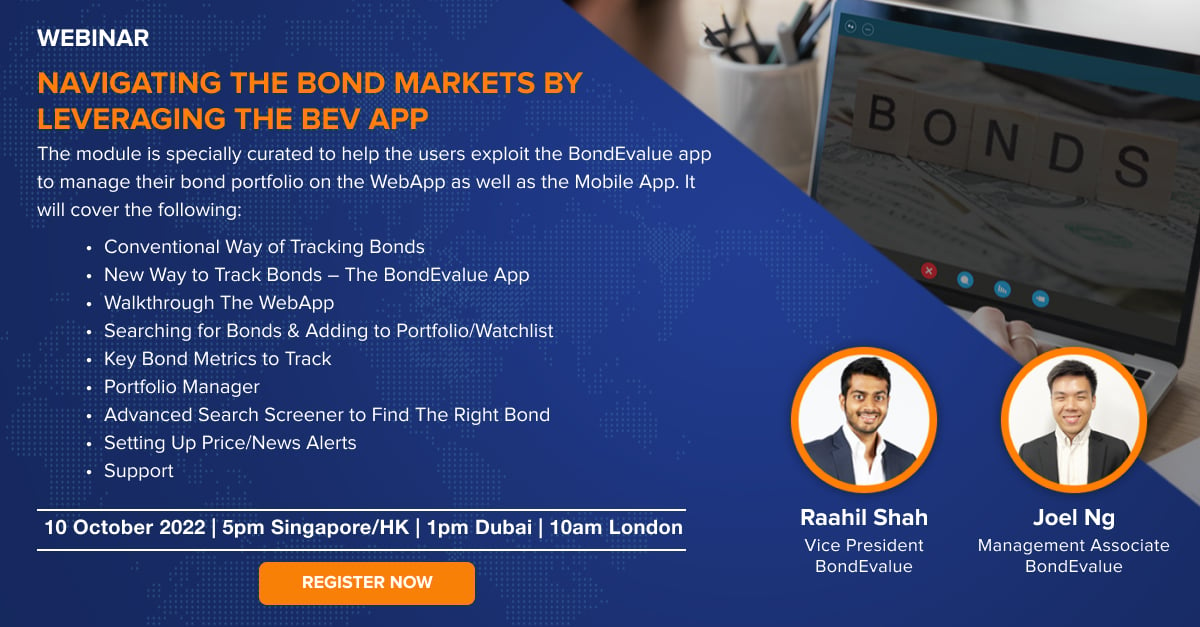 ---

New Bond Issues
Philippines $ 5Y/10.5Y/25Y Sustainable @ T+155bp/T+220bp/6.55% areas

DBS Bank raised €750mn via a 3Y covered bond at a yield of 2.812%, 2bp inside initial guidance of MS+19bp area. The covered bonds have expected ratings of Aaa/AAA, and received orders over €1bn, 1.3x issue size. The bonds are issued by DBS Bank Ltd and guaranteed by Bayfront Covered Bonds Pte Ltd.
New Bonds Pipeline
Public Investment Fund hires for $ Green bond
Aozora Bank hires for $ 3Y Green bond
Rating Changes
Term of the Day
Asset Backed Securities
Asset Backed Securities (ABS) are securities that are collateralized or backed by a pool of assets. This pool of assets are made by a process of securitization and could be in the form of loans, credit card debt, mortgages etc. with each security backed by a fraction of the total pool of underlying assets. Thus, an investor gets interest and principal payments while also assuming the risk of the underlying assets. The underlying pool of assets are structured in different tranches with the highest priority of repayment going to the top tranche and then to the second tranche and so on.
T-Mobile US sold its first-ever bond backed by customers' phone loans, by pricing the sale of $842mn of ABS.
Talking Heads
On Pimco Saying Bond Returns Look 'Compelling' Given Rise in Yields
Tiffany Wilding and Andrew Balls
""The return potential in bond markets appears compelling given higher yields across maturities… We believe the case is now stronger for investing in bonds."
On ECB Saying European Banks Are Too Optimistic About Macro Risks – ECB Supervisory Board Chairman Andrea Enria
"Our estimates on the possible increase in non-performing loans in hindsight proved, to say the least, overly pessimistic… In the second quarter of 2022 we observed that the more active originators continued to underwrite new transactions almost as thought it were business as usual, even as the opportunities to syndicate them were unclear".
On Fed knows how to fight inflation, will seek to do so 'gently' –  San Francisco Fed President Daly
"If we do our jobs well, and we communicate to the public why we are doing what we are doing, and why the interest rate path we are taking is necessary to get inflation down, and that price stability for us is extremely important, as is doing it as gently as possible so that the economy can be in a balanced state as easily as possible"
On Fidelity International Buys Treasuries, Yen as Recession Hedges – George Efstathopoulos, money manager
"Our view is a hard landing is going to happen. We are looking for convexity trades that should do well in a hard landing — both long-dated Treasuries and yen should"
Top Gainers & Losers – 05-October
-22*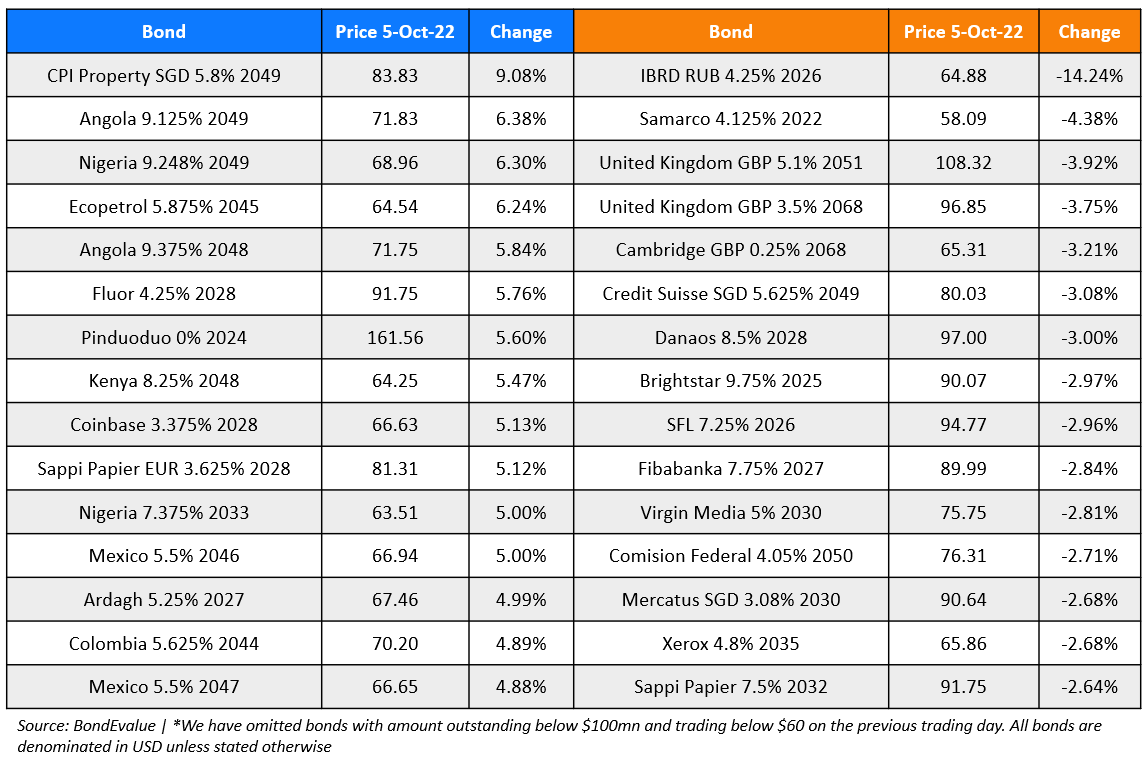 Other Stories
Sembcorp secures $3 bln shipbuilding contract from Brazil's Petrobras