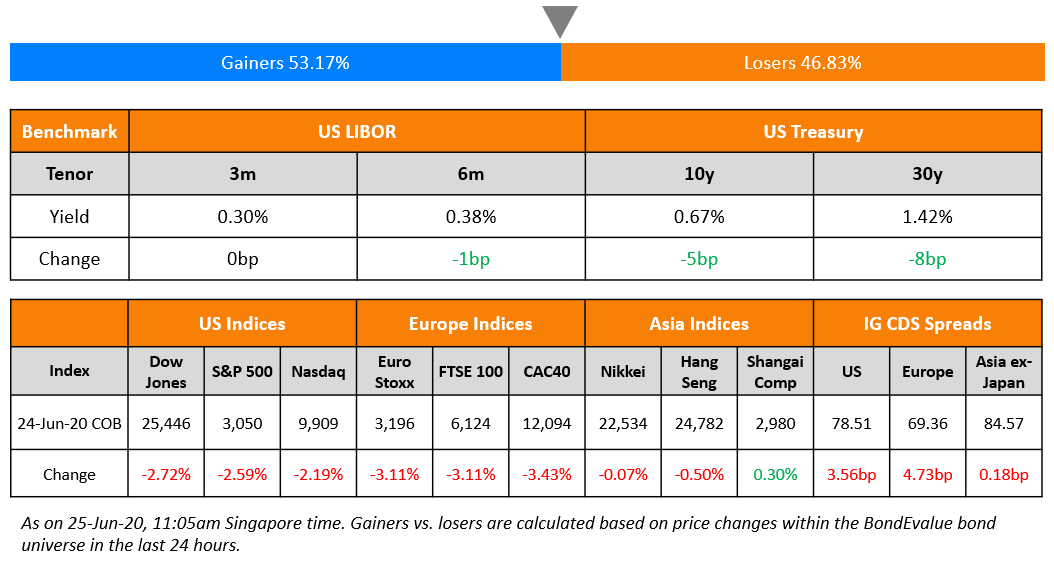 Overnight markets took a hit across US and Europe as weak sentiment from surging coronavirus cases in several US states dampened hopes for a strong economic recovery. The surge could slow down the easing of lockdown restrictions. The IMF announced revised global GDP forecasts at -4.9% (-3.0% prev) and +5.4% (+5.8% prev) for 2020 and 2021 respectively. ECB chief economist Philip Lane warned that the Eurozone economy would take time to recover and there were also reports about the EU preparing to bar US travelers. It was also reported that the US is considering import tariffs on EU goods to the tune of $3.1bn. Treasury yields were lower on the risk-off tone and safe haven bid and gold hit an eight year high. CDS spreads widened across the board. Asian markets are following western markets and opening around 2% lower.

Learn more about our masterclass here.
New Bond Issues
Singapore Technologies S$ Perp NC7 @ 4.375% area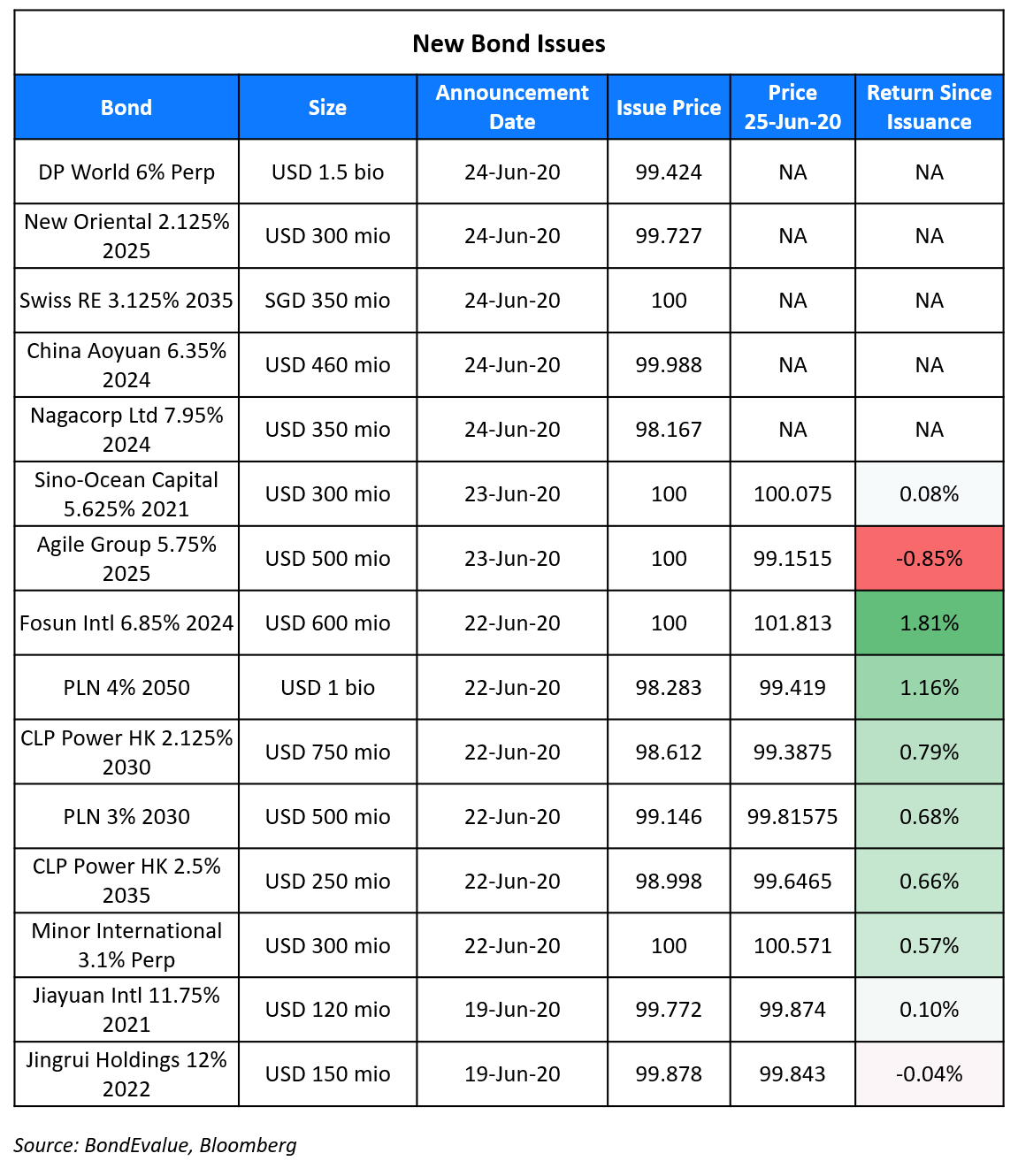 Reinsurer Swiss Re raised S$350mn via 15Y non-call 5Y (15NC5) at a yield of 3.125%, 47.5bp inside initial guidance of 3.6% area. The bonds, expected to be rated BBB+, received final orders exceeding S$1.4bn, 4.29x issue size. This is Singapore's first subordinated bond offering from a major European insurance company, also their debut SGD bond.
Global port operator DP World raised $1.5bn via a perpetual NC5.5 sukuk at a yield of 6.125%, 50bps inside initial guidance of 6.625% area. The bonds, expected to be rated BB, received final orders exceeding $3.8bn, 2.53x issue size. If the bond is not called in October 2025, the bond will reset its coupon to the 5Y Treasury yield plus a spread of 5.75% in January 2026.
Developer China Aoyuan Group raised $460mn via 3.6Y non-call 2.6Y (3.6NC2.6) bonds at a yield of 6.35%, 40bps inside initial guidance of 6.75% area. The bonds, expected to be rated B, received final orders exceeding $2.8bn, 6.09x issue size. China Aoyuan had last raised a 4Y $200mn bond in June 2019 at a yield of 7.35% at the time of issue, and is currently yielding 6.393% on the secondary markets.
New Oriental Education & Technology raised $300mn via 5Y bonds at a yield of 2.183%, 185bps over Treasuries and 35bps inside initial guidance of T+220bp area. The bonds, expected to be rated Baa1, received final orders exceeding $1.9bn, 6.33x issue size. This is New Oriental's very first dollar offering.
Nagacorp, which owns and operates a casino and hotel resort in Cambodia, raised $350mn via 4Y non-call 2Y (4NC2) bond at a yield of 8.5%, 25bps inside initial guidance of 8.75% area. The bond, expected to be rated B, received final orders exceeding $900mn, 2.57x issue size.
American Airlines sized up its offering, raising $2.5bn via 5Y bonds with a coupon of 11.75% and an all-in-yield of 12.013%. Final pricing came in at the upper end of initial guidance of 11.76-12.01%. The airline decided to upsize the deal from $1.5bn to $2.5bn after it cancelled a leveraged loan issuance. The new bonds are expected to be rated BB-, above American's corporate rating of B given the collateral attached to the new issuance. According to Fitch, the bonds will be backed by American's slots, gates, and routes (SGR) used to provide services to Mexico, Central America, the Caribbean, Non-EU countries in Europe, Canada and certain Asia/Pacific destinations, as well as a second priority lien on SGR at London Heathrow and certain cities in the EU. The proceeds from the bond will be used to refinance a $1bn 364-day term loan it raised in March. The new bond issue comes just a day after the most-indebted US airline raised ~$1bn each via a sale of shares and converible bonds, reported by us yesterday. American Airlines' 5% bonds due 2022 dropped 6 points since yesterday's close to 59.3 cents on the dollar, yielding 36% on the secondary markets. American's 3.75% bonds due 2025 remained largely unchanged at 54.2 cents on the dollar to yield 18.9%.
For the full story, click here
Kimberly Clark de Mexico raised $500mn via 10Y weighted average life (WAL) (Term of the day, explained below) at a yield of 2.431%, 175bp over Treasuries and inside initial guidance of a spread of low-mid 200bp. The bonds are expected to be rated BBB+/A and have three equal amortizations in years 9, 10 and 11.
Rating Changes
Fitch Downgrades Canada's Ratings to 'AA+'; Outlook Stable
Fitch Downgrades BBVA USA's Long-Term IDR to 'BBB'; Outlook Stable
Fitch Upgrades Beijing Capital Development to 'BBB'; Outlook Stable
Moody's downgrades Carpenters ratings (CFR to Ba3) – outlook to negative
Fitch Revises Outlook on Indian Railway Finance Corporation to Negative; Affirms at 'BBB-'
Fitch Revises Outlook on Housing and Urban Development Corporation to Negative; Affirms at 'BBB-'
Fitch Revises Outlook on Uganda to Negative; Affirms at 'B+'
Austria Sells 100-Year Bond at 0.88%
Austria raised €2bn via the sale of 100-year bonds at a yield of just 0.88% on Wednesday. The AA+ rated country capitalized on the ultra-low interest rate environment in its second century bond, with the last one issued at a yield of over 2% in 2017. The successful issuance underscores investors' appetite for long-dated bonds in pursuit of yield, especially in Europe, where several governments' bond yields are in negative territory. "Even though the bond has a very long maturity, its maturity profile would fit institutional investors like pension funds and insurance companies," said Mohit Kumar, head of interest rate strategy at Jefferies. The 100-year tenor coupled with a low coupon results in the bond having a higher duration, making it more sensitive to interest rate changes vs. shorter-dated and higher yielding bonds. Wolfgang Bauer, manager of the M&G Absolute Return Bond Fund said, "The newly issued 100-year bond will have an even higher duration due to its lower coupon rate, which will make it even more susceptible to rates moves. From a risk/reward perspective, at an outright yield of 0.88 per cent, I do not think investors are getting particularly generously compensated for the expected price volatility."
For the full story, click here
Canada Loses AAA Status After Fitch Downgrade to AA+
Fitch Ratings downgraded Canada's Long-Term IDR to AA+ from AAA while maintaining a stable outlook for the sovereign. The rating action comes as the country, like most other countries, is trying to fight the pandemic and has announced record emergency stimulus spending. These stimulus measures have directly led to a big dent in Canada's public finances in 2020 leading to a higher than expected government deficit in 2020. The rating agency forecasts the government's debt to rise to 115.1% in 2020, up from 88.3% in 2019, which is amongst the highest in the AA rated category. The government deficit is likely to widen to 16.1% in 2020 before reducing to 6.5% in 2021 and 3% in 2022. The Bank of Canada had cut the rates by 150bp to 0.25% in March as a response to the slowdown. Although Fitch downgraded the country, it also commented on the country's structural strengths, which include its high-income economy as well as strong governance and political stability along with its positive net international investment position. It is noteworthy that the Canadian banks' ratings have been placed on Negative Outlook in April on the likelihood of reduced revenues. The country continues to be at the highest rating with Moody's and S&P. The bonds of the country were largely stable. The 2.75% bonds maturing in 2048 traded at 142.481 points down 0.4 points.
For the full story, click here
IMF Forecasts Global Debt Ratios Above 100%
As governments roll out stimuli to tackle the economic slowdown due to the pandemic spread, IMF sees a ~19% increase in countries' debt burden, which is much higher than that seen during the 2009 financial crisis. This massive increase could see total global debt to cross the 100% mark for the first time. While global debt surges, the world economy is predicted to shrink by 4.9% in the current year as lockdowns continues to adversely affect consumption. The travel industry, airline industry, cruise industry and the oil industry are the hardest hit. While small and medium businesses have to be supported by the government, many big names have defaulted and are looking for government support. There has also been a slew of downgrades of sovereigns due to higher fiscal deficits. In April, Kristalina Georgieva, Managing Director of IMF had commented on the CoVid crisis where she had revealed that three months back IMF had expected a positive per capita income growth for 160 member countries while the projections changed to a negative per capita income for 170 countries as a result of the crisis. In related news, IMF said on Wednesday that it forecasts Italy's GDP to contract by 12.8% this year which is 3.7% points more than expectations.
For the full story, click here
BEV Term of the Day
Weighted average life (WAL)
Weighted average life or WAL is a feature of amortizing bonds, which are different from straight bonds in that they payback principal through the life of the bond rather than a one-time payment of the full principal at maturity. WAL refers to the average time, stated in years, in which the bond's unpaid principal remains outstanding. WAL is calculated as per follows, for a 3 year bond with $100 face value where P1 refers to principal repayment in year one, P2 in year two and P3 in year three.
WAL = [(P1 x 1) + (P2 x 2) + (P3 x 3)] / $100
Talking Heads
On Indian companies facing the risk of further rating downgrades – S&P Global Ratings
S&P Global Ratings said that companies in India face further potential rating downside if the recovery in corporate earnings is prolonged beyond 18 months. About 35% of credit ratings on Indian corporates have either a negative outlook or are on "Credit Watch" with negative implications, S&P Global ratings said in a statement. "That increases to one-in-two ratings if we exclude debt-free companies in the IT sector," it added. "How quickly India companies recover after the lockdown would be crucial to the rating outlooks or Credit Watch resolution," S&P Global Ratings said.
On gold prices reaching new heights – Carsten Menke, an analyst at Julius Baer
The price of gold in the spot market on Wednesday rose as much as $10 to $1,779, its highest level since October 2012, before going back to $1,772. The all-time high for gold was reached in 2011 when it hit $1,900. "Gold has been moving in lockstep with real [inflation adjusted] bond yields for quite some time even though we would caution to call this causation," said Carsten Menke, an analyst at Julius Baer. "We believe higher gold prices and lower real yields are two sides of the same coin, reflecting growth worries or risk aversion."
On Turkey's possible demotion to a frontier market – Emre Akcakmak, a Dubai-based portfolio manager at the asset manager East Capital
"Such a move could lead to about $5bn in total outflows from Turkish equities, including about $2bn to $3bn from passive investment funds that automatically track the index, and would be a "loss of prestige" for Turkey. Its place is next to India, South Africa, Indonesia, Thailand — not next to some of the less developed and smaller frontier markets."
Top Gainers & Losers – 25-Jun-20*