Markets started this week on a positive tone as investors look towards recovery as we get closer to quarter end. Economic growth and data this quarter have been some of the worst but markets have seen a record return primarily driven by central bank stimulus' globally. Investors are still looking at the new coronavirus outbreaks in the US, Brazil, Germany, Australia, Beijing and are undecided whether this is a second wave or a continuation of the first wave. Either way, the concerns are taking a backseat as doubts over whether further economic lockdowns would be imposed. White House economic advisor Larry Kudlow calmed investors who got nervous after Apple's decision to temporarily close stores by playing down the chances of new economic lockdowns. Primary bond markets continue to see solid activity as issuers take advantage of the positive sentiment, low treasury yields and low credit spreads and raise money to prepare for their worst case scenario. Asian markets are opening higher, supported by a similar start to the week by Wall Street. Markets could be volatile towards the end of the quarter with investors keeping an eye on both economic and coronavirus data.

Learn more about our masterclass here.
New Bond Issues
Sino-Ocean Capital $ 364-day @ 6.125% area
Agile Group $ 4.5NC2.5 @ 6.125% area
Ronshine China Holdings $ tap 2023 @ 7.3% area
China South City $ 125 mio tap 10.875% 2022
Sichuan Languang $ tap 11% 2022 @ 11% area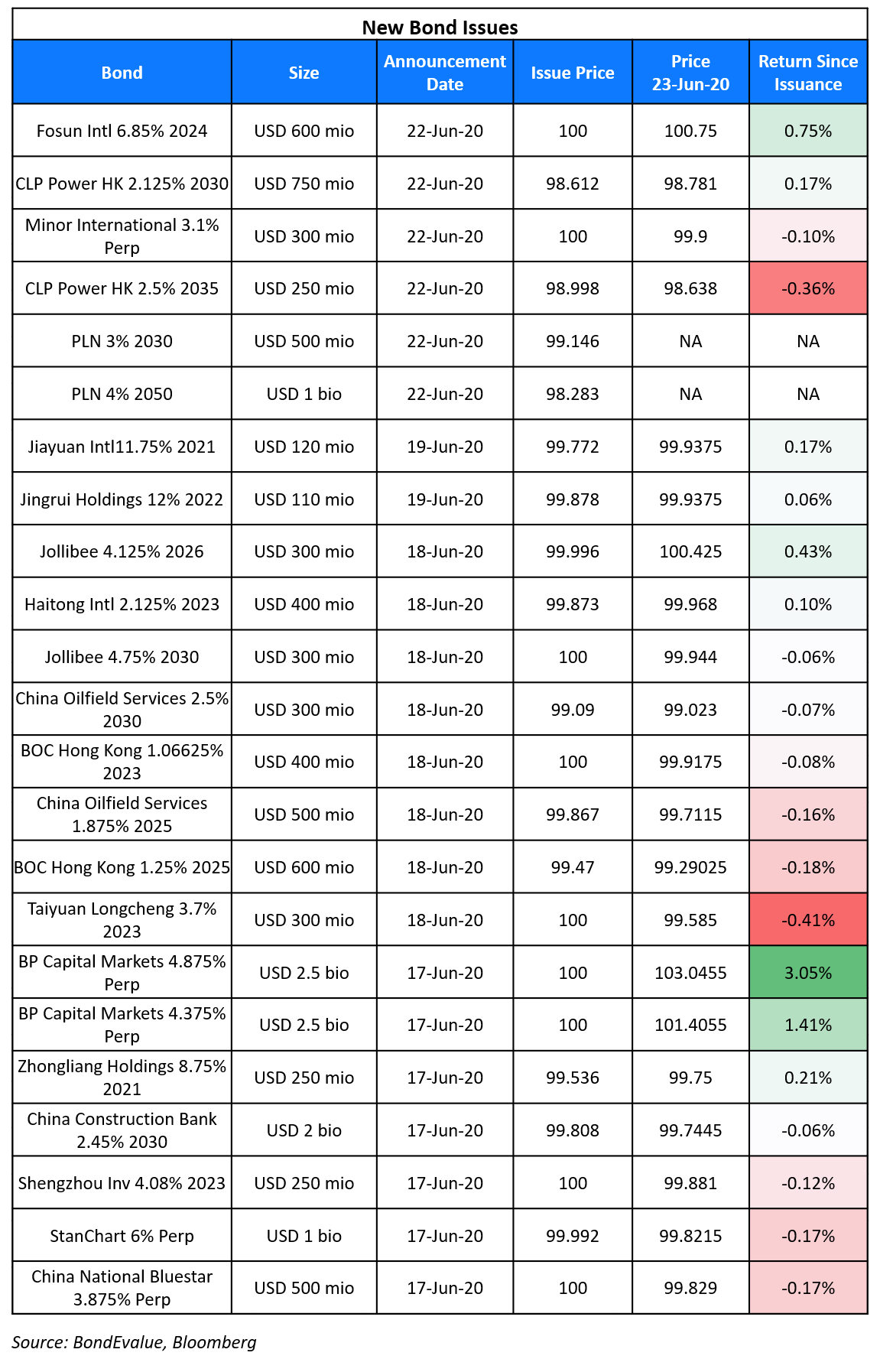 Indonesia's Perusahaan Listrik Negara (PLN) has raised $1.5bn from a dual-tranche deal. It raised $500mn via a 10Y bond at a yield of 3.1% and $1bn via a 30Y bond to yield 4.1%. Both bonds were priced 70bps inside initial guidance of 3.8% area and 4.8% area respectively. The bonds, expected to be rated Baa2/BBB/BBB, received final orders exceeding $4.35bn, almost 3x issue size. The new bonds were priced tighter compared to its 5.375% bonds due Jan 2029, currently yielding 3.32% and its 4.375% bonds due Feb 2050, currently yielding 4.21%.
CLP Power HK, raised $1bn via a dual-tranche deal on Monday. It raised $750mn via a 10Y bond at a yield of 2.281%, 160bp over Treasuries and $250mn via a 15Y bond at a yield of 2.581%, 190bp over Treasuries. The bonds were priced 50bp and 0-5bp inside initial/final guidance of T+210bp area and 190bp–195bp respectively. The 15Y tranche was added at the time of final guidance for the 10Y. The bonds are expected to be rated A+/A1.
Fosun International raised $600mn via 4Y non-call 3Y (4NC3) bonds at a yield of 6.85%, 50bp inside initial guidance of 7.35% area. The bond, expected to be rated BB, received final orders exceeding $2bn, 3.33x issue size. Fosun plans to use the proceeds to fund its tender offer on 4 of its outstanding bonds as per the table below:
Thailand's Minor International raised $300mn via perpetual NC3 bonds at a yield of 3.1%. The bonds were priced 70bps inside initial guidance of 3.8%. The bonds, expected to be rated Baa2/BBB, received final orders exceeding $2.3bn, 7.67x issue size. Minor last issued a perpetual in Nov 2018, when it raised $300mn at a yield of 4.661% at the time of issuance. The bonds are currently trading at a yield of 3.03% on the secondary markets.
Rating Changes
Fitch Downgrades BBVA to 'BBB+'; Outlook Stable
Fitch Revises Outlook on 9 Indian Banks' IDRs to Negative; Affirms IDRs
Fitch Revises Indian GREs' and HPCL's Outlook to Negative; Affirms IDRs at 'BBB-'
Fitch Revises Outlook on Three India-Based Infrastructure Financing Companies; Ratings Affirmed
Fitch Revises Outlook on Adani Transmission's Foreign-Currency IDR to Negative; Affirms Ratings
Fitch Revises Outlook on Bharti Airtel to Negative; Affirms at 'BBB-'
Fitch Revises Outlook on Namibia to Negative; Affirms at 'BB'
Moody's assigns Ba3 rating to American Airlines' new senior secured term loan and senior secured notes
Moody's assigns a Ba2 rating to DP World's proposed hybrid instruments
Fitch Rates Bank of China Hong Kong Branch's MTN Notes Final 'A'
Hilong Defaults on Dollar Bond After Failed Exchange Offer
Chinese oil equipment and services company Hilong Holdings Ltd defaulted on its $165mn 7.25% bonds due Monday after it failed to complete an exchange offer on its bonds in time. According to an exchange filing, this has triggred a cross default on its $200mn 8.25% bonds due 2022. The company has extended the deadline for its exchange offer to June 29 with hopes of receiving approval from the required 80% of bondholders by then to "cure the payment default". The filing stated that bondholders have tendered 63.45% of total outstanding principal, short of the required 80%. Hilong was downgraded by Moody's and Fitch on June 9 to B3 (from B2) and CC (from B) on the back of heightened refinancing risks. According to Bloomberg, Hilong's failure to pay has brought the total value of offshore bond defaults from China to $4bn this year. Its 8.25% bonds due 2022 are currently trading at 36.75 cents on the dollar.
For the full story, click here
MNC Investama Plans to Buyback Dollar Bonds
Indonesian conglomerate MNC Investama is planning to buyback its $231mn 9% bonds due in May 2021. Its founder, Hary Tanoesoedibjo said in an interview on Monday that it will hold talks with bondholders and plans to complete the partial buyback by October this year. He added, "With the pandemic happening, the prices of so many dollar bonds are falling. We have not officially proposed anything to our bondholders, but maybe we can buy back the bonds at an agreed price. Maybe not all because it's almost impossible to buy back 100%". The 9% bonds due 2021 are currently trading at 77 cents on the dollar on the secondary markets. MNC Investama has a connection to the US President in that it is the developer of Trump-branded luxury resorts in Indonesia.
As pointed out by Daniel Stanton, the editor for Asian Credit at IFR, in his op-ed piece on LinkedIn, this is a welcome surprise for bond investors of Indonesian credit. MNC is planning to hold talks with bondholders almost a year before its bonds are due to mature, indicating its efforts at avoiding a default. This is a far cry from Indonesia's Asia Pulp and Paper default on $12bn of debt in 2001. Another Indonesian developer Lippo Malls recently announced that it will honor all its debt payments this year, offering comfort to its bondholders. This indicates that Indonesian corporates are taking their commitments to international investors seriously as they may need to keep that avenue of funding open amid the pandemic.
For the full story, click here
Lufthansa Bonds and Stock Fall as Government and Shareholders Disagree on Bailout
Lufthansa airlines has been in the news for running into liquidity problems after the disruption in flights due to the ongoing pandemic. The airline has more than €3.7bn ($4.2bn) outstanding in instruments including bonds, loans and Schuldschein notes. The stoppage of flights has directly hit its top line, which has put the airline under severe liquidity pressure. On May 26, The Guardian had reported that Lufthansa had reached an agreement with the government for a €9bn ($10.14bn) bailout package in return for a 20% stake in the airline. While this was seen as a lifeline by many, it has not gone down well with some shareholders, especially billionaire Heinz-Hermann Thiele, who owns 15.5% in the beleaguered airline. While the government stands firm with the deal, Thiele is looking to block the deal, which would result in dilution of his share in the airline. The next shareholder meeting would decide the course for the airlines. As per Citibank analysts, there are three possible scenarios that could emerge out of the shareholders meet on Thursday.
The vote passes with Thiele's support
The deal fails and the government withdraws its offer
Thiele expands his holdings as the share prices fall
With the uncertainty looming over the deal, Lufthansa bonds fell to a three month low on Monday and the shares traded 3.2% lower. The bond prices of the company have seen a steep fall in the month of June. The 0.25% Euro bonds maturing in 2024 traded at their lowest price since March end.
For the full story, click here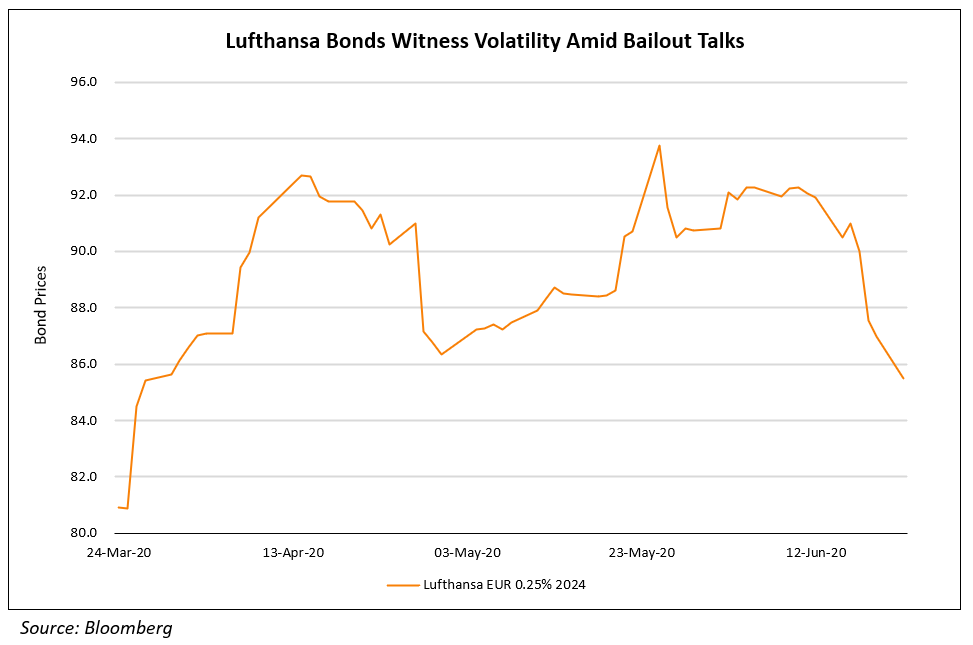 Yes Bank Set to Default on Coupon Payment on Rupee Tier 2 Bonds
Yes Bank is set to default on its upper Tier II Indian rupee denominated bonds after the RBI declined permission to the bank to make interest payments on the 10.25% upper Tier II bonds due on June 29. In an exchange filing, the bank reported that the central bank had declined the bank's request as the bank's capital fell below the minimum requirements. However, the bank informed investors that the accumulated interest would be paid as per the terms of the 2012 Information Memorandum according to which the interest due and remaining unpaid shall be paid by the bank later subject to the bank complying with the relevant regulatory requirements. Earlier, the Indian government had rescued the bank through an RBI drafted revival plan led by State Bank of India, the country's largest public sector bank. The bank had also announced in March that two series of its AT1 bonds worth ₹8,415 crore (~$1.1bn) would be written off permanently. Yes Bank's 3.75% dollar bonds due 2023 were largely unchanged on the secondary markets at $91.625.
For the full story, click here
Reliance Looks to Buy a Stake in Future Retail, Its Bonds Rally
The fight to win the Indian customer intensifies as Reliance seeks to buy a stake in Future Retail. On Jun 19, Asia Nikkei reported that the debt laden Future Group was in talks with Amazon and Reliance among other potential investors to raise between $1bn to $2bn. As per the Economic Times, Reliance was close to finalizing a deal. The news is significant since Amazon already already holds a stake in Future Group and also because Mukesh Ambani's Reliance Industries is looking at increasing its footprint in the Indian retail sector. Reliance recently secured ~$14bn from various investors including Facebook for its e-commerce venture Jio Platforms and looks to aggressively expand in the e-commerce space. Amazon already holds a 1.3% stake in Future Retail after it purchased 49% of Future Coupons Ltd and it may also be looking at expanding its investment in the group. The holding firm of Future Group has a debt of ~ ₹100bn ($1.3bn) which it is looking to offload through strategic deals. Future Retail's dollar 5.6% bonds due 2025 have been rallying on the news and are currently trading at 67.645.
For the full story, click here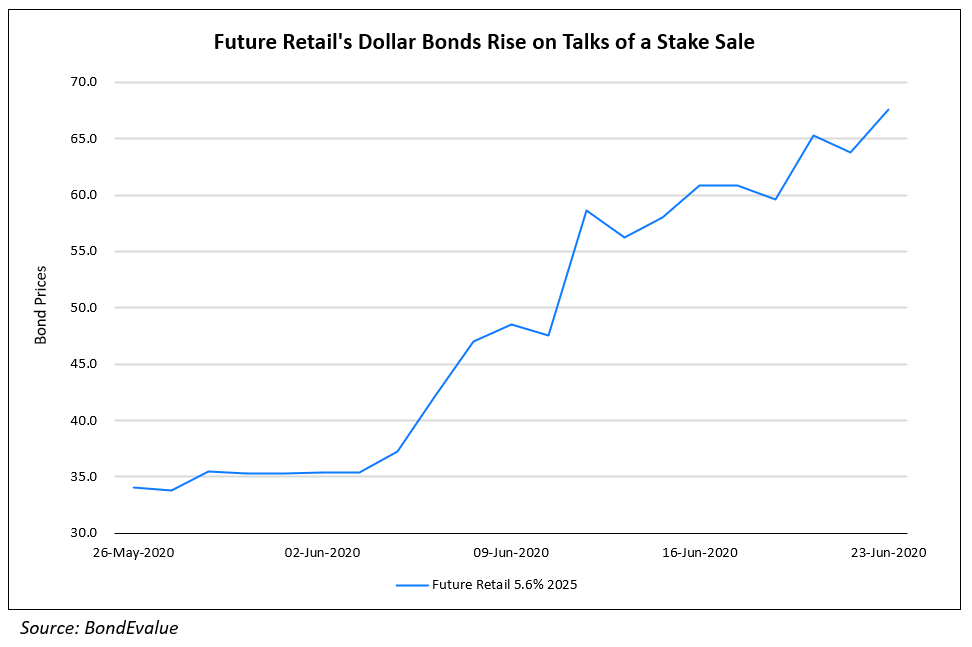 Sri Lankan Banks Now Allowed to Buy Its Sovereign Dollar Bonds, Leading to a Rally in the Bonds
The Sri Lankan central bank had prohibited the country's banks from buying its international sovereign bonds (ISBs) for three months starting March 19 on the back of a foreign exchange shortage in the country. The central bank announced last week that the banks can now purchase ISBs, albeit only with new foreign currency inflows to the banks. Sri Lanka's sovereign dollar bonds, which have been trading at steep discounts on the secondary markets, have traded up by ~10-15 points over the last month.
For the full story, click here
Another dollar bond issuer from Sri Lanka, SriLankan Airlines Ltd is in talks to raise $75mn in new debt, restructure $400mn worth of bank debt and reduce staff in a bid to survive amid the ongoing pandemic. The airline's chairman Ashok Pathirage said, "We started the process of [restructuring] before the crisis. If anything it accelerated it. We have to make hard decisions. The airline does not want to be a burden." Its $175mn 7% bonds due 2024 are currently trading at 58.5 cents on the dollar, yielding 23.6% on the secondary markets.
For the full story, click here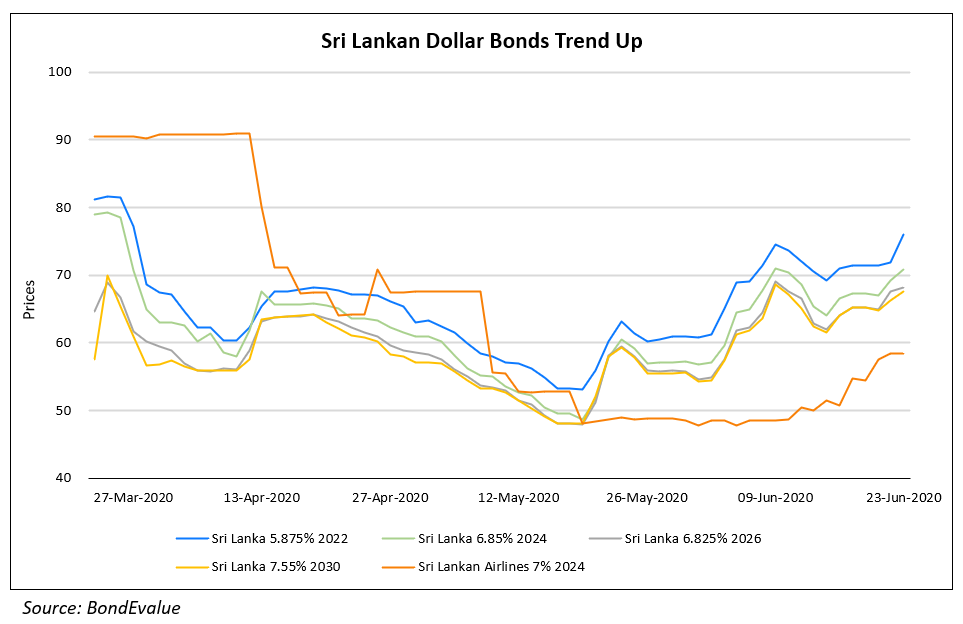 BEV Term of the Day
Tier 2 Bonds
Tier 2 bonds are debt instruments issued by banks to meet their regulatory tier 2 capital requirements. Tier 2 capital (and thus tier 2 bonds) rank senior to tier 1 capital, which consists of common equity tier 1 (CET1) and additional tier 1 (AT1) capital. CET1 consists of a bank's common shareholders' equity while AT1 consists of preferred shares and hybrid securities or perpetual bonds. Tier 2 capital consists of upper tier 2 and lower tier 2 wherein the former is considered riskier to the latter. We have summarized banks' liability structure in the table below.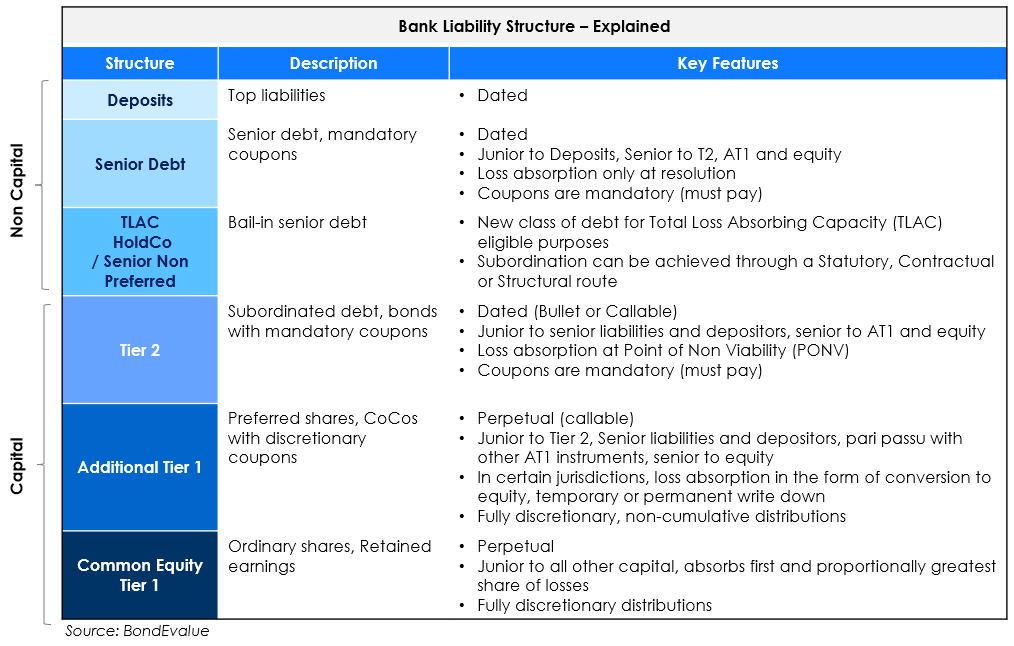 From a bond investor's perspective, tier 2 bonds are senior, and therefore less risky, compared to AT1 bonds as AT1s would be the first to absorb losses in the event of a deterioration in bank capital.
Talking Heads
On the UK Government possibly running out of money in March – Andrew Bailey, Bank of England's governor
Andrew Bailey said that if the BoE had not intervened in March, the UK Government would have run out of money. "I think we would have [had] a situation where, in the worst element, the government would have struggled to fund itself in the short run," Mr Bailey said. Mr Bailey also said that monetary stimulus "mustn't become a permanent feature" of the economy. Instead he said he would prefer to reverse some of the £300bn of quantitative easing rather than raise interest rates.
On Hong Kong's future as the global financial hub – Fan Xinghai, Vice Chairman of the China Securities Regulatory Commission (CSRC)
China is confident of Hong Kong's future as an international financial center, and they believe there should not be a whiff of pessimism about it. Fang Xinghai told a forum that China should also accelerate yuan internationalization given the massive dollar assets that they hold overseas and the risk of possible restrictions on global payments by Chinese companies. "Such a thing has happened to many Russian companies and financial institutions. So, China has to save for the rainy days," Fang said.
On EU issuing perpetual bonds during COVID-19 crisis – George Soros, Soros Fund Management
Soros criticizes the fact that the "frugal four" are limiting themselves to past methods and not using fiscal tools such as perpetual bonds (or consols) ideally suited to the current circumstances. "Perpetual bonds are often confused with Corona bonds, which have been rejected by member states because they carried burden sharing too far. But in reality, they work in opposite directions. Corona bonds increase burden, perpetual bonds reduce it.The distinguishing feature of perpetual bonds is that the principal never has to be repaid, only the annual interest is due. They have a cost-benefit ratio that is almost 10 times greater than that of the long-term bonds the EU is proposing. They can be issued as soon as member states authorise sufficient "own resources", i.e. new taxes that would maintain the triple A rating of the EU. It would hence take several years to raise the money and up to 30 years to repay it and keep expenditures to a minimum."
On unlikely winners in emerging markets – Dan Shaykevich, Vanguard's co-head of emerging-market and sovereign debt
"We were adding exposure when we saw some of these names trade at levels that were beyond what we thought were consistent for even some of the more distressed scenarios," said Dan Shaykevich.
Top Gainers & Losers – 23-Jun-20*