Sri Lanka had announced suspension of payments on its $51bn external debt calling it a "last resort" emergency measure, pending restructuring. Its creditors, including foreign governments, are free to capitalize any interest payments due or opt to be paid in Sri Lankan rupees, said the finance ministry. Post that, it defaulted on its $1bn 5.875% dollar bonds due July 2022. In essence, it is now saving its reserves for essential food and fuel imports.
Sri Lanka is thus facing its worst economic and social crisis as food, fuel, power and gas shortages coupled with high inflation are hurting its economy. This has led to mass protests and resignations of government officials. Besides, cratering foreign exchange reserves have hurt the economy. Since the crisis in the island nation is evolving every day, investors may find it difficult to stay updated. Therefore, to make things easier, we have put together an interactive dashboard. The dashboard below focuses on the latest news on Sri Lanka's dollar bonds and also updates on Sri Lanka's credit ratings, foreign exchange reserves, CDS spreads, bond maturity and the timeline of events.
Latest Bond News
September 26,2022:On September 23,

Sri Lanka's

finance ministry gave a

presentation to its external creditors

on its restructuring plan. It expects the IMF board to approve a $2.9bn loan by mid-December 2022 after having reached a staff-level agreement with the IMF under its Extended Fund Facility (EFF). By mid-November, the country is aiming for financing assurances from private sector public creditors and expects to reach agreement in principle with all its creditors by Q2 2023. Renegotiations with bilateral creditors such as China, Japan and India are also important. As per the sources attending the presentation, government officials said that Sri Lanka is encouraging an ad-hoc bilateral creditor coordination platform to obtain financing assurances from official bilateral creditors. The officials further added that the platform should be established by the creditors themselves soon.

Sri Lanka's dollar bonds were trading stable at 27-33 cents on the dollar.
September 21,2022:Sri Lanka's debt restructuring talks have begun with India, as per the High Commission of India. It said, "The discussions held in a cordial atmosphere symbolise India's support to early conclusion and approval of a suitable IMF programme for Sri Lanka". This follows the IMF's staff-level agreement to support Sri Lanka with SDR 2.2bn (equivalent to $2.9bn) under a 48-month EFF

arrangem

ent. Zawya notes that Sri Lanka will make a 'presentation to its international creditors on Friday' where it will draft out the extent of its economic difficulties and debt restructuring plans. India has already provided the troubled nation with $4bn in financial relief.
September 8,2022:Sri Lanka's dollar bonds have trended lower since the beginning of September. This comes despite an IMF staff-level agreement to support Sri Lanka with SDR 2.2bn (equivalent to $2.9bn) under its Extended Fund Facility (EFF) under a 48-month arrangement. Market analysts note that the drop in its dollar bonds may have to do with a linkage between

Zambia's

bailout and restructuring. Zambia recently asked for more than $8bn of debt relief to Chinese lenders, private bondholders and other creditors. Analysts believe that this may have a role to play in the drop in Sri Lanka's dollar bonds. This was after it secured a $1.3bn IMF bailout package. The common link between Sri Lanka and Zambia is China, one of the largest creditors to both nations. Analysts say that the case of Zambia may set a precedent of the willingness of China to absorb losses on loans it has extended to developing countries. Zambia will have to balance the interests of China and its other private creditors in its restructuring. For example, China is said to prefer a bond extension rather than taking a haircut while some bondholders who would prefer to take haircuts, may be concerned about having to accept the terms favored by China.
September 2,2022: The IMF reached a staff-level agreement to support

Sri Lanka

with SDR 2.2bn (equivalent to $2.9bn) under its Extended Fund Facility (EFF) under a 48-month arrangement. The agreement is subject to the approval by IMF management and the executive board. The IMF said that key elements of the EFF include the island nation increasing government revenue through measures including a wealth tax, fuel reforms, electricity pricing, raising social spending, reducing corruption and rebuilding its forex reserves. The multilateral lender said that Sri Lanka would require debt relief from its creditors and additional financing from multilateral partners in order to ensure the objectives of debt sustainability and close its financing gaps. Official and private creditors now need to agree on a way to restructure the sovereign's debt and make it sustainable.
August 31 , 2022:  In its interim budget, Sri Lanka raised taxes and announced reforms with the aim to come out of its economic crisis. Value-added taxes (VAT) will be increased from 12% to 15% by September 1. In the budget, the island nation also increased the payout to the poor and announced farm debt waivers for sections that were badly affected during the crisis. Currently, the IMF team is in Sri Lanka and the government is looking for a bailout package. Prime Minister Wickremesinghe said, "The talks with IMF are successful and in the last stages, the nation plans to formulate a new public finance management law and set up a nation debt management agency to improve the nation's fiscal health."
August 30 , 2022:  Sri Lanka said that it will now privatize

Sri Lankan Airlines

as the government "can no longer afford to inject money" into the loss-making national carrier. The airlines' catering and ground-handling units will now see the government divest 49% of its stake. Aviation Minister Nimal Siripala de Silva said that the government had been providing the airline $80-200bn to run its operations. Sri Lankan Airlines has debts of ~$1.3bn and as of July, the sovereign had only $1.82bn in foreign exchange reserves.
August 25 , 2022:  Sri Lanka has suspended the imports of over 300 'non-essential' items including cosmetics, electrical goods, water craft, ships, aircraft, electrical and electronic goods, chocolates, suitcases and certain building materials. The move was taken in order to not further deteriorate its level of forex reserves that stood at $1.8bn at end-July. On another note, another round of talks with the IMF has begun regarding plans to restructure the sovereign's debt alongside crafting a path to debt sustainability.
August 19 , 2022:  Sri Lanka now intends to ask Japan to invite China and India over for debt restructuring talks, in order to overcome its economic crisis. Sri Lanka's President Ranil Wickremesinghe plans to travel to Japan in September to meet Japanese Prime Minister Fumio Kishida with regards to this matter. The update comes at a time when Sri Lanka is also in an ongoing discussion with the IMF for a loan package of between $2-3bn.
August 16 , 2022:  S&P has downgraded Sri Lanka's issue rating from CC to D on four bonds with missed coupons or principal payments in June and July. These bonds include its $650mn 6.125% 2025s, $1bn 6.825% 2026s, $1bn 5.875% 2022s and $500mn 6.35% 2024s. S&P does not expect the government to make the payments within the 30-day grace period. The Sri Lankan government continues to be in default on some foreign currency obligations, including international sovereign bonds. The rating agency affirmed its foreign currency rating of SD and local currency rating of CCC-/C on the sovereign.
August 01 , 2022:  Sri Lanka is considering a restructuring

of its offshore and onshore debt and is working with its lawyers, Lazard and Clifford Chance, to do so, said President Ranil Wickremesinghe on Friday. This is with the backdrop of the resumption of bailout talks with the IMF for $3bn in funding in August.

Sri Lanka's forex reserves continue to fall as the nation draws from it to buy fuel and other essentials. The South Asian nation's reserves fell from $1.86bn in June to $1.82bn in July.

August 01 , 2022:  Sri Lanka's President Ranil Wickremesinghe indicated that an agreement with the IMF is pushed back to September due to the ongoing unrest in the country, as per Associated Press. In other news from the island nation, inflation rose to record 60.8% YoY due to higher transport and transport prices.
July 21 , 2022: Sri Lanka's members of parliament (MPs) elected Ranil Wickremesinghe as the new president yesterday. He initially assumed the post as the prime minister of the country in May, after the incumbent Mahinda Rajapaksa resigned.
July 20 , 2022: India said that it will consider giving more assistance to Sri Lanka after the latter's talks with the IMF go through. India has already extended $3.8bn in assistance via currency swaps and deferred repayment of Sri Lanka's liabilities in addition to $1.5bn for funding imports of fuel, food, medicines and fertilizers.
July 18 , 2022: The IMF said that debt-restructuring talks with Sri Lanka will proceed "quite quickly" once a new government is set in place. The IMF chief said that they have been reaching out to creditors so that they find a resolution "to recoup more of their money"
July 15 , 2022: Sri Lanka's dollar bonds dropped over 8% yesterday. Its dollar bonds are now trading at ~24 cents on the dollar. With the nation facing its worst financial crisis, President Gotabaya Rajapaksa sent his resignation having traveled to Singapore on Thursday, after protestors rampaged into his residence in Sri Lanka.
July 11, 2022: Sri Lankan Prime M

inister Ranil Wickremesinghe confirmed that the President Gothabaya Rajapaksa will resign after mass protests during the weekend that included ramming into his presidential residence. Rajapaksa, who was not at home at that time, has not appeared or spoken in public since then. However, Rajapaksa had officially informed the Prime Minister that he "will be resigning as previously announced".

July 08, 2022: Sri Lanka hiked its policy interest rates by 100bp to 14.5%, the highest level in over 20 years. This move comes after inflation hit 54.6% in June. The Sri Lankan central bank governor fears that inflation could go as high as 70%.
July 07, 2022: Sri Lanka said that it aims to explore long term arrangements to meet regular fuel demands. For discounted oil deals, a ministerial group will visit Russia next week. In May, the island nation received Russian oil worth $73mn and is now looking to import diesel and coal. Sri Lanka also plans to review its tourism sector to tap Russian and Indian tourists and ease its payments crisis.
July 06, 2022: The IMF delegation to

Sri Lanka

held constructive discussions to attain debt sustainability and macroeconomic stability. The next immediate step is to develop a comprehensive debt restructuring plan for discussions with creditors. Next, a Staff Level Agreement (SLA) agreement is expected to be reached in early July. Post the IMF executive board approval, a 3-year $3bn Extended Fund Facility (EFF) amount will be released. Both sides agreed to achieve debt sustainability and macroeconomic stability goals by 2032 on a short, mid and long-term basis. More tax reforms are needed as the fiscal deficit remains well above 8% on lower revenues.

IMF expects Sri Lanka to achieve a debt-to-GDP ratio below 100% in the short and medium-term and at 80% levels for the long-term by 2032. Currently, the ratio stands at 137%. Debt treatment will be set in a Memorandum of Understanding (MoU) between the Paris Club Members. China holds 10% of Sri Lanka's total external debt and is currently negotiating with Sri Lanka to keep its debt servicing activities alive. International Sovereign Bond (ISB) holders hold around 23% of Sri Lanka's external debt. A Group of over 30 creditors already have come together and formed a group to start debt restructuring talks. It is forecasted that at least 40-50% of haircuts must be needed to achieve this DSA (Debt Sustainability Assessment) target. IMF also expects revision in electricity tariffs and fuel rates. Sri Lanka is considering hiking its electricity tariffs by 82% and with inflation touching 54.6% in June, the IMF expects a further 200-500bp monetary tightening. Once the IMF EFF facility is released, further, the World Bank and ADB will also support the island nation.

Separately, sources note that India is seeking payment in advance for supply of fuel to Sri Lanka after credit lines were exhausted.

July 05, 2022: Sri Lanka is offering fuel quotas to any company that can pay for fuel in US dollars. The Energy Minister noted that fuel would be issued on a daily or weekly basis starting July 12, and potential buyers must pay the amount required at least a month in advance to open a consumer account at state-run

Ceylon Petroleum

.

July 01, 2022: State-owned Sri Lankan Airlines skipped its $25mn coupon payment due on June 25 on its $175mn 7% dollar bond due 2024. These bonds were guaranteed by the government of Sri Lanka. The economic crisis in the island nation has directly impacted the airlines' operations and led to financial difficulties. To determine the position of the company, the board considered it necessary to use the 30-day grace period available. The airline indicated that the government's moratorium on debt principal and interest payments constituted an event of default under the 2024s' terms. In May, Sri Lanka's PM proposed the privatization of Sri Lankan Airlines by central banks and government to tackle the impact on the company due to the Covid-19 pandemic. Sri Lankan Airline's dollar bonds were trading lower with its 7% 2024s down over 0.13 points to 48.81 cents to a dollar.

June 27, 2022: Sri Lanka hiked fuel prices on Sunday – diesel up 15% to LKR 460 ($1.27) a liter and petrol up 22% to LKR 550 ($1.52) a liter. Energy Minister Kan­chana Wijesekera said there would be an indefinite delay in getting new shipments of oil. Sri Lanka also plans to allow foreign companies to distribute fuel by operating state-run Ceylon Petroleum Corporation's (CPC) filling stations. Currently only CPC and Indian Oil's Sri Lankan unit are permitted to distribute fuel.
June 24, 2022:

A Group of over 30 creditors holding

 

Sri Lanka's

dollar bonds have come together to start debt restructuring talks. Some of the creditors include the likes of T. Rowe Price Associates, Amundi Asset Management, HBK Capital Management, Morgan Stanley Investment Management, BlackRock,

that have joined

as members of the group's steering committee. The creditor group has hired Rothschild & Co as the financial adviser and White & Case LLC as the legal advisor. This creditor group holds Sri Lanka's outstanding sovereign debt across various maturities. Sri Lanka on the other hand has hired legal and financial advisers Lazard and Clifford Chance for restructuring negotiations with creditors, which also includes bilateral lending from China, India, and Japan.  
June 23, 2022:

Sri Lankan

Prime Minister said that its economy has "collapsed" and the nation cannot even purchase oil imports. He noted that the Ceylon Petroleum Corporation has $700mn in debt and therefore no country or organization is willing to provide fuel even for cash.

June 22, 2022: Sri Lanka was sued in the US by

 

Hamilton Reserve Bank Ltd (HRB)

in a lawsuit, which stated that the nation's default was "orchestrated by officials at the highest levels of government," including the President Rajapaksa family. HRB

holds more than $250mn of Sri Lanka's $1bn 5.875% dollar bonds due in July 2022, which the nation skipped coupons on. HRB said that it seeks full repayment of principal and interest adding that the nation f

avored Sri Lankan parties "to be paid principal and interest in full" while the dollar bonds being held by US retirement systems including

 

Fidelity, BlackRock, T. Rowe Price, Lord Abbett, JPMorgan, PIMCO, Neuberger Berman

and others were indefinitely in default and unpaid. This has caused American retirees "tremendous suffering from potentially massive losses of up to 80% of their original investment value", HRB's lawyers said. Sri Lanka's creditors

PIMCO,

T.Rowe Price, and BlackRock

are expected to start debt restructuring negotiations with Sri Lanka soon.

June 21, 2022: A nine-member IMF team has started bailout talks for the 17th loan program with Sri Lanka's Prime Minister Ranil Wickremesinghe in Colombo. Separately, the cabinet passed an amendment to the constitution to dilute presidential powers after protests grew due to the sustained shortage of essential items like fuel, cooking gas, food, and medicine, etc. On Monday, the country closed schools and halted non-essential government services for 2-weeks to save fuel reserves. The central bank has released $90mn to purchase two shipments of fuel.
June 7, 2022:

Sri Lanka

 seeks to amend the terms and conditions for the $1.5bn currency swap deal with China as it can be used for imports. Currently, the country is going through the worst economic crisis, a shortage of essential items like fuel, cooking gas, food, and medicine, etc. Currently the swap is considered to be unusable due to the conditions attached on it. Besides, China is also said to be wary of the swap being considered a loan by the IMF putting it lower on hierarchy structure of creditors' repayments. Separately, the US has also announced $6mn emergency assistance for vulnerable communities in Sri Lanka.

June 15, 2022: Sri Lanka unveiled new measures for its economic recovery. This includes imposing a 2.5% social contribution tax on companies having an annual turnover of LKR 120mn ($340k). This tax will be applicable to businesses in manufacturing and service sectors, importers, retailers, and wholesalers. It also declared Friday as a holiday for public sector employees excluding essential sectors to cut down fuel usage. The Cabinet also grants government officials one leave per week for the next three months for engaging in agriculture to alleviate the food crisis. The island nation is currently facing a shortage of essential items like fuel, cooking gas, food and medicine, etc.

June 8, 2022: Sri Lanka's foreign exchange reserves rose for the first time in five months, to $1.92bn at the end of May, from $1.81bn in April. Bloomberg notes that the increase is likely due to deferment of payments to India under an Asian Clearing Union. Of the $1.92bn in reserves, about $1.5bn is in the form of a swap facility from the PBOC. However, the swap is considered to be unusable due to the conditions attached on it.
June 6, 2022: Sri Lanka is eyeing over in foreign direct investment (FDI) in the current year amid its economic and financial crisis. Marubeni Corp and Adani Group are to set up renewable energy plants in the country. Marubeni has given a proposal to set up an 800MW wind & solar plant while Adani has already finished a feasibility study of a 500MW renewable energy project. Also two Chinese companies are said to be exploring similar projects. In Q1 2022, Sri Lanka attracted $226mn in committed projects, a 16% YoY increase. In June, the government is expected to revamp legislation for the energy sector to allow a smooth implementation of large-scale projects. The Sri Lanka Board of Investment is working on 49 projects proposals worth $1.49bn from India, US, Japan and China across tourism, manufacturing, services and apparel.
June 3, 2022: Sri Lanka seeks to secured $5bn in funds for repaying fuel imports and other items bought via credit lines, and another $1bn to bolster its forex reserves this year, the PM's office said. The nation could get $3bn in funds if it successfully negotiates a bailout package with the IMF via the Extended Fund Facility (EFF). As part of procuring funds, Bloomberg notes that Sri Lanka may not be able to tap a $1.5bn credit line via a 3Y swap with China. This is because China may be concerned that the IMF may force delays in repayment if it treats the swap as a loan that gets a lower rescheduling priority.
June 2, 2022:

Sri Lanka

is said to be in talks with the IMF for a $3bn loan under the latter's Extended Fund Facility (EFF), as per sources. The nation expects another round of technical talks with the IMF in early June and hopes to reach to a staff-level agreement by month-end, a source added. Reuters notes that EFF plans generally last 3 years with a grace period of 4.5 years to start paying the loan back, once approved.
June 1, 2022: The

Sri Lankan

government announced a hike in tax rates to boost revenues amid its economic crisis. The nation hiked value added taxes (VAT) to 12% from 8% that is expected to boost revenues by LKR 65bn ($180.56mn). It also decided to hike its

corporate income tax rates to 30% from 24%, effective from October that is expected to bring in another LKR 52bn ($140mn) for the exchequer. Also, Reuters notes that the withholding tax on employment income has been made mandatory and exemptions for individual taxpayers have been reduced.

May 31, 2022: Sri Lanka is said to be receiving a disbursement of $700mn by the World Bank to re-purpose its loans, in a move to stave off any worsening economic conditions till a bailout package is charted. The World Bank will work with the Asian Development Bank (ADB) in this regard.
May 30, 2022: Sri Lankan

Prime Minister Ranil Wickremesinghe will

take charge as the Finance Minister

of the nation. The news comes only days after he presented an interim budget to slash government expenditure and re-route funds into a two-year relief program. He will now lead talks with the IMF. He added that

China has offered

a 'few hundred million dollars' to support the island nation in buying essential goods like consumer items, fertilizers etc. Sri Lanka already owes $3.5bn in existing debt to China. 

May 26, 2022:Sri Lanka's Prime Minister Ranil Wickremesinghe in an interview said that nation was looking to fast-track its talks with the IMF in order to have an IMF program in place by mid-June. Given Sri Lanka's need for dollars, he said that once the IMF loan is place, it will serve as a starting point for other lenders to be willing to help. He added that they are looking to raise $4bn this year from the multilateral lender and creditors including China and Japan, to help pay for food and fuel.
May 25, 2022: Sri Lanka

has sought a $500mn loan from India for essential purchases of fuel and petroleum products amid its depleting foreign exchange reserves, hurting its ability to pay for imports. A cabinet note said that an approval was granted to the power and energy minister to seek a $500mn loan from

EXIM Bank of India

.

May 24, 2022: Sri Lanka has 

hired financial and legal advisers

Lazard and Clifford Chance, as part of its debt negotiation and restructuring efforts.
May 20, 2022: Sri Lanka

was downgraded to RD from C by Fitch following its official default after the 30-day grace period ended on two of its dollar bonds' coupons. Its local currency debt was however affirmed at CCC as the government has continued to service local-currency debt and Fitch expects this will continue to be the case.

Separately, the G7 supported efforts

to provide debt relief for Sri Lanka with respect to the Paris Club, urging the island nation to "negotiate constructively" with the IMF. G7 finance chiefs also focused on China noting that they should actively contribute to debt relief for such countries.

May 19, 2022: Sri Lanka 

officially defaulted on the payment of $78mn on two dollar bond coupons after the bonds' 30-day grace period expired on May 18, as expected. Besides, it also did not pay another $105mn due to Chinese banks, Bloomberg reported.

Separately, the island nation received $160mn from the World Bank via a bridge financing mechanism to pay for essential imports, its Prime Minister Ranil Wickremesinghe said. The leader added that the nation is working to see if it can be used for fuel imports.  

May 16, 2022: Sri Lanka's new PM Ranil Wickremsinghe proposed the privatization of its carrier

Sri Lankan Airlines

. He pledged to announce a new "relief" budget as compared to the prior "development" budget.  The carrier made a loss of LKR 45bn ($124mn) in the year ending March 2021, and Wickremsinghe said that the loss should not "be borne by the poorest of the poor who have not set foot in an aircraft".
May 13, 2022: Ranil Wickremesinghe was appointed as the new Prime Minister of

Sri Lanka

, just days after Mahinda Rajapaksa resigned. This would be his fifth term as PM. The newly appointed leader said, "First step is to get into the PM office. We have an economic action plan and crucial ministers will be appointed soon. I will lift the economy".  

May 11, 2022:

Sri Lanka's foreign exchange reserves depleted further to $1.83bn in April, from $1.93bn in March. Finance Minister Ali Sabry said that useful reserves were down to $50mn, with most of the remaining reserves from a CNY 11bn ($1.5bn) swap, whose use is restricted. About $15mn was in IMFs SDR and $29mn in gold, unchanged over the month.
May 10, 2022: Sri Lanka's Prime Minister Mahinda Rajapaksa resigned hours after violent clashes emerged in Colombo. A statement by Rajapaksa's office said that his decision to quit is in order to help form an "interim, unity government".
May 09, 2022: Sri Lanka declared a state of emergency again on Friday as protests in the island nation continued. The nation also is in talks with China-backed Asian Infrastructure Investment Bank for $100mn in emergency support, as per the finance minister. They said that the amount was for forex liquidity support for its state banks.
May 06, 2022: Sri Lanka's Rajapaksa led government-backed nominee won the key vote for the position of Deputy Speaker in Parliament, demonstrating the coalition SLPP's ability to prove a majority despite current public protests against them. MP Ranjith Siyambalapitiya was re-elected to the position with a 148-65 vote, after he had earlier resigned from the position. This voting was important as last month 40 lawmakers from the ruling coalition declared a split with SLPP.
May 05, 2022: F

inance minister Ali Sabry said that the nation

plans to replace

its current budget as it is "unrealistic" and that they would "bring in a new budget that will seek to address core issues of low public revenue". He wants to increase tax revenue as a share of GDP to 14% within the next two years, to ensure the economy remains on a "sustainable footing". Tax revenues are currently at 8.7% of GDP. He added that they are in talks with the World Bank to extend support by $300-700mn.

May 04, 2022:

 Sri Lanka

received another $200mn in a credit line extension from

India

to replenish its deteriorating power and fuel stock. The amount will be used for four shipments in May. Sri Lanka's Power and Energy Minister Kanchana Wijesekara said that there were discussions with India for another $500mn credit line but nothing was finalized yet. The island nation has utilized $400mn of the $500mn credit line extended by India in March and April.
(scroll down for prior events)
Sri Lanka Dollar Bond Prices, Maturity Wall and CDS Spreads

Sri Lanka's Credit Ratings Downgrades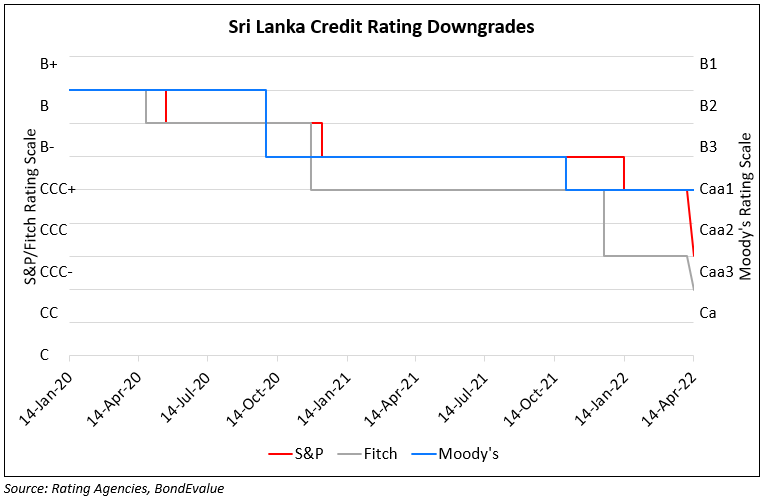 Sri Lanka Foreign Exchange Reserves
Timeline of Events Continued
April 27, 2022: The Sri Lankan president's media division said that the World Bank has agreed to provide $600mn in financial assistance to help meet payment requirements for essential imports. Of the $600mn assistance, $400mn will be released shortly, they said. Sri Lanka is still in talks with the IMF on assistance and estimates suggest that the island nation still needs $3-4bn in bridge financing to help meet its essential expenses.
April 26, 2022: Sri Lanka

was downgraded to SD from CC after missing interest payments on its $1.25bn international sovereign bonds due 2023 and 2028 on April 18. S&P does not expect the government to make the coupon payments within 30 days from their due dates. S&P said that it would raise its ratings upon completion of the restructuring program reflecting its post-restructuring creditworthiness. It added, "post-restructuring ratings tend to be in the 'CCC' or low 'B' categories". However, the debt restructuring process is expected to be complicated and may take an extended period of time to complete. 

Separately, a senior IMF official said that Sri Lanka must tighten monetary policy, raise tax and adopt flexible exchange rates to address its debt crisis. He added that a path towards debt sustainabilty is what the IMF is looking at. Howver, while talks were "fruitful", no details were available on the estimated timing of a conclusion to the negotiations.

April 25, 2022: Creditors have hired financial advisors

for

Sri Lanka's

$12bn revamp, which include Ayres Investment Management, DecisionBoundaries and Perella Weinberg as per sources. Besides, asset managers BlackRock and Ashmore Group are among the creditors organizing as a group ahead of the talks, and have hired law firm White & Case for advice. However, the creditor group has not yet decided which financial adviser to hire, as per one creditor. On the other hand, another creditor said that it was not clear if they would hire any one at all.

Separately, India's Finance Minister Nirmala Sitharaman said, "All creditors must be treated equally and with transparency... I've emphasized that point in general and in the context of Sri Lanka". This is in reference to an emphasis that China must be treated just as equal as other creditors, once restructuring talks begin.

April 21, 2022: The IMF said that Sri Lanka would require "adequate assurances" of debt sustainability to be given an IMF loan, during early stages of the ongoing talks. This comes after IMF Sri Lanka Mission Chief Masahiro Nozaki said that the IMF staff had determined in a March review that Sri Lanka's public debt was unsustainable.

Separately, India is set to provide $500mn in further financial assistance to Sri Lanka for it to buy fuel, Sri Lanka's foreign minister said. He added that Bangladesh was also willing to postpone $450mn in swap repayments.

In related news, the United Nations Development Program (UNDP) has asked the island nation to introduce a temporary basic income coupled with negotiating "debt-for-nature" swaps tied to environmental conservation. First, it asked the nation to implement a temporary basic income policy, which could take the form of an unconditional cash transfer to working-age Lankans for 6-9 months, citing similar examples from Kenya and Alaska. Second, it asked Sri Lanka to pursue 'debt-for-nature' swaps and short-term financing from neighbors like India, China and Bangladesh. Citing the example of Costa Rica, this measure would have some of Sri Lanka's loans being forgiven in exchange for investment in environmental conservation.

April 20, 2022:

Sri Lankan 

finance minister Ali Sabry has requested for Rapid Financing Instrument (RFI) aid from the IMF. RFI is available for all IMF member nations having urgent funding needs, suffering from natural disasters or conflicts, sharp commodity price rises, or facing urgent balance of payment of needs. For RFI, a nation does not need to have a full-fledged restructuring plan. IMF has responded that it will consider the special request made despite it being outside of the 'standard circumstances' for the issuance of an RFI. India also urged IMF to urgently provide financial aid to its neighbor.
April 19, 2022: Moody's downgraded

Sri Lanka

to Ca from Caa2 following the announcement of debt servicing suspensions which will lead to a series of defaults. The default is unlikely to be cured during the grace period, given the stated intent of the authorities. Moody's notes that the Ca rating is consistent with losses between 35-65%. Forex reserves excluding gold and

SDR

stood at $1.7bn at the end-March 2022, sufficient to cover only around one month of imports. Also, the current high energy and food prices will only worsen its import bill. Furthermore, rising debt burden at 104% of GDP, wide fiscal deficits and hampered post-pandemic tourism will only weigh on the island nation.  

April 18, 2022: Sri Lanka's Finance Minister Ali Sabry said that they need $3-4bn in 2022 to come out of the current crisis. Talks with the IMF begin today in Washington and if things go as planned, emergency relief funds are expected a week later. Some funds will come from other lenders and governments besides the IMF.

Citi analysts expect Sri Lanka to ask investors to take a of 50% haircut on interest payments, and a 20% haircut on the principal for bonds maturing between 2022 and 2030, alongside maturity extensions of 10-13 years with an exit yield of 11% on the extended bonds. Citi strategist Donato Guarino said, "we estimate that the recovery value on the dollar bonds in such a scenario could range in the low to mid 40s". Tellimer's economist notes that under a "worst case scenario", a 50% haircut and a recovery value of ~30 cents for a 16% exit yield may be seen.

April 14, 2022: Sri Lanka was downgraded to C from CC by Fitch and to CC from CCC by S&P. Fitch notes that a "sovereign default process has begun" and S&P notes that there is a "virtual certainty of a default on some affected obligations". Fitch added that Sri Lanka would be downgraded to RD once a payment is missed and the grace period expires. S&P said that the nation would be cut to SD once the government misses a coupon or principal payment on foreign currency debt, or confirms debt restructuring terms. Both rating agencies however note that the rating downgrade and statement by the ministry only applies to sovereign debt and not local debt. Separately, sources note that India is willing to commit up to $2bn in additional financial assistance to Sri Lanka while also supporting the country with food and fuel as the latter suffers from shortages. According to a source, India is "willing to offer more swap lines and loans...we can still give them up to $2 billion in swaps and support". India has committed $1.9bn to Sri Lanka in loans, credit lines and currency swaps till date besides another $500mn credit line sought by the island nation for fuel.
April 12, 2022: Sri Lanka announced that it would default on its $51bn external debt, calling it a "last resort" emergency measure. The finance ministry said that its creditors, including foreign governments, were free to capitalize any interest payments due or opt to be paid in Sri Lankan rupees. This decision was made to prevent any further collapse its financial position and said that it was for "fair and equitable treatment of all creditors".
April 11, 2022: CBSL hiked its policy rate by 700bp to 14.5% after inflation hit 18.7% in March. Finance Minister Ali Sabry notes that

$3bn in external assistance within the next six months is needed to help in the restoration of supplies of essential items. Besides, tax rate and fuel price hikes might be required later to bolster government finances. Ali Sabry returned as the FM since no one came forward to accept the post. JPMorgan estimates Sri Lanka's gross debt servicing at $7bn in 2022, with the current account deficit at ~$3bn. In related news, the

IMF will hold discussions

with senior Sri Lankan policymakers in the "coming days and weeks", with market observers noting that a possible loan is in the making. This comes after the IMF received a request for an IMF-supported program from the authorities.

April 8, 2022: Sri Lanka's

foreign exchange reserves dropped to a mere $1.93bn in March, down over 16% MoM. Following this, outgoing finance minister Ali Sabry said that the country must focus on how to restructure its $1bn dollar bond maturing in July adding, "We must go to the IMF, there is no other solution that I can see". The central bank will hold a monetary policy meeting today with an analyst saying that a rate hike of 300-400bps is expected as inflation hit 18.7% in March.
April 7, 2022: Sri Lankan dollar bonds fell by 4 points as default worries continue. Earlier yesterday, the President's office said that Sri Lanka appointed an advisory panel to guide on how it can deal with its debt crisis and engage with outside lenders, including the IMF. As soon as April 18, it has an upcoming payment of $42.2mn on a dollar bond coupon.
April 6, 2022: President Gotabaya Rajapaksa revoked the state of Emergency on Tuesday night. Separately, a minister said that the President will not resign even after the ruling coalition lost its parliamentary majority.
April 5, 2022:

Central bank Governor Ajith Nivard Cabraal announced that he resigned from his post amid the crisis. His replacement would be P. Nandalal Weerasinghe, a career central banker and deputy governor.
Furthermore, newly appointed Finance Minister Ali Sabry resigned from his position. The above comes just a day after he was appointed. He said, "fresh, proactive and unconventional steps" are needed
In related news, the President's ruling coalition lost its majority in Parliament. Several protesters are now calling for the resignation of Prime Minister Mahinda Rajapaksa. Sri Lanka's dollar bonds dropped 2-4 points. Its 5.875% bonds due July 25, 2022 were down 4 points as default fears rose.

April 2-4, 2022: Sri Lanka's 26 cabinet ministers barring President Gotabaya Rajapaksa and his elder brother prime minister Mahinda Rajapaksa submitted their resignations late on Sunday. This follows the strong protests that occurred and now paves way to form a new coalition.
March 2022
December 2021 - February 2022
August - November 2021