Sri Lanka has announced suspension of payments on its $51bn external debt calling it a "last resort" emergency measure, pending restructuring. Market participants consider the move as tantamount to default. Its creditors, including foreign governments, are free to capitalize any interest payments due or opt to be paid in Sri Lankan rupees, said the finance ministry. The decision was made to prevent any further collapse its financial position. It said that the decision was for "fair and equitable treatment of all creditors". In essence, it is now saving its reserves for essential food and fuel imports. Its $1bn 5.875% dollar bonds due July 2022 have dropped to 46 cents on the dollar.
Sri Lanka is thus facing its worst economic and social crisis as food, fuel, power and gas shortages coupled with high inflation are hurting its economy. This has led to mass protests and resignations of government officials. Besides, cratering foreign exchange reserves have hurt the economy. Since the crisis in the island nation is evolving every day, investors may find it difficult to stay updated. Therefore, to make things easier, we have put together an interactive dashboard. The dashboard below focuses on the latest news on Sri Lanka's dollar bonds and also updates on Sri Lanka's credit ratings, foreign exchange reserves, CDS spreads, bond maturity and the timeline of events.
Latest Bond News
May 26, 2022:Sri Lanka's Prime Minister Ranil Wickremesinghe in an interview said that nation was looking to fast-track its talks with the IMF in order to have an IMF program in place by mid-June. Given Sri Lanka's need for dollars, he said that once the IMF loan is place, it will serve as a starting point for other lenders to be willing to help. He added that they are looking to raise $4bn this year from the multilateral lender and creditors including China and Japan, to help pay for food and fuel.
May 25, 2022: Sri Lanka

has sought a $500mn loan from India for essential purchases of fuel and petroleum products amid its depleting foreign exchange reserves, hurting its ability to pay for imports. A cabinet note said that an approval was granted to the power and energy minister to seek a $500mn loan from

EXIM Bank of India

.

May 24, 2022: Sri Lanka has 

hired financial and legal advisers

Lazard and Clifford Chance, as part of its debt negotiation and restructuring efforts.
May 20, 2022: Sri Lanka

was downgraded to RD from C by Fitch following its official default after the 30-day grace period ended on two of its dollar bonds' coupons. Its local currency debt was however affirmed at CCC as the government has continued to service local-currency debt and Fitch expects this will continue to be the case.

Separately, the G7 supported efforts

to provide debt relief for Sri Lanka with respect to the Paris Club, urging the island nation to "negotiate constructively" with the IMF. G7 finance chiefs also focused on China noting that they should actively contribute to debt relief for such countries.

May 19, 2022: Sri Lanka 

officially defaulted on the payment of $78mn on two dollar bond coupons after the bonds' 30-day grace period expired on May 18, as expected. Besides, it also did not pay another $105mn due to Chinese banks, Bloomberg reported.

Separately, the island nation received $160mn from the World Bank via a bridge financing mechanism to pay for essential imports, its Prime Minister Ranil Wickremesinghe said. The leader added that the nation is working to see if it can be used for fuel imports.  

May 16, 2022: Sri Lanka's new PM Ranil Wickremsinghe proposed the privatization of its carrier

Sri Lankan Airlines

. He pledged to announce a new "relief" budget as compared to the prior "development" budget.  The carrier made a loss of LKR 45bn ($124mn) in the year ending March 2021, and Wickremsinghe said that the loss should not "be borne by the poorest of the poor who have not set foot in an aircraft".
May 13, 2022: Ranil Wickremesinghe was appointed as the new Prime Minister of

Sri Lanka

, just days after Mahinda Rajapaksa resigned. This would be his fifth term as PM. The newly appointed leader said, "First step is to get into the PM office. We have an economic action plan and crucial ministers will be appointed soon. I will lift the economy".  

May 11, 2022:

Sri Lanka's foreign exchange reserves depleted further to $1.83bn in April, from $1.93bn in March. Finance Minister Ali Sabry said that useful reserves were down to $50mn, with most of the remaining reserves from a CNY 11bn ($1.5bn) swap, whose use is restricted. About $15mn was in IMFs SDR and $29mn in gold, unchanged over the month.
May 10, 2022: Sri Lanka's Prime Minister Mahinda Rajapaksa resigned hours after violent clashes emerged in Colombo. A statement by Rajapaksa's office said that his decision to quit is in order to help form an "interim, unity government".
May 09, 2022: Sri Lanka declared a state of emergency again on Friday as protests in the island nation continued. The nation also is in talks with China-backed Asian Infrastructure Investment Bank for $100mn in emergency support, as per the finance minister. They said that the amount was for forex liquidity support for its state banks.
May 06, 2022: Sri Lanka's Rajapaksa led government-backed nominee won the key vote for the position of Deputy Speaker in Parliament, demonstrating the coalition SLPP's ability to prove a majority despite current public protests against them. MP Ranjith Siyambalapitiya was re-elected to the position with a 148-65 vote, after he had earlier resigned from the position. This voting was important as last month 40 lawmakers from the ruling coalition declared a split with SLPP.
May 05, 2022: F

inance minister Ali Sabry said that the nation

plans to replace

its current budget as it is "unrealistic" and that they would "bring in a new budget that will seek to address core issues of low public revenue". He wants to increase tax revenue as a share of GDP to 14% within the next two years, to ensure the economy remains on a "sustainable footing". Tax revenues are currently at 8.7% of GDP. He added that they are in talks with the World Bank to extend support by $300-700mn.

May 04, 2022:

 Sri Lanka

received another $200mn in a credit line extension from

India

to replenish its deteriorating power and fuel stock. The amount will be used for four shipments in May. Sri Lanka's Power and Energy Minister Kanchana Wijesekara said that there were discussions with India for another $500mn credit line but nothing was finalized yet. The island nation has utilized $400mn of the $500mn credit line extended by India in March and April.
(scroll down for prior events)
Sri Lanka Dollar Bond Prices, Maturity Wall and CDS Spreads

Sri Lanka's Credit Ratings Downgrades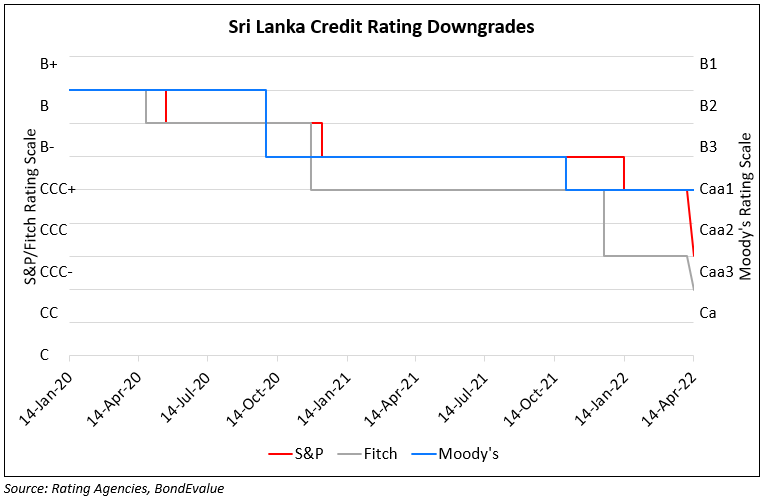 Sri Lanka Foreign Exchange Reserves
Timeline of Events Continued
April 27, 2022: The Sri Lankan president's media division said that the World Bank has agreed to provide $600mn in financial assistance to help meet payment requirements for essential imports. Of the $600mn assistance, $400mn will be released shortly, they said. Sri Lanka is still in talks with the IMF on assistance and estimates suggest that the island nation still needs $3-4bn in bridge financing to help meet its essential expenses.
April 26, 2022: Sri Lanka

was downgraded to SD from CC after missing interest payments on its $1.25bn international sovereign bonds due 2023 and 2028 on April 18. S&P does not expect the government to make the coupon payments within 30 days from their due dates. S&P said that it would raise its ratings upon completion of the restructuring program reflecting its post-restructuring creditworthiness. It added, "post-restructuring ratings tend to be in the 'CCC' or low 'B' categories". However, the debt restructuring process is expected to be complicated and may take an extended period of time to complete. 

Separately, a senior IMF official said that Sri Lanka must tighten monetary policy, raise tax and adopt flexible exchange rates to address its debt crisis. He added that a path towards debt sustainabilty is what the IMF is looking at. Howver, while talks were "fruitful", no details were available on the estimated timing of a conclusion to the negotiations.

April 25, 2022: Creditors have hired financial advisors

for

Sri Lanka's

$12bn revamp, which include Ayres Investment Management, DecisionBoundaries and Perella Weinberg as per sources. Besides, asset managers BlackRock and Ashmore Group are among the creditors organizing as a group ahead of the talks, and have hired law firm White & Case for advice. However, the creditor group has not yet decided which financial adviser to hire, as per one creditor. On the other hand, another creditor said that it was not clear if they would hire any one at all.

Separately, India's Finance Minister Nirmala Sitharaman said, "All creditors must be treated equally and with transparency... I've emphasized that point in general and in the context of Sri Lanka". This is in reference to an emphasis that China must be treated just as equal as other creditors, once restructuring talks begin.

April 21, 2022: The IMF said that Sri Lanka would require "adequate assurances" of debt sustainability to be given an IMF loan, during early stages of the ongoing talks. This comes after IMF Sri Lanka Mission Chief Masahiro Nozaki said that the IMF staff had determined in a March review that Sri Lanka's public debt was unsustainable.

Separately, India is set to provide $500mn in further financial assistance to Sri Lanka for it to buy fuel, Sri Lanka's foreign minister said. He added that Bangladesh was also willing to postpone $450mn in swap repayments.

In related news, the United Nations Development Program (UNDP) has asked the island nation to introduce a temporary basic income coupled with negotiating "debt-for-nature" swaps tied to environmental conservation. First, it asked the nation to implement a temporary basic income policy, which could take the form of an unconditional cash transfer to working-age Lankans for 6-9 months, citing similar examples from Kenya and Alaska. Second, it asked Sri Lanka to pursue 'debt-for-nature' swaps and short-term financing from neighbors like India, China and Bangladesh. Citing the example of Costa Rica, this measure would have some of Sri Lanka's loans being forgiven in exchange for investment in environmental conservation.

April 20, 2022:

Sri Lankan 

finance minister Ali Sabry has requested for Rapid Financing Instrument (RFI) aid from the IMF. RFI is available for all IMF member nations having urgent funding needs, suffering from natural disasters or conflicts, sharp commodity price rises, or facing urgent balance of payment of needs. For RFI, a nation does not need to have a full-fledged restructuring plan. IMF has responded that it will consider the special request made despite it being outside of the 'standard circumstances' for the issuance of an RFI. India also urged IMF to urgently provide financial aid to its neighbor.
April 19, 2022: Moody's downgraded

Sri Lanka

to Ca from Caa2 following the announcement of debt servicing suspensions which will lead to a series of defaults. The default is unlikely to be cured during the grace period, given the stated intent of the authorities. Moody's notes that the Ca rating is consistent with losses between 35-65%. Forex reserves excluding gold and

SDR

stood at $1.7bn at the end-March 2022, sufficient to cover only around one month of imports. Also, the current high energy and food prices will only worsen its import bill. Furthermore, rising debt burden at 104% of GDP, wide fiscal deficits and hampered post-pandemic tourism will only weigh on the island nation.  

April 18, 2022: Sri Lanka's Finance Minister Ali Sabry said that they need $3-4bn in 2022 to come out of the current crisis. Talks with the IMF begin today in Washington and if things go as planned, emergency relief funds are expected a week later. Some funds will come from other lenders and governments besides the IMF.

Citi analysts expect Sri Lanka to ask investors to take a of 50% haircut on interest payments, and a 20% haircut on the principal for bonds maturing between 2022 and 2030, alongside maturity extensions of 10-13 years with an exit yield of 11% on the extended bonds. Citi strategist Donato Guarino said, "we estimate that the recovery value on the dollar bonds in such a scenario could range in the low to mid 40s". Tellimer's economist notes that under a "worst case scenario", a 50% haircut and a recovery value of ~30 cents for a 16% exit yield may be seen.

April 14, 2022: Sri Lanka was downgraded to C from CC by Fitch and to CC from CCC by S&P. Fitch notes that a "sovereign default process has begun" and S&P notes that there is a "virtual certainty of a default on some affected obligations". Fitch added that Sri Lanka would be downgraded to RD once a payment is missed and the grace period expires. S&P said that the nation would be cut to SD once the government misses a coupon or principal payment on foreign currency debt, or confirms debt restructuring terms. Both rating agencies however note that the rating downgrade and statement by the ministry only applies to sovereign debt and not local debt. Separately, sources note that India is willing to commit up to $2bn in additional financial assistance to Sri Lanka while also supporting the country with food and fuel as the latter suffers from shortages. According to a source, India is "willing to offer more swap lines and loans...we can still give them up to $2 billion in swaps and support". India has committed $1.9bn to Sri Lanka in loans, credit lines and currency swaps till date besides another $500mn credit line sought by the island nation for fuel.
April 12, 2022: Sri Lanka announced that it would default on its $51bn external debt, calling it a "last resort" emergency measure. The finance ministry said that its creditors, including foreign governments, were free to capitalize any interest payments due or opt to be paid in Sri Lankan rupees. This decision was made to prevent any further collapse its financial position and said that it was for "fair and equitable treatment of all creditors".
April 11, 2022: CBSL hiked its policy rate by 700bp to 14.5% after inflation hit 18.7% in March. Finance Minister Ali Sabry notes that

$3bn in external assistance within the next six months is needed to help in the restoration of supplies of essential items. Besides, tax rate and fuel price hikes might be required later to bolster government finances. Ali Sabry returned as the FM since no one came forward to accept the post. JPMorgan estimates Sri Lanka's gross debt servicing at $7bn in 2022, with the current account deficit at ~$3bn. In related news, the

IMF will hold discussions

with senior Sri Lankan policymakers in the "coming days and weeks", with market observers noting that a possible loan is in the making. This comes after the IMF received a request for an IMF-supported program from the authorities.

April 8, 2022: Sri Lanka's

foreign exchange reserves dropped to a mere $1.93bn in March, down over 16% MoM. Following this, outgoing finance minister Ali Sabry said that the country must focus on how to restructure its $1bn dollar bond maturing in July adding, "We must go to the IMF, there is no other solution that I can see". The central bank will hold a monetary policy meeting today with an analyst saying that a rate hike of 300-400bps is expected as inflation hit 18.7% in March.
April 7, 2022: Sri Lankan dollar bonds fell by 4 points as default worries continue. Earlier yesterday, the President's office said that Sri Lanka appointed an advisory panel to guide on how it can deal with its debt crisis and engage with outside lenders, including the IMF. As soon as April 18, it has an upcoming payment of $42.2mn on a dollar bond coupon.
April 6, 2022: President Gotabaya Rajapaksa revoked the state of Emergency on Tuesday night. Separately, a minister said that the President will not resign even after the ruling coalition lost its parliamentary majority.
April 5, 2022:

Central bank Governor Ajith Nivard Cabraal announced that he resigned from his post amid the crisis. His replacement would be P. Nandalal Weerasinghe, a career central banker and deputy governor.
Furthermore, newly appointed Finance Minister Ali Sabry resigned from his position. The above comes just a day after he was appointed. He said, "fresh, proactive and unconventional steps" are needed
In related news, the President's ruling coalition lost its majority in Parliament. Several protesters are now calling for the resignation of Prime Minister Mahinda Rajapaksa. Sri Lanka's dollar bonds dropped 2-4 points. Its 5.875% bonds due July 25, 2022 were down 4 points as default fears rose.

April 2-4, 2022: Sri Lanka's 26 cabinet ministers barring President Gotabaya Rajapaksa and his elder brother prime minister Mahinda Rajapaksa submitted their resignations late on Sunday. This follows the strong protests that occurred and now paves way to form a new coalition.
March 2022
December 2021 - February 2022
August - November 2021