A rare Credit Suisse (CS) Tier 2 CoCo (contingent convertible) bond topped our gainers list this morning, despite having similar trigger and write-down clauses as their AT1s that were wiped out the previous morning. The $2.5bn 6.5% bonds due August 2023, issued a decade earlier, rallied ~25 points to currently trade at 83.3 cents on the dollar.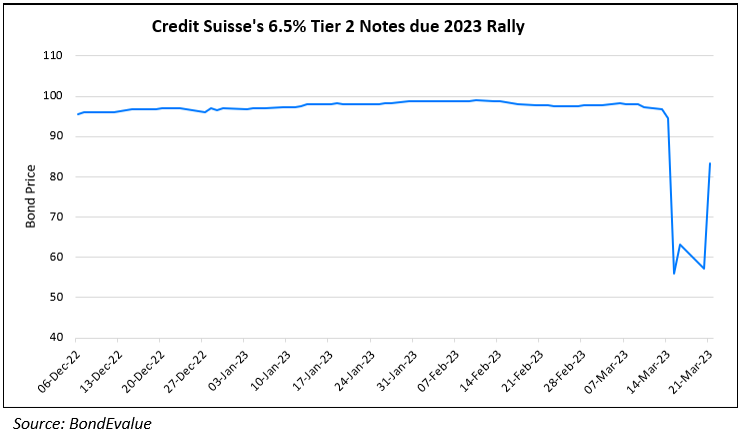 As per the bond's prospectus, the 2023s rank senior to the rights and claims of all holders of "Junior Capital", which is defined as:
All obligations of the Issuer in respect of CS Tier 1 instruments
All classes of paid-in capital in relation to shares of the Issuer
All other obligations of the Issuer which rank junior to claims in respect of the Notes
Simon Adamson, head of global financials research at CreditSights said via a note that the bond will "presumably remain an obligation of the enlarged UBS, alongside CS's senior bonds," adding that the 2023s have "an unusual structure," and characteristics in common with both plain vanilla Tier 2 and with AT1 bonds. Meanwhile, when UBS CEO Ralph Hamers was asked whether Tier 2 bonds would be written down, he said, "we'll have to come back to you". Besides the 6.5% 2023s, other CS
Tier 2 bonds

(Term of the Day, explained below)
also jumped 15-20 points.
For more details, click
here