US markets ended flat with the S&P and Nasdaq down ~0.1%. May data was upbeat on US Manufacturing with the ISM Manufacturing PMI registering a 61.2 print vs. 60.7 in April supported by the opening up of the economy. Energy was up 3.9% while health care was down 1.6%. US 10Y Treasury yields were down 1bp to 1.61%. European markets also continued gains as the Markit Eurozone Manufacturing PMI improved to a new high of 63.1 in May on strong economic recovery. DAX was up ~1%, FTSE was up 0.8% and CAC was up ~0.7%. US IG CDS spreads were 0.6bp tighter and HY spreads were 2.8bp tighter. EU main spreads were 0.7bp tighter and crossover spreads tightened 1.6bp. Asian equities are off to another soft start with Nikkei up 0.2%, Hang Seng and Shanghai down 0.2% and 0.4% respectively with Asia ex-Japan CDS spreads widening 0.5bp.
---
1 Day to Go

: Learn: How to Analyze CoCo/AT1 bonds
Do you invest in CoCo/AT1s? If yes, do attend the upcoming masterclass tomorrow being conducted by debt capital market professionals Pramod Shenoi, Head of Research APAC at CreditSights and Rahul Banerjee, Founder and CEO at BondEvalue. The session will cover understanding the AT1 structure, common features & covenants, and how to pick the right AT1 bond(s) for you. Click on the banner below to register.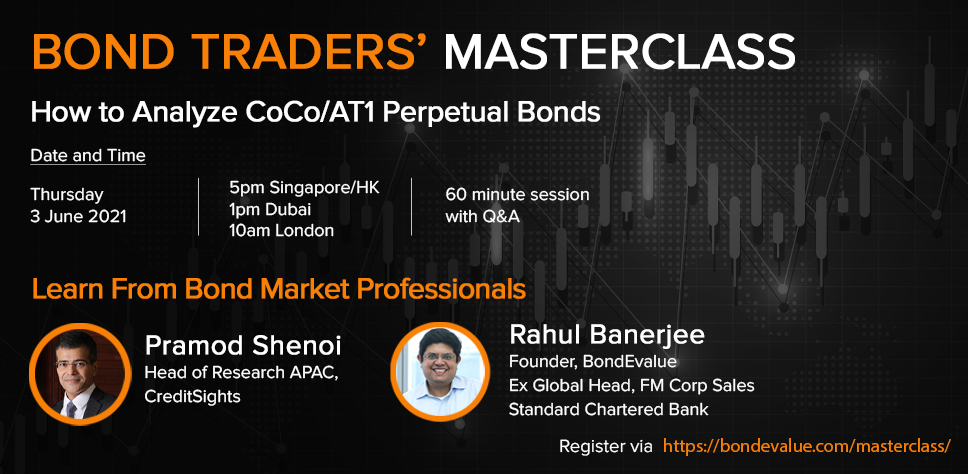 New Bond Issues
TML Holdings US$ 5NC2.5 bonds IPG 4.7% area

Indonesia $ 5yr/10yr/green 30yr sukuk IPG 1.9%a/3.0%a/4.0%a

SMC Global Power $ PerpNC5.5 IPG 5.875% area

Shinhan Card $ 5yr social Formosa IPG T+105a

E-House (China) capped $100mn tap of 7.6% 2023s IPG 7.75%a

Indofood CBP Sukses Makmur $ 10yr/30yr IPG T+225a/T+280a

Sembcorp Industries S$ 10yr green bond IPG at 2.65% area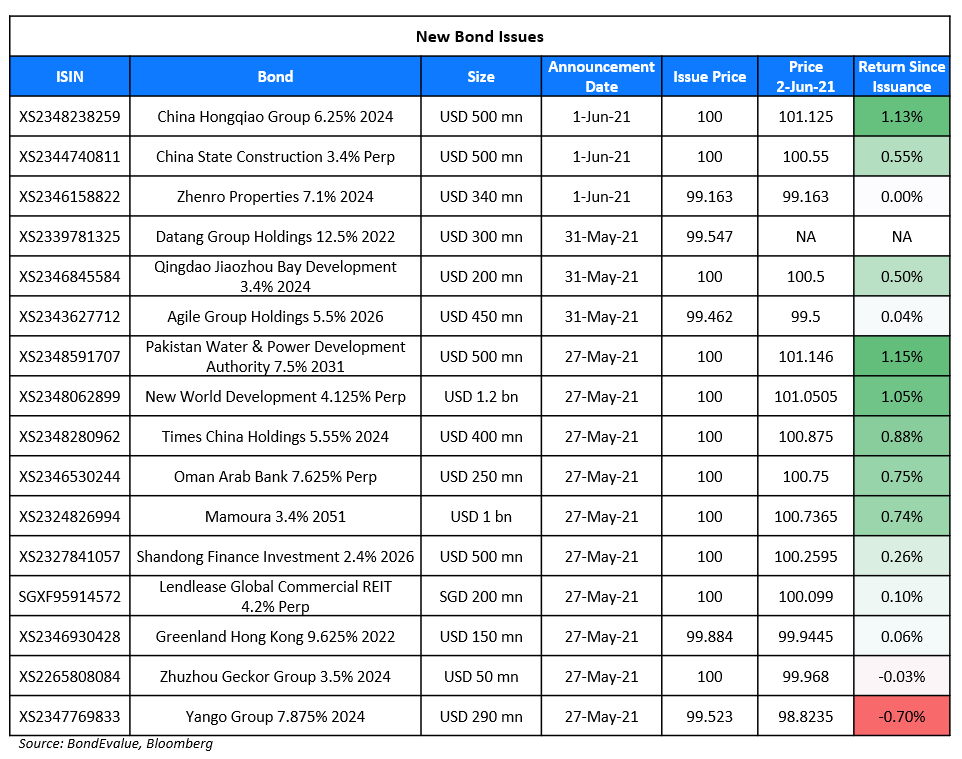 China State Construction International raised $500mn via a Perpetual non-call 5Y (PerpNC5) bond at a yield of 3.4%, 35bp inside initial guidance of 3.75% area. The bonds have expected ratings of Baa3 and received orders over $2bn, 4x issue size. If not called, the coupon resets to the 5Y US Treasury yield + 258.1bp. There is also a coupon step-up of 300bp if not called on the first call date (June 8, 2026). The bonds will be issued by China State Construction Finance (Cayman) I Limited and guaranteed by the parent. Proceeds will be used to repay and/or refinance debt and for general corporate purposes.
Zhenro Properties raised $340mn via 7.10% 3.25Y Non-Call 2.25Y (3.25NC2.25) green bond at a yield of 7.40%, 40bp inside initial guidance of 7.8% area. The bonds have expected ratings of B2/B+ and received orders of $2.9bn, 8.5x the issue size. Asian investors took 86% and EMEA the remaining 14%. Fund managers/ financial institutions took 92% and the private banks 8%.
China Hongqiao Group raised $500mn via a 3Y bond at a yield of 6.25%, 35bp inside the initial guidance of 6.6% area. The bonds have expected ratings of B1/B+/BB and received orders of over $3.2bn, 6.4x the issue size. Proceeds will be used for debt refinancing and general corporate purposes. The bonds have expected ratings of BBB-. Allocations were not available at the time of writing. Proceeds will be used to refinance the group's existing medium and long-term offshore debt due within one year.
New Bond Pipeline
Cemex $ bond
Bayfront Infrastructure Capital II hires for $ multi-trancher backed by project finance portfolio
Rating Changes
Term of the Day
Coupon Step-up
Coupon step-up refers to a feature seen in certain bonds wherein the coupon increases (steps-up) either as per a predefined schedule or upon the occurrence of an event. Coupon step-ups can either be a single step-up or multiple step-ups through the life of the bond. A commonly seen step-up is for perpetual bonds, wherein the coupon increases in the event that the bond is not called on its first call date.
China State Construction Corp's new $500mn PerpNC5 has a 300bp coupon step-up if not called on June 8 2026, its first call date. 
Talking Heads
"I am attentive to the risks on both sides. I will carefully monitor inflation and indicators of inflation expectations for any signs that longer-term inflation expectations are evolving in unwelcome ways… While the level of inflation in my near-term outlook has moved somewhat higher, my expectation for the contour of inflation moving back towards its underlying trend in the period beyond the reopening remains broadly unchanged."
On China Asking Banks With Higher Property Loan Ratio to Rectify – Liu Zhongrui, an official with CBIRC and Vice-Chairman Liang Tao
Share of Chinese banks' property loans in overall lending mix has fallen as of end-April as earlier property control policies took effect. The regulator is conducting on-site inspections in key cities to prevent operational loans from flowing into the property market. We'll take stricter measures on those fail to meet the requirement on time.
On Chinese state companies misusing carbon-neutral bonds, IEEFA Researcher – Christina Ng 
"But potentially the proceeds raised by the SOEs from these bond deals could be spent on maintaining a steady or growing coal business, particularly as they have new coal assets in the pipeline."
"One hundred percent of green bond proceeds should be going to green projects," she said.
On US junk bond market loses steam on mounting inflation jitters
Rhys Davies, a high yield portfolio manager at Invesco
"The fund outflows show some concern in the market. Up until now high yield markets have been willing to take the more optimistic view. Some inflation is fine, but too much is when we start to worry."
Peter Tchir, global macro strategist at Academy Securities
"I think people are getting nervous there could be a taper tantrum"
Marty Fridson, chief investment officer of Lehmann Livian Fridson Advisors LLC
"Like investors in other markets, high yield investors are hanging on every possible sign of a change in Fed monetary policy, which has been holding yields down to lower levels than we would see in the absence of historically aggressive market intervention.
"The implicit increase in household savings from restrained activity has been beneficial for longer-tenor bonds and supporting their relative outperformance,"
On Singapore bonds Beat Local Peers As Virus Curbs Safe Haven Demand – Philip McNicholas, Asean foreign-exchange and rates strategist at Bloomberg Intelligence.
"A general normalisation in the United States' post-reopening economic activity could give further tailwind to Singapore dollar bonds as (Federal Reserve) tightening gets pushed back."
On Lebanon Sinking into One of the Most Severe Global Crises Episodes, amidst Deliberate Inaction Saroj Kumar Jha, World Bank Mashreq Regional Director
"Lebanon faces a dangerous depletion of resources, including human capital, and high skilled labor is increasingly likely to take up potential opportunities abroad, constituting a permanent social and economic loss for the country. Only a reform minded government, which embarks upon a credible path toward economic and financial recovery, while working closely with all stakeholders, can reverse further sinking of Lebanon and prevent more national fragmentation".
Top Gainers & Losers – 2-Jun-21*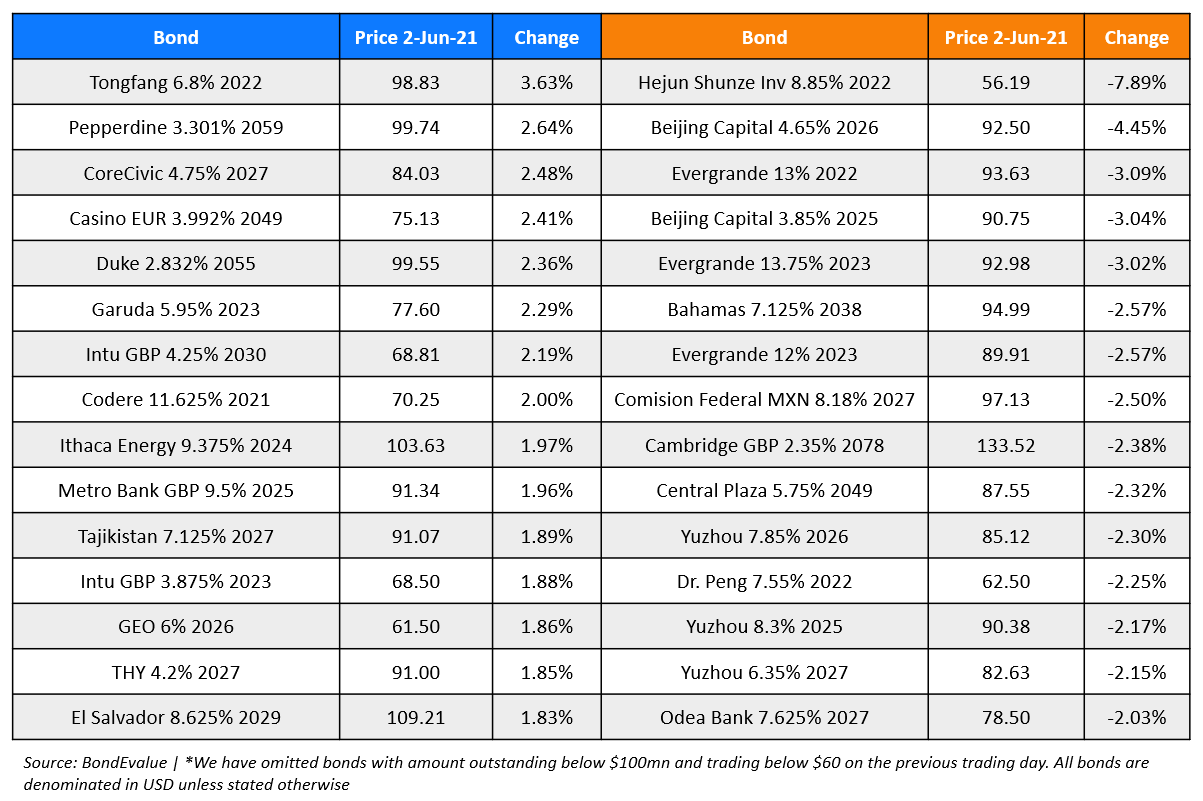 ---