US Treasury yields surged higher on Friday by 11-15bp across the curve and the peak fed funds rate jumped by 7bp to 4.94% for the May meeting. The moves come after an easing in the risk-off sentiment that has captured markets over the last two weeks. This comes after the FDIC said that First Citizens Bank will buy all the deposits and loans of Silicon Valley Bank (SVB). CME maximum probabilities continue to show no further rate hikes this year and a 48% chance of a 25bp rate cut in July. For the FOMC meeting in May, the likelihood of a 25bp hike has increased to 41% from 17% a day earlier. US IG and HY CDS spreads tightened 1.7bp and 14bp respectively. The S&P and Nasdaq ended mixed on Monday – the former was up by 0.2% and the latter down 0.5%.
European equity markets ended higher by ~1%. European main CDS spreads tightened by 1.7bp and Crossover spreads were 6bp tighter. Asia ex-Japan CDS spreads widened by 0.2bp and Asian equity markets have opened with a slight positive bias this morning.
---
Final Call: SkillsFuture-Eligible Course on Bonds for Investors | 30 March in Singapore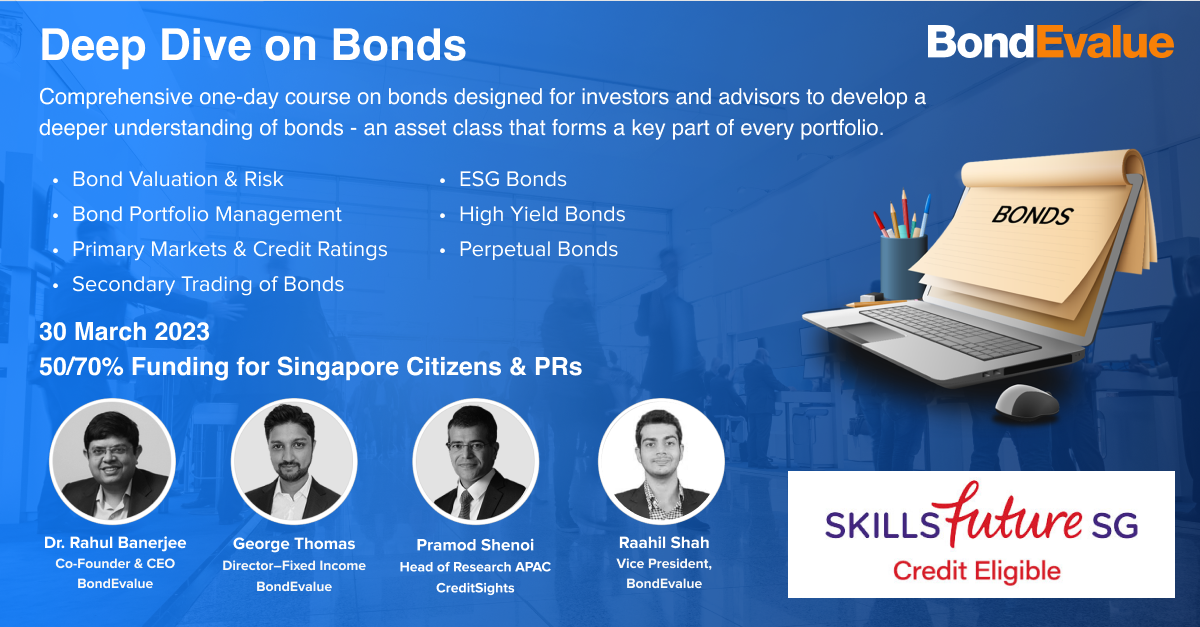 ---

New Bond Issues
Bank Mandiri $ 3Y at T+225bp area

Hyundai Capital $ 3Y/5Y/7Y/3Y FRN at T+210/230/255bp area/SOFR equiv

Korea National Oil Corp (KNOC) raised $1bn via a two-tranche deal, with the final book exceeding a combined $6.8bn. It raised:
$550mn via a 3Y bond at a yield of 4.948%, 20bp inside the initial guidance of T+140bp area. The new notes received orders over $2.9bn, 5.3x issue size. Asset and fund managers were allocated 52%, central banks and official institutions 32%, banks 9%, insurance and pension funds 4% and private banks and brokers 3%. APAC accounted for 40% of distribution, EMEA 29% and the US 31%. The new bonds offer a new issue premium of 14.8bp to its existing 3.25% 2025s that yield 4.8%.
$450mn via a 5Y bond at a yield of 4.915%, 30bp inside the initial guidance of T+165bp area. The new notes received orders over $3.9bn, 8.7x issue size. Asset and fund managers were allocated 72%, central banks, official institutions and insurers 13%, banks 11% and private banks and brokers 4%. APAC accounted for 53% of distribution, EMEA 15% and the US 32%.
The senior unsecured bonds have expected ratings of Aa2/AA. Proceeds will be used for general corporate purposes, which excludes the construction or development of oil sand projects. The bonds carry a change of control put at 100 if the central government of South Korea ceases to own and control at least 51% of KNOC.
New Bonds Pipeline
Cyprus hires for first ever sustainable bond
Korea Mine Rehabilitation and Mineral Resources hires for $ 5Y senior bond
REC hires for $ Long 5Y Green bond
Shinhan Bank hires for $ senior bond
Rating Changes
Nabors Industries Ltd. Senior Priority Guaranteed Note Rating Raised To 'B+' From 'B'; Recovery Rating Revised To '1'
Fitch Downgrades WeWork Companies LLC's IDR to 'C' on Distressed Debt Exchange
Moody's downgrades Lifetime Brands' CFR to B2; outlook is stable
Moody's downgrades Gap, Inc.'s CFR to Ba3; outlook remains negative
Term of the Day
Catastrophe Bonds
Catastrophe bonds also referred as Cat bonds are risk-linked securities that are designed in favor of the issuer as these allow the transfer of risks related to a major catastrophe or a natural disaster to the investors. These are generally high yield debt instruments that payout to issuers in case of specific triggers. These bonds essentially act as insurance policies for the issuer against natural disasters, where they pay regular coupons (premium) in exchange for protection. In the event of a natural disaster trigger, issuers will receive a payout from the proceeds of the bond and the principal repayment and interest payments are either deferred or cancelled. If a trigger event doesn't occur, the issuer continues to pay the coupons as scheduled, similar to a regular bonds and proceeds are returned to the investors at maturity.  Cat bonds are generally purchased by governments, insurance and reinsurance companies. These bonds have gained traction as the frequency of natural disasters is on the rise.
Marcos Alvarez, global head of insurance at DBRS Morningstar said that the FINMA's decision to write-off Credit Suisse's AT1s should not affect its cat bonds.
Talking Heads
On Deutsche Bank bouncing as analysts reassure its financial health
Kepler Cheuvreux analyst Nicolas Payen
"Deutsche Bank is not the 'weak link' in the European banking landscape…has "very solid" fundamentals.
Oddo BHF analyst Roland Pfaender
"Deutsche Bank has de-risked and refocused its business model in recent years which should help the bank to generate less volatile and higher profit levels"
On Stress among small, regional banks, could hit small businesses hardest – Fed's Jefferson
"We are focused on the macroeconomy but we are aware … that there are potential distributional aspects… (banking sector stress has led to declining deposits at smaller institutions) we are going to have to see how that plays out. That could have a disproportionate impact on small businesses … We want community and regional banks to be strong
On Predicting that a US Recession Will Start in a Few Months – DoubleLine Capital's Jeffrey Gundlach
"The economic headwinds are building, we've been talking about this for a while, and I think the recession is here in a few months. All we really need is the unemployment rate to go higher… Fed will cut interest rates "a couple of times"… If the Fed hikes in May, the difference "between what you can get on T-bills and what you can get in the banking system will grow…. counter-productively cause great shrinkage of liquidity"
On Credit Suisse's Catastrophe Bonds Could Outlive the Bank
Marcos Alvarez, global head of insurance at DBRS Morningstar
"FINMA's decision to wipe out the full value of Credit Suisse's AT1 bonds should not affect these cat bonds. I believe the cat bonds will not be triggered nor redeemed in the short term… My assumption is that the bonds are not triggered during the forced merger process, the coverage will be novated to the surviving entity, in this case UBS, until the maturity of the bonds…  would assume UBS will keep the coverage."
Top Gainers & Losers – 28-March
-23*

Other News:
US plans ultimatum in Mexico energy dispute, raising threat of tariffs