US Treasury yields eased 3-5bp across the mid-to-long end of the curve with the peak Fed funds rate down 2bp to 5.35% for the July 2023 meeting. US Q4 GDP came at a revised 2.7%, lower than the preliminary number of 2.9%. Markets are pricing in a 27% chance of a 50bp hike in March vs. just over 9% a week ago. Going by the maximum probabilities, markets are pricing in 25bp hikes at each of the next three Fed meetings in March, May and June. US IG and HY CDS spreads tightened by 1.8bp and 9.1bp. The S&P and Nasdaq ended the day higher, up by 0.5% and 0.7% respectively on Thursday.
European equity markets ended higher too. European main CDS spread tightened by 0.9bp and the crossover CDS spread tightened 3.9bp. Turkey's central bank cut its policy rate by 50bp to 8.5%, lower than expectations of a 100bp cut. Moreover, they said that rates are now "adequate to support the necessary recovery in the aftermath of the earthquake", thus hinting at a pause in rates. Asian equity markets have opened mixed. Asia ex-Japan CDS spreads tightened by 3.7bp.
---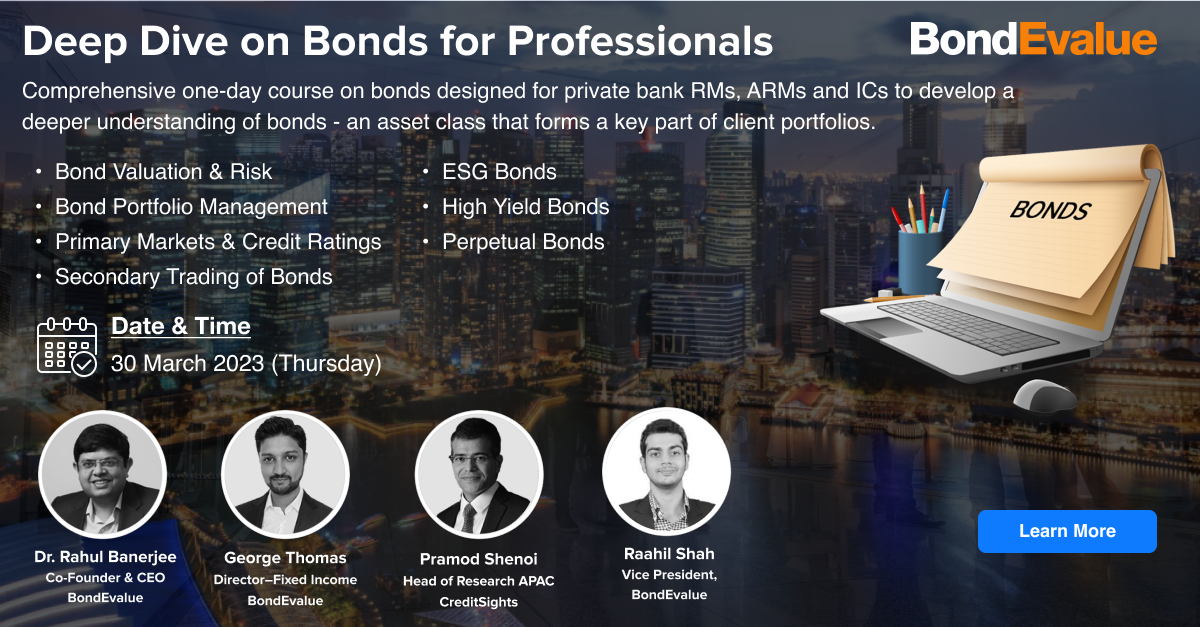 ---
New Bond Issues

HDFC Bank raised $750mn through its GIFT-City branch via a 3Y bond at a yield of 5.686%, 30bp inside initial guidance of T+155bp area. The bonds have expected ratings of Baa3/BBB-, and received orders over $2.8bn, 3.7x issue size. The deal was priced slightly inside of CreditSights' and Nomura's determined fair value of 132bp and 135bp respectively. Despite that, the syndicate head on the trade said the issuer could have tightened the pricing further, citing the large bid-to-cover ratio. "We probably could have gotten away with something tighter, but HDFC also wants to keep investors happy," said the syndicate head. Proceeds will be used to meet funding requirements of the bank's foreign branches and subsidiaries, develop and expand business in the foreign offices, and for general corporate purposes. AS compared to BBB- peers, the new bonds were priced ~10bp higher EXIM India's 3.375% 2026s that yield 5.59% and ~3bp SBI's 1.8% 2026s that yield 5.66%. It was priced just 3bp tighter to ICICI Bank's BB+ rated 4% 2026s that yield 5.71%.
China Everbright Bank HK raised $400mn via a 3Y bond at a yield of 4.994%, 48bp inside the initial guidance of T+105bp area. The senior unsecured bonds have expected ratings of BBB+/BBB. The deal was priced below CreditSights' determined fair value of 65bp. Proceeds will be used for general funding purposes. The new bonds are priced 10bp wider to BoCom HK's recently issued 4.875% 2026s that yield 4.9%.
New Bonds Pipeline
Qatar plans for $ bond
REC hires for $ Long 5Y Green bond
Rating Changes
Fitch Downgrades Pakistan Water and Power Development Authority to 'CCC-' on Sovereign Rating Action
Fitch Downgrades DTEK Renewables to 'C' on Tender Offer
Term of the Day
Distressed Debt Exchange
Distressed Debt Exchange (DDE) is an offer made by a company to its bondholders to avoid bankruptcy, improve liquidity, reduce debt, manage its maturity dates (by exchanging debt securities that are coming due for debt securities with an extended maturity) and to reduce or eliminate onerous covenants. Fitch has several criteria for an offer to be called as a DDE which can be seen by clicking here.
Talking Heads
On Fed 'absolutely' committed to 2% inflation target – Fed NY President, John Williams
"Our job is clear: our job is to make sure we restore price stability, which is truly the foundation of a strong economy"
On The World's Most Painful Trade Finally Ending as Dollar Peaks
George Boubouras, head of research at hedge fund K2 Asset Management
"The dollar's peak is behind us for sure and a structurally weaker dollar lies ahead… inflation in the US is stubborn, yes the rates market is signaling higher-for-longer US rates but that doesn't take away the fact that other economies in the world are catching up with the US."
Siddharth Mathur, head of EM research APAC at BNP Paribas
"We think the dollar has peaked and that a multi-year bearish trend has begun. e are structural dollar bears and project weakness in 2023, especially in the second half."
Eric Stein, CIO, fixed income at Morgan Stanley Investment Management
"There's still a lot of Fed tightening in the system that hasn't worked its way through yet… The Fed says they are going to get inflation to 2%, but in reality I'd say they get more to a level of like 3%."
On staying selective in EM bonds as outlook remains compelling
"we remain convinced that the backdrop is still supportive of emerging market bonds, and we keep the asset class as most preferred in our global asset allocation."
Top Gainers & Losers – 24-February
-23*