US Treasury yields were near flat across the curve yesterday with Jerome Powell reiterating his stance on interest rates. He mentioned that there has been no particular decision made yet on the quantum of hikes in the upcoming meetings. Meanwhile, markets are now pricing in a 78% chance of a 50bp rate hike in March, and three more hikes of 25bp each at the subsequent FOMC meetings in May, June and July based on the CME's maximum probability calculations. The peak Fed Funds rate was 3bp higher at 5.67% for the September 2023 meeting. US IG and HY CDS spreads widened by 1bp and 7.8bp respectively. The S&P and Nasdaq were marginally higher, up 0.1% and 0.4% respectively.
European equity markets ended slightly higher too. European main CDS spreads widened 0.6bp while crossover CDS spread widened 2.3bp. Asian equity markets have opened mixed today. Asia ex-Japan CDS spreads widened by 4.3bp.
---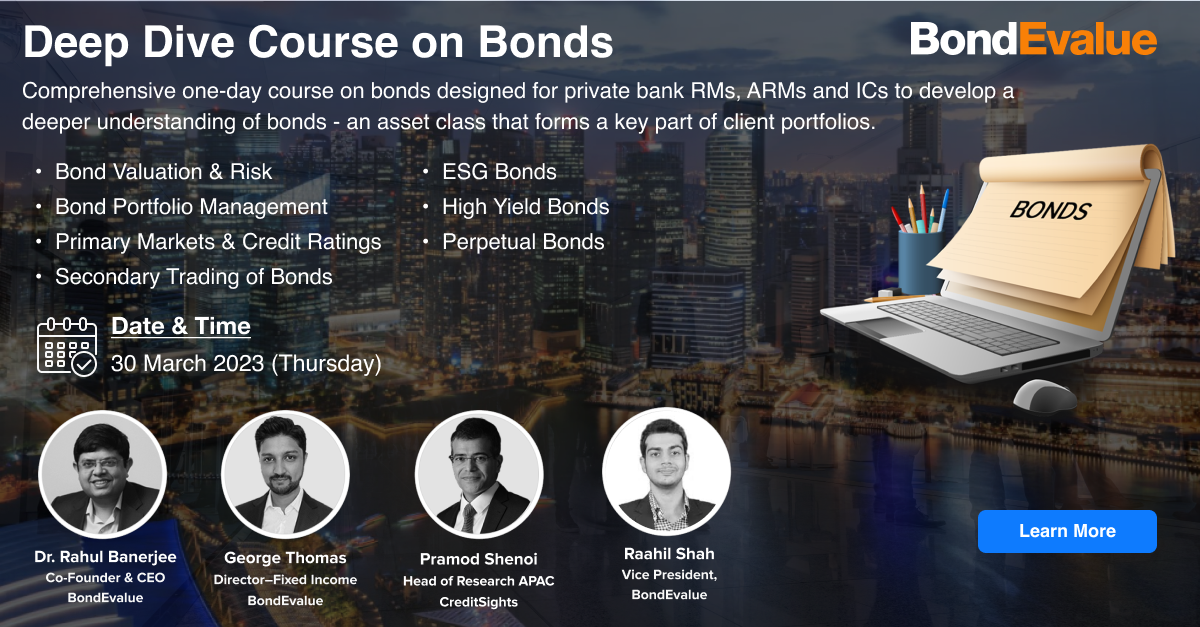 ---

New Bond Issues
Sembcorp S$ 7Y at 4.8% area
Bank of Sharjah $ 5Y at T+ Low 300bp area


Turkey raised $2.25bn via a 6Y bond at a yield of 9.5%, 25bp inside initial guidance of 9.75% area. The senior unsecured bonds have expected ratings of B3/B. The new bonds are priced at an attractive new issue premium (Term of the Day, explained below) of 41bp to its existing 7.625% 2029s that yield 9.09%.
Bank of East Asia raised $500mn via a 4NC3 loss-absorbing capacity (LAC) bond at a yield of 6.824%, 30bp inside initial guidance of T+240bp area. The senior bonds have expected ratings of Baa2/BBB, and received orders over $2.3bn, 4.6x issue size. Proceeds will be used for bail-in and general corporate purposes. Asset and fund managers took 52%, banks 17%, sovereign wealth funds, insurance and pension funds 14% and corporates and private banks 17%. Asia took 87% and EMEA 13%. The new bonds are priced 33.4bp wider to its existing 5.125% 2028s (callable in 2027) that yield 6.49%.
New Bonds Pipeline
Shinhan Bank hires for $ senior bond
 REC hires for $ Long 5Y Green bond
Qatar plans for $ bond
Rating Changes
Moody's downgrades Sino-Ocean's ratings to Ba3; outlook negative
Moody's downgrades Road King's ratings to B1, changes outlook to stable
Moody's downgrades Seazen Group's ratings to B1/B2, changes outlook to stable
Fitch Downgrades Lippo Malls Indonesia Retail Trust to 'CCC'
Term of the Day
New Issue Premium
A new issue premium refers to the incremental higher yield (yield premium) on an issuer's newly issued bond over bonds by the same issuer with a similar maturity. A newly issued bond by an issuer typically offers a higher yield to its own comparable bond to entice investor demand in the security. Sometimes, if an issuer does not have a comparable bond with a similar maturity, but does have a yield curve (i.e., other bonds issued across different maturities), analysts can interpolate and arrive at an estimated yield for a hypothetical comparable. However, while new issue premiums are typically the case, it is not necessary that an issuer's new bond would always have a new issue premium.
Talking Heads
On China as Option to Diversify Fed Risk – Bridgewater's Co-CIO Karniol-Tambour
Chinese assets provide significant diversification "relative to almost any asset you can buy… This is definitely a diversification play that investors should be looking at very seriously… have to consider their risk tolerance"…"I don't think Powell has any choice. He can't allow on his watch for inflation to get out of control.
On Fed still up in the air on whether to accelerate rate hikes – Fed Chairman Jerome Powell
"If – and I stress that no decision has been made on this – but if the totality of the data were to indicate that faster tightening is warranted, we would be prepared to increase the pace of rate hikes… "We have not made any decision… I don't do 'yes or no' on 'will I pause interest rate hikes?' That's a serious question. I can't tell you because I don't know all the facts."
On Pemex CEO Weighing how to pay heavy debt
CEO Octavio Romero
"We are exploring all (the options)… Yes, yes, we are going to try to find the best, cheapest mechanism (on bond issuance)… That is the great benefit of two very important government entities working hand-in-hand
On China promising Sri Lanka deal on debt treatment in coming months – Letter seen by Reuters
"Meanwhile, we would like to expedite the negotiation process with your side regarding medium- and long-term debt treatment in this window period, with a view to finalizing the specifics of a debt treatment in the coming months. We will make our best efforts to contribute to the debt sustainability of Sri Lanka.
Top Gainers & Losers – 09-March
-23*