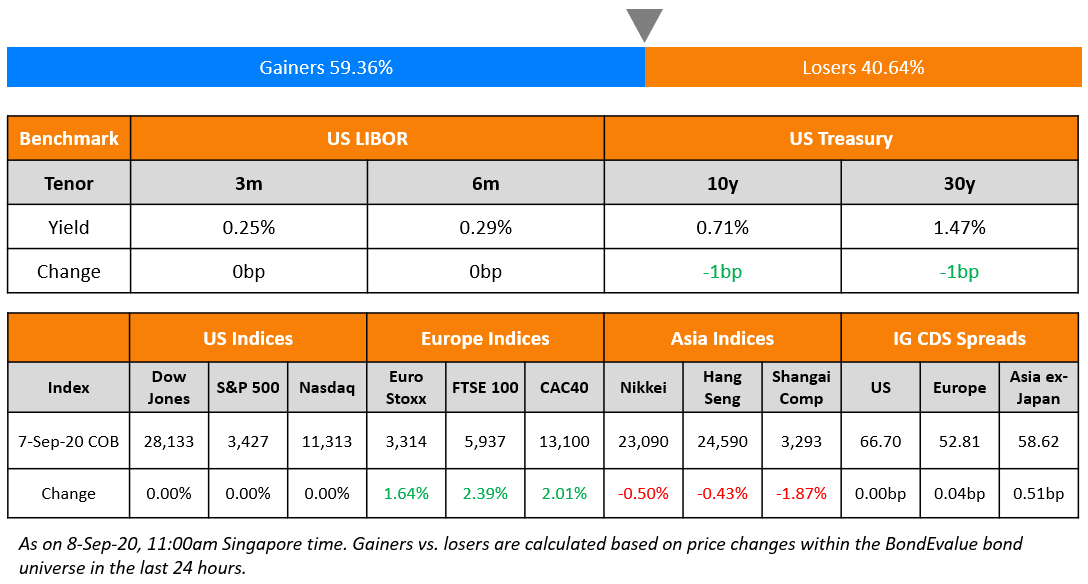 With the US on holiday due to Labor Day, Asian markets can get support this morning from a sizable rally in the European markets on growing hopes for a coronavirus vaccine and positive economic data. Major European indices broke a three day losing streak and were higher by 1.80% to 2.4%. Chinese year-on-year export data for July was up 9.5%, indicating that more trading partners were reopening their economies. CDS spreads were mostly unchanged and Asian dollar bond issuance was muted due to the US holiday. Asian markets and US index futures are opening higher this morning.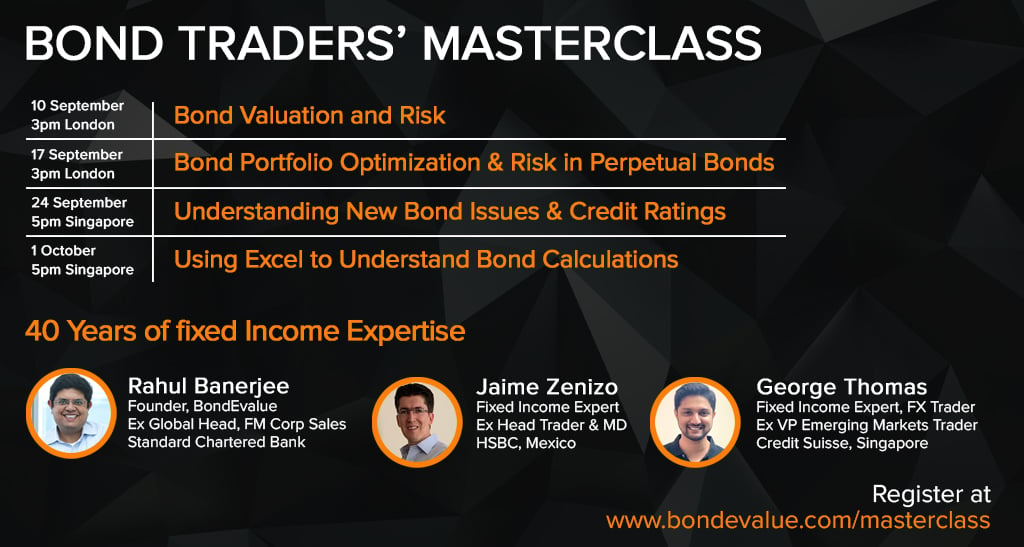 New Bond Issues
UOB $ 10.5NC5.5 tier 2 @ T+ 195 bp area
BOC Aviation $ 10yr @ T+ 240 bp area
HDB S$ 5yr @ 0.69%
Central Nippon Expressway $ 5yr @ MS+ low 50 bp area
Keppel REIT raised S$150mn ($109.8mn) via a Perpetual non-call 5Y (PerpNC5) bond to yield 3.15%, 35bp inside initial guidance of 3.5% area. The bond received final orders exceeding S$350mn, 2.33x issue size. The bond has a reset at the 5Y mark in September 2025 and every five years thereafter to the prevailing 5Y SGD SOR rate plus a credit spread of 257.7bp, with no step-up and any deferred coupons are non-cumulative. Proceeds will be used to refinance an outstanding S$150mn 4.98% subordinated perpetual note callable on November 2.
Australia-based property company Logos Holdco raised S$120mn ($87.8mn) via a debut 3Y bond in Singapore to yield 6%, 25bp inside initial guidance of 6.25% area.
Rating Changes
Argentina Upgraded To 'CCC+' From 'SD' On Settlement Of Restructuring Of Foreign And Local Law Debt; Outlook Stable
AMP Group Ratings Lowered On Strategic Challenges; Outlook Stable
ENN Energy Downgraded To 'BBB' On Shareholder Restructuring; Outlook Stable
Moody's affirms Frasers Centrepoint's Baa2 rating on ARF acquisition; changes outlook to stable from negative
ECB Slows Pace of Asset Purchases Under Its Pandemic Stimulus Program in August
The European Central Bank (ECB) slowed its purchases of securities under the Pandemic Emergency Purchase Programme (PEPP), its stimulus program to fight the impact of the Covid-19 pandemic. Based on data released by the ECB, net purchases under the PEPP for August stood at €59.5bn, down over 30% vs. July's net purchases of €85.4bn and over half of June's net purchases of €120.3bn.
The ECB had, in early June, increased the size of the PEPP by €600bn to €1,350bn. Cumulative net purchases as of end-August stand at about €500bn, which means the central bank has about €850bn remaining till at least June 2021, when the program is likely to be terminated provided that the Covid-19 crisis is over.
For the full story, click here
Ryanair Planning Its First Euro Bond Sale Since 2017
Irish carrier Ryanair is said to be in talks with investors for a potential euro bond issuance, its first since February 2017. According to Bloomberg, the airline is considering a 5Y bond of at least €500mn. Ryanair is in a relatively stronger position to raise capital via a bond issuance, given that it is one of the few airlines in the region to still hold on to its investment grade rating. Ryanair is rated BBB by S&P and Fitch, one notch higher than fellow budget carrier easyJet (BBB-) and three notches higher than full service German carrier Lufthansa (BB). Ryanair, which raised €400mn last week via a share sale, is likely to use proceeds from the bond issue for refinancing as it has an €850mn 1.875% bond due in June next year. So far, Finnair has been the only European airline to tap the primary bond markets last month with a perpetual issued at a coupon of 10.25%. S&P, which has a negative outlook on Ryanair said yesterday, "We continue to view Ryanair as one of the financially strongest airlines in the industry and therefore one of the best placed to weather the downturn, with €3.9 billion in cash on hand as of June 30, 2020, industry leading unit costs, and a 90%-owned fleet, over 70% of which is unencumbered."
For the full story, click here
Luxembourg Raises €1.5 Billion via Europe's First 'Sustainability' Sovereign Bond
Luxembourg became the first European nation to issue a Sustainability bond with its €1.5bn ($1.77bn) 12Y bond priced to yield -0.123%. The proceeds from the issuance will be divided between green and social projects. Last year the sovereign had embarked on a framework to implement the UN sustainable development goals and had drafted a climate law to cut greenhouse emissions by 55% till 2035. The issuance is aligned with the EU taxonomy on sustainable finance, which looks to keep a check on pollution. The bonds met with strong investor demand with orders worth €12.5bn ($14.76bn), over 8x issue size. There has been a reducing trend in the issuance of global 'green' bonds as this year has seen an increased focus towards social bonds on the back of the pandemic. "There is no sustainable development if you don't have the social aspects in (the issuance framework) as well," the Luxembourg finance ministry spokesperson said.
For the full story, click here
China's Evergrande Offering Steep Discounts to Boost Sales & Pare Debt
In a bid to cut its debts by half, Chinese real estate company Evergrande Group is offering its heaviest discounts ever to boost sales. The group launched a campaign yesterday to woo Chinese home buyers during the holiday season by offering a 30% base discount. The developer is looking to increase sales with an aim to reduce its debt by ~CNY 150bn (~$22bn) each year from 2020 to 2022. Its efforts have fallen short so far as its debt rose by 4% to CNY 835bn (~$122bn) as of June 30 from CNY 800bn (~$117bn) last year. Evergrande has set a sales target of at least CNY 100bn (~$14.6bn) for the month-long discount period ending on October 8. The move comes at a time when the housing watchdog and central bank are in the process of increasing scrutiny over the capital of Chinese developers. According to Zhi Wei Feng, senior credit analyst at Loomis Sayles Investments, "Evegrande needs high asset turnover and needs to act in advance since China is tightening policies again." While the discount brings cheers to Chinese homebuyers, some market watchers are skeptical of the price cuts. Tan Songheng, head of fixed income at Bank of Sanxiang Co. remarked that "Evergrande likes to use discount marketing strategy," while adding "Maybe it can first pull up the prices, and then give a 30% discount. Time will test the authenticity of this announcement."
Evergrande's bonds were largely stable with its 6.25% and 8.9% bonds due 2021 trading at 97.75 and 99.5 point respectively.
For the full story, click here
Chinese Chipmaker SMIC Likely to be Put on US Blacklist
According to a US Department of Defense official, the Trump Administration was looking at placing Chinese chipmaker Semiconductor Manufacturing International Corp (SMIC) on the trade blacklist. In case of a ban, China's largest chipmaker would not be able to trade with American companies, a huge blow to China's efforts of developing a self-sufficient semiconductor industry. "The company could go under within a few years," according to Mark Li, who tracks China's chip industry at Bernstein Research. SMIC said in a statement on Saturday that it was "in complete shock" over the news but was open to communication with US government agencies in hopes of resolving any misunderstandings. Chinese institutions Datang Telecom and China Integrated Circuit Industry Investment Fund Co, which are considered close to the government own 17% and 15.8% respectively in the company. The chipmaker is rated Baa3 by Moody's and is supplied chipmaking equipment by US companies including Lam Research, KLA Corp and Applied Materials. While no official reason was provided for the potential blacklisting, SMIC's relationship to the Chinese military has been under scrutiny.
SMIC's 2.693% $600m bonds due 2025 dropped 2.2 points to 99.8 yesterday before settling at 101.3 today.
For the full story, click here
Term of the Day
Samurai Bonds
Samurai bonds are yen-denominated bonds issued by foreign entities in Japan. These bonds, which are subject to bond market regulations in Japan, are issued by foreign countries and corporations to attract Japanese investors. Another reason to issue Samurai bonds is to capitalize on lower interest rates in Japan compared to the issuer's local market.
Hungary announced a new Samurai bond issuance this morning across four maturities. It is marketing a 3Y, 5Y, 7Y and 10Y tranche at 48-53bp, 70-75bp, 100-105bp and 120-125bp over the yen offer-side swap rate. The European nation is tapping the Samurai bond market to fund its budget deficit, which has widened on the back of the ongoing pandemic.
Talking Heads
On the halt of economic stimulus discussions with Democrats – Donald Trump, US president
"They don't want to make a deal," Trump said. "I don't have to meet with them in order to be turned down." "They think if the country does as badly as possible, even though a lot of people are being hurt, that's good for the Democrats," Trump said.
On Argentina rating upgrade after debt revamp – in a report by S&P
"This important step forward provides the opportunity for the government to articulate a broader plan to tackle various post-pandemic macroeconomic challenges," it said.
However, the agency said it could downgrade the country again if any "unexpected negative political developments undermine prospects for economic recovery and for some reversal of the fiscal deterioration in 2020."
"This scenario could damage fragile local investor confidence in particular and hamper access to peso-denominated debt markets," the ratings agency said.
On UK firms' worries of failure to repay government-backed financial support – Adam Marshall, British Chambers of Commerce director general
"If not addressed, large debt burdens could stifle the recovery, threatening jobs and constraining business activity and investment," said Marshall. "Government, regulators and banks must work together with business communities to find solutions that help firms repay."
On Australia's central bank likely to expand quantitative easing – Shane Oliver, chief economist at AMP Capital Investors Ltd
"The RBA will ease further sometime in the next six months," he said, urging Lowe to follow the Federal Reserve's policy tweak on consumer prices. "Matching the Fed on inflation average targeting, more dovish forward guidance and more QE via more aggressive bond buying could all help keep a lid on the Australian dollar."
Top Gainers & Losers – 8-Sep-20*