While US and UK markets were shut, the broader European markets fell with DAX down 0.7% and CAC down 0.6%. German inflation shot up to 2.4%, its highest since October 2018 mainly due to a 10% YoY rise in oil and energy prices. OECD raised the growth forecast for the global economy to 5.8% this year and 4.4% next year on vaccine rollouts and the US stimulus. US 10Y Treasury yields were up 3bp to 1.62%. US IG CDS spreads were 0.3bp tighter and HY spreads were 1.4bp tighter. EU main spreads were 0.5bp tighter and crossover spreads tightened 2.9bp. Asian equities had a muted start – Nikkei and Hang Sang were flat while Shanghai was down 0.3%. Meanwhile, Indian markets remained bullish with the Nifty at a record closing high. Asia ex-Japan CDS spreads tightened 0.1bp.
---
2 Days to Go

: Exclusive Masterclass on How to Analyze CoCo/AT1 bonds by Experts
Do you invest in CoCo/AT1s? If yes, do attend the upcoming masterclass conducted by debt capital market professionals Pramod Shenoi, Head of Research APAC at CreditSights and Rahul Banerjee, Founder and CEO at BondEvalue. The session will cover understanding the AT1 structure, common features & covenants, and how to pick the right AT1 bond(s) for you. Click on the banner below to register.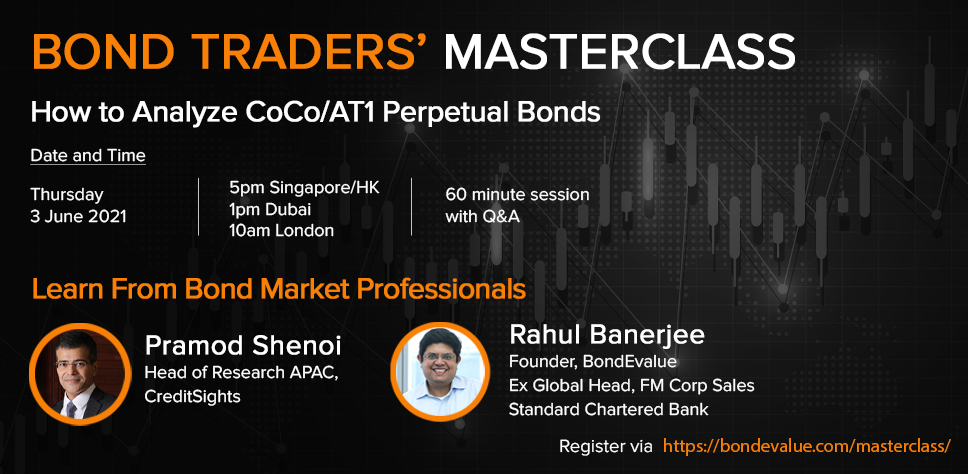 New Bond Issues
Zhenro Properties $ 3.25NC2.25 green notes IPG 7.8% area
China State Construction International $ PerpNC5 IPG 3.75% area
China Hongqiao Group $ 3Y bonds IPG 6.6% area
Keppel Infrastructure Trust S$ PerpNC10 IPG 4.55% area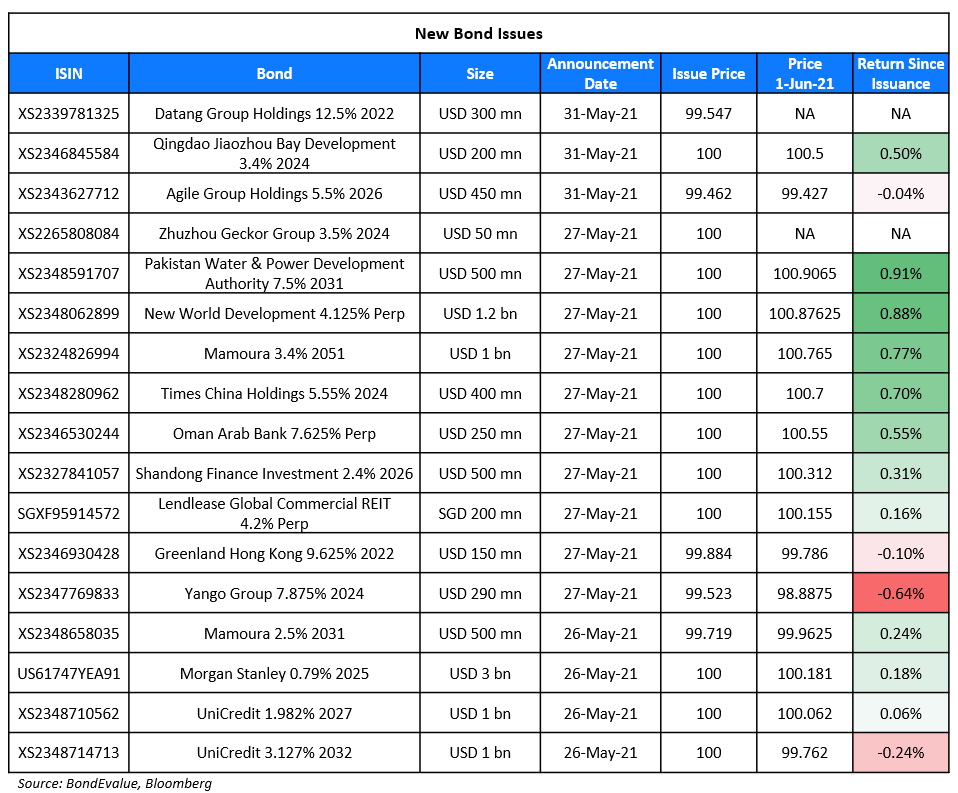 Agile Group Holdings raised $150mn via a tap of their 5.5% 2026s at a yield of 5.6%, 35bp inside initial guidance of 5.95% area. The bonds have expected ratings of BB-, and received orders over $1.1bn, 7.3x issue size. Proceeds will be used for offshore debt refinancing. The total amount outstanding is now $450mn.
Datang Group Holdings raised $300mn via a 364-day bond at a yield of 13%, unchanged from initial guidance of 13%. The bonds are unrated and received orders over $600mn, 2x issue size. Funds and institutional investors in Asia were allocated 63% of the notes and private banks 37%. Proceeds will be used for general corporate purposes.
Qingdao Jiaozhou Bay Development raised $200mn via a 3Y bond at a yield of 3.4%, 40bp inside initial guidance of 3.8% area. The bonds have expected ratings of BBB-. Allocations were not available at the time of writing. Proceeds will be used to refinance the group's existing medium and long-term offshore debt due within one year.
New Bond Pipeline
TML Holdings hires banks for US$ 5NC2.5 bond
Bayfront Infrastructure Capital II hires for $ multi-trancher backed by project finance portfolio
Rating Changes
May 2021: 66% of Dollar Bonds Traded Higher in May 2021 with IG Outperforming
The month of May continued April's trend with 66% of dollar bonds in our universe delivering a positive price return ex-coupon during the month. Bond investors are on track for an upbeat Q2 after a dismal Q1, especially in February and March when 66% and 82% of dollar bonds delivered negative price returns respectively.
Both Investment Grade (IG) and High Yield (HY) bonds performed well with the former performing relatively better after months of underperformance. 70% of IG dollar bonds ended higher in May, compared to 62% of HY bonds that ended May in the green.
The box and whisker plot below shows the price return of IG dollar bonds in May by rating. Huarong's bonds due 2022 and beyond once again dominated the losers falling 7-12% in May. In contrast, Huarong's 2021s inched higher during the month as news emerged of Huarong wiring money to repay its maturing bonds.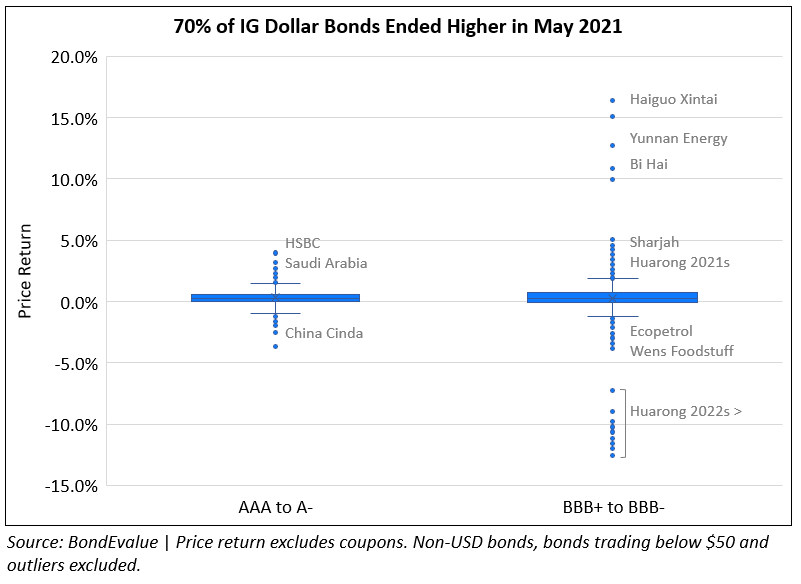 Below is a similar box and whisker plot for HY dollar bonds' price return in May by rating.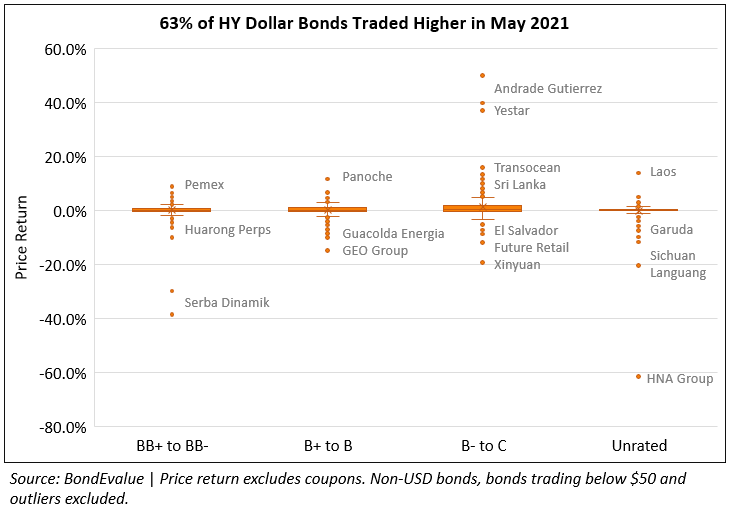 Click here to read the full month-end report that includes an overview of issuance volume, largest deals and top gainers and losers, in addition to the box and whisker plots.
Term of the Day
Accrued Interest
Accrued interest for a bond refers to the interest or coupon that has accrued since the last coupon payment date but not yet paid. When a bond is traded between coupon payment dates, accrued interest is paid by the bond buyer to the bond seller. The final price paid by the buyer is called dirty price and is calculated by adding the accrued interest to the price of the bond (clean price). The reason buyers have to pay accrued interest is because they stand to receive the full coupon on the next payment date, even though they are only entitled to the coupon that has accrued since the date the bond was purchased.
Accrued interest is calculated as per follows:
AI = P x C/F x D/T
P: Par value of the bond
C: Annual coupon stated as a decimal
F: Coupon payment frequency. For a semi-annual payment bond, F = 2
D: Number of days since the last coupon payment
T: Total number of days in the payment period. For a semi-annual payment bond, T = 180
It is possible for accrued interest to be negative, if a bond has an ex-coupon date (similar to ex-dividend date for stocks). If a bond is traded between the ex-coupon date and the next coupon date, accrued interest has to be paid by the bond seller to the bond buyer, resulting in a negative accrued interest. This is because the full coupon will be received by the seller even though they are entitled to the coupon from the previous coupon date till the transaction date only. In such cases, accrued interest is deducted from the clean price to calculate the dirty price of the bond.
Talking Heads
Raj Malhotra, head of debt capital markets for Asia-Pacific at Société Générale
"A lot more funds have set up dedicated green or social sustainable portfolios. So they are looking for products. In the past this has mainly been driven out of Europe, but in recent months there's been a big increase in both Asian and US investors looking at the space."
"Yes, it's gone beyond just green bonds now." "Looking back, it was typically green issuance, which was about energy efficiency and the environment. But now we see a much larger portion of social and sustainable bonds being issued." "And it's a much broader scope of use of proceeds. So clearly this market is here to stay and there's a lot of innovation happening. You have sustainability-linked bonds where the coupon can go up or down, depending on how a company performs against certain targets, and this is a space that I think will continue to grow."
"Out of Hong Kong, Japan, China and Singapore, I would say we probably don't want to see a single winner. They are all providing different initiatives to boost this market and I think that's a good thing overall for the region," he says.
On the United Arab Emirates' adoption of standards slowing Gulf sukuk issuances
Bashar Al Natoor, global head of Islamic finance at Fitch Ratings
"The market is going through a teething period as it seeks clarity on how to find ways to comply with the regulations."
Abdul Kadir Hussain, head of fixed income asset management at Arqaam Capital
"All this is causing a logjam in issuance and in my view is becoming an existential threat to the long-term viability of the market." "Standardisation remains an elusive dream," he added.
Mohamed Damak, S&P analyst
"Because of that the sukuk has to be accelerated – and (if) the corporate doesn't have the cash on its balance sheet to pay it back – then it's a risk for the investors," he said. "So this is why it's causing a little bit of a headache for issuers in the UAE."
Anish Mehta, former chairman of the Institute of Chartered Accountants of India – Dubai chapter
"The manner in which the UAE has handled the challenges around Covid-19 shows the ability of UAE's Rulers and its administration. Because of the appropriate and timely measures, including vaccination, the UAE's economy is on growth trajectory. All the key sectors of UAE such as real estate, hospitality, consumer goods are performing well," Mehta said.
Eric Jones, vice-president at FM Global
"Over the years, leanness, speed and short-term profit have often reigned as primary concerns of global businesses. But the historic events of 2020 reminded the world that these qualities are subordinate to the ability to resist, rebound from or operate through lockdowns, demonstrations and climate-related disruptions."
Gordon Tsui, chairman of the Hong Kong Securities Association (HKSA)
"The fee waivers will promote both fixed income and ETF products in Hong Kong, which is timely as Beijing is expected to introduce the southbound part of the Bond Connect to allow mainlanders to buy Hong Kong fixed income products," said Tsui. "The new CEO of HKEX is moving in the right direction to diversify the products and investment choices. Lower transaction costs would be welcomed by brokers and investors," said Tsui.
Brian Roberts, the bourse operator's head of exchange traded products
"The new fee waivers, which will help investors reduce the costs for fixed-income ETFs and money market ETF transactions, are HKEX's latest initiative to enhance its ETF market structure and drive liquidity to Hong Kong-listed ETFs," said Roberts. "We believe the fee waivers are being introduced at an opportune time as there has been a strong increase in investor demand for China fixed income products in recent years."
Nicolas Aguzin, new chief executive of Hong Kong Exchange and former JPMorgan Chase banker
"Hong Kong has a key role to play as China continues opening up its market," Aguzin said.
Top Gainers & Losers – 01-Jun-21*