US equities ended slightly higher with the S&P up 0.7% and Nasdaq up 1%. Sectoral gains were led by Communication Services and IT, up 1.7% and 1.2% respectively. US 10Y Treasury yields were 1bp tighter at 1.55%. European markets were mixed with the DAX and CAC up 0.1% and 0.5% while FTSE ended 0.5% lower. Brazil's Bovespa ended 1.2% lower. In the Middle East, UAE's ADX was up 0.7% and Saudi TASI was up 0.1% on Sunday. Asian markets opened broadly mixed – Shanghai and HSI are down 0.3% and 0.1% while STI and Nikkei were up 0.2% and 0.4% respectively. US IG and HY CDS spreads were 0.6bp and 1.5bp tighter. EU Main CDS spreads were flat and Crossover CDS spreads were 0.7bp wider. Asia ex-Japan CDS spreads tightened 1bp.
---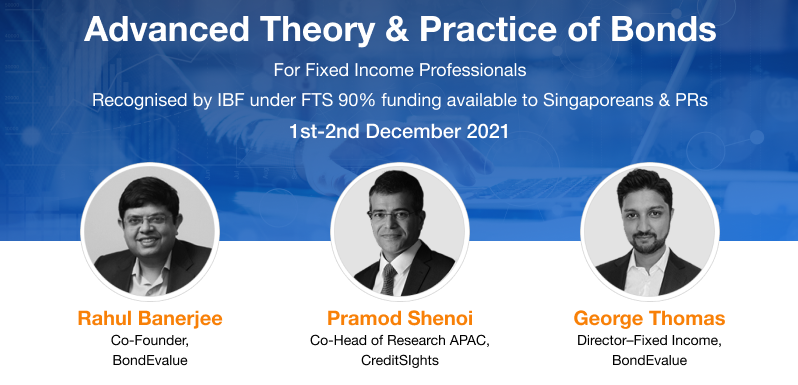 ---

New Bond Issues
HSBC $ 3NC2/6NC5/11NC10 @ T+85/120/145bp area; $ 3NC2 FRN at SOFR-equivalent
Temasek S$350mn 5Y retail/institutional at 1.86% area
Westpac $ 5Y at SOFR mid swaps+46bp
State Development & Investment Corp (SDIC) $300mn 5Y at T+125bp area
Yanzhou Coal Mining $ 3Y at 3.25% area

Heze City Investment Holdings $ 364-day at 5.3% area

Yichang High-Tech Investment Development $ 3Y at 5.1% area
Changde Economic Construction Investment Group raised $68mn via a 364-day bond at a yield of 5%, unchanged from initial guidance. The bonds are unrated. Proceeds will be used for project construction, onshore debt repayment, capital injection into subsidiaries and working capital. The bonds are issued by Summer Spring Project and guaranteed by Changde Economic Construction Investment Group.
New Bonds Pipeline
Government of Hong Kong hires for $/€ green bond
Sinochem Hong Kong hires for $ 3Y and € 4/7Y bond
China Great Wall AMC (International) hires for $ bond
Shaoxing Shangyu Urban Construction hires for $ 5Y sustainability bond
Jinan Hi-tech Holding hires for $ bond
Renesas Electronics hires for $ 3Y green / 5Y bond
NTT hires for € bond
Port of Newcastle hires for $ 10Y bond
Impact Investment Exchange hires for $ 31.5 mn 4Y women's livelihood bond
Plaza Indonesia hires for $ 5NC3 sustainability-linked bond
Rating Changes:
Term of the Day
Net Asset Value (NAV)
Net Asset Value (NAV) is the value of a fund's assets minus its liabilities per unit at a point in time. It is calculated as the (Value of Assets-Value of Liabilities)/number of units outstanding. NAV is often associated with mutual funds, ETFs and REITs helping an investor track the fund's performance. NAVs should not be confused with the market price for example in an ETF. The latter is just the price at which shares in the fund can be bought or sold determined by demand and supply while the former is more akin to book value.
Talking Heads
On the warning that Fed overreaction to inflation may be harmful 
Neel Kashkari, Federal Reserve Bank of Minneapolis President
"The high prices that families are paying, those are real and people are experiencing that pain right now." "We need to take it very seriously, but my view is we also need to not overreact to some of these temporary factors even though the pain is real," he said. "When we adjust monetary policy it acts with a lag," he said. "So if we overreact to a short-term price increase, that can set the economy back over the long term."
Lawrence Summers, Former Treasury Secretary
"It's going to take some significant policy adjustment or some unfortunate accident that slows the economy before inflation gets back to the 2% range."
On Sri Lanka looking to lower fiscal deficit from next year
Basil Rajapaksa, Sri Lanka finance minister
"Sri Lanka has never defaulted in its history and that record will be maintained." "Even part of our reserves are borrowed but we will improve the quality of reserves gradually from next year till 2024. By 2024, we are confident we will be able to increase reserves and put debt on a sustainable footing." "[We] want to reduce borrowings. I guarantee that the $1.54 billion up to July 2022 will be repaid."
Nivard Cabraal, Sri Lanka central bank governor
"This year we are looking at 5% growth and if we have a good year in 2022 with tourism reaching a quarter of pre-2019 levels then we are well on course for 6% growth," Cabraal said. "This will mean our macroeconomic fundamentals will be in much better shape than now".
Trisha Peries, head of economic research at Frontier Research
"Overall, the budget is unlikely to help the economic situation significantly and does not give a strong indication of how it expects to meet its debt obligations going forward or how it expects to address the plummeting reserves."
On Yellen Says Quashing Covid-19 Is Key to Lowering Inflation
"It's important to realize that the cause of this inflation is the pandemic… If we want to get inflation down, I think continuing to make progress against the pandemic is the most important thing we can do… When labor supply normalizes and the pattern of demand normalizes, I would expect that, if we're successful with the pandemic, to be sometime in the second half of next year, I would expect prices to go back to normal."
On German ministries welcome Lufthansa's early bailout aid repayment
Economy Minister Peter Altmaier
"The whole thing faced a lot of criticism at the time. Many believed the government would never see the funds again. In the end, Lufthansa would become a state company… All of these fears, I would like to make this very clear again today, have not materialised. Lufthansa made an effort. It used the state money to get through the most difficult months of the pandemic
Finance Minister Olaf Scholz
"It shows it was important and right for the state to help the company through difficult times and thereby secure thousands of jobs"
Top Gainers & Losers – 15-Nov-21*

Other Stories