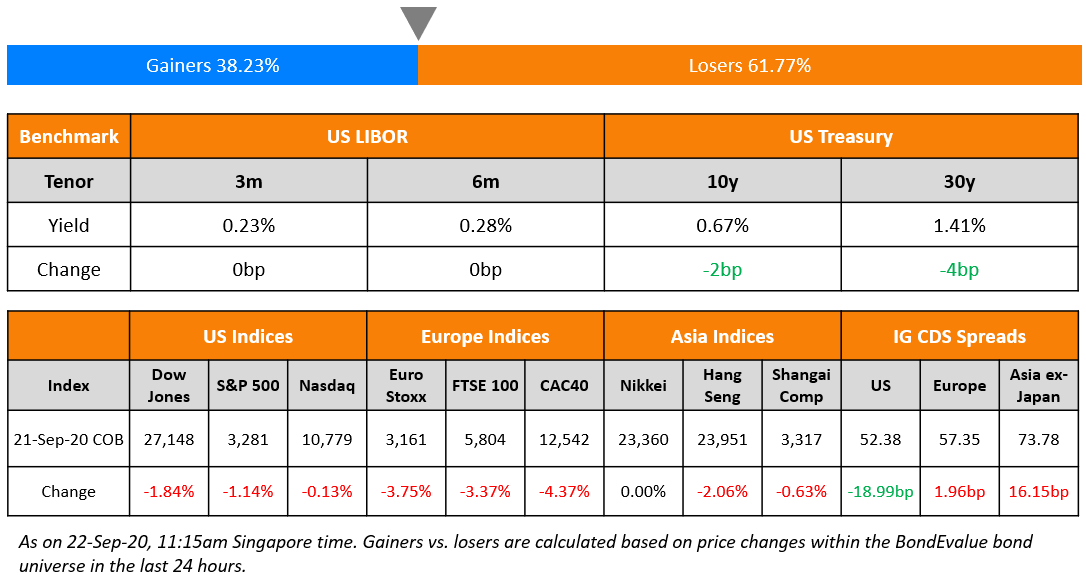 S&P ended 1.16% lower after making a late stage recovery as Nasdaq100 made back losses earlier in the day to end 0.40% up – major drag was seen in financials, industrials and energy down 2.5%, 3.4% and 3.3% respectively. Apple and Microsoft were up 3.03% and 1.07% while Tesla was up 1.64% ahead of battery day, Tesla's event to announce updates on its battery technology today. Renewed lockdown worries in Europe added to losses across equities. US 10Y yield fell 3bp and oil was down over 3%. Asian equities are lower in trade today down ~1%. Credit spreads were slightly changed across.
New Bond Issues
CDB Leasing $ 10NC5 tier 2 @ T+305bp area
Power Construction Corp $ 300 mn Perp NC5 @ 3.85% area
Hangzhou Jianggan District Urban $ 200 mn 3yr @ 3.25% area
CMB SG/LUX $ 3yr floater/3yr sustainability @ 3mL+/T+130/140bp area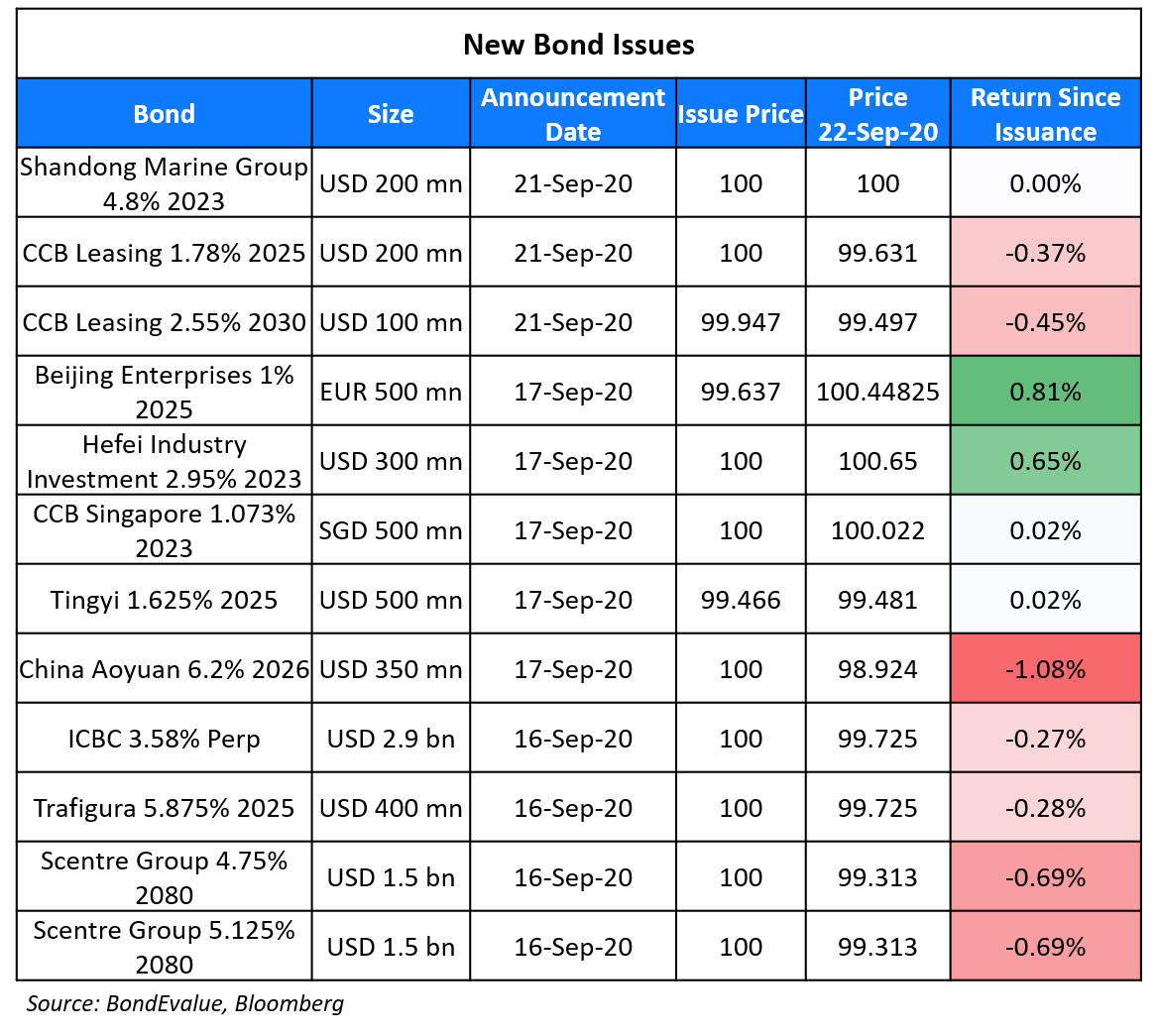 CCB Financial Leasing raised $300mn via a dual-tranche bonds offering. It raised $200mn via 5Y bonds to yield 1.785%, 152.5bp over Treasuries and 42.5bp inside initial guidance of T+195bp area. It also raised $100mn via 10Y bonds to yield 2.556%, 190bp over Treasuries and 30bp inside initial guidance of T+220bp area. The bonds, with expected ratings of A2/A, received orders exceeding $2bn when final guidance was announced, 6.67x issue size.
Chinese offshore shipping company Shandong Marine Group raised $200mn via 3Y bonds to yield 4.8%, 42.5bp inside initial guidance of 5.25% area. SDOE Development I Company is the issuer and Shandong Marine Group is the guarantor.
Rating Changes
Frontera Generation Holdings LLC Debt Rating Lowered To 'CCC' by S&P On Near-Term Liquidity Risk; Outlook Negative
E-House Outlook Revised To Negative by S&P On Real Estate Brokerage Network Business Investment; 'BB-' Ratings Affirmed
Moody's changes outlook on Wharf Real Estate Investment Company to negative from stable
Four Indian NBFIs (IIFL, Manappuram Finance, Muthoot Finance and Shriram Transport Finance Company Limited), Following Pandemic-Impact Review
Fitch Affirms and Withdraws Realty Income's Ratings; Outlook Stable
Large Global Banks' Stocks & Bonds Fall on Reports of Illicit Money Flows
Leaked FinCEN (Financial Crimes Enforcement Network, US Department of Treasury) files accessed by Buzzfeednews saw the latter team up with International Consortium of Investigative Journalists (ICIJ) to go through over 2,100 Suspicious Activity Reports (SARs) filed by large global banks. The SARs showed over $2tn in suspicious transactions from 1999-2017 across banks, many of which began from 2011. Below is a list compiled on some of the largest SARs and their dollar amounts:
ICIJ, which focused its investigation on HSBC, analyzed nearly $1.5bn in transactions that flowed through shell companies holding commercial accounts with HSBC from 2011-16, ranging from drug cartels to stolen government funds. As per the ICIJ, "FinCEN Files documents show that HSBC knew regulators were investigating its customer, the WCM Ponzi scheme, even as it helped move its money.
A federal class-action lawsuit brought by bilked investors alleged that HSBC Hong Kong was "instrumental in helping WCM777 to continue its Ponzi scheme." JPMorgan, Deutsche Bank and HSBC shares were down 3.1%, 8.8% and 5.3% respectively. JPMorgan's 4% perpetuals were down over 1 point (yield up 20bp) to 95.63 while HSBC's 6.25% perpetuals were down over 2 points (yield up 19bp) to 99.70.
Julius Baer Pulls AT1 Perp on Deteriorating Markets
Swiss private bank Julius Baer pulled its AT1 perpetual issuance late last night on the back of deteriorating market conditions. The bank started marketing the proposed perpetual non-call 7Y AT1 at an initial guidance of 4.5% area during Asia hours (morning). It was looking to raise $350mn from the issuance. The bookrunners, Citigroup and Deutsche Bank, fixed the coupon at 4.375% with an orderbook of $875mn at 5:45pm SG / 10:45am UK time, as per IFR. However, as markets deteriorated particularly for banks on revelations of illicit transactions processed over two decades, Julius Baer announced at 8:10pm SG / 1:10pm UK time that it was pulling the deal. A syndicate banker commented on the deal to IFR saying, "To back up the leads, this morning the market looked weak but not as weak as it got. Where you could make a criticism is this is a lesser-followed name, so you want to be going into a market with a clear uptick. It was a bit of bad luck in terms of the market deteriorating and maybe a bit of bad judgement because this name needs to go into a strong market." Had the deal gone through at the fixed pricing of 4.375%, it would have been the lowest coupon ever on a dollar AT1 from a European bank, 12.5bp lower than BNP's record low of 4.5% on its $1.75bn AT1 priced in February.
For the full story, click here
First Abu Dhabi Bank, Tabreed to Issue Dollar Bonds; All Eyes on Turkey As It Reopens Govt Bond Auction Today
UAE's largest lender First Abu Dhabi Bank (FAB) has mandated Citi, HSBC and FAB to arrange an investor call to decide on a potential issuance of dollar bonds. The debt, if approved is likely to be raised through Additional Tier 1 perpetual non-call 6Y bonds. The company had recently issued RMB 3.25bn ($479mn) 5yr Dim Sum Formosa priced at a yield of 3.4%. The new proposed bonds are expected to be rated Baa3 by Moody's.
Dubai-listed National Central Cooling Company (Tabreed) is also looking to tap the international debt market for a ~$1bn dollar sukuk issuance. The details of the offer are not yet finalized and the company is likely to hold a general assembly meeting next month to authorize the board of directors for the issuance.
Turkey's finance ministry announced on Monday that it plans to revisit the bond market with a 5Y fixed coupon government bond through an auction on Sep 22, amidst its FX woes. The securities, which carry a semi-annual coupon at a rate of 5.30% are set to mature on Feb 20, 2026. Turkey is going through difficult times and the central government's total debt has risen to TL1.81tn  ($237bn) at the end of August, up 45% YoY according to the finance ministry. It would be interesting to see how the government bond auction plays out, an indication of how investors see Turkey's credit.
Term of the Day: Doom Loop
A doom loop refers to a negative spiral or loop that can occur when banks, which hold sovereign bonds of governments with weak finances, need to be bailed out by those very governments due to a deterioration in the value of their sovereign bonds. The image below from Bloomberg's story on Europe's Doom Loop published in June 2012 is a good visual representation of this.
This cycle of the government requiring to help banks due to their holdings of government bonds creates the loop. Thus, when riskier sovereign debt from countries such as Italy, Spain, Portugal etc. are held by its own banks and fall due to rating, political and other risks, banks would have to markdown these assets, which could in turn hurt capital ratios. S&P warned of a new European sovereign-bank doom loop in a report published on Monday as European banks' holding of its country's sovereign bonds increased by €210bn ($247.8bn) since the start of the pandemic, as per Reuters.
Talking Heads
On enough fiscal aid delivered to boost US economy – James Bullard, Federal Reserve Bank of St. Louis President
"I don't think there is as much of an imperative about a new fiscal package as there might have been" in July or August, Bullard said. "It seems like, at least in some broad macroeconomic type of calculation, we have enough resources to cover this. We might be able to sustain a recovery through this," he said. "I'm hopeful we still have enough in the pipeline to push us through, get the growth going in the second half of the year. That certainly seems to be what's happening in the third quarter. I think that will continue in the fourth quarter and the first part of next year."
On the risk of new Europe new sovereign-bank "doom loop" – in a report by S&P Global
"In contrast, they have concentrated more risk to their home country by buying more home country sovereign debt, especially in countries with the highest share, increasing the risks of a new doom loop if this trend persists. Although it's a fairly remote scenario at this stage in Europe, in case of sovereign distress and higher credit spreads for government bonds, banks would have to devalue their sovereign debt security holdings causing asset losses and weakening capital adequacy," S&P said.
On US markets far from the threat of Japanification – in a note by Fabio Bassi and Antoine Gaveau, strategists at JPMorgan Chase & Co
"Taking policy rates to zero with strong forward guidance is only a necessary condition in the road to Japanization of the yield curve," wrote Bassi and Gaveau. The U.S. "is furthest away as the market attributes maximum credibility to the Fed in its reflationary exercise," they said.
On European bonds becoming more attractive than US bonds – Holger Schmieding, chief economist at Berenberg
"Debt in the U.S., public debt, is surging much, much more than what we see anywhere in Europe, so the comparison between buying a European bond or a U.S. bond will actually look more favorable in the future. On top of that, we do have the European Central Bank which is holding basically much of the increase in debt and which for a long time will not be selling any of that so at least for the foreseeable future, make it the next three, four years, there's very little risk of a debt crisis in Europe as long as Italy does not do anything politically very far," Schmieding said.
On the investments by world's biggest asset managers during Covid – Andrew McCaffery, global CIO at Fidelity International
Bonds are one of the great unloved assets of the Covid crisis, says McCaffery. "If you look at credit spreads, they've moved to levels that make the bonds of some global carmakers relatively attractive," he said. "These bonds are unloved, especially when you consider there's been an increase in car usage versus public transport."
On Argentina's new dollar bonds plunge into distressed territory – Joaquin Bagues, head strategist at Portfolio Personal Inversiones in Buenos Aires
"Argentina's structural problem is a genuine lack of dollars," said Bagues. "The recent central bank regulations are an attempt to solve that problem, but in reality, the regulations only serve to deepen it."
On foreign investors unlikely to rush into Indonesian markets over central bank worries
Stuart Ritson, an emerging market debt portfolio manager at Aviva Investors
"Since the very large outflow we saw post the initial COVID spike… flows have really been very lacklustre in terms of foreign appetite for Indonesian bonds," said Ritson. "Certainly headlines like we've seen over the past few weeks which do question the central bank independence are likely to see investors be more cautious about allocating capital."
Toshinobu Chiba, chief fixed income portfolio manager at Nissay Asset Management
"From an economist's perspective, the proposed revision will be unequivocally bad as it would mean approving debt monetization," said Chiba.
Top Gainers & Losers – 22-Sep-20*