Wall Street ended near flat on Friday with the S&P closing up 0.15% while Nasdaq was 0.03% lower. US 10Y Treasury yields inched up 2bp to 1.43%. Energy led again, up 0.8%, Communication Services were up 0.7% and financials were up 0.6% while Real Estate and Healthcare fell 1.2% and 0.8%. European stocks fell with the DAX, CAC and FTSE falling 0.7%, 1% and 0.4%. Brazil's Bovespa fell 0.7% after rising for three days. In the Middle East, UAE's ADX was down 0.7 %. Asia Pacific markets have started broadly higher – HSI was up 0.3%, Singapore's STI up 1.1%, Nikkei up 0.1% while Shanghai is down 1.3%. US IG and HY CDX spreads widened 0.1bp and 1.2bp respectively. EU Main CDS spreads were 0.5bp wider and Crossover CDS spreads widened 3.3bp. Asia ex-Japan CDS spreads widened 2.3bp.
The German IFO Business expectations and business climate marginally missed expectations at 98.8 and 100.4. The Italian Consumer Confidence Index rose to 119.6 for September vs. 116.2 in August and beat expectations of 115.8. 
---
Starting on Monday | 8 Module Masterclass on Bonds
Just three days to go! Sign up for the upcoming 8-module course starting on Monday, September 27, designed & curated to help develop a comprehensive understanding of bonds along with practical and actionable insights on how to trade and advise on bonds better. The course will be conducted via Zoom by senior debt capital market bankers on 27-30 September and 4-7 October (Monday-Thursday) at 5pm Singapore / 1pm Dubai / 10am London.
The modules will cover

bond valuation and risk

,

portfolio and leverage

,

AT1 bonds

,

high yield bonds

,

ESG

bonds

and more.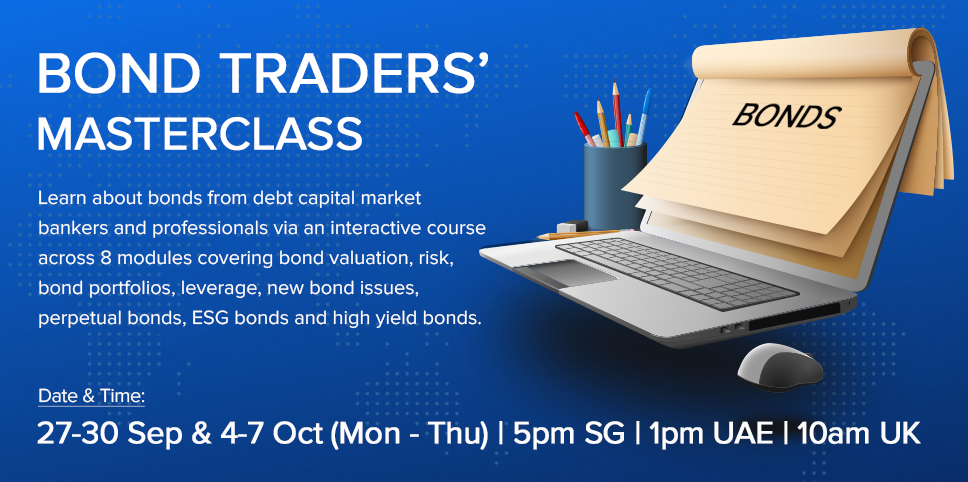 Attendees on a trial plan will receive a 1-month complimentary Premium subscription to the BondEvalue App and attendees with a current subscription will receive a 1-month free one-tier plan upgrade. All attendees will also receive a certificate, presentations materials and 14-days access to video recordings to re-watch the sessions.
---
New Bond Issues
Frasers Property AHL S$ 100mn tap of 3% 2028 sustainability @ 100% final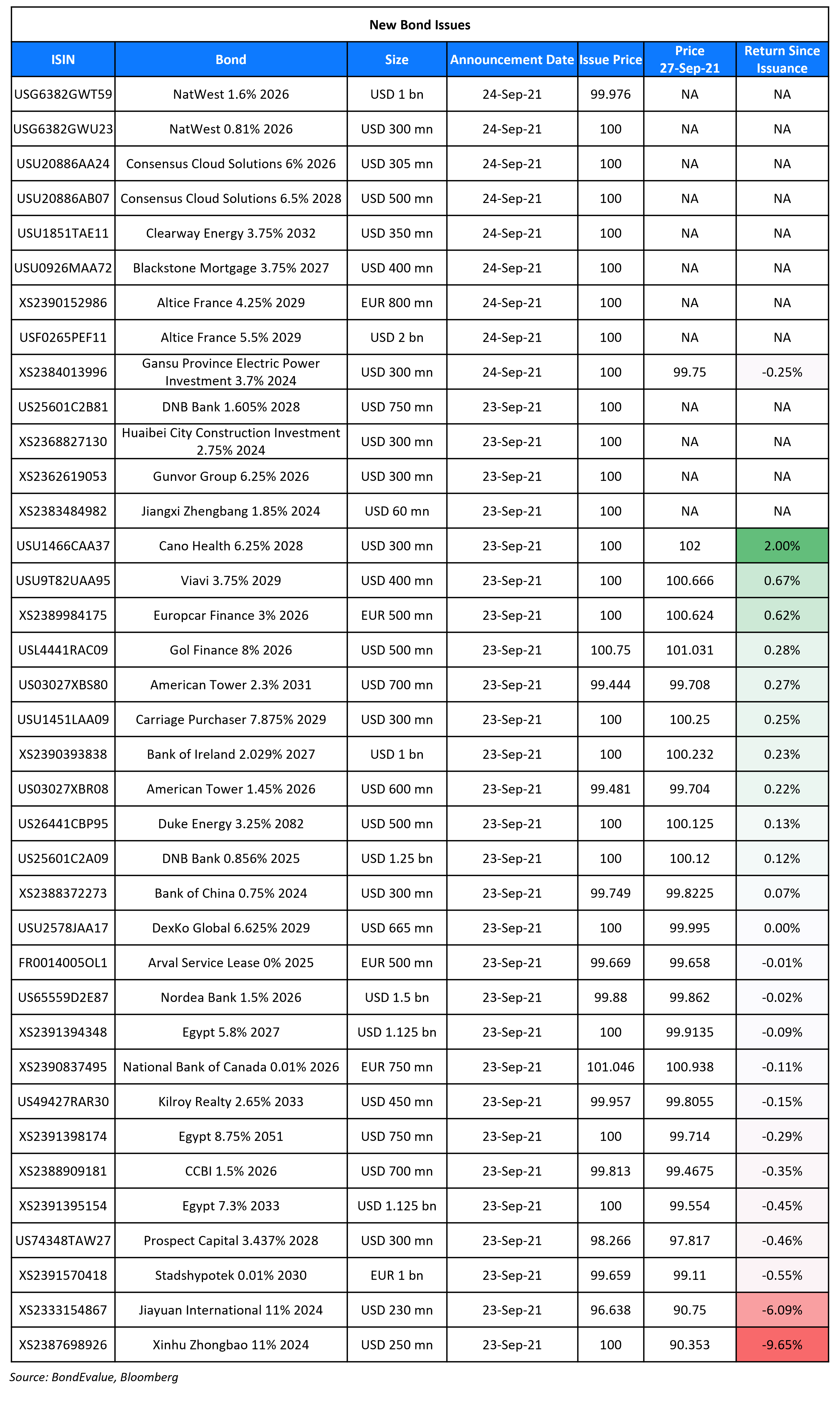 NatWest Markets raised $1.3bn via a two-tranche deal. It raised $1bn via a 5Y bond at a yield of 1.605%, 20bp inside initial guidance of T+85bp. It also raised $300mn via a 5Y FRN bond at a yield of 0.81% or SOFR+76bp vs initial guidance of SOFR equivalent. The bonds have expected ratings of A2/A-/A+. Proceeds will be used for general corporate purposes.
Gansu Province Electric Power Investment raised $300mn via a 3Y bond at a yield of 3.7%, 40bp inside initial guidance of 4.1% area. The bonds have expected ratings of Baa3/BBB– (Moody's/Fitch), in line with issuer rating, and received orders over $1bn, 3.3x issue size. The issuer invests in and controls a number of specialized investment and financing companies in various industries, with a primary focus on the power generation business. Proceeds will be used for onshore debt refinancing, working capital and other general corporate purposes.
New Bonds Pipeline
Clover Aviation Capital hires for $ bond
Apicorp hires for $ 5Y green bond
Dat Xanh Group hires for $ debut bond
Helenbergh China hires for $ 270 mn 2Y green bond
GD-HKGBA Holdings hires for $ 2Y bond
NH Investment & Securities hires for $ 5Y bond
Chengdu Xingcheng Investment hires for $ green bond

AVIC International Leasing hires for $ 3Y bond

NBN hires for $ 3/5.25/10.25Y bond
Rating Changes
Term of the Day
Fo
reign Currency Convertible Bond
A Foreign Currency Convertible Bond (FCCB) is a type of convertible bond issued in any other than the issuer's local currency. As with convertible bonds, investors receive not only interest and principal payments, but also have the option to convert their bonds into stock. Issuers find FCCBs beneficial as coupons are generally lower and could reduce debt if it gets converted into equity. For investors, they can participate in any price appreciation in the issuer's stock upon conversion besides or alternatively get a fixed return. Reliance Infrastructure is set to raise INR 7.5bn via FCCBs.
Talking Heads
On the longer timeline for bond market to prepare for rule revision following uproar from bond dealers
Michael Decker, senior vice president of federal policy and research at the Bond Dealers of America
"We certainly welcome the three-month extension. Without it, you simply would have had a rule with no compliance," Decker said. "Trying to squeeze fixed-income into the rule as it exists now would create a lot of problems."
Hester Peirce, SEC Commissioner
"I acknowledge that I thought of the rule's application only in the OTC equity context." "Nobody seems to have contemplated that this rule would affect the fixed-income markets in a way different from the pre-amendment version of the rule, much less that its requirements potentially would render unviable certain recent technological innovations in trading."
John McClain, a high-yield bond portfolio manager at Brandywine
"Any type of ruling that would run counter to functioning bond markets wouldn't make a lot of sense to us," McClain said. "I don't see regulators really having a lot of teeth behind the kind of stuff that would gum up bond market liquidity."
"We're there for the opportunities, we're there for the long term." "It's not a Lehman moment for sure for China," he said. "The Chinese government has a lot of tools to deal with this if they decided to do that." "We're very bullish on the U.S. economy, we know all that's happening in the world may dampen growth but we see good growth coming," Alardhi said. "We still see strong fundamentals and lot of capital going into them," Alardhi said. "Good growth of rent, good occupancy, resilient during Covid and we continue to do more of that."
On Peru's possible bond issuance after wooing foreign investors 
Pedro Francke, Peru's Minister of Economy and Finance
"I think the meetings [in the US] have been useful to clear up their doubts about the political scenario which some were worried about, that's their main concern." "I think the explanations we gave strongly dissipated the doubts the investors had." "It's possible that we see an opportunity which suits us, in which case we'll take it," Francke said. ". . . . There seems to be quite an appetite among buyers for Peruvian bonds, that was quite clear in . . . all the meetings we had". "Fiscal sustainability should not be something of the left or the right," Francke said. "It's something reasonable, it's good economic management, just like keeping low inflation." "We want to do a tax reform, cut tax evasion, raise fiscal revenues and in that way be able to make a big effort in education, in health, in basic infrastructure for rural areas, in the Andes and the jungle, where there's a lot of discrimination, lots of inequality and lots of poverty," Francke explained. "That's our agenda for change".
Pedro Castillo, President of Peru
"We have not come here to scare off capital investment. Go invest in Peru confidently, without doubt and fear."
Graham Stock, emerging markets sovereign debt strategist at BlueBay Asset Management
"It is generally expected that Peru will issue in the near future . . . and I think there will be decent demand," he said. "But the uncertainty over the outlook may still mean that they have to offer a larger new issue premium to investors than normal for a high-grade sovereign."
Top Gainers & Losers – 27-Sep-21*