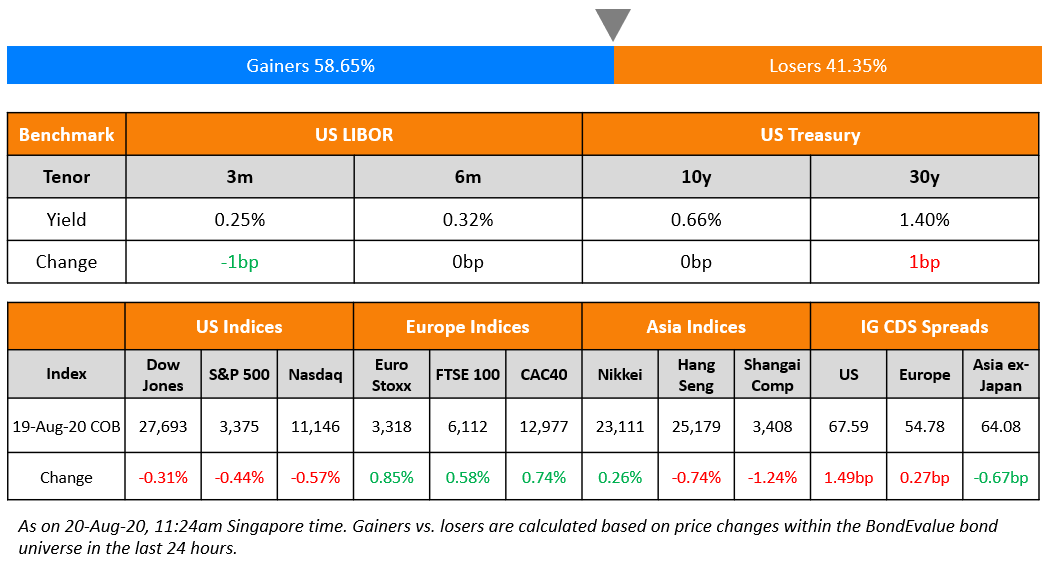 Wall Street lost ground after the Fed minutes came out last night that dampened optimism about the economic rebound for the second quarter. The minutes warned that the recovery path was uncertain and only a broad and sustained reopening of business activity would create further substantial improvement in the labor market. S&P and Nasdaq came off their intraday record highs while the DJI held up a little better and declined less. US treasuries lost ground despite the risk-off sentiment after the Fed ruled out more monetary stimulus including yield curve control, in the near term at least. US and Europe IG CDS spreads widened a tad and Asian dollar bond spreads have widened a few basis points this week and if sustained, could lead to the first week of increase since April. Asian markets are opening lower this morning along with US index futures, which are down a further 0.5%.

New Bond Issues
Hongkong Electric $ 10yr @ T+160bp area
RCBC $ 300 mio Perp NC5 AT1 @ 6.75% area
Nan Fung $ 10yr benchmark @ T+345bp area
China Jianyin Investment $ 5/10yr @ T+180/210bp area
Shaanxi Xixian New Area Airport $ tap 6.5% 2023 final @ 6.5%
Nanjing Jiangbei New Area Industrial $ 200 mio 364-day @ 4.15% area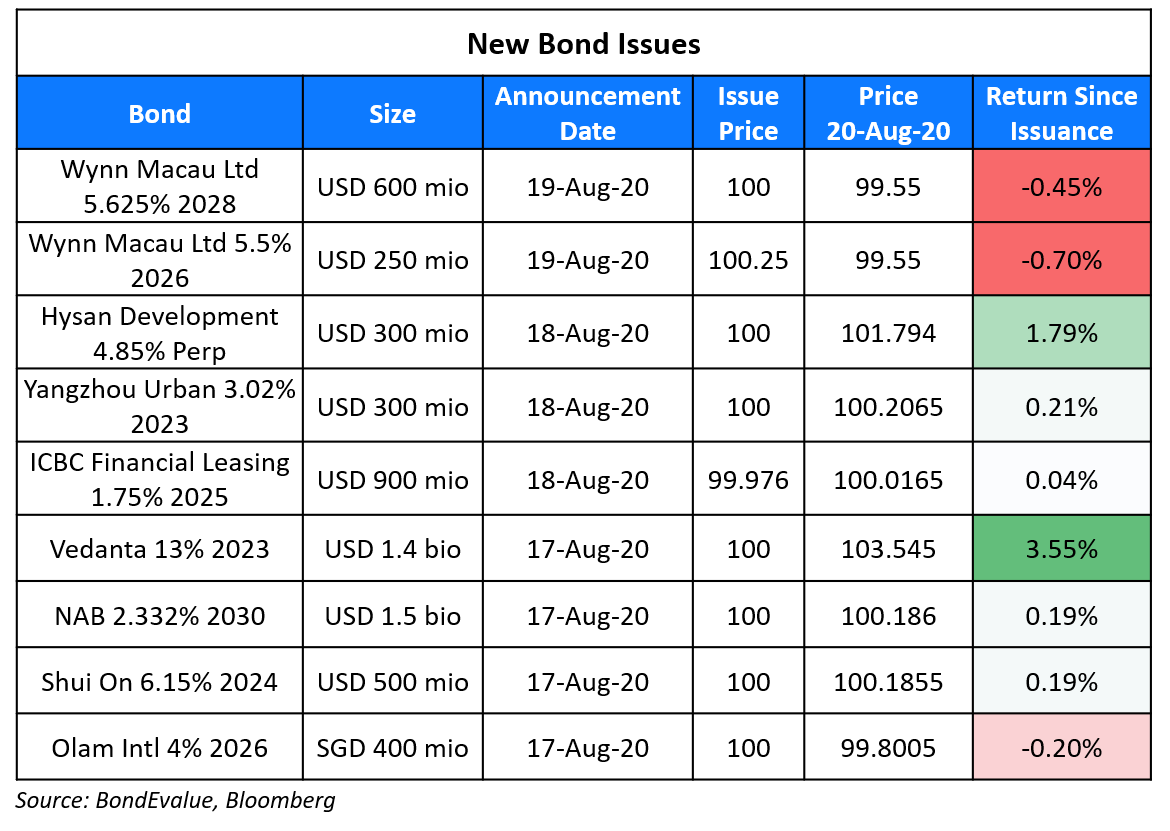 Casino resort operator Wynn Macau raised $850m via dual-tranche bond offering. It raised $600mn via 8Y non-call 3Y (8NC3) to yield 5.625%, 12.5bp inside initial price talk of 5.75% area. It also raised $250mn via a tap of its 5.5% 2026s to yield 5.443%, 5.7bp inside initial guidance of 5.5% area. This brings the total outstanding on the 2026s to $1bn. The bonds, with expected ratings of B1/BB-, received total orders exceeding $1.7bn by 3pm Hong Kong time on Wednesday, 2x issue size. The existing 2026 bonds are currently trading at 100.5, yielding 5.38% on the secondary markets.
Rating Changes
Fitch Downgrades GOL's IDR to 'CCC-'
Fitch Upgrades Frontera's IDR to 'B'; Outlook Stable
Moody's downgrades Cinemark's CFR to B3 following issuance of new convertible notes; outlook remains negative
Forum Energy Technologies Inc. Issuer Credit Rating Raised To 'CCC+' Following Debt Exchange; Outlook Negative
Fitch Affirms Gran Tierra's IDR at 'CCC'; Rating Watch Negative Removed
B&G Foods Inc. Outlook Revised To Stable On Continued Significant Product Demand And Credit Metrics Improvement
L Brands Bonds Rise on Better Than Expected Profits
Victoria's Secret parent L Brands surprised the markets by posting better than expected profits in Q2. Even though the top line was much lower than the $2.9bn reported last year, it surpassed the expected $2.21bn by ~5%. L Brands generated $2.32bn in revenue and ended with a cash balance of $2.6bn for the quarter. Gross sales of the company have suffered as a result of the closure of the company's stores due to the pandemic. The worst seems to be over as far as the complete closure of the stores is concerned as many Bath & Body Works and Victoria's Secret stores have reopened in North America. The strong earnings brought cheers to investors and sent the company's bonds and shares up in after hours trading before settling down to marginally higher levels. The company's management said "As you know, the majority of our sales and profits for the year occur in the fourth quarter," and added "Given the traffic constraints imposed by social distancing protocols in stores and capacity restraints in our direct channel distribution centers, we have a very cautious outlook about our ability to manage our typical holiday volumes, which are about three times larger per week than the average week in the second quarter historically." L Brands' 5.25% and 6.95% bonds due 2028 and 2033 traded up by ~2% on Wednesday to 94.3 and 86.6 cents on the dollar.
For the full story, click here
NMC Administrators Closer to Uncovering Most of Its Hidden Debt
Middle East hospital operator NMC Health's administrators said in an interview on Wednesday that they are closer to uncovering the entire hidden debt pile of the struggling company. This comes five months after the company collapsed on revelations of an accounting scandal at the company that shrunk its US-based ADR market cap from $5bn at the start of the year to $57mn currently, an erosion of ~99%. Marija Simovic, managing director at Alvarez & Marsal, the restructuring specialist appointed as joint administrators said, "Do we believe a majority of it has been identified? Yes. Is it 100%? No". NMC is currently in the process of turning around its business by focusing on its UAE- and Oman-based operations and a sale of its non-core international subsidiaries. The non-core businesses include its fertility business that has garnered interest from over 70 suitors across the globe. Michael Davis, acting CEO of NMC Health said in the same interview, "The message is still that this is not a fire sale, this is a global IVF platform, of which only a few exist in the world". NMC's dollar 5.95% sukuk due 2023 fell from ~100 levels in early February to 15 cents on the dollar currently.
For the full story, click here
Emperor International Launches Exchange Offer on 2021s
Hong Kong based property developer Emperor International Holdings announced an exchange offer for its $200mn 4% bonds due 2021. The new bonds will have a tenor of 3Y and a minimum yield of 4% with the final yield expected to be announced "on or around 27 August 2020" as per the exchange filing. The existing outstanding bonds are currently trading at 96.9 cents on the dollar, yielding 7% on the secondary markets. The company also announced a concurrent offering of additional new bonds that will be on the same terms as the new bonds to be exchanged with the existing 2021s. The exchange offer commences today and will expire at 4pm London time on August 26.
For the full story, click here
China Minsheng Inv Subsidiary Seeks Consent to Extend Dollar Bond Maturity
China Minsheng Investment Group's (CMIG) subsidiary, Boom Up Investments has announced a new proposal for amending terms on its $420mn 3.8% bonds due on August 2 that were not redeemed on the maturity date. The bonds, which carry a keepwell agreement as well as a liquidity support deed from CMIG, were originally to be redeemed in August 2019 but got bondholder approval to extend maturity by a year. The issuer once again launched a consent solicitation on July 24 seeking to:
Extend maturity by a year to August 2, 2021
Repay $50mn of principal on December 31, 2020 and $50mn on June 30, 2021 plus accrued interest
Get a waiver on the event of default
The issuer failed to win bondholder approval in a meeting on August 19, on the back of which it has launched another consent solicitation seeking to:
Extend maturity by a year to August 2, 2021
Repay $100mn of principal on December 31, 2021, $50mn on March 31, 2021 and $150mn on June 30, 2021 pus accrued interest
Get a waiver on the event of default
The revised offer is set to expire at 5pm Hong Kong time on September 8. The exchange filing stated that CMI, along with its subsidiaries, is working on collecting proceeds from asset sales in order to fund the partial redemption of the bonds under the newly proposed terms. The $420mn 3.8% bonds are currently trading at ~69 cents on the dollar on the secondary markets.
For the full story, click here
Term of the Day
Dividend Pusher
Dividend pushers are a common covenant seen in perpetual bonds issued by both banks and corporates that require the issuer to make a coupon payment if it has paid a dividend on its shares. These covenants can be found in a bond's prospectus or offering circular. Dividend pushers are included in a bond's terms to provide confidence to bond investors that they would be paid coupons if the issuer's stockholders are paid a dividend.
Dividend pushers are sometimes used along with dividend stoppers, which prohibit issuers from paying a dividend on its stock if it has not made a coupon payment on its perpetual bonds.
Talking Heads
On the Fed's skepticism of yield curve control
Aneta Markowska and Thomas Simons, Jefferies economists
"The biggest surprise in today's minutes was the tone shift surrounding yield curve caps," said Markowska and Simons, who described the minutes as appearing to "pour a bucket of cold water" on the idea.
Michael Kushma, chief investment officer of global fixed income at Morgan Stanley Investment Management
"They did basically dismiss it as a near-term policy instrument," said Kushma. They appeared to say "we don't really need it because we can achieve our objectives without it."
On loan administrative agents' role after the Citigroup-Brigade tussle over the accidental $900mn payment
Elisabeth de Fontenay, a professor at Duke University School of Law and a former corporate lawyer
"Legally speaking, the administrative agent is supposed to be passive and not take sides, reverting to an almost clerical role. But that is often not the reality at all. There is something behind the market feeling that admin agents favor the borrower. It is largely because they get such high fees for arranging these transactions — they want to curry favor.
Enam Hoque, an analyst at Moody's Investors Service
"This will be a wake up call to agent banks. Is it worth being in this predicament where you are caught in the middle between sophisticated lenders and borrowers? I wouldn't be surprised if this has some shock waves."
On the doubling of default rate of Europe's junk debt – in a report by S&P analysts
"The pace of credit deterioration in the first half of the year as a result of the COVID-19 pandemic and subsequent social-distancing measures was the most pronounced in the history of speculative-grade European corporates that we rate," S&P analysts wrote in a report.
On the launch of the first blockchain-based bond exchange – Rahul Banerjee, founder of BondEvalue
"Most people focus on the institutional side of the market," Mr Banerjee said. "I want the not-so-wealthy to invest like the wealthy. To Me, it's unfair if you have US$100,000 and you can't buy a bond."
Top Gainers & Losers – 20-Aug-20*