US Treasury yields jumped higher by 5-8bp after the ISM report surprised expectations on the upside. The peak Fed Funds rate moved 7bp higher to 5.01% for the May 2023 meeting. The ISM services PMI rose 2.1 points last month, to 56.5, higher than the surveyed 53.5 print alongside a 1% increase in factory orders in October, both of which indicate continued strength in the economy. The probability of a 50bp hike at the FOMC's December meeting remains steady at 77%. US IG and HY CDS spreads widened 2.5bp and 14.8bp respectively. US equity markets ended lower with S&P down 1.8% and Nasdaq down 1.9%. 
European equity markets ended lower. EU Main CDS spreads widened 2.2bp and Crossover spreads widened by 13.8bp. Asian equity markets have opened lower today. Asia ex-Japan CDS spreads tightened by 4.6bp.

---
---

New Bond Issues

RBC raised $1.25bn via a 3Y covered bond at a yield of 4.784%, unchanged from initial guidance of SOFR MS+85bp area. The secured bonds have expected ratings of Aaa/AAA. Proceeds will be used for general corporate purposes.
New Bonds Pipeline
Korea Investment & Securities hires for $ Green bond

Zhongrong International Trust hires for $367mn Short 1Y bond
Rating Changes
Term of the Day
Restructuring Support Agreement
A Restructuring Support Agreement (RSA) is a preliminary reorganization plan formed between the debtor and key institutional creditors who typically have a higher position in the capital structure. The RSA is a written contract that details an agreed upon framework for the treatment of debt and a timeline for the company's reorganization. An RSA allows the parties involved to negotiate and agree upon the terms of the treatment of claims and the course of the bankruptcy process. This helps in reducing the uncertainty for both debtors and creditors with respect to bankruptcy proceedings.
China Fortune Land Development (CFLD) said that holders of 84% of its outstanding dollar bonds have agreed to its restructuring support agreement. 
Talking Heads
On Credit Suisse's business being stable – Credit Suisse Chairman, Axel Lehmann
"Thankfully, the outflows have stabilised. When you have a capital raising, which has a big dilution effect, that creates a lot of uncertainty and that leads to high volatility… But I believe the situation has calmed. The business is definitely stable. It's true, the whole group will not be profitable next year…. What is the earnings power of the Swiss business, wealth management, asset management and the part of the investment bank we retain, and then from 2024 produce positive numbers."
On High Global Debt Making Rate Hikes Trickier –  BIS's Borio
"One aspect which is complicating that task is the fact that we have very high debt levels around the world, both public and private…suggests that the economy is more sensitive to increases in interest rates, but we don't quite know how sensitive it is… he simple answer is: One is closer than one has been in the beginning, but we don't know exactly how far central banks will have to go"
On Calls On Banks to Remain Cautious on Buybacks – ECB's Villeroy
"Nothing appears to justify today a general restriction on dividend distribution, like was temporarily the case in 2020. Nevertheless, caution remains necessary for all in terms of future capital trajectories, and in particular regarding share buybacks which are submitted to an explicit authorization from the supervisor… In 2023, the economic slowdown calls for a balanced macro-prudential policy"
Top Gainers & Losers – 06-December
-22*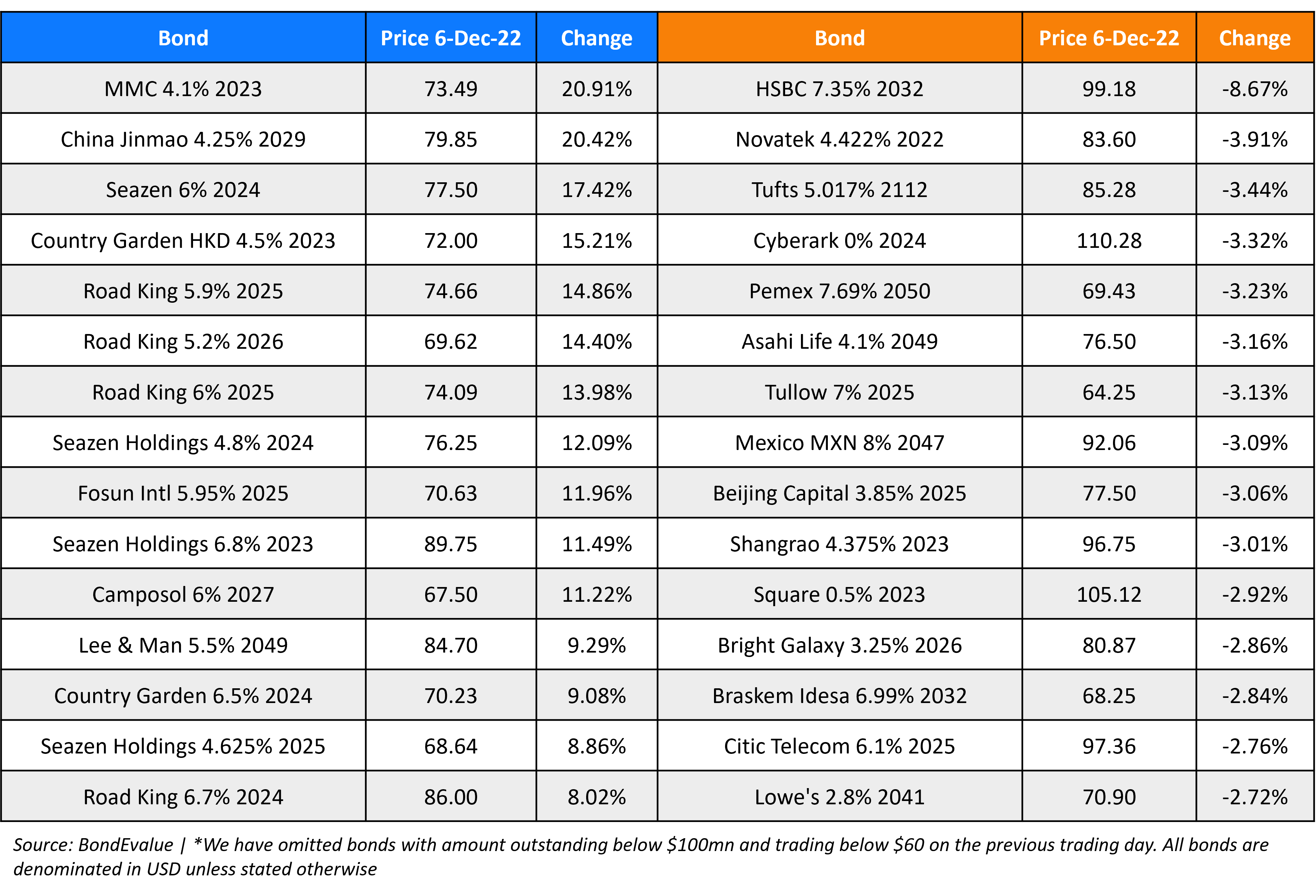 Other Stories
Singapore's Olam Agri secures US$2b for parent's reorganisation