US Treasuries yields moved higher yesterday.  The peak fed funds rate was up 3bp to 5.03% for the June 2023 meeting. The probability of a 25bp hike at the FOMC's February 2023 meeting stands at 60%, down from 68% yesterday. US ADP data showed a 235k increase in jobs in December, almost twice November's level of 127k, with all eyes now focusing on the non-farm payrolls (NFP) print which is expected at 202k. US equity markets ended lower, with the S&P and Nasdaq down 1.2% and 1.5% respectively. US IG and HY CDS spreads were 0.3bp and 4.6bp wider. 
European equity markets ended mixed. The European main and crossover CDS spreads widened by 1.7bp and 8.6bp respectively. Asian equity markets have opened higher today. Asia ex-Japan CDS spreads tightened by 0.6bp.
New Bond Issues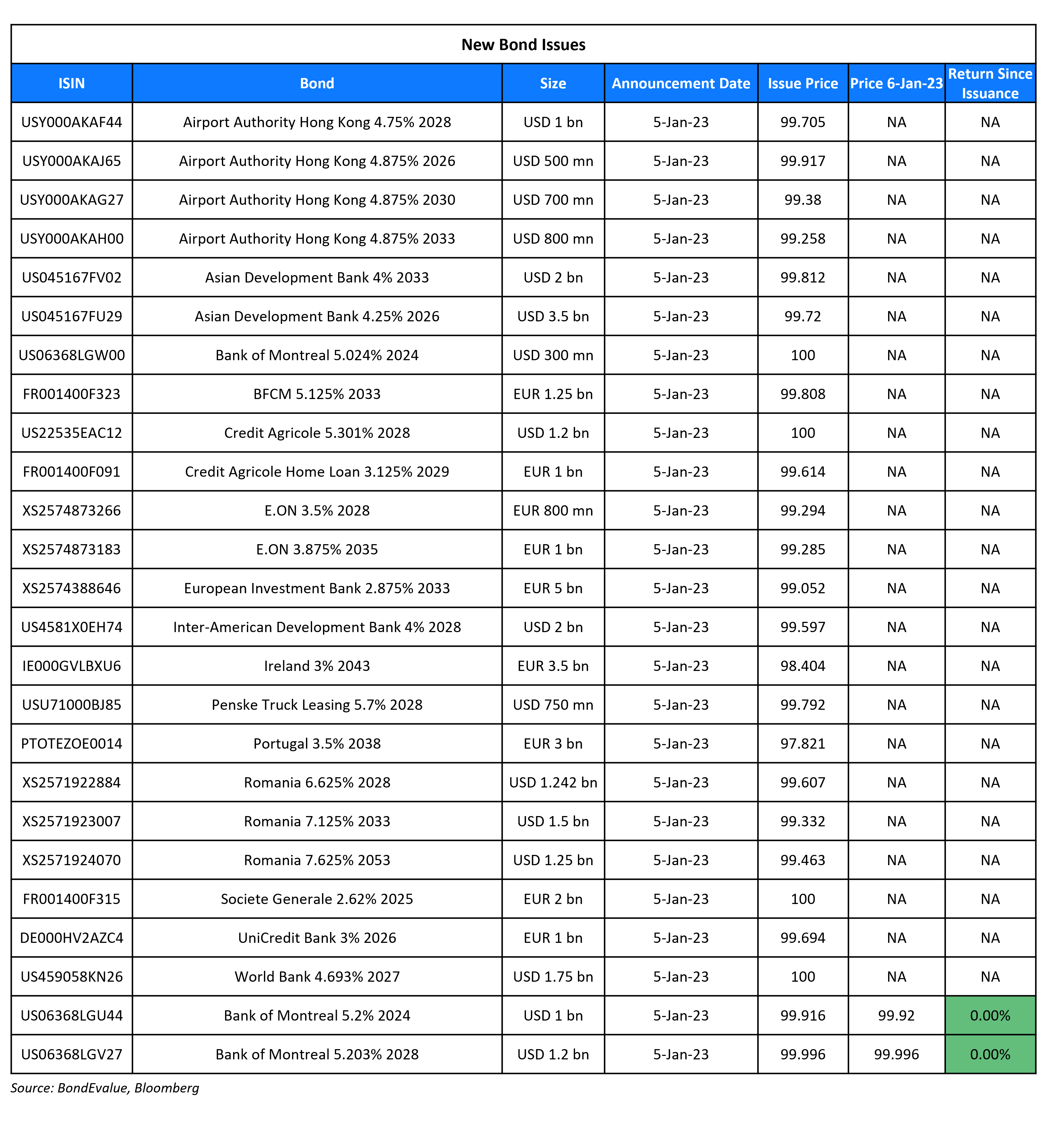 Airport Authority Hong Kong (AAHK) raised $3bn via a four-tranche deal. Details are in the table below:

The senior unsecured bonds have expected ratings of AA+. Proceeds from the 5Y green tranche will be used to (re)finance eligible green projects. Proceeds from other tranches will be used to fund capital expenditure and for general corporate purposes.
Credit Agricole raised $1.2bn via a 5.5Y bond at a yield of 5.301%, 25bp inside initial guidance of T+165bp area. The senior preferred bonds have expected ratings of Aa3/A+/AA-. Proceeds will be used for general funding purposes.
New Bonds Pipeline
Woori Bank hires for $ 3Y Sustainability or 5Y Sustainability bond
Sunny Optical Technology mandates for $ 3.5Y/5Y SLB
SK Hynix Plans $ 3Y, 5Y SLB and/or 10Y Green
Rating Changes
Term of the Day
New Issue Premium
A new issue premium refers to the incremental higher yield (yield premium) on an issuer's newly issued bond over bonds by the same issuer with a similar maturity. A newly issued bond by an issuer typically offers a higher yield to its own comparable bond to entice investor demand in the security. Sometimes, if an issuer does not have a comparable bond with a similar maturity, but does have a yield curve (i.e., other bonds issued across different maturities), analysts can interpolate and arrive at an estimated yield for a hypothetical comparable. However, while new issue premiums are typically the case, it is not necessary that an issuer's new bond would always have a new issue premium.
Indonesia raised a $3bn via a three-trancher yesterday. Their 3Y bond was priced at a yield of 4.80%, a new issue premium of 29bp over its older 4.55% sukuk due March 2026 that yielded 4.51%.
Talking Heads
On 'It will be key to hold rates up' once hikes end – Fed's Esther George
Fed will need to lift a federal funds rate target now at between 4.25% and 4.5% to over 5% and stay there "for some time…until we get the signal that inflation is really convincingly starting to fall back toward our 2% goal."
On Goodbye to Negative-Yielding Debt as BOJ Shift Bites
"The fact that Japanese bonds have finally left negative territory underscores how important BOJ developments will be for global bond markets over the course of this year"
Prashant Newnaha, a rates strategist at TD Securities
On prospects for a U.S. soft landing rising – Fed's Bullard
FOMC "has taken aggressive action during 2022, with ongoing increases in the policy rate planned for 2023, and this has returned inflation expectations to a level consistent with the Fed's 2% inflation target… During 2023, actual inflation will likely follow inflation expectations to a lower level as the real economy normalizes… probability of a soft landing has increased compared to where it was in the fall of 2022"
Top Gainers & Losers – 06-January
-23*