US Treasury yields were a tad higher across the curve on Monday. The peak Fed funds rate was up 2bp at 4.93% for the June 2023 meeting. Markets now await the FOMC's Wednesday meeting for more clues on the Fed's rate hike path. While a 25bp hike is almost certain with a 99% probability, markets will keenly watch for comments on the future path of rates. The probability of a 25bp hike at the March meeting currently stands at 85%. US IG CDS spreads widened by 2.1bp while HY spreads were 11.9bp wider. The S&P and Nasdaq were down 1.3% and 2% respectively on Monday.
European equity markets ended lower too. The European main and crossover CDS spreads widened by 2.7bp and 10.5bp respectively. Asian equity markets have opened with a negative bias today. Asia ex-Japan CDS spreads were 4.3bp wider. China's residential sales fell by 14% YoY during the Lunar New Year week ending January 27.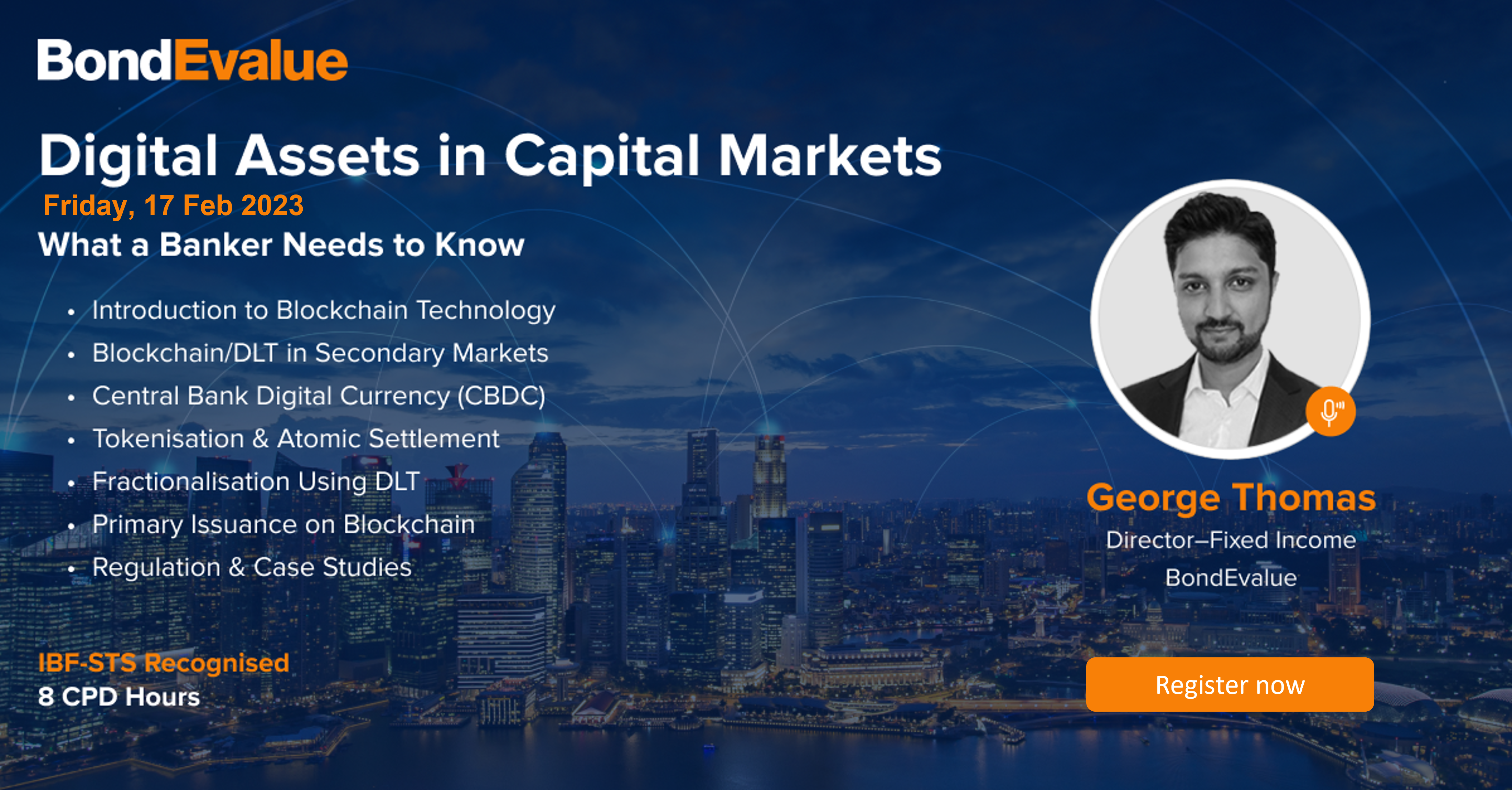 New Bond Issues

Commerzbank raised S$300mn via a 10.25NC5.25 Tier 2 bond at a yield of 5.7%, 42.5bp inside initial guidance of 6.125%. The bonds are rated Baa3, and received orders over S$2.2bn, 7.3x issue size. If not called, the coupon will reset on 3 May 2028 to the prevailing SORA plus the initial credit spread of 285.6bp. Commerzbank's last foray in the Singapore dollar bond market was in 2018 where it priced its S$400mn Tier 2 bond due 2028, callable in September this year, yielding 7.75% currently.
IBM raised ~$8.8bn via a nine-tranche deal as shown in the table below: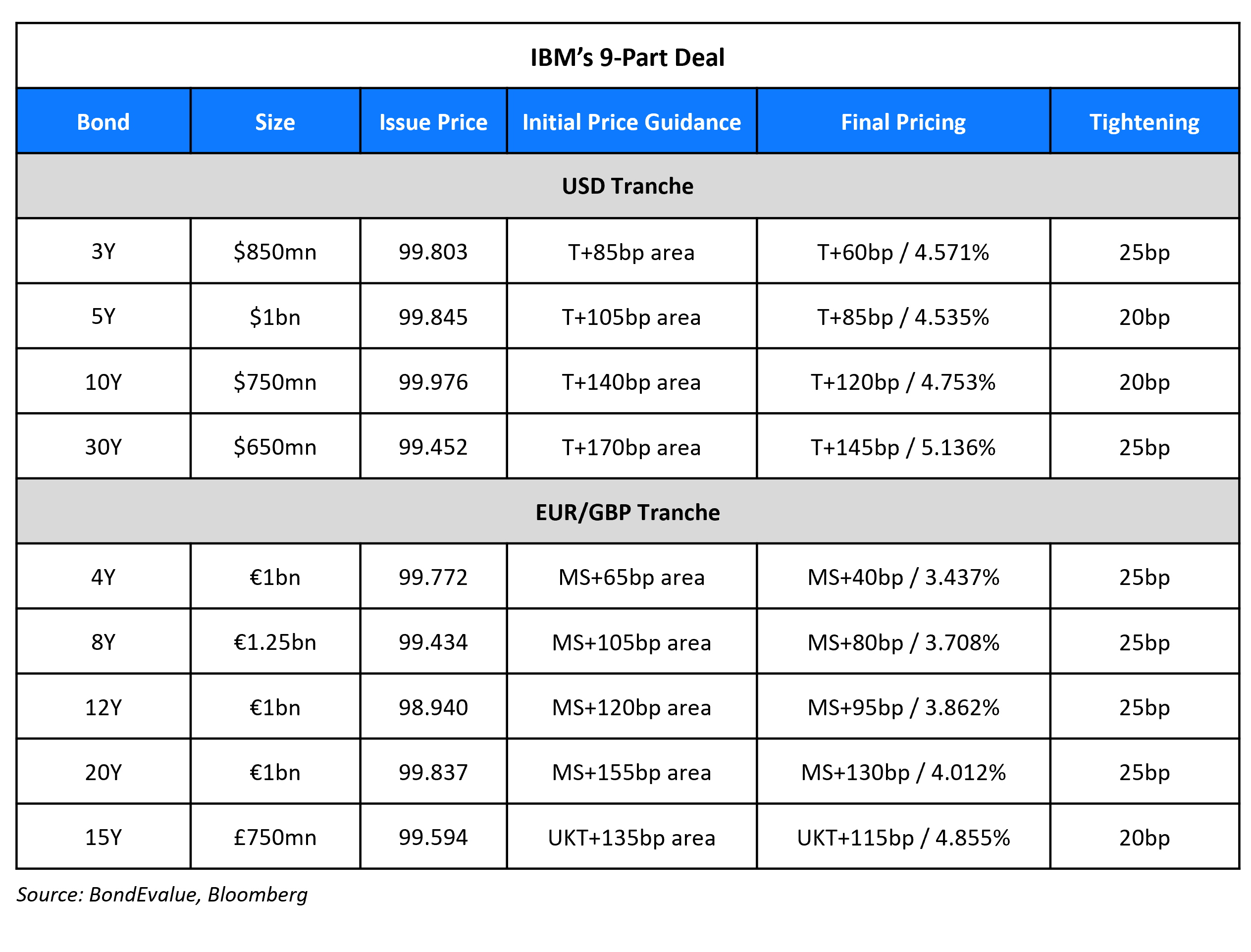 The senior unsecured bonds have expected ratings of A3/A-. Proceeds will be used for general corporate purposes.
Romania raised €2bn via a tap on two of its existing bonds. It raised:
€600mn via a tap of its Sep 2026s at a yield of 4.081%, 25bp inside initial guidance of MS+195bp area
€1.4bn via a tap of its Sep 2029s at a yield of 5.360%, 30bp inside initial guidance of MS+340bp area
The 2026 and 2029 bonds have existing ratings of Baa3/BBB-/BBB-.
New Bonds Pipeline
Khazanah Nasional Bhd hires for $ bond
Rating Changes
Term of the Day
Tier 2 Bond
Tier 2 bonds are debt instruments issued by banks to meet their regulatory tier 2 capital requirements. Tier 2 capital (and thus tier 2 bonds) rank senior to tier 1 capital, which consists of common equity tier 1 (CET1) and additional tier 1 (AT1) capital. CET1 consists of a bank's common shareholders' equity while AT1 consists of preferred shares and hybrid securities or perpetual bonds. Tier 2 capital consists of upper tier 2 and lower tier 2 wherein the former is considered riskier to the latter. From a bond investor's perspective, tier 2 bonds are senior, and therefore less risky, compared to AT1 bonds as AT1s would be the first to absorb losses in the event of a deterioration in bank capital.
Talking Heads
On Fed's words in focus as markets bet rate hikes will soon end
Karim Basta, III Capital Management's
"Does the word 'ongoing' really capture just two more hikes? It's a close call"
ING Chief International Economist James Knightley
"Any signal to the market that they are near to being done is just giving markets a green light that the next move is a rate cut. Why rock the boat? Why risk unsettling the situation?"
On Barclays turning bullish on European banks, downgrades utilities
"Given the move in rates thus far, banks are enjoying positive earnings momentum. Most recently, performance has finally started to pick up to reflect this, but we think there could be more to go given higher-for-longer rates but lower-than-feared provisions."
On Morgan Stanley Saying Not to Buy the Rally as Fed Looms
"Better price action in stocks has started to convince many investors they are missing something — compelling them to participate more actively. We think the recent price action is more a reflection of the seasonal January effect and short covering after a tough end to December… Secondly, investors seem to have forgotten the cardinal rule of 'Don't Fight the Fed.' Perhaps this week will serve as a reminder."
Top Gainers & Losers – 31-January
-23*