US Treasury yields jumped higher across the curve by over 9bp. The US National Economic Council Director Lael Brainard said that the debt ceiling talks were constructive ahead of the June deadline. On the data front, the Michigan Consumer Sentiment Index came at 57.7, much below expectations of a 63 print. The peak Fed Funds Rate rose 2bp to 5.08%. Markets continue to expect no change in Fed policy rates with an 82% probability. Equity indices closed lower with the S&P and Nasdaq down 0.2-0.4%. US IG and HY CDS spreads were almost flat.
European equity markets ended marginally higher. European main CDS spreads were 0.6bp tighter and crossover CDS spreads were 4bp tighter. Asia ex-Japan CDS spreads tightened by 0.8bp. Asian equity markets have opened broadly in the green today. Markets are keenly watching the Turkish Presidential election vote count with Erdogan said to be leading. However, neither candidate is expected to win an outright majority with expectations that the election will go to a second round run-off on May 28.
New Bond Issues
 Westpac $ 5Y covered bond at SOFR MS+97bp area

Mamoura raised $1.5bn via a two-part deal. It raised $1bn via a 10.5Y bond at a yield of 4.453%, 40bp inside initial guidance of T+145bp area. It also raised $500mn via a 30Y Formosa bond (Term of the Day, explained below) at a yield of 5.084%, 45bp inside initial guidance of T+180bp area. The bonds have expected ratings of Aa2/AA, and received orders over $18bn, 12x issue size.
New Bonds Pipeline
ST Engineering hires for $ 3Y bond
EDF hires for $ bond
BGK hires for $ 10Y bond
Korea Credit Guarantee Fund hires for $ 3Y Social bond
GS Caltex hires for bond
Rating Changes
WeWork Cos. LLC Upgraded To 'CCC+' From 'SD' Following Completion Of Distressed Exchange; Outlook Stable
Fitch Downgrades WeWork to 'RD'; Upgrades to 'CCC-'
Moody's downgrades Kenya's rating to B3 from B2 and places it on review for downgrade
Moody's changes outlook to positive for Anglo American; affirms ratings
Wynn Resorts Ltd. Outlook Revised To Positive From Negative On Stronger Macao Recovery, Faster Leverage Improvement
Term of the Day
Formosa Bonds
A Formosa bond is a bond that is issued in Taiwan by a foreign issuer that is denominated in a currency other than the New Taiwanese Dollar. It is a way for foreign issuers to raise capital in Taiwan. To qualify as a Formosa, borrowers must have credit ratings of BBB or higher. Formosa bonds are listed and traded on the Taipei Exchange.
Talking Heads
On The Fed Not Fully Taking Its 'Foot Off the Pedal – Loomis Sayles
"We believe that the Fed is going to be a little slower to react in cutting rates. The market's a little bit ahead of itself here… I think the Fed will absolutely pause at its next meeting… now we're looking at dollar prices that index averages are close to 90 cents on the dollar. So not only can you buy that bond at the 5% or the 8.5%, but you also have the potential to go up those 10 price points if there's any type of positive economic news or specific news."
On inflation 'insidious,' need to bring it down – Fed's Jefferson
"I also am aware that inflation is the most insidious of social diseases, and so it's important to try to get it down… care very much about how the labor market performs because for most people in the U.S. economy, their standing in the labor market will very much determine their station in life"
On disinflation prospects 'good' but not guaranteed – Fed's Bullard
"Monetary policy is now at the low end of what is arguably sufficiently restrictive given current macroeconomic conditions… the prospects for continued disinflation are good but not guaranteed"
Top Gainers & Losers – 15-
May
-23*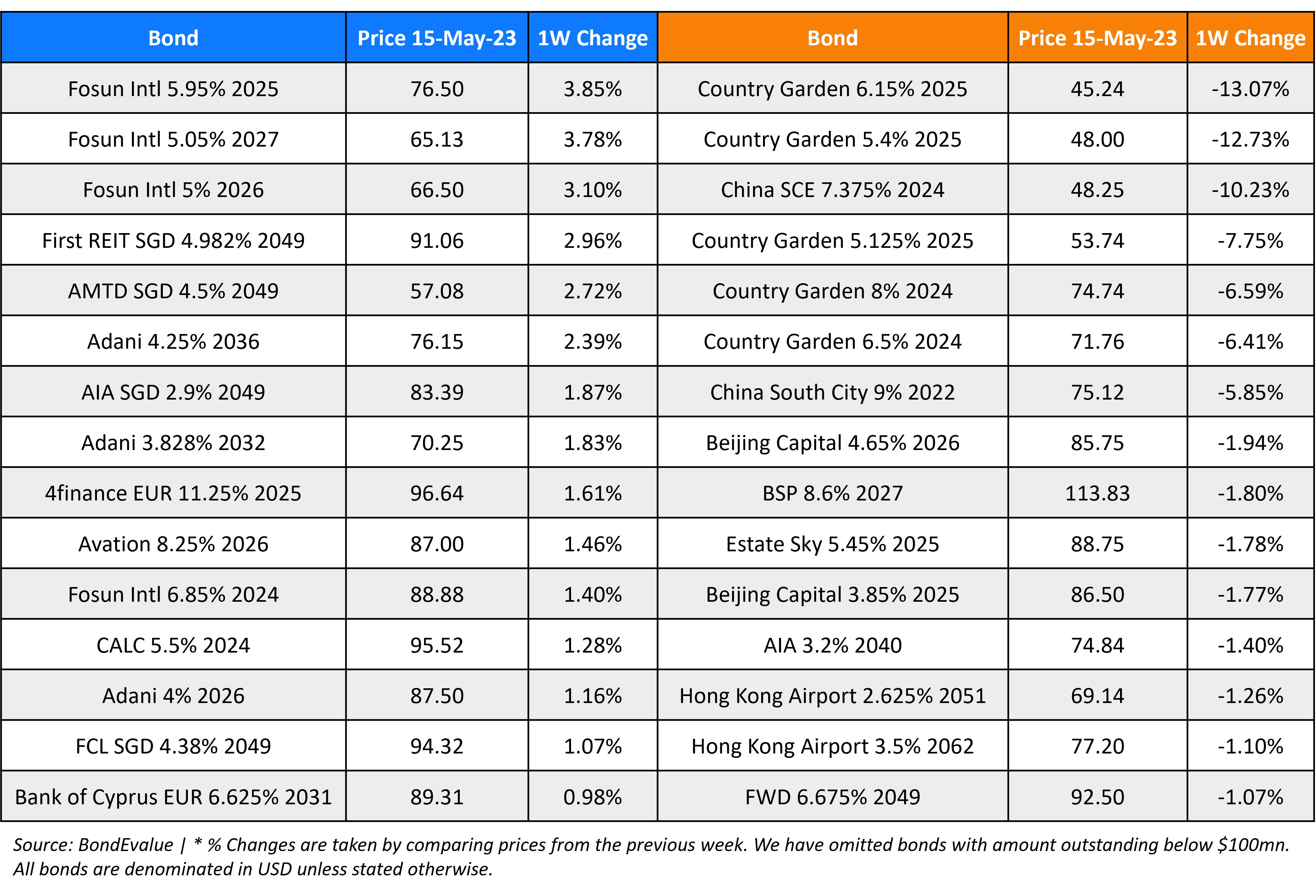 Other News
CDS committee accepts to hear question on Credit Suisse AT1 bonds