US equities rallied for a second day with the S&P and Nasdaq up 0.8% and and 1.1%. US 10Y Treasury yields shot up 5bp to 1.59%, with all eyes on the NFP report later today. Consumer Discretionary, Materials and Healthcare were up 1.2-1.5% while Utilities were the only sector in the red, down 0.5%.
European stocks saw a sharp rally after dropping a day earlier with the DAX, CAC and FTSE jumping 1.9%, 1.7% and 1.2%. Brazil's Bovespa was flat. In the Middle East, Saudi TASI was up 0.2%. Asian markets have opened slightly higher with the HSI up 0.05% and STI up 0.1% while the Nikkei was 2.2%. Shanghai equities have reopened after a week-long break, up 0.4%.
US IG CDS spreads and HY CDX spreads tightened 0.5bp and
0.9bp respectively. EU Main CDS spreads were 1.1bp tighter and Crossover CDS spreads tightened 7.2bp. Asia ex-Japan CDS spreads tightened 3.9bp.
US Senate leaders reached an agreement to temporarily extend the debt ceiling till December and prevent a US government default. The prior week's jobless claims in the US came at 326k, improving from the prior 364k and better than forecasts of 348k. German industrial production dropped 4%, worse than forecasts of -0.4%.
New Bond Issues
GD-HKGBA $ 2Y at 15.012% final
Taizhou Hailing City Development Group $ 364-day at 2% final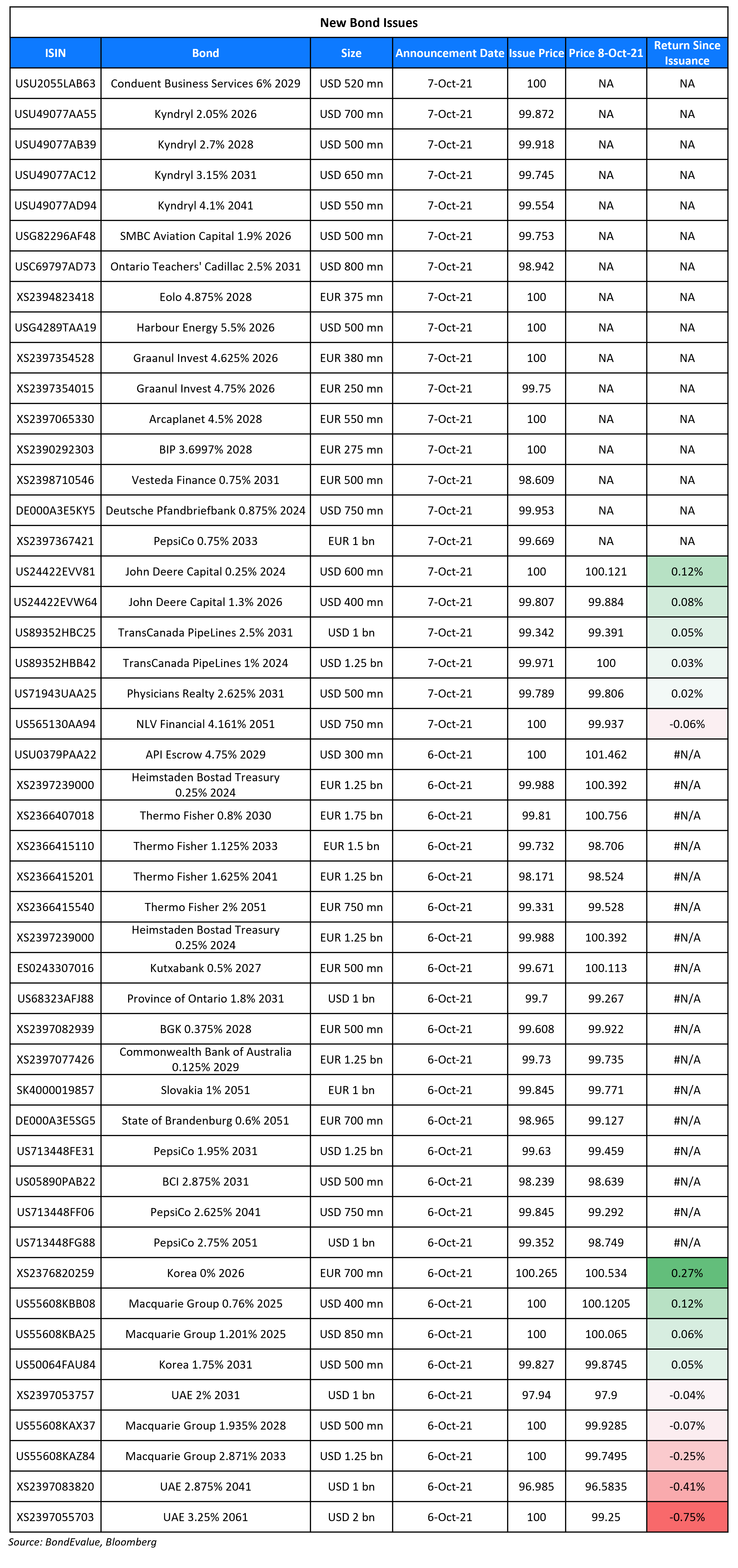 SMBC Aviation Capital raised $500mn via a 5Y bond at a yield of 1.952%, 17-22bp inside initial guidance of T+110/115bp area. The bonds have expected ratings of A- by both S&P and Fitch. Proceeds will be used for general corporate purposes, which may include the purchase of aircraft and debt repayment, among other purposes. The bonds will be issued by SMBC Aviation Capital Finance DAC and guaranteed by SMBC Aviation Capital.

New Bonds Pipeline
KEB Hana Bank hires for $ PerpNC5 sustainability AT1 bond

Tuan Sing hires for S$ bond
China plans for $4bn 3/5/10/30Y bond
Saigon-Hanoi Bank hires for $ bond
Burgan Bank hires for $500mn 6NC5 bond
Kexim hires for $/€ bond
Rating Changes
Term of the Day
Vulture Funds
Vulture funds are a a type of hedge fund that invests in distressed securities at highly discounted prices in the secondary market. These funds benefit by taking legal action against the issuers for recovering debt. In the past, vulture funds have had success in bringing recovery actions against sovereigns like Argentina, Puerto Rico and Congo. Mexican President AMLO made a reference to these funds recently while talking about the use of IMF SDR money to repay Pemex's debt. He said, "We spoke here about using resources that were being given to Mexico, that we were thinking about the possibility of buying bonds to pay debt, especially Pemex debt…Do you know what happened? The interest on Pemex bonds increased because of what are called vulture funds, which are speculative".
Talking Heads
On the rising risk of bonds and stocks falling in tandem – in a note by  JPMorgan strategists
"Indeed, the dollar features prominently in our client conversations about hedges with even long-only clients mentioning the usage of long dollar overlays as a way of hedging equity downside risk."
On bond investors piling back to short investments on wariness of convexity triggers – in a note by Bill O'Donnell, Citigroup Inc. strategist 
"Bond-bearish impulses remain in place." "Potentially extreme short-term positioning and sentiment setups could easily allow for a counter-trend correction under the right conditions," he said.
On Chinese property bonds tumbling again
Cheong Yin Chin, senior analyst covering Chinese corporates at debt-research firm CreditSights
"The risk-off sentiment is exacerbated by the default of Fantasia on Monday."
The extreme market reaction is likely due to "a mix of investors' fear of not knowing how China will handle Evergrande and more developers which might default."
Andrew Dewar, investment manager with a focus on Asian credit at GAM Investments
"The liquidity is quite low with China out on holiday, and the government hasn't stepped in. They're standing aside and letting things unwind." "The brokers are trying to find a floor, dropping the price down till someone takes a nibble."
Uday Patnaik, head of emerging market fixed income at Legal & General Investment Management
"I currently don't think the Chinese have a handle on this situation," he said. "It started with the Evergrande issue which wasn't properly ringfenced. Now it is a sector wide problem," he added.
On the view that Evergrande and other Chinese developers have sizeable off-balance sheet debt – according to JPMorgan analysts
"Instead of true deleveraging, we think Evergrande has shifted some of the interest-bearing debt to off-balance sheet debt." "Commercial papers, wealth management products and perpetual capital securities, etc, which are not officially counted as debt." "It is possible that the real gearing could be even higher, as data on some off-balance sheet debt is not publicly available."
"Unless market conditions improve over the coming weeks, funding stresses may deteriorate further and refinancing concerns could become a broader issue as we head into 2022" for Chinese high-yield issuers. Fantasia's default "raises the question whether funding difficulties among property developers are more severe than expected, and whether other developers are in similar difficult positions.
Top Gainers & Losers – 08-Oct-21*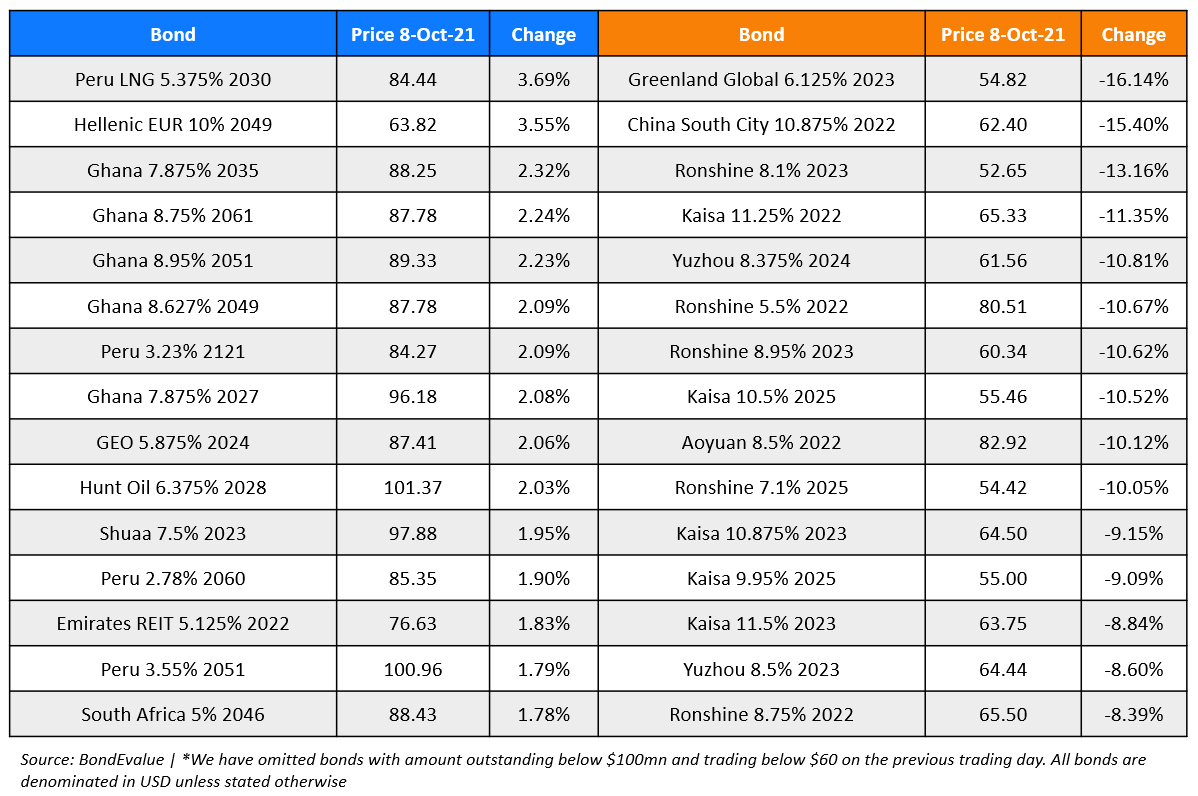 Other Stories: