It was a sea of red again on Monday with US equity markets ended lower again on Monday with the S&P and Nasdaq closing 3% and 3.6% lower each. Sectoral losses were led by Materials, Financials, IT, Consumer Discretionary and Communication Services, down  3.5%-5.0%. European markets ended lower again – the DAX, CAC and FTSE were down 2%, 1.3% and 0.4% respectively. US 10Y Treasury yields picked up by 4bp to 1.78%. Brazil's Bovespa ended 2.5% lower. In the Middle East, UAE's ADX was down 0.3% and Saudi TASI was almost unchanged. Asian markets have opened lower – Shanghai, HSI, STI and Nikkei were down 2%, 0.5%, 0.8% and 1.2% respectively. US IG CDS spreads widened 3.4bp and HY spreads were 19.2bp wider. EU Main CDS spreads were 4.6bp wider and Crossover CDS spreads were 21bp wider. Asia ex-Japan CDS spreads were 9.7bp wider.
The Bank of England (BoE) has begun its process of not reinvesting proceeds of maturing gilts, thus beginning the reduction of its £875bn ($1.2tn) in gilt holdings for the first time. The BoE's balance sheet saw an unwinding of £28bn ($37bn) in gilts, marking the reversal of its QE program beginning Monday.
---
Learn About Bonds from Senior Bankers | Starting 28 March
In the current environment marred by geopolitical concerns, impending rate hikes and crisis in China real estate, it is imperative for investors and advisors to be able to analyze bonds effectively. This course will help you do just that via 8 interactive sessions conducted live via Zoom by senior bankers starting 28 March. Click on the banner below to know more and to sign up.

---
New Bond Issues
Asian Development Bank (ADB) $ 2/7Y at MS+20/36bp area

Henan Railway Construction & Investment $ 5Y green at T+150bp area

HDB SGD 5Y green at 1.845% final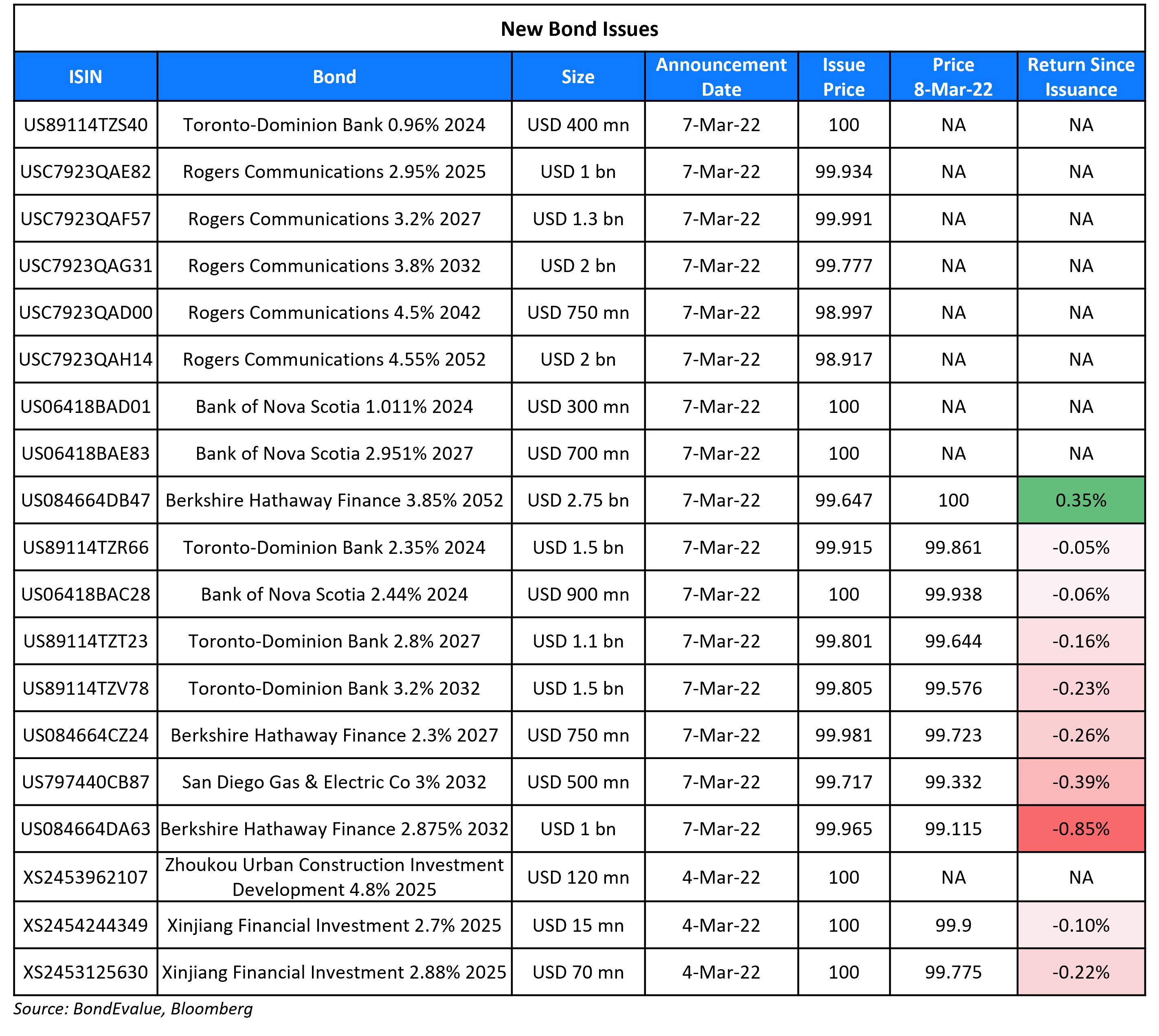 Berkshire Hathaway
raised $4.5bn in a three-part offering. It raised:
$750mn via a 5Y bond at a yield of 2.304%, 15bp inside initial guidance of T+75bp area
$1bn via a 10Y bond at a yield of 2.879%, 15bp inside initial guidance of T+125bp area
$2.75bn via a 30Y bond at a yield of 3.87%, 15bp inside initial guidance of T+180bp area
The SEC registered bonds (Term of the Day, explained below) are rated Aa2/AA.
Bank of Nova Scotia raised $1.9bn via a three-trancher. It raised:
$900mn via a 2Y bond at a yield of 2.44%, 10bp inside initial guidance of T+75bp area
$300mn via a 2Y FRN at a yield of SOFR+96bp vs. inside initial guidance of SOFR equivalent
$700mn via a 5Y bond at a yield of 2.951%, 10bp inside initial guidance of T+180bp area
The SEC registered bonds are rated A2/A-. Proceeds will be used for general corporate purposes. The bank dropped its 5Y tranche during guidance.
TD Bank raised $4.5bn via a four-tranche deal. Details are given in the table below:

Proceeds will be used for general corporate purposes. The new 10Y bonds are priced 45.3bp wider to its existing 3.625% 2031s that yield 2.77%.
New Bonds Pipeline
Shaoxing City Keqiao District State-owned Assets Investment hires for $ bond


Mumbai International Airport hires for $ bond

The Republic of the Philippines hires for $ bond
Aluminium Corporation of China hires for $ bond
Petron hires for $ 7NC4 bond
Electricity Generating (EGCO) hires for $ 7Y or 10Y bond
Rating Changes
Term of the Day
SEC Registered Bonds
As the name suggests, these are bonds registered with the US Securities and Exchange Commission (SEC). These are not to be confused with 144A bonds, which are privately placed, not SEC registered and have lesser documentation and are traded among Qualified Institutional Buyers (QIBs). Given 144As are restricted securities, they have resale and transfer restrictions that are not applicable for SEC-registered securities. Besides these, they also have a few other differences like being eligible for inclusion in bond indices like Barclays Aggregate Bond Index, no investment restrictions and no private placement restrictions on communications.
---
Explore BondbloX Kristals – a basket of single bonds listed on the BondbloX Exchange following themes such as SGD REIT Perps, USD Bank Perps, and SGD Bank Perps. Avail an introductory discount of $1,000 for every purchase of $100,000 worth of BondbloX Kristals*. Click on the banner above to know more.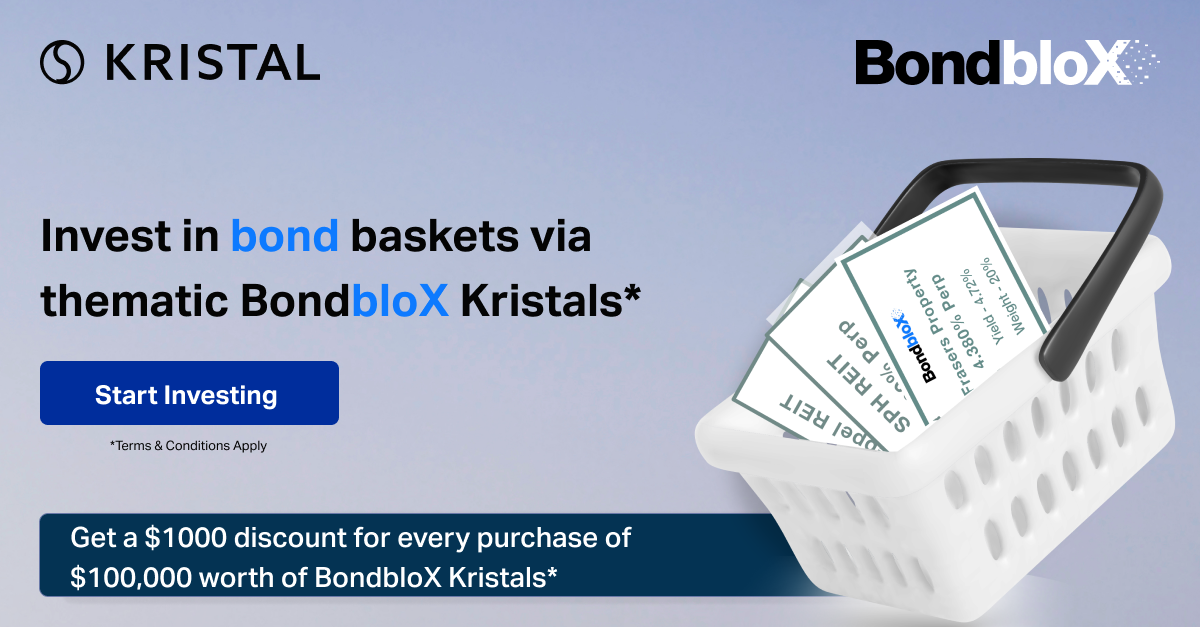 ---
Talking Heads
On Morgan Stanley Saying Russia's Set for Venezuela-Style Default
Simon Waever, global head of emerging-market sovereign credit strategy
"We see a default as the most likely scenario… In case of default, it is unlikely to be like a normal one, with Venezuela instead perhaps the most relevant comparison… The potential for significant further selling will put additional downside pressure on prices… We see very little incentive for any investor to step into Russian sovereign bonds at this point."
On Argentina government warning Congress not to block IMF deal
Economy Minister Martin Guzman
"It would generate a situation of deep exchange rate stress with inflationary and negative consequences on economic activity, employment and poverty"
Opposition legislator
"We have a point of agreement, not to push the country into default. We also agree on endorsing the refinancing of the debt with the IMF but we don't endorse the economic program."
On ESG At Crossroads After Investing in Putin's Russia
Clements-Hunt, founder of advisory firm Blended Capital Group
"ESG investors have failed. ESG is being used ineffectively… the obsession with easy money-making is overriding everything"
Philippe Zaouati, chief executive of Mirova
"Ukraine is one of the most important ESG issues we've ever had. It's a vital issue for energy and human rights, and questions whether we still want to live in a democracy or not"
Hortense Bioy, Morningstar's global head of sustainability research
"There are still people who inappropriately conflate sustainability and ethics. Sustainable and ESG funds aren't the same as ethical funds."
Felix Boudreault, managing partner at research firm Sustainable Market Strategies
"As an investor, you have to consider not just the company, but the environment in which they operate. And we are saying the same for China. It's uninvestable from any ESG perspective. By a strike of a pen, a bureaucrat in Beijing can really kind of wipe out an entire sector like they did with education technologies recently".
Top Gainers & Losers – 08-Mar-22*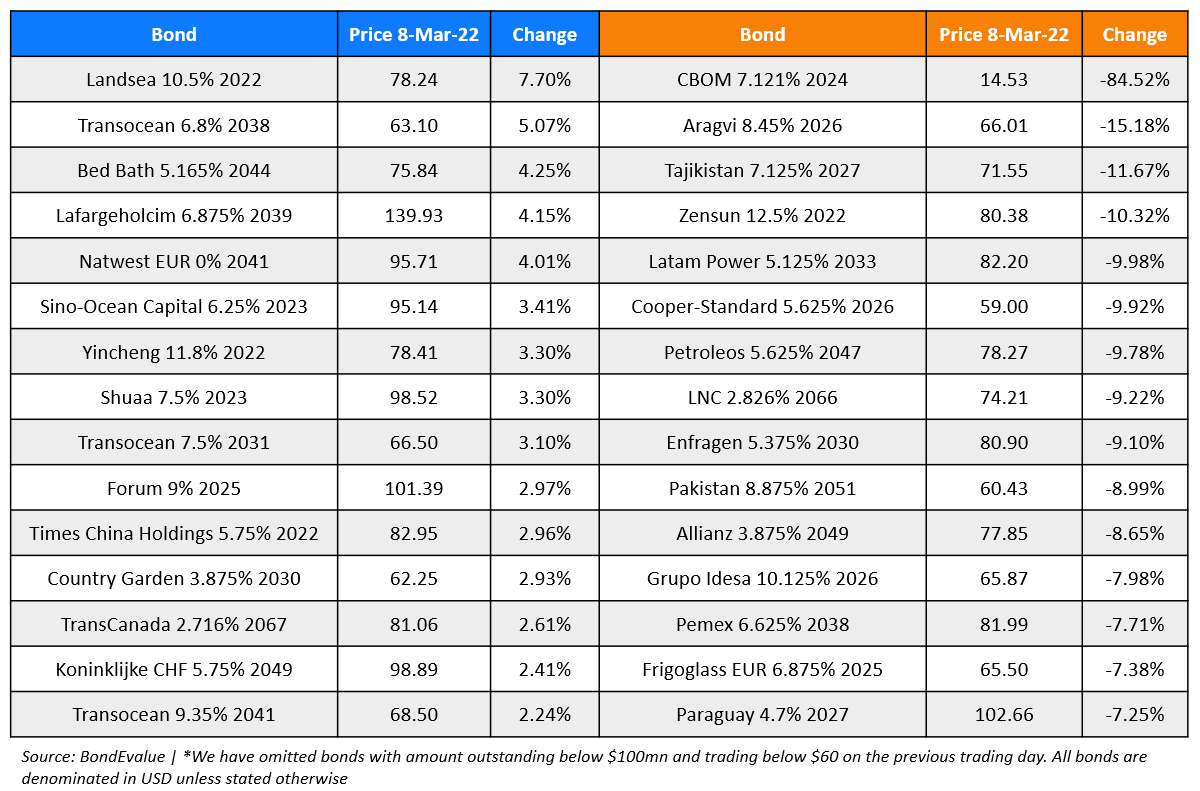 Other Stories